January 27, 2023
The Best New U.S. Bike Lanes
By: Martina Haggerty, PeopleForBikes' senior director of local innovation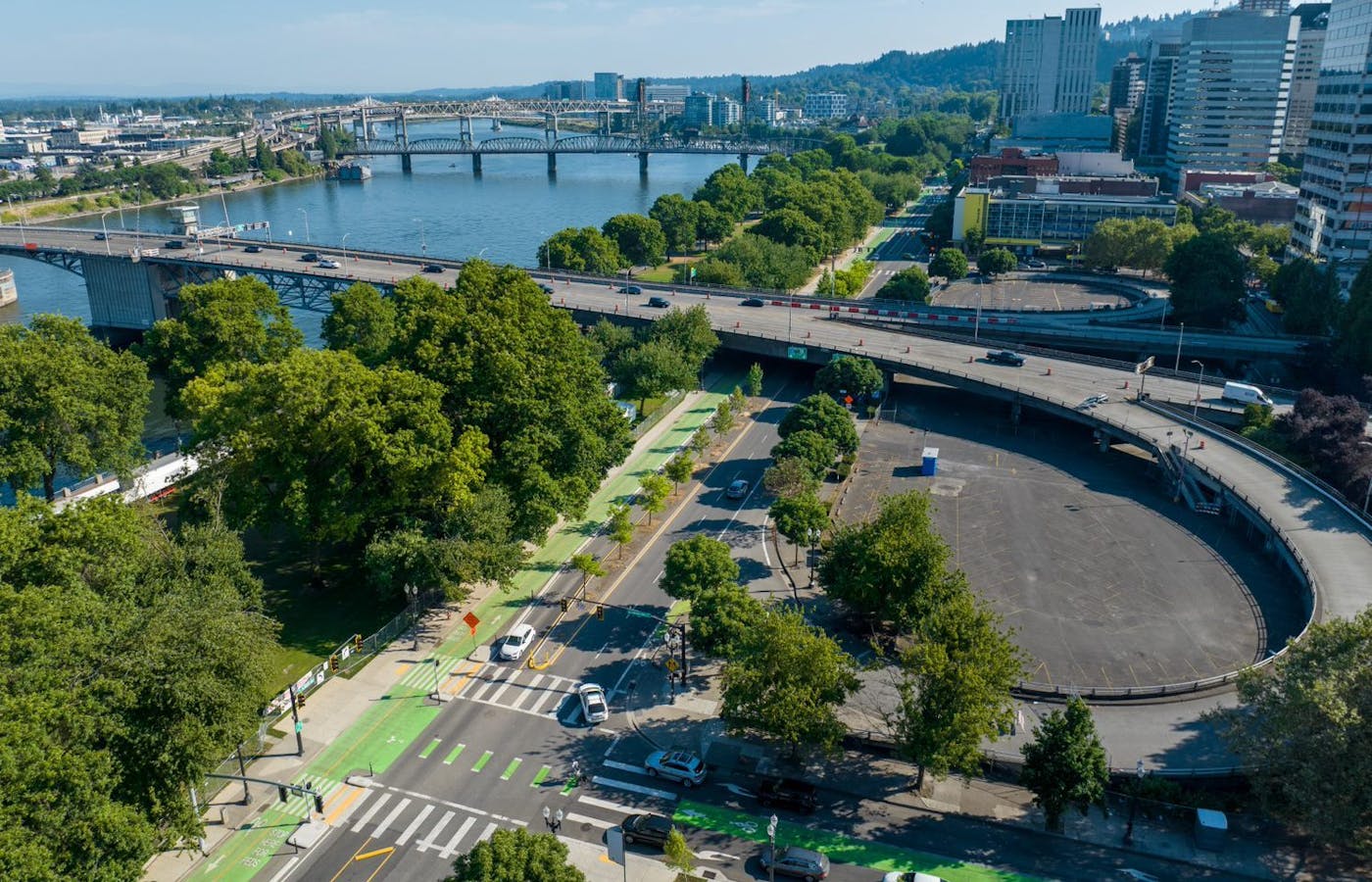 From Bloomington, Indiana to Portland, Oregon (pictured above), protected bike lanes of all shapes and sizes transformed U.S. communities in 2022. (Photo Credit: David Evans and Associates, Inc.)
Cities from coast to coast stepped up to build world-class protected bicycle infrastructure in 2022.
With more protected bike lanes and low-stress bike networks being built across the country than ever before, we had a tough time picking this past year's best new bike lanes. While numerous projects deserve recognition, we rounded up the top nine projects worth emulating.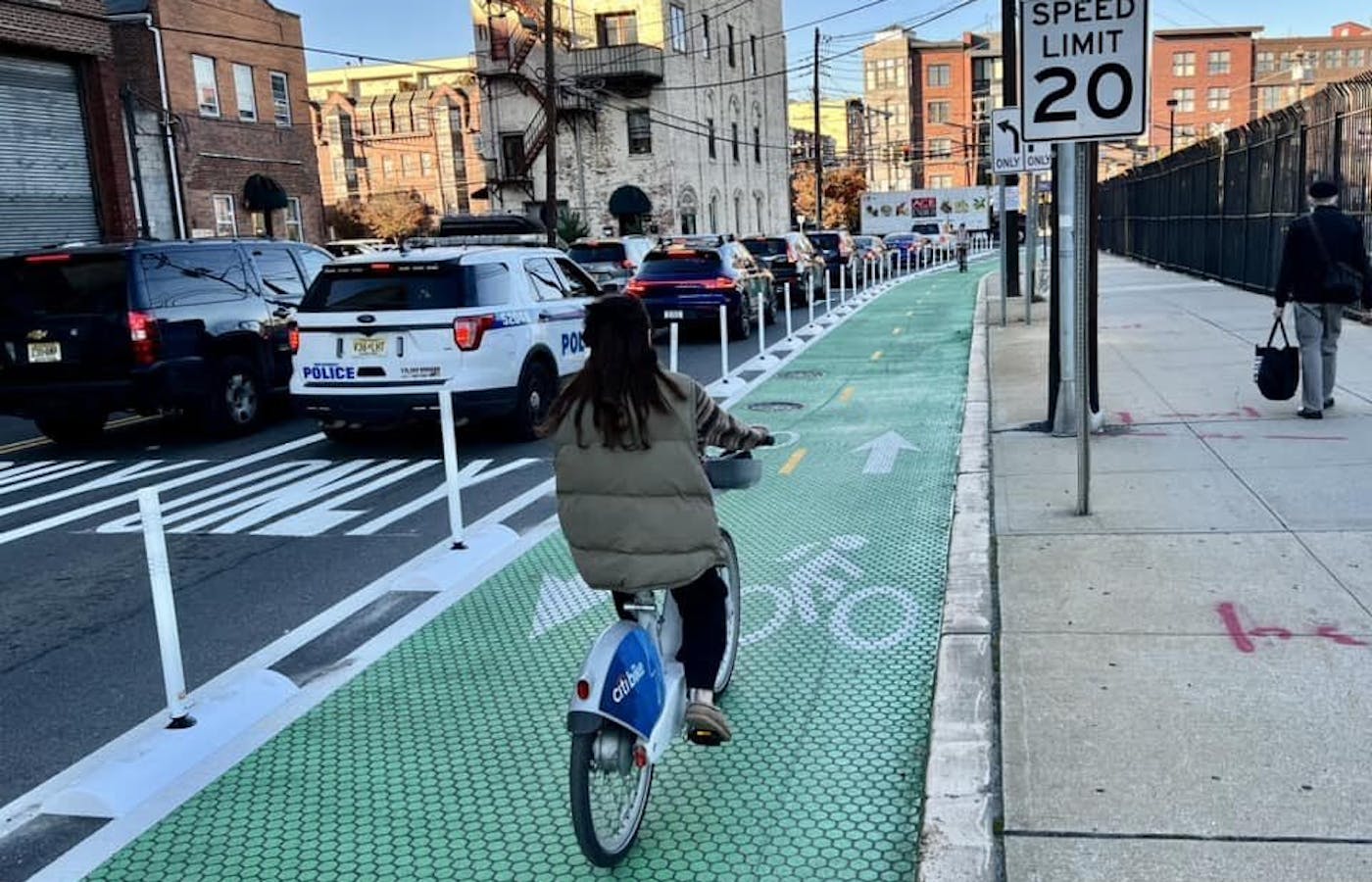 Photo Credit: Hoboken Mayor Ravi Bhalla
9. Marin Boulevard Bikeway
Hoboken and Jersey City, New Jersey


In November, Jersey City and Hoboken completed construction on the Marin Boulevard and Henderson Street bikeway, which was first called for in the "Let's Ride JC Bike Master Plan" as a way to better connect the two cities. The expansion of CitiBike into Hoboken also increased demand to ride between the two cities, says Mike Lydon of Street Plans, who worked on the project's design. In 2022, CitiBike's most popular route was between Hoboken Terminal and Jersey City's Hoboken Avenue and Monmouth Street, which saw a total of 5,500 bike share trips. With the completion of the Marin Boulevard project, those rides can now be made entirely on protected bike lanes.
The bikeway is separated from traffic with plastic curbing and flexible posts, and it includes a textured painted surface that makes the bikeway more visible and improves traction. As a "quick build" project, the cities chose to move forward with somewhat temporary materials to expedite the project and improve safety, something that wouldn't have been feasible with more permanent materials that require sidewalk reconstruction and drainage work, not to mention a longer timeline. According to Lyndsey Scofield, senior transportation planner of Jersey City, this approach "provides us with more flexibility to iterate on the design over time as we learn what works well and what could be improved."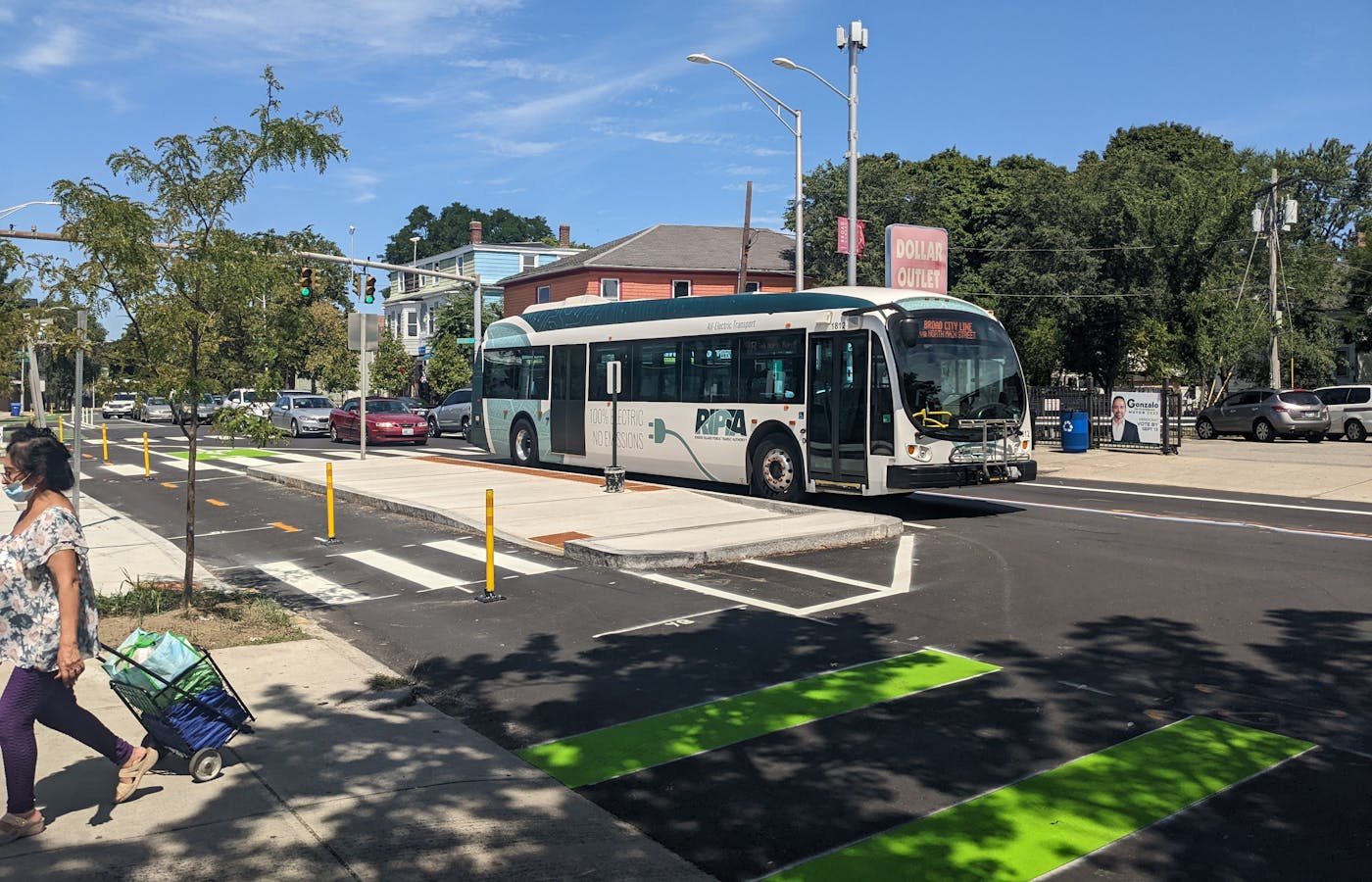 Photo Credit: Liza Burkin
8. Broad Street
Providence, Rhode Island
After being declared one of Rhode Island's most dangerous streets, Providence worked with the local community to reimagine Broad Street with protected bike lanes, bus islands, and crosswalk improvements. While balancing the needs of local businesses, bus riders, and people walking and biking, Broad Street now serves as a key component of the city's Urban Trail Network, improving safety and accessibility for some of the city's poorest and most diverse neighborhoods to jobs and opportunities citywide, as well as access to three major urban parks and multiple regional trails. Space for the bikeway was created by removing a wide center turn lane, which also helped reduce speeding along the street.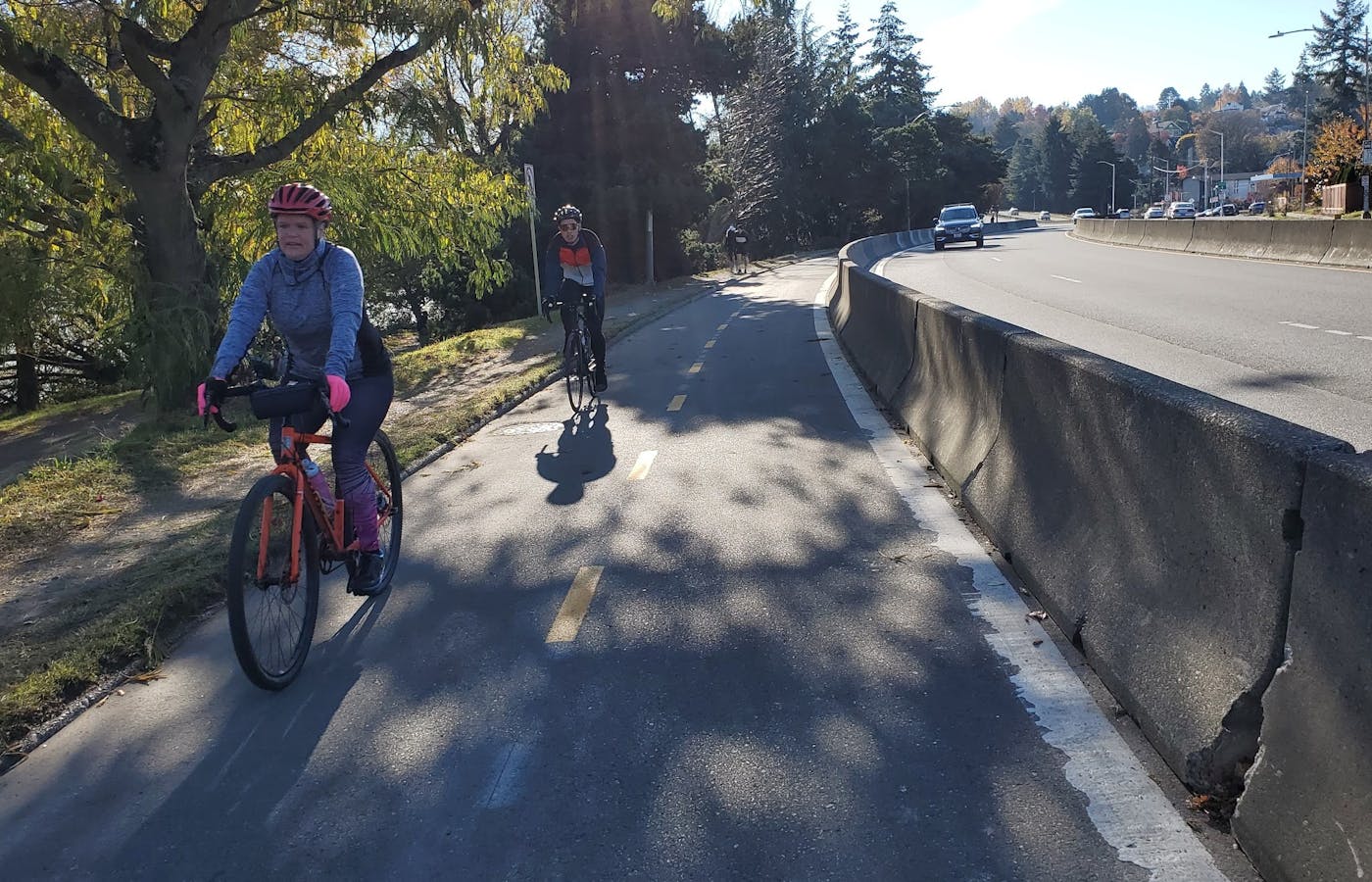 Photo Credit: Brock Howell
7. Green Lake Outer Loop
Seattle, Washington
By converting a state highway lane into a two-way protected bike lane, Seattle created a new connection between Green Lake — one of the city's most popular parks — and neighborhoods to the west. It also improved safety along the notoriously dangerous Aurora Avenue. As part of the project, precast concrete jersey barriers, which were repurposed from a nearby bridge repair project, were used to provide ample protection from adjacent motor vehicles. They also helped accelerate the construction of the project due to their immediate availability. 
According to Brock Howell, a member of the local advocacy group Aurora Reimagined Coalition, one of the primary goals of the project was to provide families the ability to ride around the park's entire outer loop. The group hopes these improvements are a first phase in what will eventually become a completely redesigned Aurora Avenue, which stretches more than 10 miles from the Seattle-Shoreline border to downtown. "We have more work to do to improve safety along the rest of Aurora Ave North," says Seattle Department of Transportation Director Greg Spotts, "But we expect this project to lead to safer speeds near Green Lake."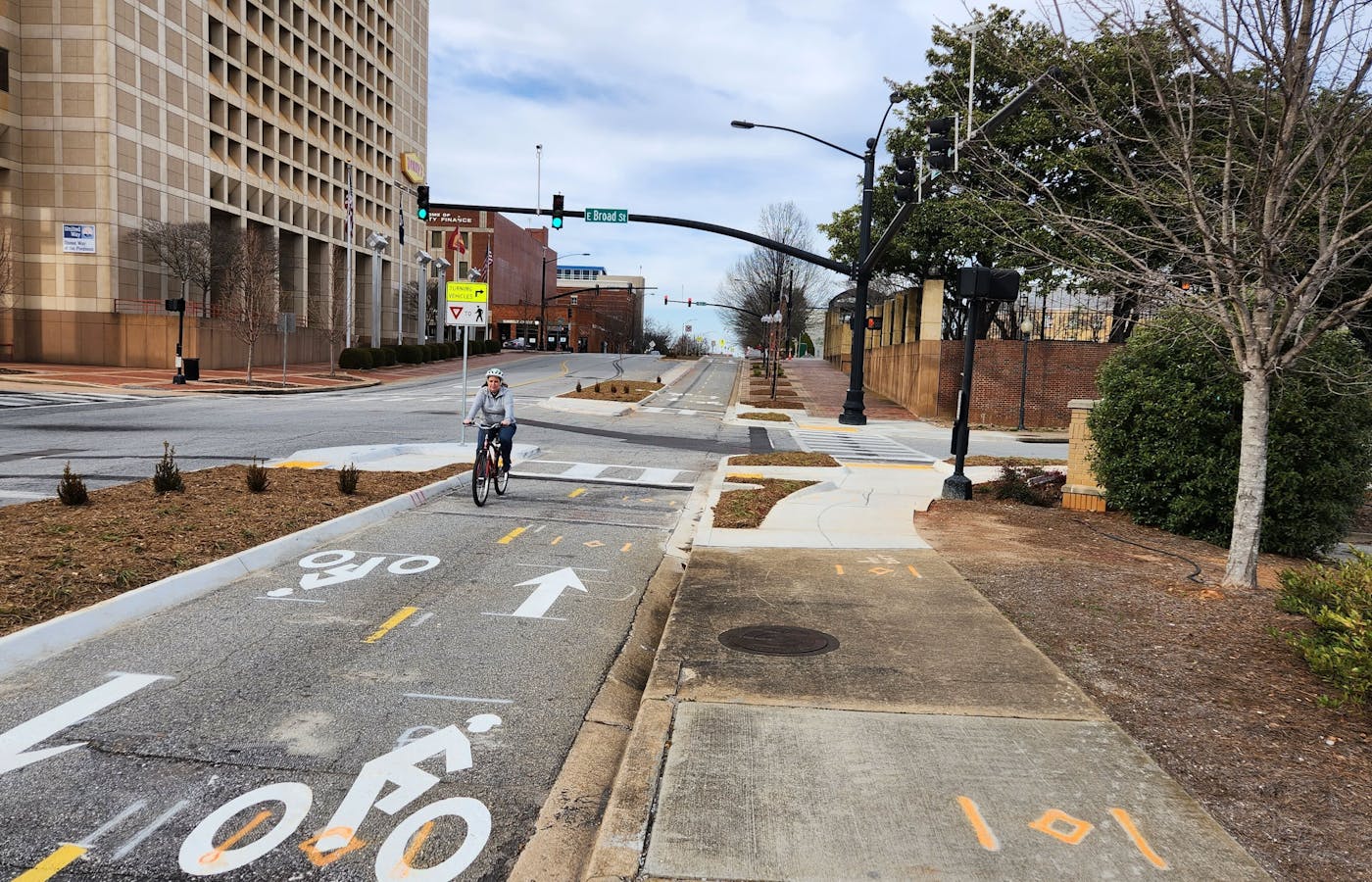 Photo Credit: Ernie Boughman
6. Hub City Hopper Trail
Spartanburg, South Carolina
As part of the larger 50-mile Daniel Morgan Trail System, the Hub City Hopper Trail — an extension of the Mary Black Rail Trail — demonstrates the benefits of connecting trails to town centers and urban areas. The project makes streets safer for people walking and biking while expanding access to recreational riding opportunities. It's a trend we hope to see more of in urban and rural areas alike. 
The trail extension is already attracting new development to Spartanburg: A 132-unit housing project, the Fitzgerald, was planned by developers, in part, to take advantage of the city's investment in the trail extension. In a recent WSPA feature on the project, John Montgomery, chair of the Daniel Morgan Committee, noted that they expect "to continue to see development pop up around the trail, [including] more residential, more apartments, because people see the value in trails and connecting them and promoting health and wellness. It's a real community builder." 
In 2021, Spartanburg County received a $23.8 million U.S. Department of Transportation (USDOT) RAISE grant — one of largest grants awarded by USDOT that year — to install more than 14 miles of multi-use trails and a new bicycle and pedestrian bridge as part of the Daniel Morgan Trail System.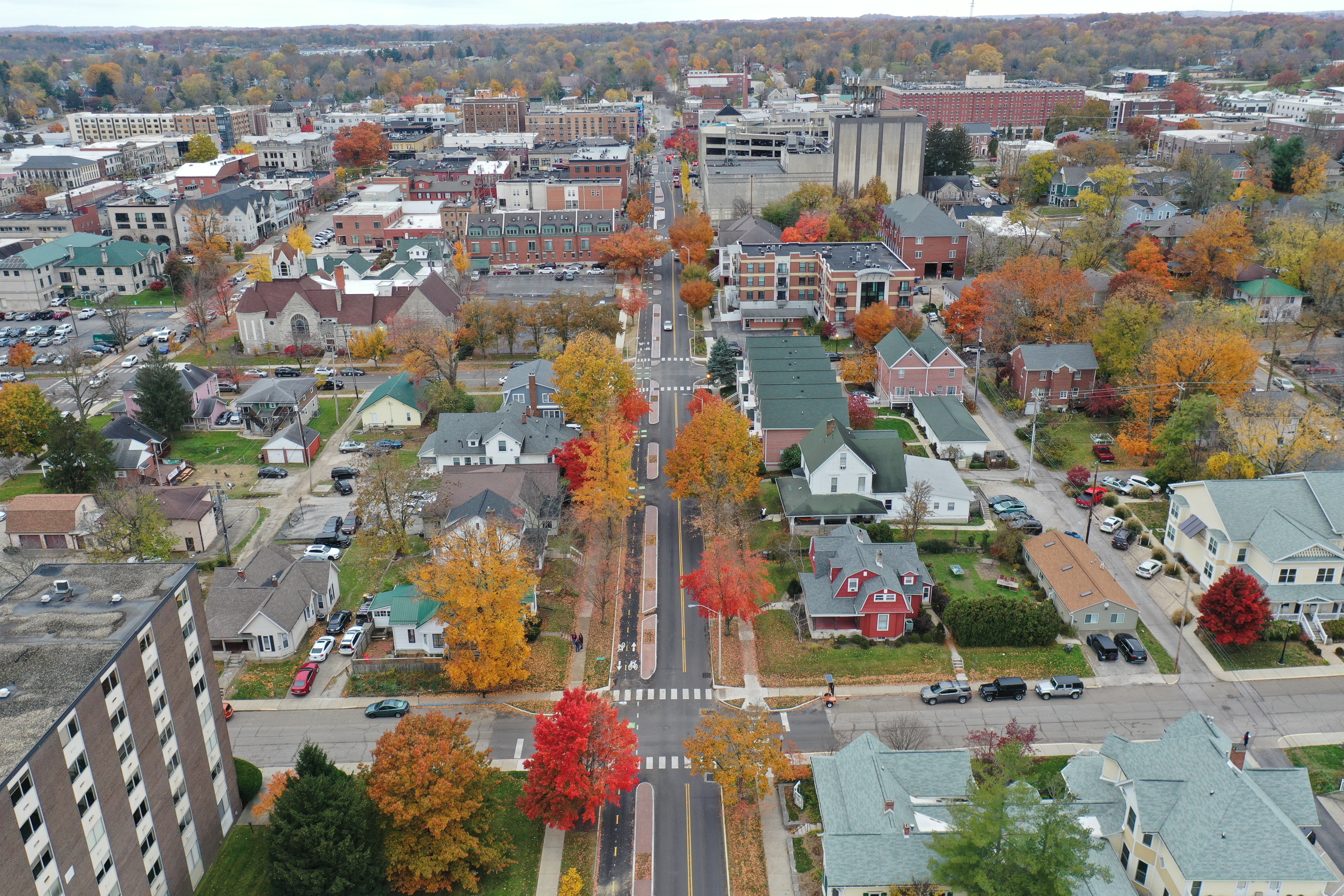 Photo Credit: TopShot
5. The 7-Line
Bloomington, Indiana
Although it was technically completed in late 2021, we couldn't resist putting Bloomington's new 7-Line protected bike lane on our list for 2022. With a population of just under 80,000 people, the 7-Line proves that protected bike lanes aren't just for big cities like New York or Los Angeles. The project connects downtown Bloomington with Indiana University's campus and aims to increase bike ridership by providing a safe, comfortable place for people to ride.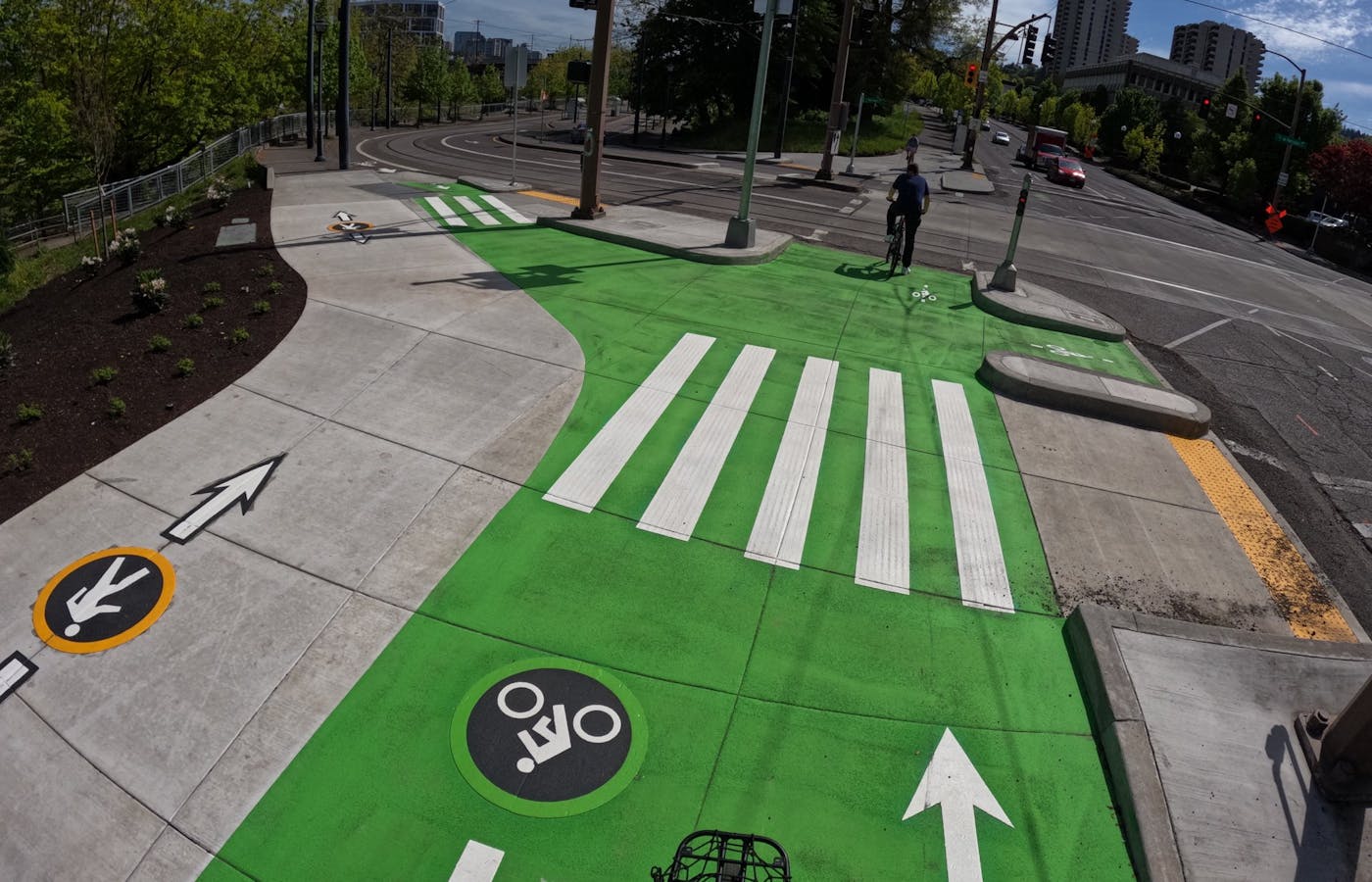 Photo Credit: Jonathan Maus/BikePortland
4. Naito Parkway
Portland, Oregon
In 2015, after Bike Portland called on the city to address a lack of safe space for people walking and biking along Naito Parkway and Waterfront Park, the city responded with improvements that provide plentiful safe space for people walking, biking, and rolling along the parkway. According to Gwen Shaw of Toole Design Group, the adjacent Waterfront Park "became busy with festivals and visitors during the summer months, making the existing conditions of no sidewalk and a standard bike lane a challenge." Now, with a sidewalk, bi-directional protected bikeway, and pedestrian refuge islands, Naito Parkway offers a complete street that meets the needs of this busy area.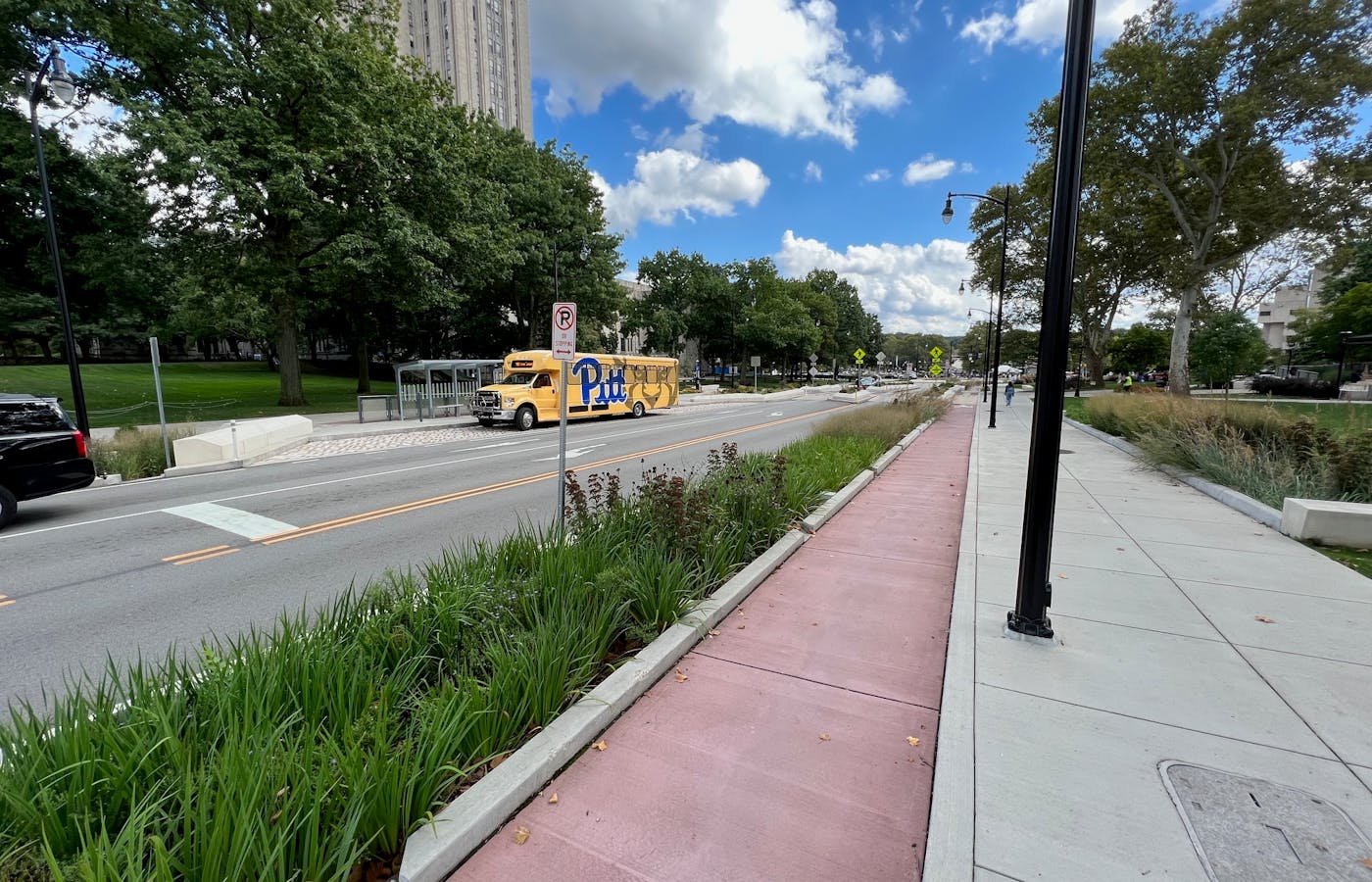 Photo Credit: Clarence Eckerson
3. Bigelow Boulevard
Pittsburgh, Pennsylvania
The Bigelow Boulevard project, which was initiated and managed by the University of Pittsburgh, serves as an example of how institutions can invest in surrounding communities — to the benefit of both. According to Paul Supowitz, special assistant for strategic initiatives at the University of Pittsburgh, the project was driven by conflicts between various road users, congestion, and the need for better connectivity to the city's bike network.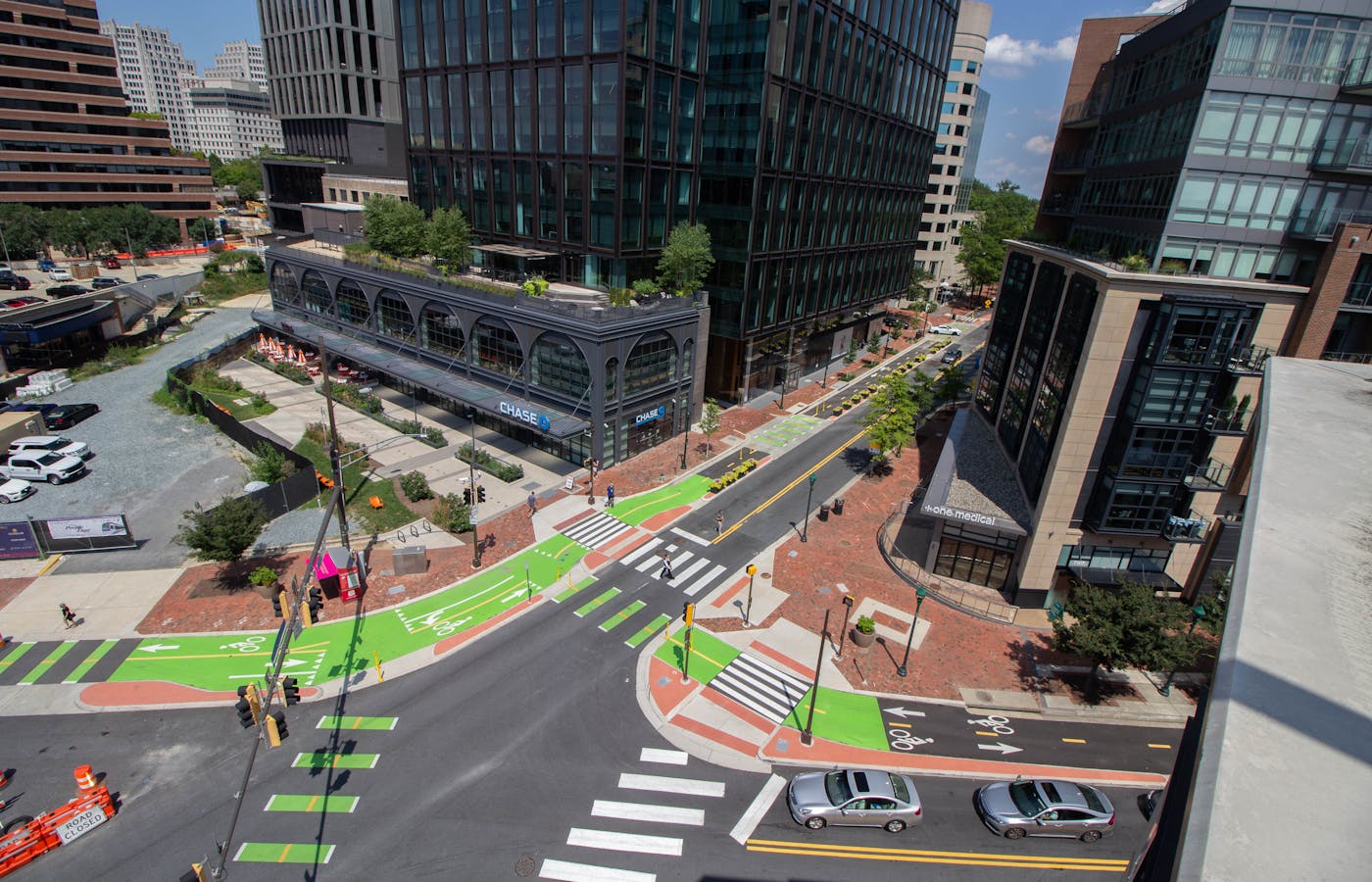 Photo Credit: Matt Johnson, Montgomery County Department of Transportation
2. Capital Crescent Surface Trail
Bethesda, Maryland
When it was completed in November 2022, the Capital Crescent Surface Trail became the third project in Montgomery County to include a protected intersection. As part of a larger network, the project links downtown Bethesda to the nearby Capital Crescent Trail, an 11-mile paved and gravel trail that connects Bethesda with Georgetown and Silver Spring. According to Matt Johnson, capital project manager with the Montgomery County Department of Transportation, the two-phase project is part of a larger planning effort for the nearby Purple Line light rail project.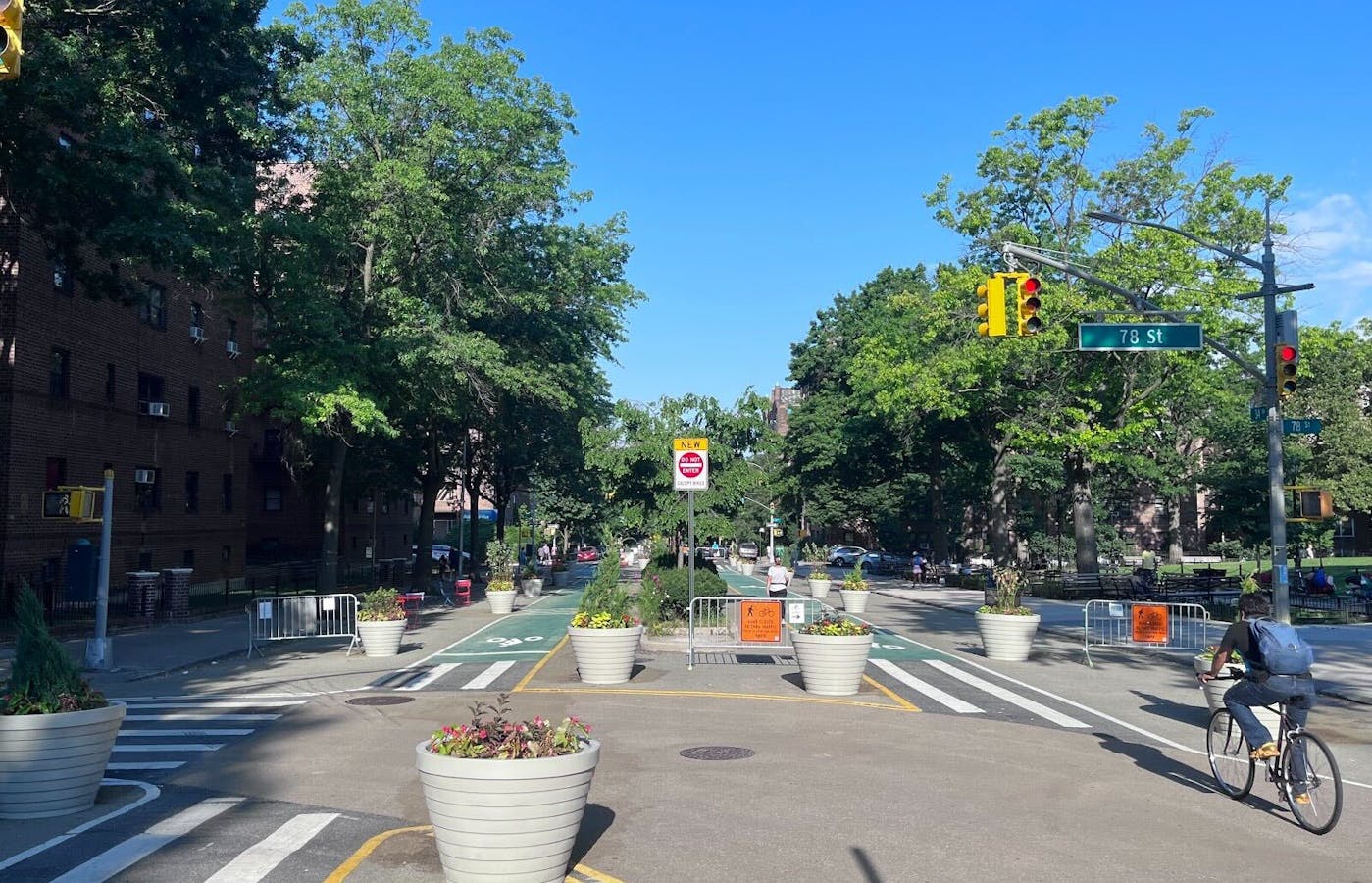 In April 2022, New York City announced plans to make the 34th Avenue Open Street permanent. (Photo Credit: John Surico)
1. Car-Free Streets
Multiple locations
One great way to make communities safer and more welcoming for people riding bicycles doesn't even involve constructing new bike paths or bike lanes — simply remove cars from streets.
Although car-free streets have been a staple of people-centered spaces for decades, 2022 saw new examples come to fruition in communities across the country. San Francisco's JFK Drive (which became permanent after voters rejected a ballot initiative to re-introduce cars), Beach Drive in Washington D.C.'s Rock Creek Park, and new car-free developments such as Culdesac in Tempe and Neighborhood Next in San Diego are all examples that advocates and elected officials should seek to emulate in their own communities. 
While many of these projects, including New York's 34th Avenue, were spurred by the ongoing COVID-19 pandemic, cities are now moving to make them permanent, a trend unlikely to go away any time soon. Although some car-free streets were phased out of existence by many U.S. cities in the latter half of the 20th century, nearly all of those removals and declines can be attributed to other failed policies such as urban renewal, redlining, and auto-centric zoning. With these new wildly popular projects being integrated into low-stress bike networks, we think it's safe to say that car-free streets are making a comeback.