January 31, 2022
Lessons From London's Bike Surge
By: Kiran Herbert, PeopleForBikes' local programs writer and content manager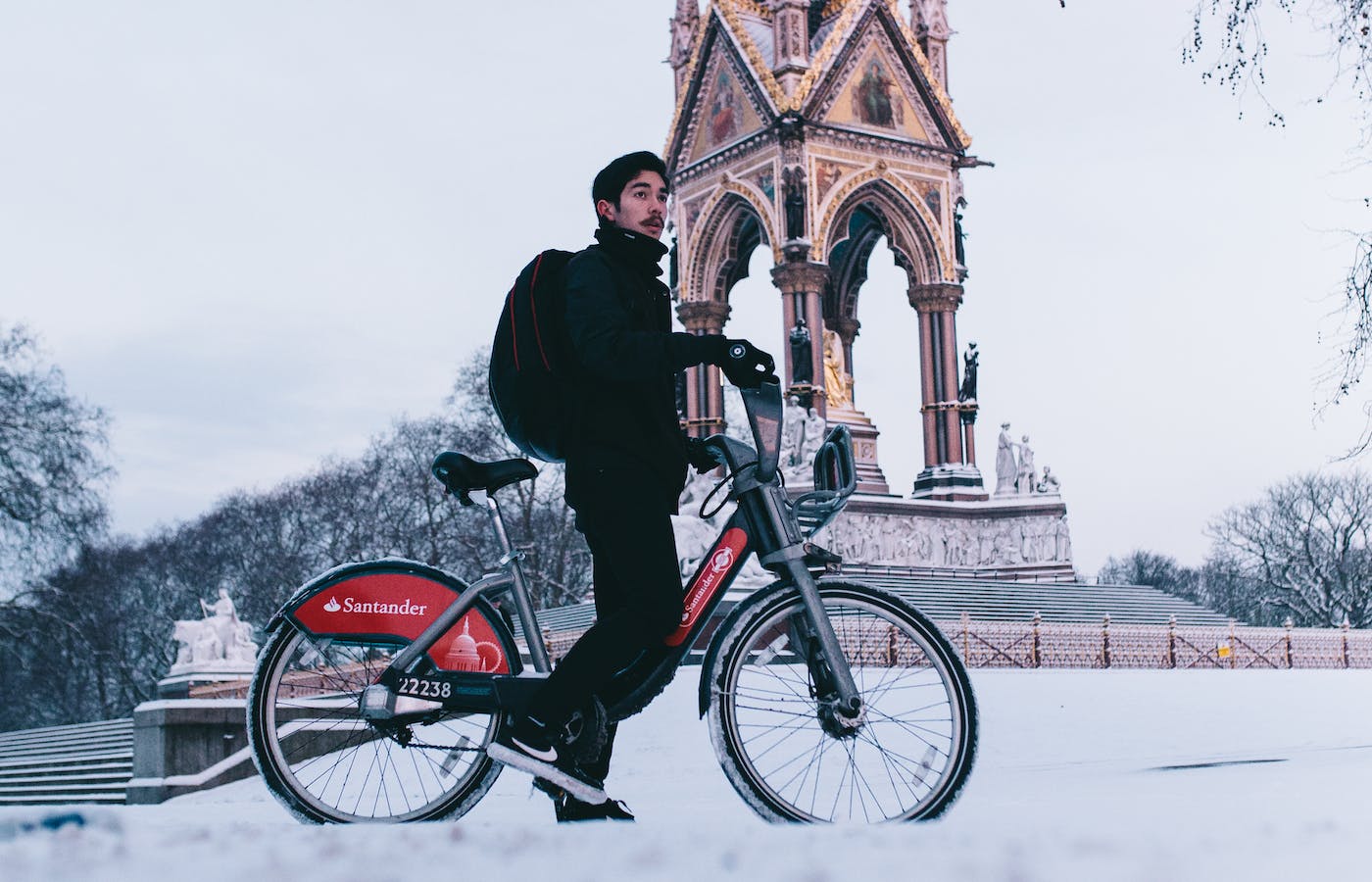 Pandemic-era changes to the built environment dramatically shifted the urban bike landscape. But if equity had been centered, would the numbers be higher?
In 2021, Santander Cycles, Transport for London's bike share system, reported its busiest year to date. According to a recent press release, there were more than 10,900,000 bike hires last year and more than 1 million individual customers, 178,000 of which were new (a 7% increase over 2020 and more than double that of any year prior to 2020). By all accounts, it was a banner year for London bike share, echoing the larger increase in bicycling across the U.K. capital.
During the pandemic, the number of Londoners who bike jumped from 21% in 2019/20 to 27% in 2020/21. Participation also grew, particularly among minority communities and women. Additionally, Transport for London research shows that one in five people who don't bike are open to starting, which could increase participation rates to more than 40%. In particular, more than half of Black and Asian non-bicyclists (49% and 46% respectively) reported that they were considering starting to bike.
London's increase in bicycling can be directly attributed to its response to COVID-19, namely the ways in which the city prioritized new, equitable investments in infrastructure. In spring of 2020, the Mayor of London, Sadiq Khan, released "Streetspace for London," a detailed plan outlining projects and other initiatives to create more space for people to safely walk, bike, scoot and wheel their way around the city, helping to mitigate the effects of lockdown. The main projects were pretty simple: Build out a network of temporary bike lanes and routes, widen sidewalks and create 70 new Low-Traffic Neighborhoods (LTNs) by restricting vehicle traffic on low-speed side streets.
These changes transformed the city, which has a population of almost 9 million. Will Norman, London's walking and cycling commissioner, shared that the city saw a 200% increase in bicycling compared to pre-pandemic numbers, touting the 100 kilometers (62 miles) of new bike lanes and LTNs as major reasons for the increased ridership. While both the new lane miles and the LTNs have proved popular, there were questions about the equitable distributions of the LTNs (in most cases, critiques centered around the lack of public outreach and not the creation of the LTN itself). 
A study published in October 2021 found that "LTN implementation has been broadly equitable at the city and micro levels, but the picture is more mixed at the district level, despite districts being encouraged to consider deprivation when planning LTN locations." What the researchers concluded feels obvious, but is far from a given when it comes to city planning: Continuing to monitor the distribution of infrastructure changes among different demographics will only help planners to improve equity.
A different study credited COVID-era pop-up bike lanes with an 11-48% increase in bicycling trips in cities across Europe. While safe networks of bike infrastructure are crucial to increasing mode shift — especially for women and other underrepresented groups — evaluating their impact is often difficult due to the glacial pace at which most cities tend to operate. The quick roll-out of pop-up bike lanes in European cities presented a unique empirical opportunity to estimate the effect of new bicycling infrastructure. It only makes sense then that an increase in bike lanes, especially protected bike lanes, would also benefit bike share.
Of course, all of these changes mean little if they're: a) not sustained, and b) confined to certain parts of a city, and thus, certain demographics. In London, efforts were made after the fact to incorporate public outreach into plans and see what can be done to increase accessibility to bicycling. While acting quickly and prioritizing people over cars played a crucial role in getting more folks to bike, more community engagement at the frontend likely would have ensured even larger increases — as well as more persistent and sustained use, which in turn can generate enormous public health benefits that outweigh initial investment costs. 
Transport for London acknowledged the importance of ensuring that people from all backgrounds feel comfortable biking, noting that such inclusion is key to creating healthier, more sustainable communities. Still, while National Health Service (NHS) staff are able to use Santander Cycles free of charge and students receive a 25% discount, no reduced pricing scheme currently exists for low-income residents. Bikes can be rented for £2 a day (about $2.70) or £90 a year ($120) for an unlimited number of 30-minute journeys. 
It's one thing to acknowledge the importance of engaging diverse riders and another to reduce barriers in order to achieve it. Santander Cycles is currently undergoing an expansion in Southwark Council, with eight new docking stations being instituted over the next year, and is working to introduce around 500 electric bikes into its system by summer. The latter is a good step to reducing some of the barriers that prevent people from riding (namely fitness, age and trip distance) but the e-bikes will likely cost more, an insurmountable barrier for many.
What remains impressive about London is the number of pop-up bike lanes it instituted and the dramatic effect it had on bike share and bicycling in general. Writing about the pop-up bike lane study in Streetsblog, Kea Wilson notes how researchers couldn't replicate the study in the U.S. because the scale of COVID infrastructure interventions was so much lower and our cities are more auto-centric. She adds, however, that the U.S. is in the unique position to continue to invest in quick build infrastructure while centering equity. We can learn a lot from what the U.K. did and didn't do.
Adding quick-build infrastructure to underserved neighborhoods might get more low-income and BIPOC individuals to consider biking, but as long as our cities maintain unjust traffic enforcement and bike laws, residents can't afford bike share or bike maintenance costs and riders aren't served by network routes, the number of bicyclists will fall short of its full potential. To create mobility systems that serve everyone — and address climate change, air quality and other societal ills — we need to invest in equitable bicycling infrastructure and better bike share systems, ensuring that comprehensive community engagement is centered every step of the way.
Looking for more bike lessons from Europe? These seven cities are role models when it comes to great bicycling and offer tangible learnings for the U.S.