June 25, 2021
The Unintended Consequences of Bike Laws
By: Kiran Herbert, local programs writer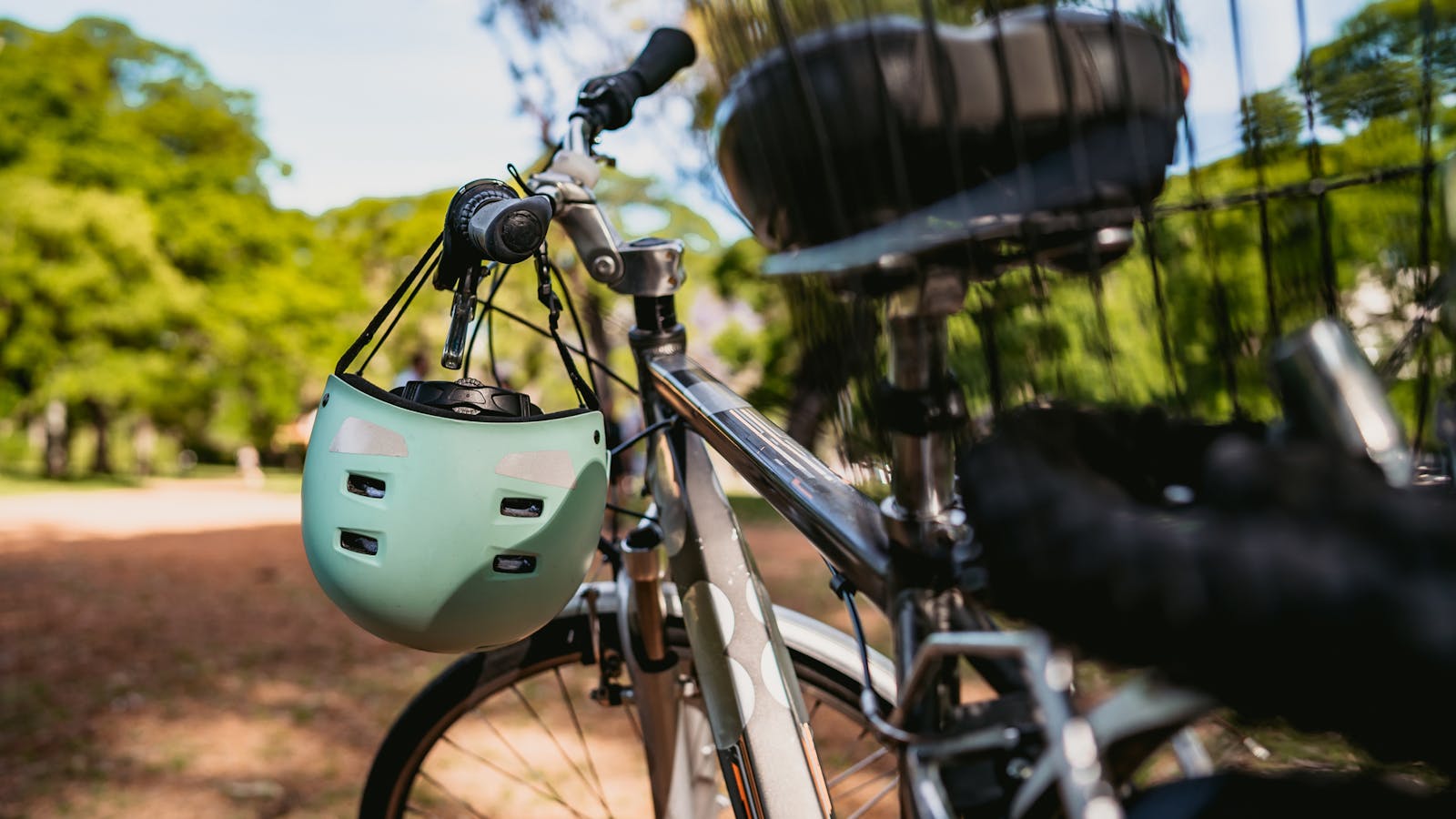 In King County, Washington, a coalition of advocates is fighting to repeal a helmet mandate that disproportionately harms BIPOC and homeless cyclists.
For members of Central Seattle Greenways, a safe streets advocacy group, the murder of George Floyd was a motivating event. As national cries for racial justice grew louder in the wake of Floyd's death, many people across industries wondered how they might show up as allies to create lasting change. The transportation community was no different.
"What our group hit on was that we wanted to address barriers to bicycling for communities of color and other more marginalized groups in Seattle," says Ethan Campbell, a member of Central Seattle Greenways. "But we really didn't have the data to understand what issues there were."
On paper, many bicycle laws — such as those that require people to wear helmets, use bike lights, obtain a bike license or register their bikes — seem like a great idea. After all, helmets can protect our heads in the case of a crash, lights help bikers see and be seen, bike licenses can raise money for infrastructure and bike registrations safeguard people against theft. At least that's all true in theory. In reality, these laws are virtually unknown and rarely enforced. When they do get enforced, it's usually to the detriment of BIPOC citizens or those experiencing homelessness.
Evidence from across the nation demonstrates this alarming trend — studies from five major U.S. cities, including Washington, DC, all indicate helmet laws are being used to stop and question cyclists in neighborhoods of color at disproportionate rates. Bike registration laws can be similarly problematic. This April, a video surfaced of Black and Latinx teens in New Jersey being handcuffed by police for not having their bikes registered. Although originally intended to promote safety and make biking better, these laws now mirror the outcomes of similar traffic laws for walking and driving that have led to persistent racial bias in their enforcement. 
Central Seattle Greenways decided to look at bicycle laws and see if they were enforced differently in King County depending on demographics. Of particular concern was the ordinance requiring all bicyclists to wear a helmet when riding on a public roadway, bike path or other publicly-owned areas, which was first enacted in King County in 1993 (Seattle didn't adopt the law until 2003). After filing public records requests and sifting through the citation data, the group immediately discovered large disparities by race in terms of who gets cited for not wearing a helmet. With that discovery, the Helmet Law Working Group was formed. 
In Seattle, nearly half of all helmet citations since 2017 were issued to the unhoused population and in 2019 alone, the statistic was at least 60%. Since 2003, Black bicyclists in Seattle have received citations at a rate 3.8 times higher than white bicyclists; citation rates were 2.2 times higher and 1.4 times higher for Indigenous and Latino bicyclists, respectively. Importantly, differences in helmet use between populations cannot explain these disparities, only bias in enforcement can. Much like stop-and-frisk policies in New York City, the helmet law has also been used in Seattle to effect pretextual stops.
In any city, a minor traffic stop while bicycling can be traumatic and incidents have resulted in the use of force against bicyclists or even fatal shootings. For youth, interactions with the police are equally rattling. Campbell, who now co-leads the Helmet Law Working Group, notes stories from youth where they were detained for an hour by police for not wearing a helmet. Like their adult counterparts, youth of color are targeted far more often and treated much worse. 
"That sort of [youth] harassment is just chilling and it doesn't help get people on bikes," says Campbell, adding that the psychological trauma has been known to have a lasting effect. "It's important to acknowledge the harm that policing has caused and how the public health community has neglected the issue."
King County, Washington, where Seattle is located, was renamed in honor of the civil rights leader Martin Luther King Jr. in 1986. That the helmet law in King County disproportionately affects people that look like Reverend King — Black and brown men — is ironic but not unsurprising. Twenty-two states including D.C. currently have helmet laws for bicyclists below a certain age, generally about 16. King County's helmet law is unusual in that it was mandated by the Board of Health (typically, the laws originate in local government) and that it's all ages, meaning children can face fines (there are only 47 all-ages helmet ordinances in just 8 states).
Shortly after the Central Seattle Greenways volunteers launched the Helmet Law Working Group, they were joined by the Cascade Bicycle Club, the nation's largest statewide bicycling nonprofit, and Real Change, a nonprofit newsletter that provides opportunity and a voice to those experiencing poverty and homelessness. Real Change was moved to join after one of their vendors, a homeless man, was hit by a car while biking. As he was on the ground in agony, he was cited for not wearing a helmet, while the driver who was at fault was let go. 
"Cascade Bicycle Club joining was more of a surprise," says Campbell. "They were supporters of the law decades ago, so it was a shift for them to come around to the idea that the law is doing more harm than it is good."
Today, the working group has 18 members, mostly advocates, and some 23 organizations, including PeopleForBikes, have endorsed the group's recommendation to repeal the helmet law, or at the least, make some sweeping changes to it. For the past year, the group has met monthly and although its membership isn't exclusively white, its own demographics have merited a fair amount of introspection. 
"We all see a duty to use our privilege in service of something that isn't directly affecting most of us," says Campbell, who's Asian American.
In the months following its inception, the Helmet Law Working Group compiled an extensive Q&A companion document outlining the rationale behind its recommendations regarding the law. The group walks the line between acknowledging that the law was well-intentioned and highlighting the inequity of its lived reality. In the '90s, when helmet laws first became a thing, helmet use rates were on the up and injuries were down. In the decades since, however, norms, culture and the built environment have changed. Today, the most rigorous, relevant and recent studies have found that helmet mandates don't make an appreciable difference in preventing head injury. That's not to say helmets don't make a difference in preventing injury — they do — but rather that helmet laws do nothing to get people to adopt helmet use.
"In King County, the difference is really indistinguishable," says Campbell, referring to the group's research. "The chance of getting cited for not wearing a helmet is far less than 1% if you just go on a ride, so the law isn't a really big deterrent at this point either. When it is being enforced though, it's being done so in a really discretionary, disparate manner."
In February 2021, the working group successfully lobbied the King County Board of Health to review the helmet law, a process that has already begun and is expected to last for several months. The group's Letter to the Board of Health opposes all options that "fall short of preventing dangerous police interactions and ending punitive, armed enforcement." Additionally, the letter recommends adopting laws that protect bicyclists in the event of a crash, distributing more free helmets within low-income populations and launching an education campaign about the importance of helmet use from an early age. 
In general, Campbell and others in the group are pushing the Board of Health to adopt a more holistic view. That means focusing on alternative ways of promoting helmet use, as well as pinpointing the biggest health hazard around: cars. Lower speed limits, safer intersections and better infrastructure, including more protected bike lanes, have been proven to save lives and getting the Board of Health to endorse them as part of a public safety solution would be a huge win. 
"We've heard concerns that repealing [the helmet law] would send a message that helmets aren't important and that's absolutely not the message we want to send," says Campbell. "Helmets are significant but the messaging needs to be nuanced — they're not a force shield that protects you from injury and you're still at risk in a big way."
Whenever a conversation veers into edgy territory — whether in regards to public safety, sharing the road or racism — things have a tendency to get heated. However, if we're truly committed to a more equitable mobility space, where all bodies can move freely without the fear of unjust enforcement, then it's important to engage with these topics in a level-headed way. By taking a research-based approach, the Helmet Law Working Group has uncovered a public health crisis that's hard to argue with and realistically, should have been obvious decades ago.
Back then though, we weren't paying enough attention to the experiences of all bicyclists. If we're claiming to pay attention now, then it's time to change.