March 22nd, 2022
First Ride: Teaching Adults to Bike
By: By Kiran Herbert, PeopleForBikes' local programs writer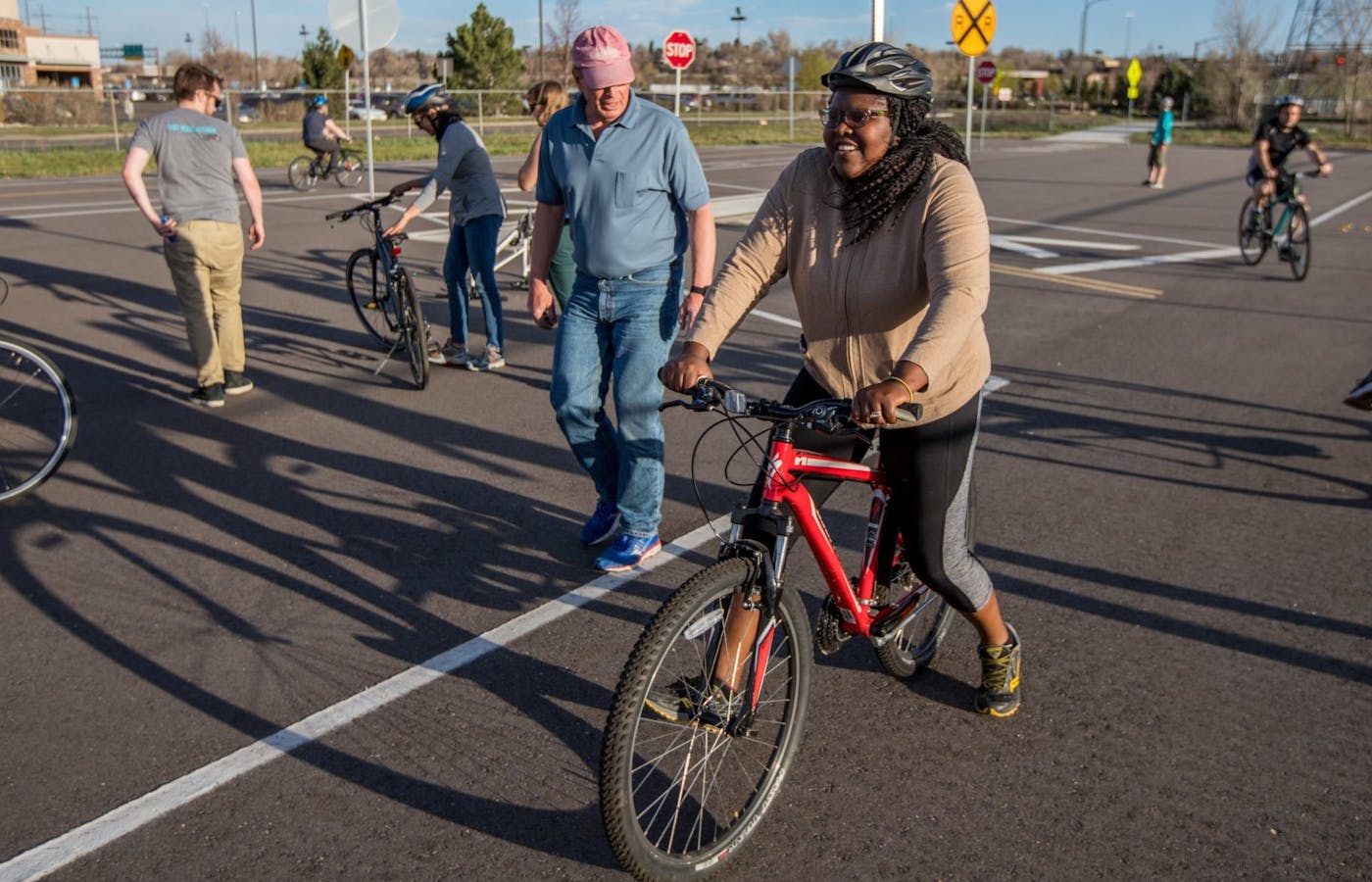 Photo courtesy of Bicycle Colorado's Learn to Ride program. A similar adult education class will launch in Bentonville, Arkansas, on April 4, 2022.
A new educational series from nonprofit Trailblazers + ETHIC seeks to ensure every adult in Northwest Arkansas can ride if they want to.
Northwest Arkansas is on a mission to become a world-class region for bicycling and active transportation. That ambitious undertaking shows up in a lot of different efforts, from the work of nonprofits like Pedal It Forward, which fixes up donated bikes for community members in need, to the first-of-its-kind program at Northwest Arkansas Community College, which allows students to get certified in bicycle assembly and repair. The Walton Family Foundation, based in Bentonville, has also made funding innovative bike projects a priority, including efforts to improve access for adaptive riders and PeopleForBikes' work to build a culture of bicycling at businesses throughout Benton County.
One of the most important things we can do to make bicycling ubiquitous, however, is also the most basic: Ensure everyone knows how to ride a bike. Some of us learned to ride as children, but that's a privilege many don't have, particularly those who were raised in low-income families or certain cultures where biking is less prevalent. These days, there are more and more organizations that teach kids how to ride, but there's a noticeable gap in basic bike education when it comes to adults. Noting the lack of programming, the nonprofit Trailblazers + ETHIC has developed a curriculum exclusively for older riders.
"Through my work teaching children, I noticed there were a lot of adults who also needed guidance," said Anya Bruhin, education programs manager at Trailblazers + ETHIC. "One of the strategic goals of our organization is to expand opportunity and give people who haven't had the support, equipment, or time — whatever the barrier is — to learn to ride."
In 2021, Trailblazers + ETHIC was formed through the merger of NWA Trailblazers, which developed 300+ miles of multi-use regional trails, and BikeNWA, which focused on active transportation advocacy and education. The new organization speaks to a desire to create a healthy, vibrant bicycling community in Northwest Arkansas while also ensuring that no one gets left out in the process.
The idea and curriculum for ETHIC's educational series — dubbed Adult First Ride — was inspired by a Bike New York program that also teaches adults how to bike. The first two classes are scheduled for April 4 and 18 and will utilize a balance-first technique. That method is an updated version of how we tend to teach children: showing the brakes and pedals before taking the latter off, allowing people to get comfortable balancing. Pedaling, shifting and an introduction to all of the bike's other components come later.
"It's the balancing that's difficult, pedaling is easy," said Bruhin. "As they get more comfortable and can lift their feet off the ground, we add the pedals back."
Each class will be intimate, capped at just 10 people, and ETHIC has been working with a target list of communities and organizations in order to recruit students. Most of these organizations serve low-income and BIPOC populations, and many aren't in the cycling space at all. The idea is to reach people who haven't had access to a bike network previously and let them know this new option exists. 
"The intimidated, the curious, the excited — we want anyone who wants to learn to ride a bike and we're doing our best to cast a wide net," said Bruhin.
The initial classes will take place in the Pedal It Forward warehouse, where participants will be able to leave with their own bikes. A cohort of volunteer mechanics will also be on hand to assist and match people with an appropriate bike. Burhin and the entire ETHIC team have been intentional about working to ensure that every student's first experience with a bike is safe and comfortable so that they'll want to do it again.
"If you think about it, a person that has gotten to adulthood without learning to ride a bike has experienced that otherness their whole lives," said Bruhin. "To come to a class as an adult and say, 'I want to learn to ride a bike' is a really vulnerable place to be and we are trying to do everything we can to make that experience a good one."
The volunteer instructors will be key to creating an inclusive environment. Bruhin says that it's less important that someone has extensive knowledge or experience biking. What's more important is that they have heart and the ability to make space for everyone. Eventually, ETHIC plans on doing additional training for its instructors on things like land acknowledgments and microaggressions. There are also plans for a Spanish-speaking class and a Marshallese-speaking class, designed to cater to large ethnic communities in the region. 
Although PeopleForBikes' NWA Bike Business Innovation program is covering the cost of the first two classes, there's a need for additional funding to ensure the Adult First Ride program is sustainable long term. ETHIC hopes to one day have a consistent pool of teachers, as well as a fleet of its own bikes and a trailer to store them in — for maintenance purposes as well as educational ones. The ultimate dream is to have the program ripple outwards through partnerships with church groups, foundations and other nonprofits. 
Seeing an immediate community need, however, pushed ETHIC to launch first with the goal of growing down the road.  
"There's such an active bike culture in Northwest Arkansas, and lots of events for the super 'into it' crowd," said Bruhin. "But just like when you create a trail system and you've got to have multiple levels of trails, from technical to the approachable green trails, we need to develop more accessible things for people to do." A region that only caters to a certain kind of advanced cyclist isn't world-class, nor is it well-positioned to create a larger culture shift around bicycling. "We want to bring people into this culture and help them find space for themselves."