September 29, 2021
Meet the Rider Improving Access for Disabled Mountain Bikers
By: Kiran Herbert, local programs writer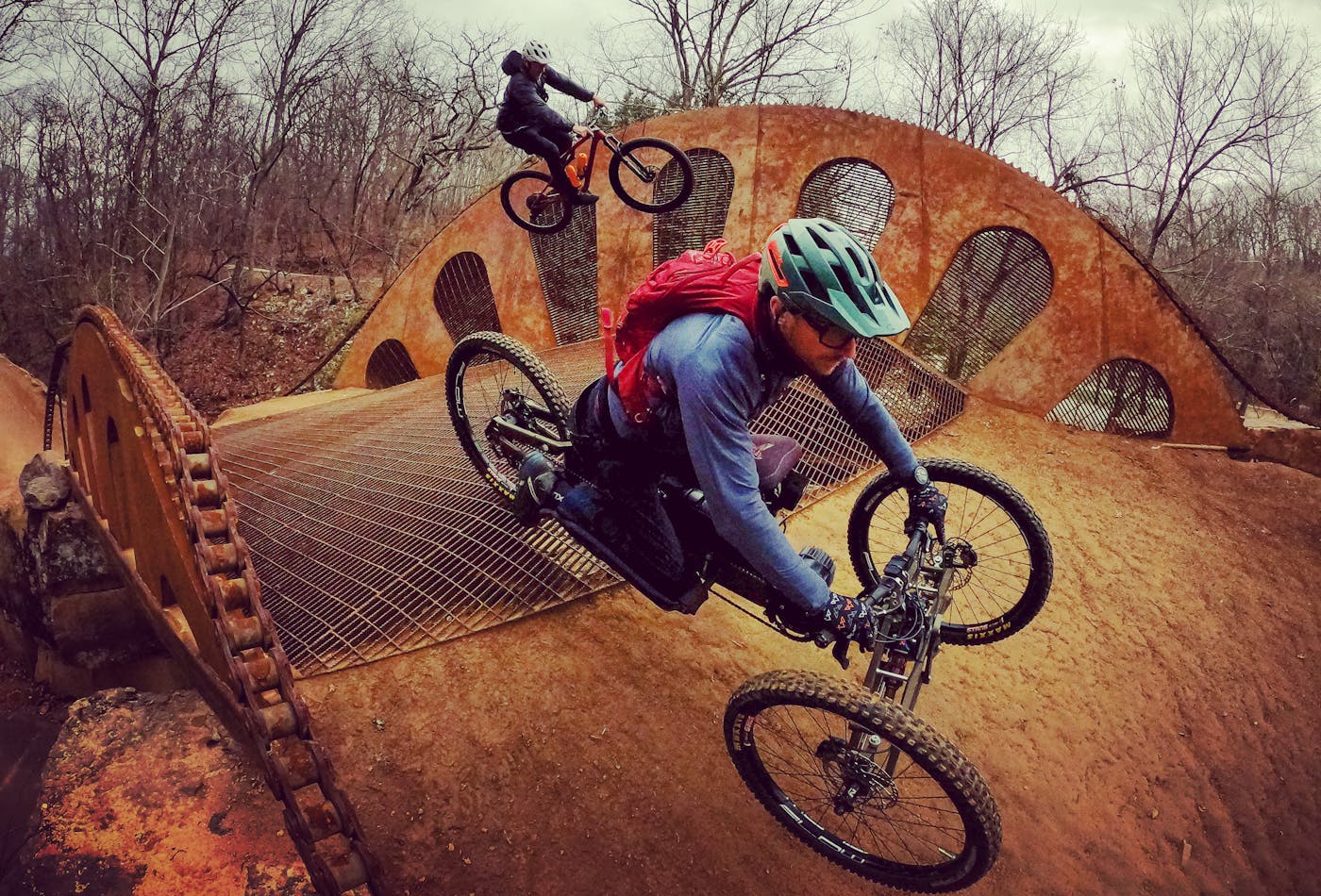 Jeremy McGhee rides his Sport-On adaptive mountain bike in Bentonville, Arkansas.
Jeremy McGhee is on a mission to ride and document every mountain bike trail in Northwest Arkansas, opening up the landscape for those who can't ride a traditional bike.
When we describe cities as "bike friendly" or a region as a "mecca for mountain bicycling," there's a lot we're not saying. After all, a city may have a comprehensive bike network, but a history of discriminatory enforcement policies makes it a "friendly" place to bike if you're white and less so if you're a person of color. Likewise, a place may boast an abundance of world-class downhill trails but lack any sort of accommodations for adaptive users, those that aren't able to ride a typical bike due to their physical, intellectual, neurological and/or sensory abilities. If a rider with paraplegia can't navigate your network, is it truly world-class?
Recognizing its oversight and wanting to do right by adaptive riders, in late 2020, Bentonville, Arkansas, the "mountain bike capital of the world," hired Jeremy McGhee, a professional athlete and consultant who happens to be paralyzed. McGhee grew up in California surfing and running, a self-proclaimed "ultra-weirdo" that tended to live his life with reckless abandon. At age 25, McGhee was riding his motorcycle when he was hit by a car, resulting in broken ribs, multiple lacerations and an immobilizing spinal cord injury. 
For someone that loved to be out in nature, the transition to life in a wheelchair was difficult. Wanting a bike that could navigate both sand and singletrack, with full suspension and a drivetrain, McGhee bought a $9,400 Sport-On, emptying out his bank account and changing his life.
"It was a step of faith," said McGhee, who, nearly a decade later, has become Sport-On's main U.S. dealer. "Getting out into nature and having a relationship with nature is super important to our mental well-being. This crazy bike is how I can do that."
For most folks with disabilities, life is often relegated to hard, smooth surfaces. In 2017, McGhee founded The UnPavement project to counteract that narrative, creating videos documenting mountain bike trails for his YouTube channel and creating Trailforks listings for each specific trail, complete with detailed accessibility information and a customized rating system.
For adaptive riders, the project is a revelation, a first-of-its-kind resource that includes advice on how best to prepare for a ride (tire inflation, necessary equipment, etc.), as well as a play-by-play of the terrain. The goal is safety: Adaptive riders don't have the luxury of walking their bike out of a tricky problem, making comprehensive preparation all the more important. 
"As cool as my bike is, it's limiting and I've gotten myself into some pretty precarious situations out on the trail," said McGhee, who's twice had to call a helicopter for assistance. "The information of where these bikes can go safely has just not existed previously."
As McGhee built a name for himself as a consultant, he was hired on for different trail builds and projects, working for the City of San Diego on adaptive signage and documenting trails for Mammoth Mountain. In November 2020, he came to Bentonville, Arkansas, and was soon connected with NWA Trailblazers and the Walton Family Foundation. After collaborating on a video, McGhee was contracted to work on the region's adaptive trail infrastructure.
In and around Bentonville, McGhee rarely rides alone. Instead, he typically sets out with a support rider to methodically assess the trail network and avoid any sticky situations. Typically, he'll find that a trail is mostly good, but there's usually a couple of problem spots, and he'll spend the ride taking copious notes and identifying the GPS coordinates of potential dilemmas. Afterward, McGhee will translate his notes into a comprehensive report and spend hours on his computer meticulously documenting the route on Trailforks using photos and his unique rating system.
After reviewing "Slaughter Pen," a popular trail system with many difficult sections, McGhee submitted a 32-page report to NWA Trailblazers, who are committed to going in and fixing outstanding issues. Since there are all kinds of adaptive riders, equipment and ability levels, McGhee's rating system incorporates multiple variables and recommendations for bringing trails up to various levels of difficulty.
"Putting me on a trail with a shovel is useless," said McGhee. "So my trail work is online and it feels really good to contribute in that way."
Before riding, most people's research is limited to a online write-up and maybe a YouTube video of the route. By offering both, McGhee hopes to alleviate some anxiety surrounding the unknown, allowing everyone to hit the trail with confidence. MTB Project, Singletracks and AllTrails are all in talks with McGhee about adopting his rating system, meaning that down the line, adaptive riders won't be limited to one platform. Recognizing that the riding, documentation and computer work are incredibly time-consuming, McGhee is also in the process of training other adaptive riders to do it in their respective geographic areas. 
For now, as McGhee continues to plug away at all of the mountain bike trails in and around Bentonville, he's also working on importing Sport-On's raw frames and proprietary parts in order to assemble bikes locally and become the company's first U.S. distributor. He's already gone through virtual training with Sport-On, which is based in Poland, and has plans to put his first bike together in his Bentonville garage. He hopes to scale up quickly, offering bikes to ship as well as demo in town, eventually opening up a dedicated showroom.
"That's the goal, to get people outdoors safely and without all that anxiety," said McGhee. "Equipment is a big part of that — these bikes are not cheap, so having them available for people to ride is a big deal."
In the near future, adaptive riders will be able to come to Bentonville and demo a bike on any number of trails. They'll be able to look at routes online and in videos, choosing one based on their needs and ability level. They'll also ride with confidence, knowing that the city has addressed outstanding problems and installed adaptive signage. They'll be able to come and enjoy Bentonville, just like any other bicyclist.