December 8, 2021
Mapping Youth Bike Programs in the U.S.
By: Nick Aguilera, PeopleForBikes youth and community partnerships manager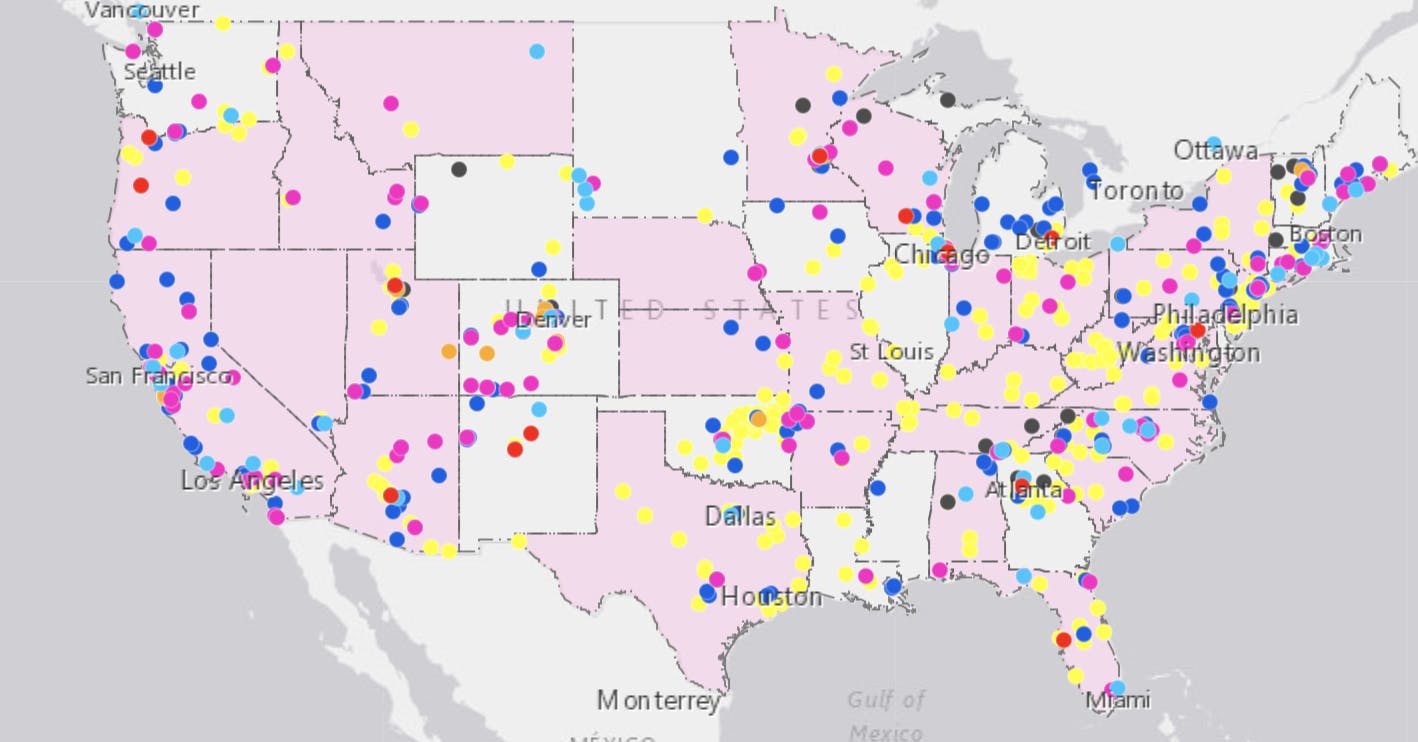 A new comprehensive mapping project from Outride and PeopleForBikes shows the nationwide locations of eight youth bicycling programs. Is there one near you?
In the last two years, as biking experienced a pandemic-inspired rise in popularity across the U.S., youth bicycling programs grew in scope and number. The "bike boom" isn't just for adults — youth programs around the country have been working hard to foster a new generation of riders. 
The mental, physical and emotional benefits of bicycling for youth are well documented. Children and teens who regularly engage in physical activity report less depression and anxiety symptoms, have higher self-esteem and also perform better academically than kids who are inactive.
"Bicycling is good for your body, but it really goes beyond that," said Esther Walker, research manager at the youth bicycling nonprofit Outride. "It's good for your mind and a really great way to build social connections and community."
Building bicycling communities — what we love to call "bike ecosystems" — has been a strength of many of our youth programming partners, who are working hard to create safe, welcoming spaces for youth to ride. In order to help facilitate connections among organizations and individuals, PeopleForBikes worked together with Outride to map every location of eight different youth bicycling programs nationwide. Beyond having a national focus, all of the programs on the map share a commitment to breaking down barriers to accessing bicycling, especially for low-income communities, BIPOC, LGBTQ+ and other historically marginalized youth.
The programs include Trips For Kids, Little Bellas, the National Interscholastic Cycling Association (NICA), the Outride Fund, Outride Riding For Focus, Project Bike Tech, Free Bikes 4 Kidz (FB4K) and USA BMX Foundation. These organizations range in their offerings, from providing free bikes to hosting after-school mentorship programs to facilitating in-school bike mechanic courses. Many are also part of a collective effort to get more kids on bikes through the Youth Cycling Coalition. In total, these groups are currently working in 763 communities around the country.  
The map shows each program's geographic location with a link to its respective website. We built it to be interactive — look and see who's serving your area (or who could be). Is there a youth bicycle program in your community? Reach out to them directly if you'd like to learn more and get involved. Is there a youth bicycle program near you that's not on the map? Let us know.
As our partners continue to grow and get more kids on bikes, we'll continue to update the map.  If you know of a youth bicycling program that could use funding, Outride is currently accepting grant applications for up to $15,000 through the Outride Fund. Learn more about what the fund looks for in grantees and apply through January 7.