October 26, 2021
Investing in Community
By: Kiran Herbert, PeopleForBikes' local programs writer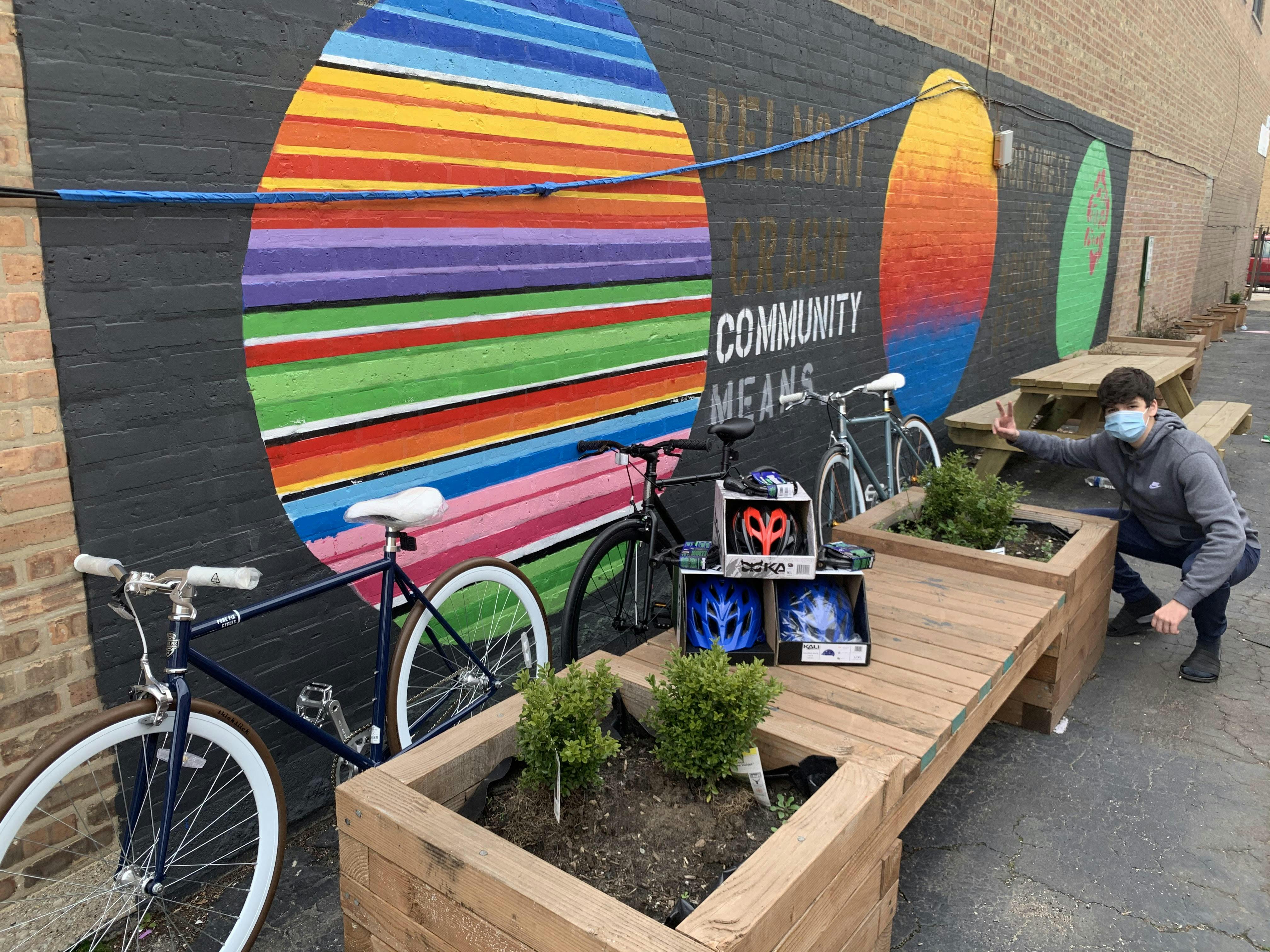 A member of the Northwest Center's youth advisory council poses in Belmont Cragin.
Building inclusive bicycling ecosystems means supporting youth and working from the inside out. Two nonprofits — the Northwest Center and Outride — are committed to doing just that.
By all accounts, Belmont Cragin, a neighborhood on Chicago's northwest side, is a transportation desert. Not only is it sorely lacking in bicycle infrastructure, but its transit options are unreliable, slow and scarce, with no trains or subways directly serving the neighborhood. For years, Belmont Cragin didn't have a single bike share station. 
That changed in April of this year with the installation of the neighborhood's first Divvy station. The Chicago Department of Transportation (CDOT), which oversees Divvy bike share, committed to an additional 25-30 stations over the coming months, as well as a dense grid of new bikeways, adding up to 17 miles of bike lanes. The investments from CDOT were spurred on by the Northwest Center (formerly the Northwest Side Housing Center), a neighborhood community organization, and in particular, its youth members. 
When asked to pinpoint issues impacting their community, time and time again, the Northwest Center's youth leadership council would point to mobility, specifically the lack of bicycle infrastructure. With the weight of the center behind them, the youth spent years lobbying local representatives to bring bike lanes and Divvy stations to the neighborhood. Once the new stations and bike lanes were announced, the young leaders played an integral role in the planning and placement process, as well as in engaging residents around the new infrastructure.
This past August, the Outride Fund, the community grant-making arm of the youth bicycling nonprofit Outride, announced its largest grant round to date with a $530,000 commitment to 129 community bicycling projects targeting youth riders. Among the Outride Fund's 53 recent grantee partners is the Northwest Center.
The Outride Fund's grantees include organizations offering multiple access points to bicycling, including programs aimed at BIPOC, LGBTQ+, gender-inclusive and low-socioeconomic populations. The aim of the Outride Fund is to increase accessibility and diversity in bicycling — it partners with earn-a-bike programs, bicycle co-ops and community bike shops, as well as bike parks, bicycling teams and pump tracks, to further that goal. Although the Northwest Center is actively involved in local transportation issues, it's not specifically a bike organization. For Outride, that was part of the appeal. 
"The [Northwest Center's] staff is very diverse and representative of the population of Belmont Cragin," said Andy Cunningham, Ph.D., the Outride Fund program manager. "They're engrained in the local community and that's where the impact can be the greatest — when communities are serving themselves."
The Northwest Center is also one of five Living Lab grantees of the Better Bike Share Partnership (BBSP), of which PeopleForBikes is a founding member. Although the Northwest Center initially offered free housing counseling, over the years its mission has expanded to include holistic financial education, a subsidiary community development corporation and comprehensive community planning and organizing to address issues related to safety, education, youth, women, older adults and transportation.
"Their grant application stood out because as an organization, they're well-positioned to play a role in the creation and maintenance of a cycling ecosystem in the area," said Cunningham. "Their youth are also thinking about policy and infrastructure in a way that's unique."
When Cunningham and the Outride Fund Grant Committee evaluate grant proposals, they take a holistic view with the ultimate goal of supporting a range of programs facilitating youth bicycling engagement. In addition to assessing the types of programs offered, to whom they serve and for what impact, they also look for organizations that share a commitment to cultivating diverse and inclusive bicycling communities.
Traditionally, Belmont Cragin has been underserved when it comes to investments and is home to many historically marginalized populations. The 80,000-person neighborhood is predominantly Latino, with more than 70% of residents speaking Spanish at home and approximately 12,000 identifying as undocumented. Additionally, some 21% of residents live below the federal poverty level and more than a third of adults have less than a high school degree or GED. The fact that Belmont Cragin's population also skews young — with some 25% under age 14 (and a third under the age of 19) — only makes youth bicycling programming all the more impactful.
"This Outride grant is really going to bolster our work and boost it up a level from where it is now," said Jeremy Cuebas, youth organizer at the Northwest Center. Cuebas notes that a bulk of the money will go to upping the pay of the organization's transit ambassadors, the teenagers who engage and educate residents on bike lanes and riding their bikes. Since the grant requires the Northwest Center to raise matching funds, Cuebas also hopes to involve his youth in that process. "The young people don't usually do the fundraising, but we want to work with them," said Cuebas. "Maybe make a cool video to put out to our funders."
Cuebas estimates that the Northwest Center will be able to secure enough donations by early next year, allowing the organization to continue advocating for bikes throughout Chicago's cold winter months. On the youth council's agenda is organizing more group neighborhood rides and in-person events, such as "Bikes for Belmont Cragin: Spotlight Edition," which will showcase small businesses of color along the new bike lanes. The Northwest Center is also working with Bikes and Roses, a local youth bike nonprofit, to host a "Pump the Brakes" series, where bikers and drivers can come together and have a safe, facilitated conversation to build mutual respect.
"We want to provide safe spaces for people to voice their concerns but we also want to support people financially," said Cuebas, mentioning gift cards as a possible incentive for getting folks to show up. "We'll also continue our advocacy work for more bike lanes — that's not going to stop."
Cunningham sees the Northwest Center as a likely partner in eventually bringing more youth bicycling initiatives to Belmont Cragin, including Riding for Focus, Outride's middle school-based PE program. 
"We see a strong potential in Belmont Cragin, as a community partner and a leader," said Cunningham, emphasizing Outride's larger goal of creating flourishing bike communities. "We think that riding a bike should be as easily accessible as going to a public library."
Outride's matching grants are completely unrestricted, allowing the organizations to determine how to best spend funds to further bicycling locally. Going forward, the Outride Fund hopes to tap more industry partners and donors in order to continue growing the number of grants it offers each round and keep up with demand (the fund experienced an 80% increase in applications during its last round).
The Outride Fund's Winter 2022 grant round is currently accepting applications through January 7, 2022. Stay up to date by signing up for Outride's newsletter and following along on Facebook and Instagram.