December 7, 2021
Pedal It Forward
By: Kristie Holt, PeopleForBikes NWA bike business innovation manager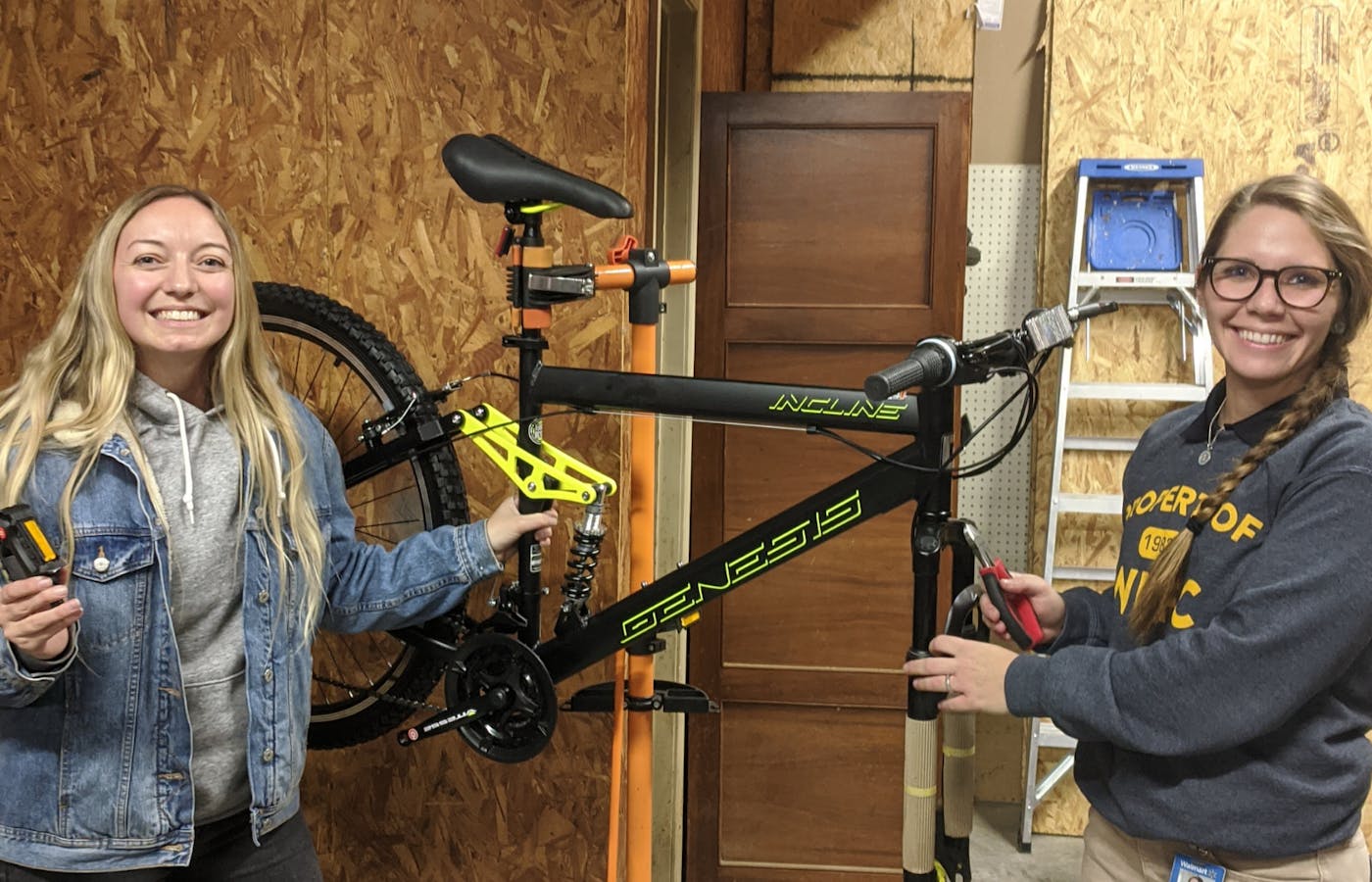 In Northwest Arkansas, employees at J.B. Hunt and Walmart are volunteering to fix up bikes for community members in need.
On a Monday evening in November, in a nondescript warehouse in Bentonville, four bike repair stations were filled with seven volunteers. There were tools, extra bike parts, snacks and seasoned helpers doling out words of advice. Some people had bike mechanic knowledge but most started the night as passionate riders. The bikes being worked on ranged from a Frozen-themed kids' bike with training wheels and streamers to a racing red dirt jumper, and there was lots of talk about everyone's first time riding. With each bike built, the volunteers got faster and more comfortable using unfamiliar tools. 
The group was gathered in support of Pedal It Forward, a nonprofit dedicated to refurbishing donated bikes for riders in need. Founded by Justin Tubb, Gary Vernon and David Tovey in 2014, the organization is predicated on the power of the bicycle to transform lives and create healthier communities. Over the years, it's grown from a small operation to hosting monthly workshops throughout Northwest Arkansas. Although the organization is run by two full-time staff members and a board of directors, volunteers are the heart and soul of the program, putting in the many hours and elbow grease required to refurbish old bikes. 
"If we cannot turn the bikes we receive into bikes we can donate, we cannot continue to grow and meet our goals of getting more people on bikes," said Pedal It Forward Programs Coordinator, Stuart Gower-Jackson. "They are the engine room!" 
On this particular night in Bentonville, employees from J.B. Hunt and Walmart were working hard to meet Pedal It Forward's holiday goal of fixing up 200 bikes. Once bikes are handled by volunteers, they go through a rigorous testing process to ensure they are roadworthy. Although volunteers don't get to see where the bikes go after they leave the Pedal it Forward warehouse, that isn't the reason they show up. Take Griselda Jaimes for instance, who works for J.B. Hunt and signed up because she felt drawn to the cause. 
"This organization encourages low-income families and at-risk youth to cycle by providing them with a bike of their own," said Jaimes. "Being able to help out is a highlight of the event for me."
Pedal It Forward gets its bikes from a variety of sources, including individual donations from local residents and retailers, who occasionally receive damaged bikes that they're unable to put on the sales floor. The organization never knows what it's going to get or what state of disrepair the bikes will be in. While not every donation is salvageable as a complete bike, parts can always be recycled and nothing goes to waste. With more than 60 "Pedal Partners," or organizations that help disseminate the refurbished bikes, there's a never-ending need.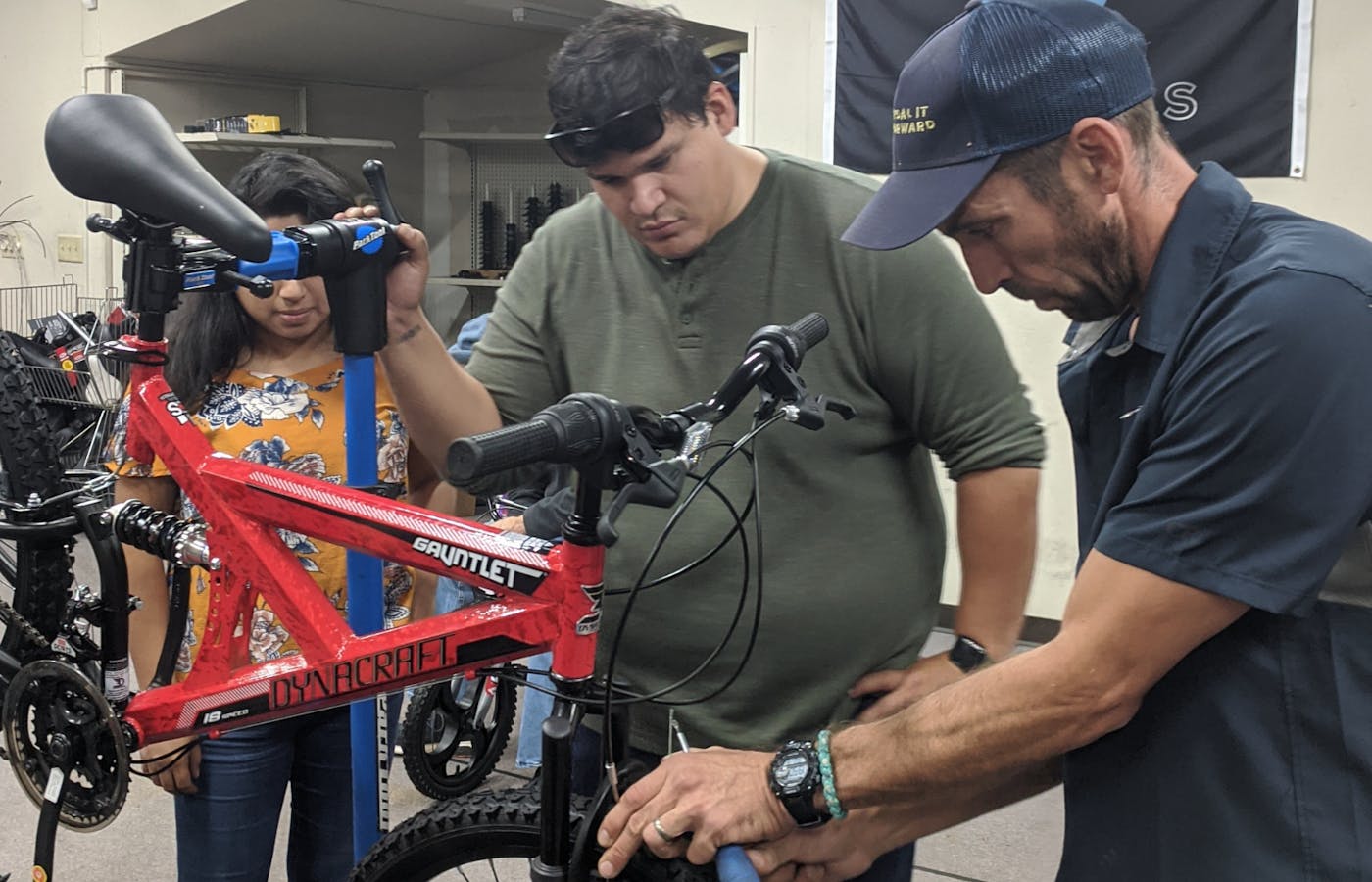 Due to its limited staff, Pedal It Forward found working with partners to be a more efficient way of getting the bikes to people in need. Any business or organization that works with underserved communities in Northwest Arkansas can sign up to be a Pedal Partner — examples include recovery programs, education institutions, the Department of Veterans Affairs and homeless shelters. Pedal Partners are responsible for identifying individuals involved in their organization that are in need of bikes and once a partner submits an order form for bikes, Pedal It Forward gets busy filling it. Of course, orders are much easier to fill when there are bikes ready to go, hence the importance of a consistent flow of volunteers.
Most of the employees from J.B. Hunt and Walmart first heard about Pedal It Forward through their respective company bike programs, fueled by PeopleForBikes' Northwest Arkansas satellite office. Our team there has been working with businesses to get employees riding more often and commuting by bike, cultivating strong internal bike cultures. Through the bike programs, employees can go on group rides, attend educational classes and participate in other bike-related events. 
It helps that both J.B. Hunt and Walmart are committed to giving back to their communities and that they encourage employees to volunteer. Walmart even offers grants to nonprofits when its associates volunteer 25 hours or more. While anyone can show up for a volunteer night at Pedal It Forward, many of the participants in the bike program prefer volunteering together. Some teams at Walmart even use the volunteer experience as a team-building opportunity to get to know each other outside of Zoom meetings.
"Having recently joined Emerging Tech [a team at Walmart], I wanted to share in a hands-on experience with new team members while giving back to our community," said Walmart Associate Zach Springer. "Pairing community with physical labor has always proven to be a successful recipe in building relationships internally and externally." 
Not only are the volunteers learning about each other, but they are also learning how to fix their own bikes at home. With the changing weather and loss of daylight, November was a prime time for volunteering. Group rides tapered out and with the holidays fast approaching, Pedal It Forward had a need for new volunteers. The wrench events offer a way for the bike program participants to stay engaged — and learn some valuable mechanic skills.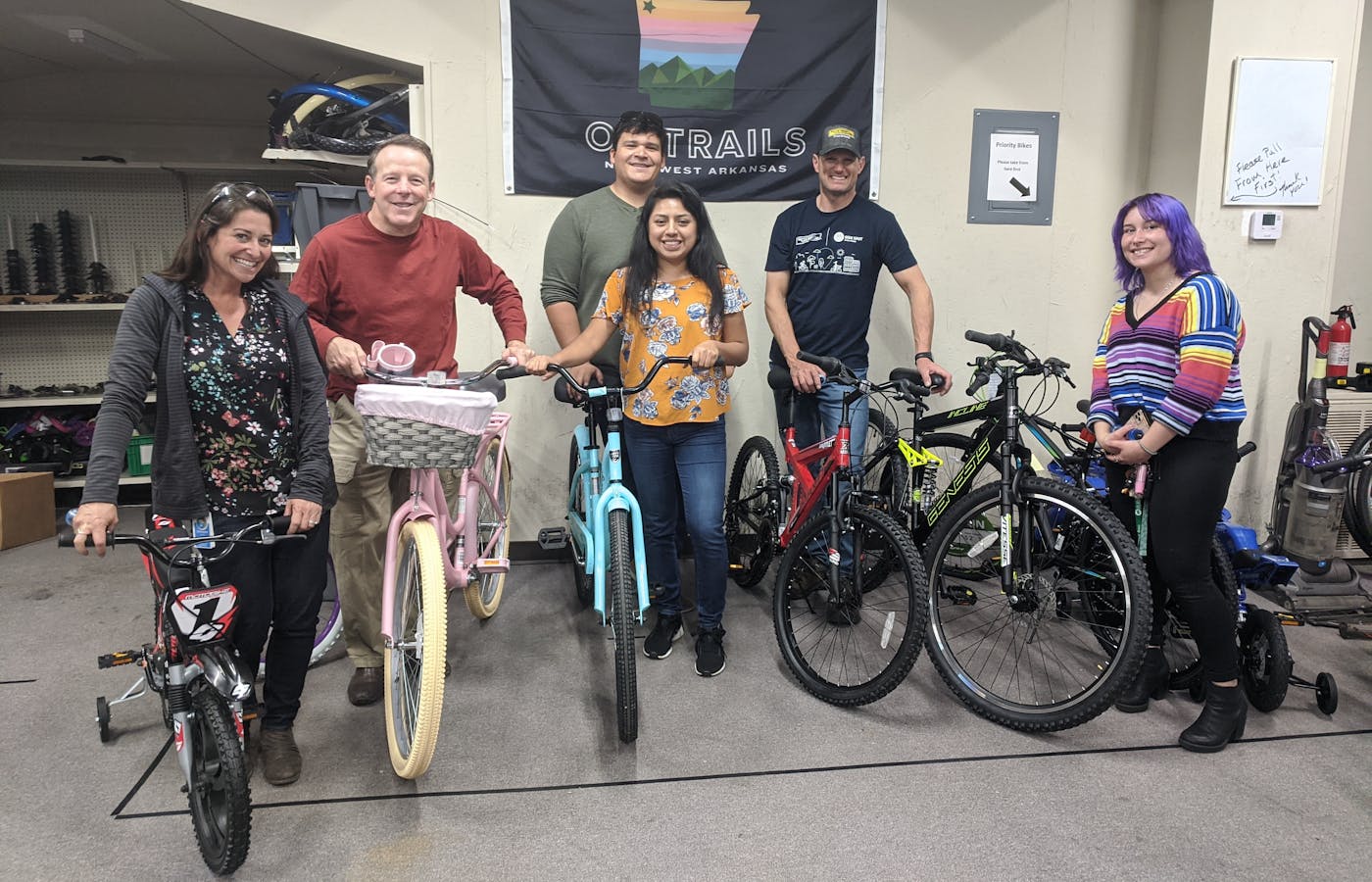 In early 2020, the PeopleForBikes team in Northwest Arkansas signed on as a Pedal Partner, recognizing that not every employee across our various bike programs would be able to afford a bike. Joining the Pedal Partner program helps break down barriers to access for employees that might want to join their company's bike program but don't have money in their budget for a bicycle. Working with Pedal It Forward has been a win-win, making access to biking more equitable and providing opportunities for co-workers to help each other discover the joys and benefits of riding bikes. 
"It's not all about wrenching," said Gower-Jackson. "We also get to meet new faces and find really cool alternative collaborations and ways to get more bikes out there."
Just after 8:30 p.m. at the Pedal it Forward warehouse in Bentonville, volunteers took off their shop aprons, cleaned off the bike grease and stood proudly with the seven bikes they built that night. What started off as an evening with co-workers ended with new friendships and plans for a future bike ride. There was a feeling of collective accomplishment, the group content in knowing that somewhere in Arkansas, a child was going to get a brand new bike for the holidays.