June 29, 2022
The Secret Behind Bentonville's Success
By: Jack Foersterling, PeopleForBikes' copywriter + editor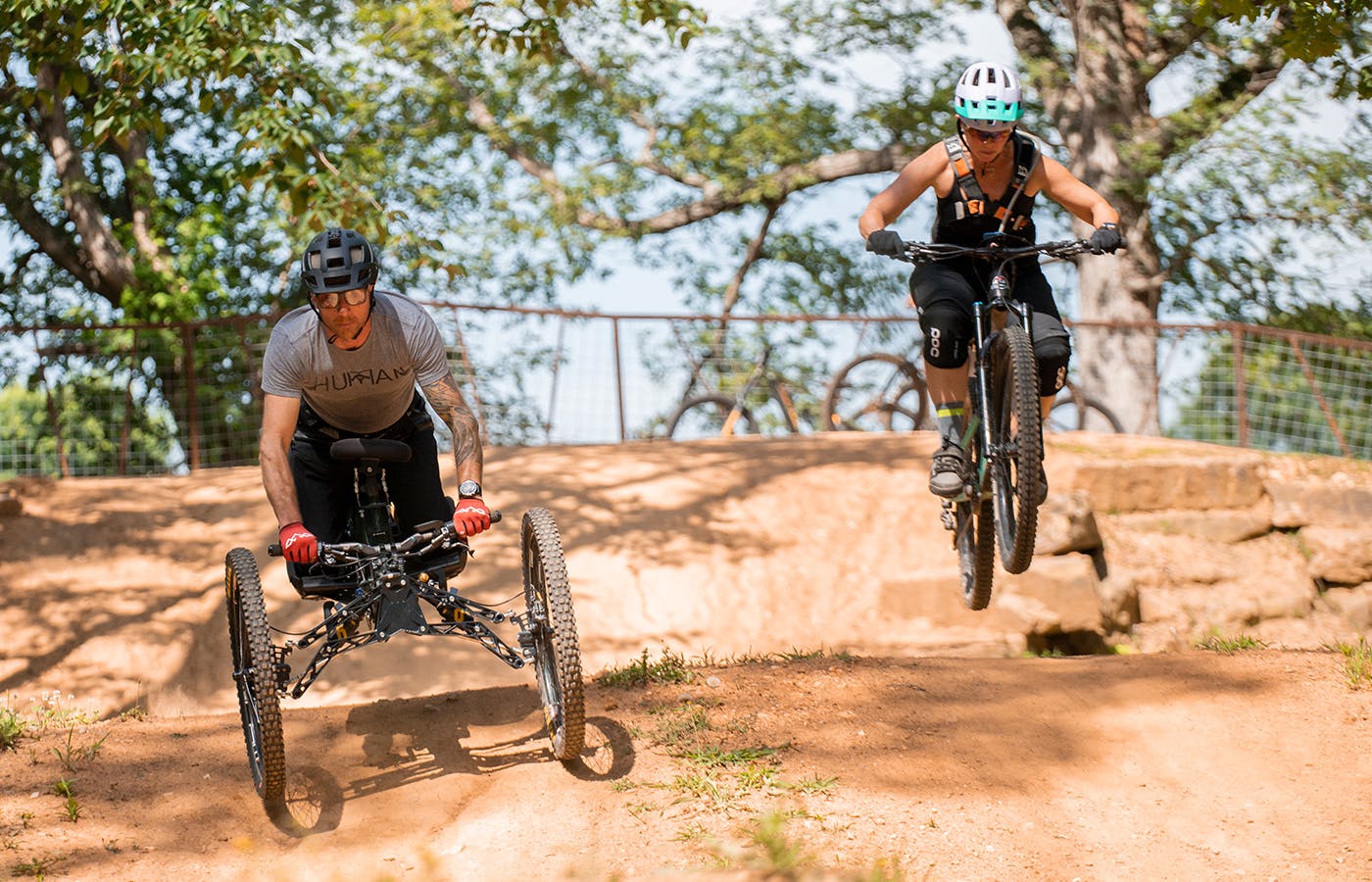 PHOTO CREDIT: Patty Valencia
Twenty years ago, the small, Northwest Arkansas city was relatively unknown. Today, it's the mountain biking capital of the world.
Bentonville, Arkansas, tucked in the heart of the Ozarks in the northwest corner of the state, is probably most well known as the birthplace of Walmart. Over the last 15 years, however, thanks in large part to investments made by the Walmart-founding Walton family, the city has dubbed itself the "Mountain Biking Capital of the World."
Some die-hard mountain bike enthusiasts may throw up their arms at that statement and say, "What about Moab, Whistler or (insert said enthusiast's favorite local trails here)?!," but those who have visited Bentonville can attest that the city has truly done an incredible job of growing a strong community of dedicated cyclists, all within recent memory.
For 2022, Bentonville ranked #1 in Community Score in PeopleForBikes' annual City Ratings. The program, which evaluates, identifies and compares great places for biking, determines a city's score by combining its Network Score, measuring the quality of a city's bike network, and its Community Score, measuring how people feel about biking in their city. While the Network Score may be worth 80% of a city's overall rating, the Community Score offers an important look into understanding local resident's perceptions of bicycling where they live, work and play.
With a Bicycle Network Analysis score of 43 and an overall score of 48, Bentonville sits right on the cusp of being considered a great place to bike by City Ratings standards, with an overall score of 50 being that gateway to greatness. However, touting a Community Score of 70, the Northwest Arkansas hub offers many potent lessons on fostering a community of bike-minded residents. 
Bentonville's journey began relatively recently, with the city's first five miles of singletrack opening in 2007 on the north end of town. By 2010, those five miles grew to 17 miles, and the Slaughter Pen network of trails stretched further south, connecting to the heart of downtown Bentonville. Over the next 10 years, the region's network of trails continued to expand, with 100 more miles of trails opening in Bella Vista, Bentonville's northerly neighbor. Today, Northwest Arkansas is home to more than 500 miles of trails, stretching from Bella Vista to Eureka Springs.
But Bentonville's success lies in more than just building miles and miles of trails — according to Gary Vernon, senior program officer for the Walton Family Foundation, the organization responsible for funding a majority of the trails across Northwest Arkansas, the key is building trails for all types of riders. 
"When the first few miles of trail were built, it wasn't just a check written by a family foundation. Tom and Steuart [Walton] were out riding the trails in the community and building the trails that most benefited those who lived in the community," said Vernon. "We wanted to build trails that connected communities, both physically and socially, and that are able to be enjoyed by riders of all skill levels. We wanted to get families out riding together that normally wouldn't. Instead of packing up the car and driving a few hours to ride, you can roll out of your driveway in Bentonville and be at a trail in minutes. We like to say that the best trailhead in Bentonville is your garage."
For Vernon, accessibility, connectivity and progression are the key pillars to introducing new riders and welcoming more people to the fun of mountain biking. "Just start with that first 10 miles of trail and build them in a way that there's trails that are fun for all skill levels," he said. "Build trails that parallel greenways so parents can ride on pavement alongside their kids riding dirt for the first time. You don't need 150+ miles to be successful; if you have 10-15 miles of fun, connected trails, you can be successful."
While Bentonville trails may lack the one-way distances of other mountain biking meccas out West or in the Northeast, Vernon also points to the "lapability" of local trails as another benefit to Bentonville's success in growing riders' confidence and love of biking. 
"Growing up, we would build one jump and hit it 1,000 times. That's how we got better," said Vernon, noting how Bentonville's dedicated climbing tracks sprinkled throughout its trail networks make it easy to hit the same lines again and again and again. "You don't get better by hitting a different jump every time you ride. Beginners can benefit so much from repetition, and when you can hit the same line five times in a row, you're going to be a lot more confident on the bike because of it."
Don't just take Vernon's word for it either — Bentonville's investment in biking has proven to be instrumental in growing the number of residents who love to ride. Based on a 2021 survey conducted by PeopleForBikes, 26% of Benton County residents reported riding more than 35 days a year, placing them in the "enthusiastic rider" category. The study also found that a resounding 79% of residents either agree or strongly agree that bicycling is good for the community and 70% think that bicycling in their area has gotten better in the past three years. For any cities on the fence about community response to an investment in biking — hard work pays off. 
While Bentonville is still breaking ground on new off-road trails every year, the city's biggest push now is turning all of that community support for recreational riding into support for more safety for on-road riding and biking for transportation.  
"We want to be the safest place in the Heartland to ride a bike," said Hunter Garrison, Bentonville's bike and pedestrian planner. "We want people to be able to access the entire city — trails, restaurants, bars, you name it — without ever having to get in their car."
Bentonville's first on-street protected bike lane is slated for completion later in 2022, and Garrison says changing the image of non-recreation biking is essential to continuing similar projects in the future. 
"In Bentonville, schools don't provide access to a bus if you live within a mile of a school system. That means we have hundreds of kids biking to school," said Garrison. "When all people see are adults in lycra, they don't really care as much about those on-road facilities. When they see kids biking, they feel the need to support the creation of facilities that get them to school safely."
Garrison also says that even if people don't care about bikes, everyone cares about economic boosters, and it's hard to look past what bikes have done for economic growth in Northwest Arkansas. In 2017, a study showed that bicycling brought $137 million in economic benefits to the region. Bicycling put Bentonville on the map, and with how cheap bike investments are compared to similar infrastructure projects, Garrison says you can't prove a better civic investment when it comes to ROI than bikes. 
Building on the city's efforts to improve biking for transportation, PeopleForBikes founded its Northwest Arkansas Bike Business Innovation program in 2020 to coordinate workplace programming, incentives and infrastructure changes to grow the number of employees riding bikes for commuting and transportation in Benton County. 
"This is an opportunity to build on the public sector and philanthropic investments in biking in the region as well as put a new lens on our work," said John Paul Shaffer, PeopleForBikes' Northwest Arkansas business innovation director. "We're looking at the private sector with major employers in the area and how they can meet their own goals around sustainability and employee health while also supporting PeopleForBikes' own mission of getting more people on bikes more often."
PeopleForBikes is assisting Walmart, the largest employer in the region, in their goal of getting 10% of Home Office associates to commute to work by bike by 2023, and Shaffer thinks that's just the beginning. "If we can expand that mission and get 10% of all Benton County residents to commute by bike, we can start rivaling the Portlands and other U.S. leaders in that space. That community of dedicated recreation riders already exists, now it's working to build the infrastructure and culture to incentivize them to ride for transportation."
There are many reasons why Bentonville is a great place to bike, but they all have one thing in common: community. By prioritizing investments that build and center a sense of community and lower barriers to entry, any city can welcome new riders and grow public support for bicycling.
Join PeopleForBikes in Bentonville October 18-20, 2022, for SHIFT'22 — a dynamic, peer-to-peer gathering surrounded by a can't-miss week of bicycling events. By bringing current and future leaders together, we're moving the bicycle industry forward. Register and book your hotel today.