March 23, 2023
How a Bike Bus Inspired a State Bill
By: Kiran Herbert, PeopleForBikes' content manager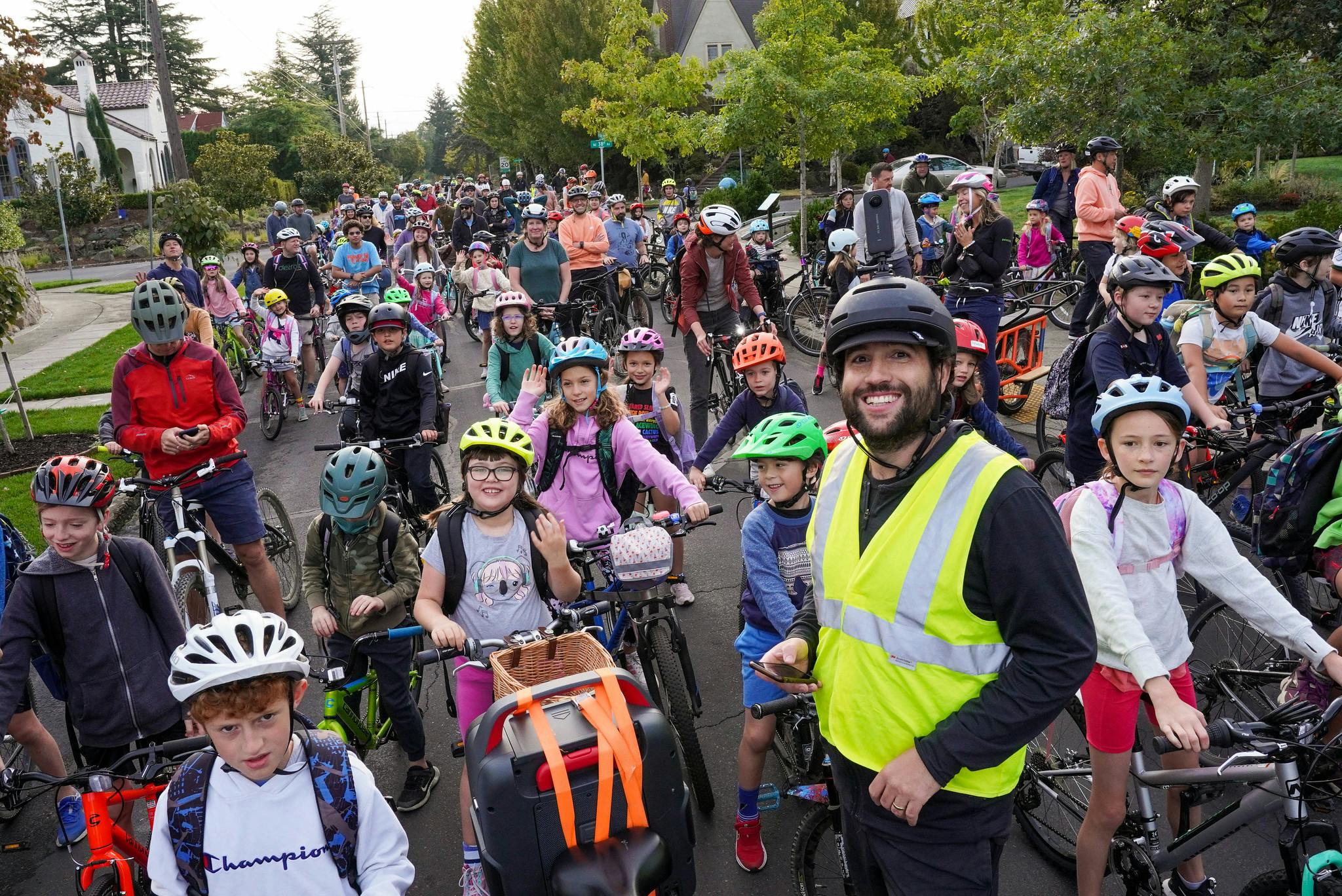 Wearing a yellow safety vest, Coach Balto leads a weekly "Bike Bus" for Alameda Elementary School students. (Photo credit: Jonathan Maus/BikePortland)
In Portland, Oregon, a wildly successful bike bus not only inspired similar actions around the country but also forced state legislators to rethink school transportation funding.
On any given Wednesday during the school year, you can find a pack of more than 150 kids bicycling to Alameda Elementary School in Portland, Oregon. The bike bus, as it's known, represents roughly 33% of the entire school and according to parents and onlookers, it's a joy-filled, active transportation event that you can't help but want to be a part of. In their free time, kids practice their bike skills to participate and on Wednesday mornings, they rally their parents to be on time.
This particular bike bus is the brainchild of Sam Balto, or Coach Balto to his students, a physical education teacher and safe streets advocate that leads the charge in a neon vest with pop music blasting alongside him. Passionate about safety and the well-being of our youth, Balto started his teaching career in Boston in 2015. That same year, he launched his first walking school bus, leading a group of ten kids along a route to school. He's been passionate about Safe Routes to School and active transportation "buses" ever since.
"After that day, I saw the joy of kids walking to school and how different that was than all other days," says Balto, noting the immediate behavioral change the students underwent. "I also realized that relying on volunteers [to run the buses] is not a sustainable or equitable model."
When Balto moved to Portland, he started another walking school bus, again taking note of how successful it was but also what a great need there was for volunteers and other forms of institutional support. When the pandemic hit — accompanied by bus driver shortages and a desire to stay outdoors — bike buses took off around the world, with viral videos surfacing in Barcelona, San Francisco, and even nearby Hood River, Oregon. Inspired, Balto decided to form a bike bus for Earth Day 2022.
"We started with 75 kids and one route," says Balto. "It was a huge success and we decided to keep doing it, so I reached out to parent volunteers to see if they could keep doing it for the rest of the year."
Volunteers are a crucial part of any walking or bicycling school bus, as they help ensure the bus stays together, everyone moves safely, and that cars keep their distance. Once the parent volunteers assured Balto they were on board, the bike bus began to grow, adding another route and a bigger catchment zone to make it easier for kids and families to join. That first year, the bus grew from 75 to 120 kids in just six weeks.
"Because it was being done consistently, families were able to plan for it," says Balto, noting that a weekly activity helps justify a parent's investment from a time and monetary perspective. "Kids were asking for new bikes so that they could join."
In 2023, the bike bus became a year-round weekly institution and has only been canceled once due to weather (and in that instance, it became a walking school bus). As a whole, Portland's bike infrastructure is relatively good and the bus route primarily traverses low-stress neighborhood greenways. The element of critical mass and again, its predictability, have helped keep students safe and area residents prepared. In fact, most neighbors come out and cheer the students on.
For Balto, as with many volunteers that participate in bike buses, the outcomes make the effort worthwhile. Not only do parents report that kids look forward to school more on bike bus mornings, but they also share how bike buses help make everyone in the household more physically active. Others note how active transportation buses can help reduce truancy and increase focus and confidence amongst its participants, something that supports outcomes from research done by Outride on youth bicycling. 
"The biggest thing is just the joy that the kids have," says Balto. "Not every kid will be on a sports team and have that experience, but the bike bus is like a team where everyone plays an important role."
Coming out of the pandemic, parents have also really loved seeing their kids be a part of a community. The bike bus is not only a way for their kids to be active but also ensures they're part of something bigger than themselves. When compared to driving your child to school — a largely solitary act that does little to get them excited for the day ahead — the bike bus always wins. Even with so many parents on board, however, Balto has long recognized the need to pay them for their time. 
Transportation funding, unfortunately, isn't as flexible as many Safe Routes to School advocates (Balto among them) would like it to be. When Balto and others started looking into how they might reallocate unused funding to financially support and grow the bike bus movement, they realized they were up against tremendous barriers. To grow the movement and make it more equitable, the system would need to change. Introducing a state bill made the most sense.
Thanks to the videos Balto posted on Twitter and the attention his efforts were garnering nationally, he was able to connect with more experienced politicos. They in turn connected him with Representative Khanh Pham, who represents District 46 on Portland's outer southeast side. When Blato and Rep. Pham met in September 2022, she was immediately receptive, agreeing on the spot to write a bill that would bring more flexibility to student transportation funds.
"Passing legislation to make it easier for students to bike, walk, and take transit to school is an initiative that solves so many overlapping challenges," says Rep. Pham. "It's a public health initiative, it's education policy, it's climate action, and ultimately it's community building by encouraging neighbors, parents, and students to spend time together."
Coincidentally, another Oregon legislator, Representative Hoa Nguyen, whose district borders Rep. Pham's, wrote an almost identical bill. Having been an attendant at her school, Rep. Nguyen saw firsthand how a walking school bus led to a 30% increase in student attendance. Nguyen also noted how teachers saw a significant decrease in disruptive classroom behavior from students, largely because they were able to expend some energy on their morning walk to school.
The legislators joined forces and ultimately decided to call their combined bill (HB 3014) the "Bike Bus Bill." The bill itself is relatively basic: If passed, school districts across Oregon will have more flexibility with how they spend their state transportation dollars, letting them organize things like bike buses and walking school buses in addition to traditional buses and carpool lines.
"Currently, these funds can only be used for traditional yellow school buses or in some cases, school-owned vans," says Rep. Nguyen. "But that isn't always the best option for all students. With the passage of HB 3014, districts will be able to request reimbursement for alternative transportation options like crossing guards or coordinators to lead walk and bike buses."
The bill would have the greatest impact on those households that don't own a vehicle and that live close to their schools — too close for a bus route — but face dangerous obstacles in traveling safely.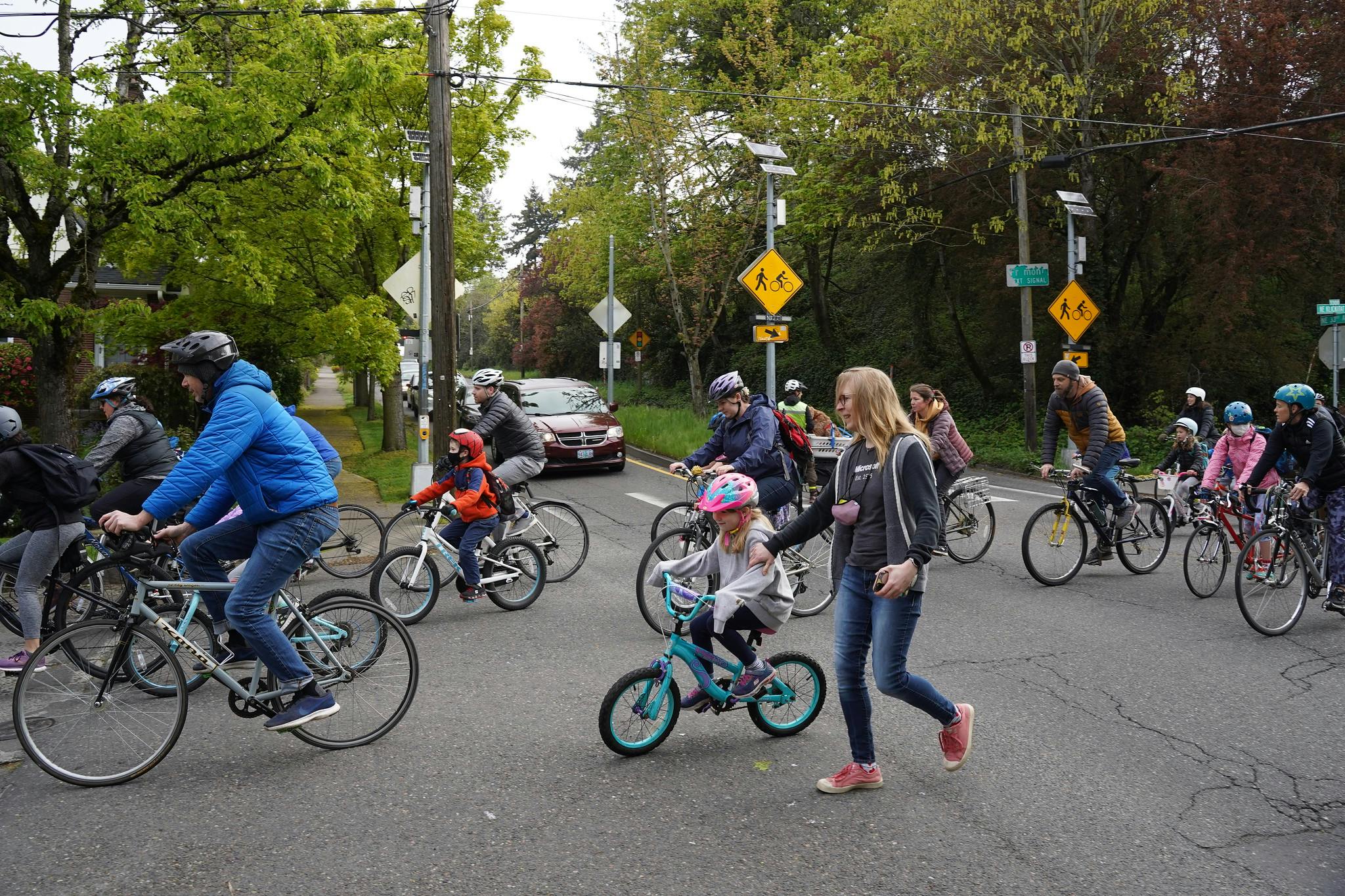 The "Bike Bus Bill" will make it easier to organize bike buses and pay the volunteers that are indispensable to their success. (Photo credit: Jonathan Maus/BikePortland)
Last month, when the Oregon House Committee on Education held a hearing for the bill, Reps. Pham and Nguyen, Balto, and some 27 other advocates, students, and parents showed up to give live testimony in support of the bill. Rep. Pham drew attention to the "epidemic of traffic violence" our students, especially those from lower-income communities, are facing every day and how the bill would help them safely cross short-but-dangerous distances to get to school. Others pointed out that owning and maintaining a car is out of reach for many and how active transportation solutions can help cities meet their carbon reduction targets.
"The first time I rode the bike bus I was overcome with a sense of community. I felt like I was biking on an ocean of joy. Every student should be able to feel what I did," said Alameda Elementary student Isla, speaking at the hearing. "Safe Routes to School programming and investments are a cost-effective game-changer for reducing daily driving…the passage of HB 3014 will improve the climate and encourage people to get active."
For Balto, the bill is a testament to the creative possibility bikes can offer and the power of community-led initiatives. "[The bill] is about providing a more direct service to school communities," says Balto. "It breaks through the noise and is all about the joy of children."
The Bike Bus Bill continues to progress through the Oregon legislature — a work session is currently scheduled for the end of the month and it's hard to say when, if at all, the bill will become law. Whether it does or not, Balto will continue leading his bike bus every Wednesday and supporting others who want to emulate his efforts in their own communities.
"I don't have a choice but to keep going — when kids want these things and are advocating for them, that's student-led education," says Balto. "They're the ones picking what they want to see and do and we should all capitalize on that and support it."