March 25, 2021
How 5 Cities Are Breaking Down Barriers to Biking
By: By Kiran Herbert, local programs writer
An event in the West Colfax neighborhood of Denver where local cruiser car culture merged with biking. (Photo courtesy of Denver Streets Partnership)
Bike advocates in Austin, Denver, New Orleans, Pittsburgh and Providence share how they're already using recent recommendations from Charles T. Brown and other researchers.
In early March of this year, we released a new report, "Where Do We Go From Here? Breaking Down Barriers to Bicycling in the U.S.," based on research conducted in 10 cities across the U.S. from 2018-2019. The research team, led by Charles T. Brown of the Alan M. Voorhees Transportation Center (VTC) at Rutgers University, was commissioned to identify the factors that prevent and encourage different people from bicycling.
"The report highlights how barriers to bicycling are sometimes physical, but also systemic, institutional, social and cultural," said PeopleForBikes Director of Local Innovation Sara Studdard. "Our hope is that readers will think beyond bike lanes and apply its five key learnings to any place-based projects — meeting people where they are and making sure changes to communities are resident-led."
We touched base with mobility advocates in Austin, Denver, New Orleans, Pittsburgh and Providence to get specific examples of how they're already beginning to carry out some of these findings. Although no one city is getting everything right, we hope these stories are inspiring and a testament to what a more equitable and holistic approach to planning can accomplish.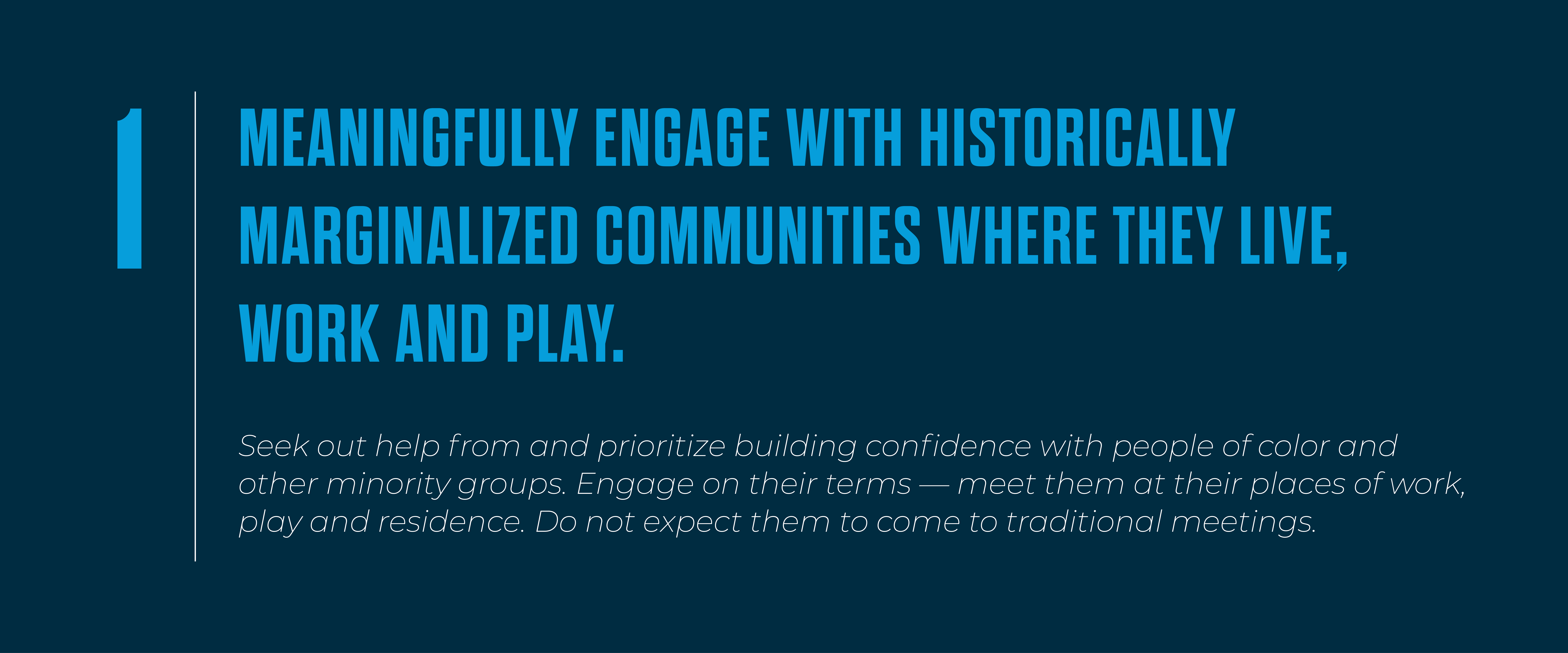 Bike Easy's work in New Orleans is all about building intentional partnerships in order to engage communities, whether that's through offering mini-grants to local churches or partnering with GirlTrek for a march. "When the New Orleans Complete Streets Coalition was launching a big campaign to support the rapid buildout of our bike network, we went to the Algiers neighborhood and threw a fun, daylong festival," said Dan Favre, Bike Easy's executive director. "Algiers, the first community in New Orleans to have the rapid buildout of the bike network implemented, is primarily Black and has been historically underserved." The event had food, junior high marching bands, popular Black DJs from local radio, walking tours, games and bike giveaways. "The whole day was an opportunity for folks to engage with the city on the specifics of the bike plan," said Favre.
Healthy Ride, Pittsburgh's bike share system, has a community ambassador program that similarly works with individuals and nonprofits to authentically engage with new riders, connecting them to bike share and safe riding routes throughout the city. "We've also introduced a seasonal Street Team to help create awareness around the infrastructure changes as part of the MoveForwardPGH program to rapidly implement the city's new Bike (+) Plan," said Erin Potts, Healthy Ride's director of marketing and community outreach.
In Denver, the Denver Streets Partnership teamed up with the West Colfax Business Improvement District to launch the Over the Colfax Clover project. "We began community outreach by hosting a series of bilingual meetings and walk audits with community members in this historically Latinx neighborhood," said Jessica Vargas, the partnership's program manager. Those meetings were followed by engineers, urban planners, developers and agency officials convening to explore potential re-designs and land re-uses — a rare opportunity to efficiently workshop a critical equity issue. "We then hosted a neighborhood festival to demonstrate some of the design ideas, including a pop-up protected bike lane during the event," said Vargas. "Car cruising is such an important part of West Denver culture, so we invited the local cruiser club to display their cars as protection for the temporary bike lane."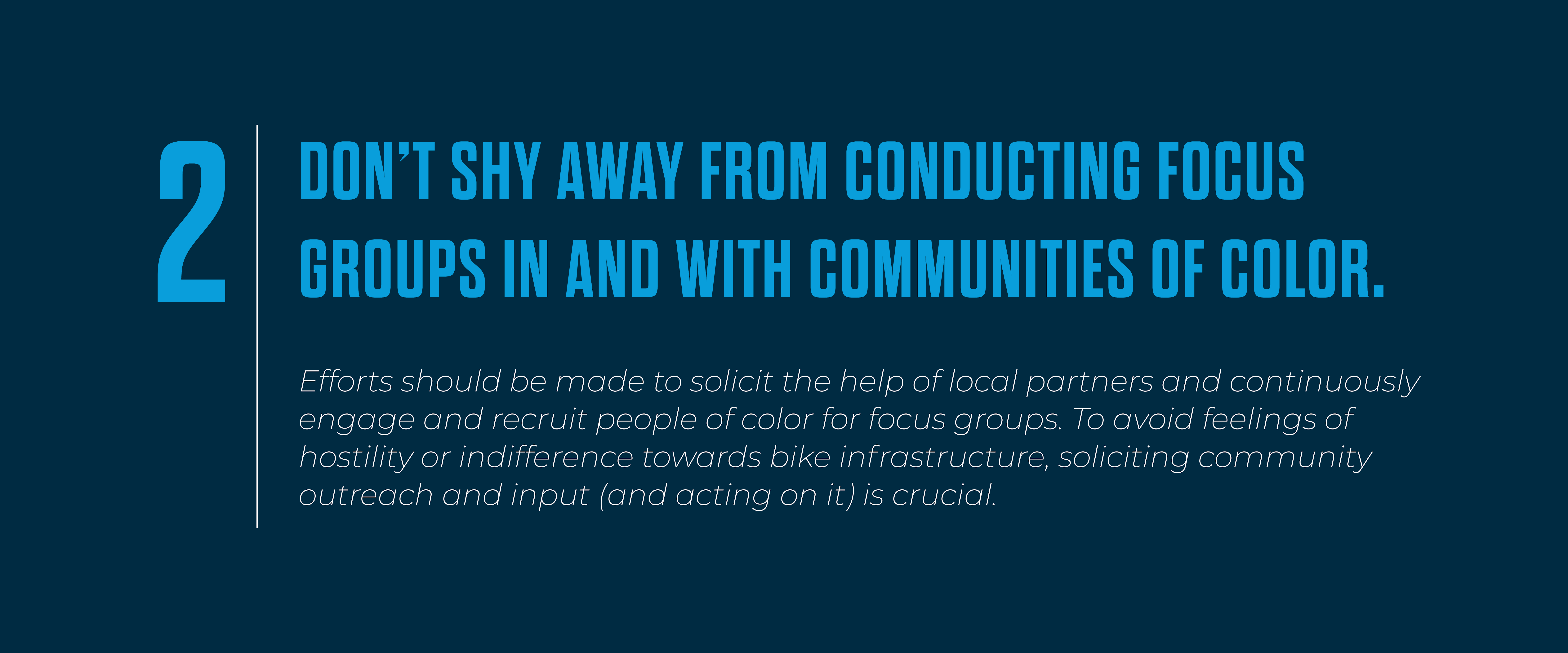 "In 2020, the City of Providence and Providence Streets Coalition partnered to organize paid focus groups for people who travel using all modes of transportation as a part of the city's effort to brand and create comprehensive wayfinding signage for its urban trail network," said Liza Burkin, lead organizer at the coalition. "We put a special emphasis on recruiting people of color and Spanish speakers. It's crucial to get feedback and opinions from people coming from a diversity of lived experiences in order to create trail signage that is useful, understandable and reflective of all city residents."
"Last year in Austin, we developed a GIS map and community stakeholder-driven process to help ensure the equitable and community-driven selection and deployment of Austin's [Healthy Streets] Slow Streets initiative," said Briana Cohen, Austin lead and community educator at Ghisallo Cycling Initiative. "To gather input, Ghisallo connected with Go Austin/Vamos Austin, a coalition of neighbors and community partners breaking down barriers to healthy living and strengthening neighborhood stability in Austin's Eastern Crescent."
Importantly, whenever New Orleans' Bike Easy sets up focus groups, it invites people from the city government to come and listen. "With messaging, it can't all be about biking, it has to be about the overall community," said Favre, noting how pre-pandemic, Bike Easy was canvassing door-to-door in neighborhoods slated for infrastructure improvements. "Sometimes we hear from people that speeding or street flooding are big problems, or they need us to focus on transit rather than bike lanes — it can go a long way when a bike advocate is promoting transit like that." Favre also noted that Bike Easy worked with a pollster specifically known for having an understanding of getting the perceptions of the Black community.
"Google has a big Pittsburgh presence with shower facilities; large, locked bike storage; tools for people to fix bikes — the company has also pushed to build bike culture by encouraging its employees to take rides together," said Scott Bricker, executive director at BikePGH. "Additionally, our large universities have recently been prioritizing safe cycling education, bike parking, on-campus bike shops and Bike to Campus events. The University of Pittsburgh also offers free bike share memberships for all students, staff and faculty, as does Google for all interested employees."
In New Orleans, "Through a partnership with the Regional Black Chamber of Commerce, we're getting ready to announce a bike rack program where they'll be able to provide interested members with free bike racks for their businesses," said Favre. Bike Easy will also do consultations with any businesses that are interested in becoming more welcoming to bikes and facilitates virtual bicycle challenges where different workplace teams can challenge one another to ride more.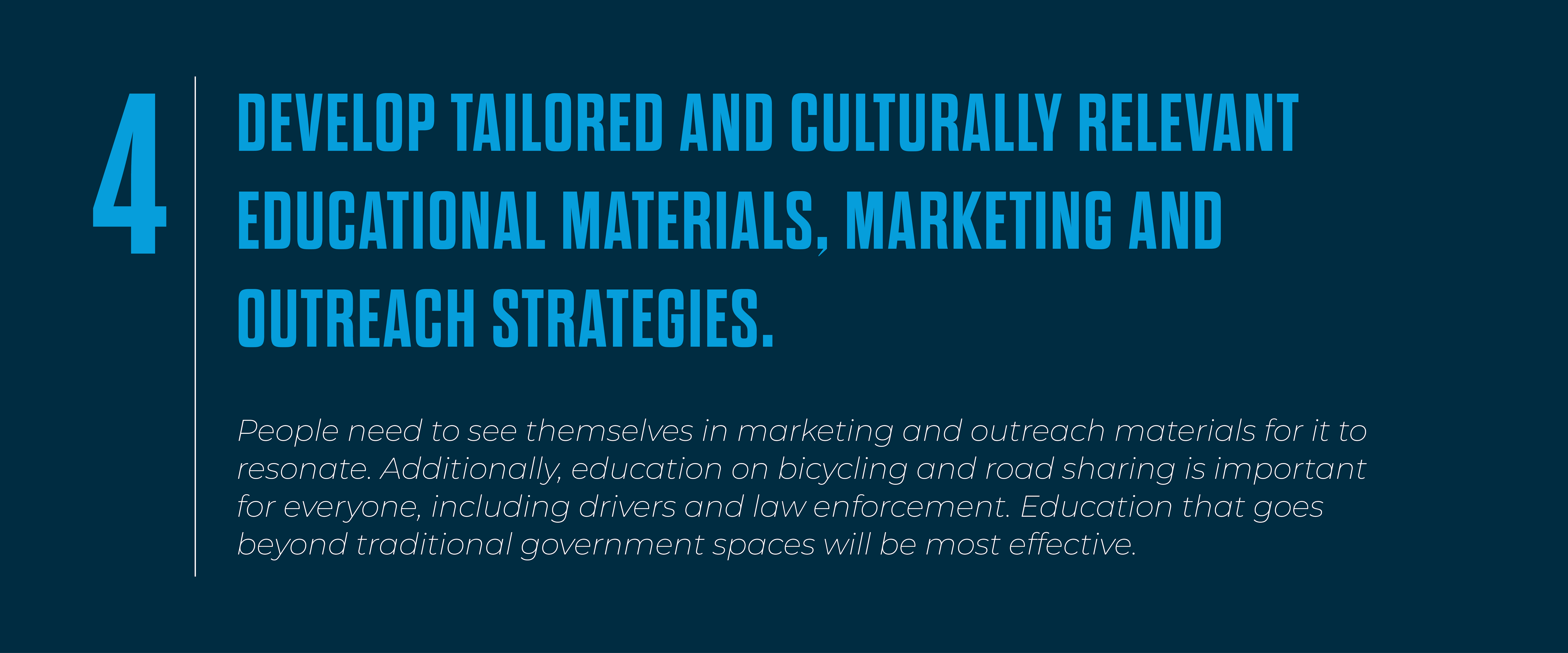 In Denver, the Bicycle Colorado education team builds relationships with and compensates community-based organizations that directly serve people who ride and want to ride. Montbello en Bici, a bicycling group made up of Spanish-speaking families in the Montbello neighborhood, is one such organization. The goal is to help give the group the knowledge, skills and resources to lead more programs on their own so the community is less dependent on Bicycle Colorado. This past summer, the City of Denver, Northeast Transportation Connections, Montbello Organizing Committee and Bicycle Colorado collaborated on English and Spanish educational videos for the Montbello Bike Course featuring Montbello en Bici youth riders. 
In Pittsburgh, Eric Boerer, advocacy director at BikePGH said, "With the hope of reaching the parents by engaging with the kids, we developed a MoveForwardPGH coloring book that is a fun way for adults and children to learn about the benefits of slower, safer streets."
"The Providence Streets Coalition seeks to be a fully bilingual organization in regards to our marketing, outreach and community engagement. So, every element of our creative marketing campaign is translated into Spanish — the social videos, the radio spots, the bus and billboard and print ads," said Burkin, noting that eventually, the organization would like to be multilingual. "We use the 'Weglot' plug-in that seamlessly translates our website into Spanish, Portuguese and Haitian Creole, and we made it a requirement that our Street Team staffers speak at least one other language besides English."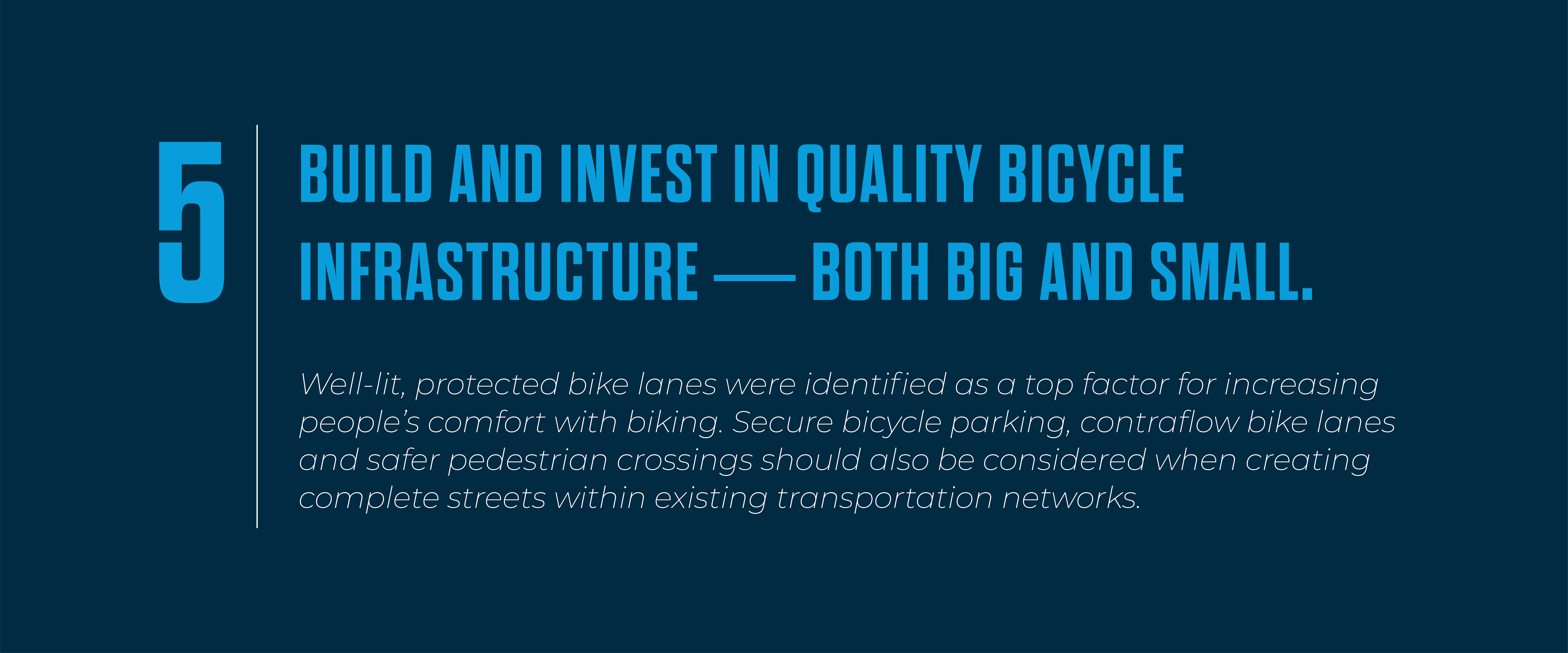 Providence is on its way to implementing its Great Streets Plan, which includes a 75-mile urban trail network designed for people of all ages and abilities to walk, bike, run, scoot, skate and roll. "The two main typologies of the network are two-way protected trails on busy streets and traffic-calmed neighborhood greenways on residential streets," said Burkin. "Contraflow bike lanes, safer pedestrian crossings and better bus stops are also key parts of the plan."
In Pittsburgh, the "GAP to the Point" network of bike lanes is the final piece of on-street bike infrastructure that connects the Great Allegheny Passage to Point State Park through the heart of downtown. "The GAP to the Point bike lanes have both concrete and bollard protection, and feature new-to-Pittsburgh innovations to work around several bus stops, making it easier for buses to pull up directly to the curb," said Bricker.
"The entire New Orleans Complete Streets Coalition and the diverse communities represented there are in full support of connected and protected bike lanes," said Favre. "We realize that it's not just about protecting people from traffic, but it's about lighting and things like that too. When it comes to making people feel safe, the details matter."