February 2, 2021
Getting People to Shift Their Ride
By: Kiran Herbert, PeopleForBikes local programs writer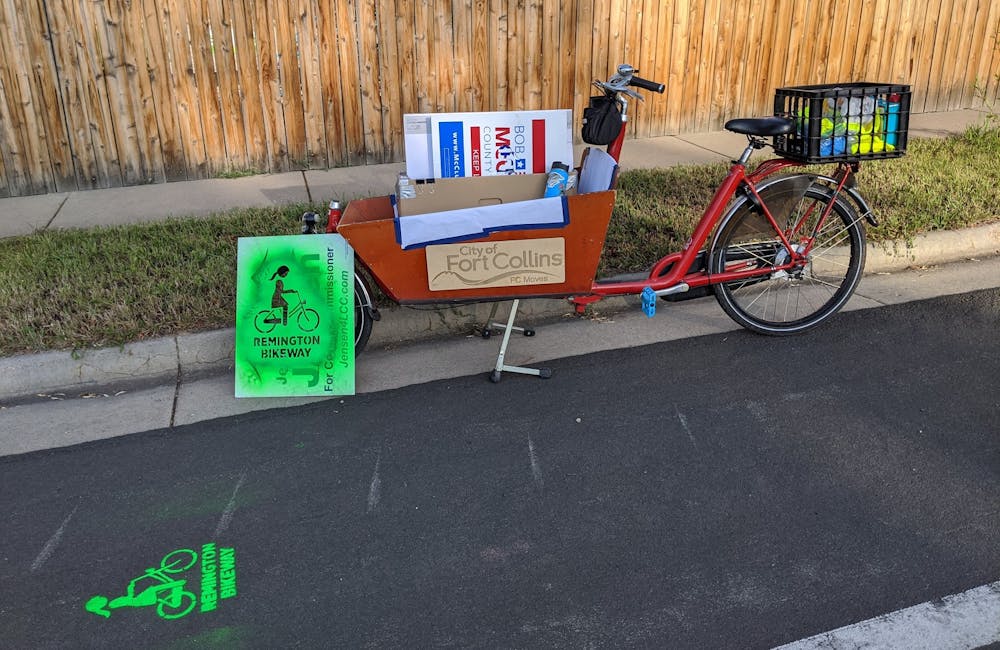 All photos courtesy of the City of Fort Collins
Fort Collins, a recipient of our 2020 COVID-19 Mobility Response Grant, used the funding to beef up its existing bike network, as well as roll out an extensive marketing campaign.
Even in cities that boast substantial bike networks, there's always more work to be done — especially during the pandemic, with Americans biking at unprecedented levels. Fort Collins, a university town in northern Colorado with a population of roughly 170,000, is an example of how smart spending can improve biking in a city that already invested in the necessary infrastructure.
In June 2020, the PeopleForBikes Foundation offered a cash grant of up to $20,000 to support the local implementation of programs designed to increase biking and walking as part of a community's response to COVID-19. The hope was that these short-term pandemic efforts would lead to more permanent changes in local transportation networks. Tucson, Arizona and Fort Collins were both chosen to receive grants, proposing vastly different projects.
"We decided pretty early on that closing streets the way we were seeing in Denver and with other Slow Streets concepts was not going to fly in Fort Collins," said Nick Heimann, an active modes specialist for the City of Fort Collins. "Instead, we looked at the robust system that we were already encouraging people to use for walking, bicycling and scooting on a regular basis, and decided to augment what was already there."
Fort Collins opted to use grant funds to support the installation of approximately 126 permanent bicycle wayfinding signs along low-stress bikeways, as well as temporary wayfinding in the form of pavement stencils to fill in gaps across the city's bike network. The bulk of Fort Collins' efforts, however, focused on their Shift Your Ride campaign, a broader initiative encouraging residents to forgo single occupancy vehicle rides.
Bicycling as Pandemic Response
Heimann, who has a graduate degree in public health, was uniquely positioned to understand the role transportation could play in a pandemic. "I saw the pandemic as an explicit opportunity to focus on public health and its integration into our programs," said Heimann. 
Since Fort Collins already had a robust trail system and a pervasive low-stress bike network, building more infrastructure didn't necessarily make the most sense. According to Heimann, the city's response to COVID-19 was less about providing the space for bicycling as it was encouraging people to get out and engage in physical activity in a safe way.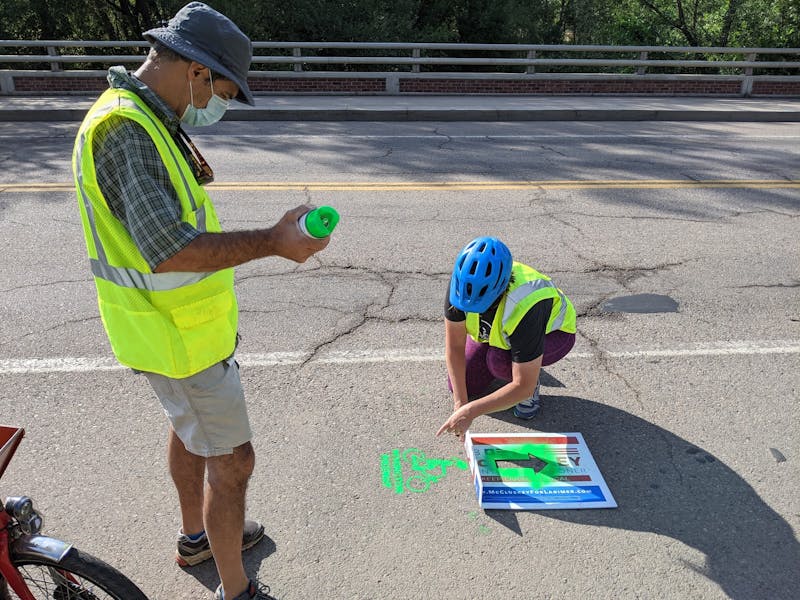 Community members used water-based paint to augment Fort Collins' existing low-stress bike network.
Wayfinding Efforts
In order to make its existing low-stress network more cohesive, Fort Collins focused on installing 126 permanent bicycle wayfinding signs along five destination-serving, citywide routes, as well as temporary wayfinding in the form of pavement stencils. The former helped build awareness for the city's most popular routes at a time when more people were out biking, while the latter was a cost-effective way to fill in gaps in the city's network and help users navigate less obvious connections.
"Before, our signs were definitely spaced too far apart for it to really seem like a truly cohesive network," said Heimann. "The stencils were a low-cost, innovative solution that allowed us to pilot something with the intention of possibly scaling it up in the future." 
Not only did the low price tag of water-based paint allow the city to gauge the public response before committing to permanent changes, but the bright neon green color helped generate awareness for the existing network among bicyclists, pedestrians and drivers alike.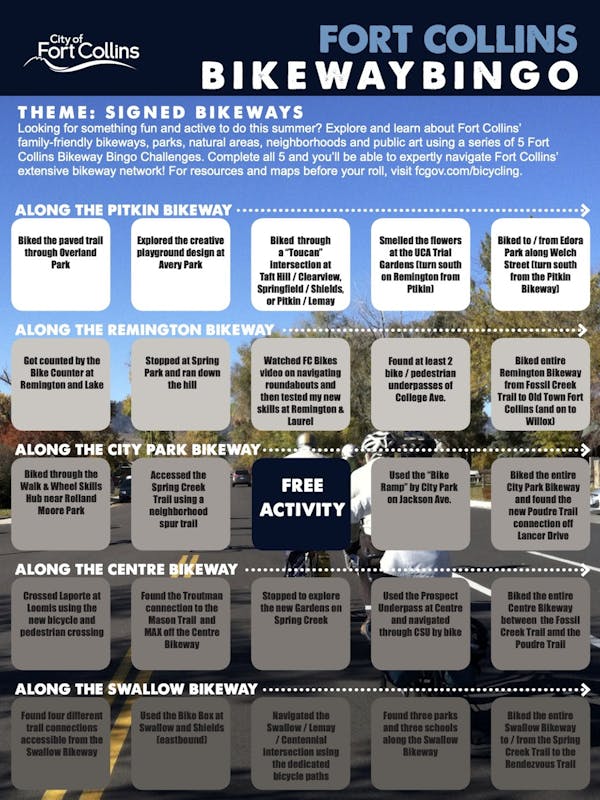 As part of the Shift Your Ride campaign, the city of Fort Collins introduced Bikeway Bingo.
The Shift Your Ride Campaign
In 2019, Fort Collins launched the Shift campaign, developed out of the Environmental Services Department and a desire to support its Climate Action Plan. The Shift campaign was based on individuals integrating small actions into their daily lives to help the community achieve broad environmental goals. When COVID-19 struck, it made sense to build on the program to encourage people to opt out of single-occupancy vehicle rides.
"We decided to narrow the campaign down to one singular action for 2020. Since we're a platinum designated bicycle-friendly community, it made sense to encourage a shift in transportation," said Heimann. "Shift" became "Shift Your Ride," and a chunk of the PeopleForBikes Foundation grant, including an additional $10,000 for marketing and communications, went toward promoting it. 
September was deemed Shift Your Ride month and Fort Collins coordinated a robust campaign, including an accessible website, pandemic-safe events like "Bikeway Bingo" and the dissemination of regular "Shift Tips" — short, shareable videos recorded by community members.
"We also developed a pledge where community members can commit to going car free one extra trip per week than they were previously doing," said Heimann. "Our goal is to have 1,500 community members sign the pledge by Earth Day 2021."
So far, the campaign has been a success. To date, more than 500 people have signed the pledge and in September 2020 alone, more than 80,000 community members were reached through social media. "We have never reached that many people through just our social media channels, so that was really a significant win," said Heimann.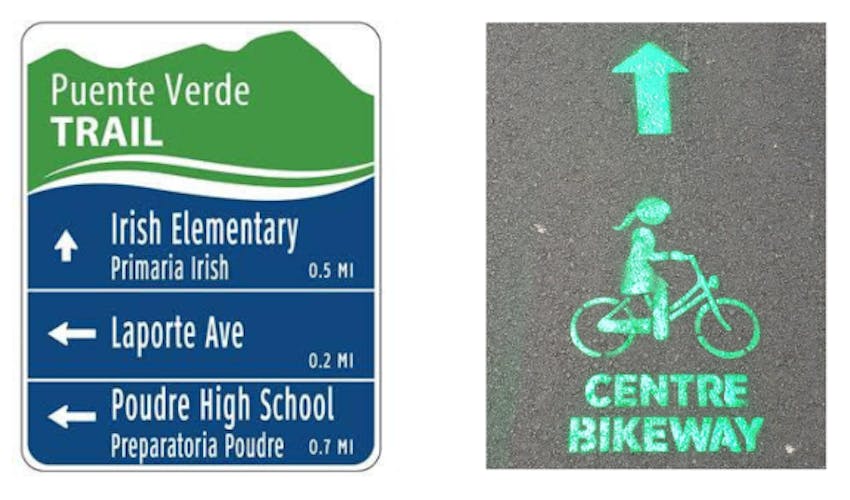 Left: An example of one of the permanent signs installed by the city of Fort Collins, complete with Spanish translation. Right: One of the city's temporary wayfinding signs, created using a stencil and water-based paint.
Accounting for Equity
"I will fully admit that so many of us just didn't really understand what equity meant up until 2020 and George Floyd's murder," said Heimann. "It became clear to us that as city staff, stewards of public resources, program designers and policy influencers, we really needed to put our money and our actions where our words were — if we were going to talk about equity we had to do something about it."
In the Shift Your Ride campaign, Fort Collins explicitly made it a goal to ensure that of the 1,500 community members who take the pledge by Earth Day 2021, 500 will be from historically marginalized and typically under-resourced community groups. As talks of evolving audience segmentation and tailored messaging became commonplace, Fort Collins decided to pilot its efforts by targeting the Latinx community, which makes up the largest minority group in the city.
Using the grant funding, Fort Collins was also able to provide permanent, dual-language wayfinding signs to improve access for the city's Spanish speakers. Even the temporary wayfinding stencil had an equity component: The image of a woman riding a cruiser-style bike drove home the point that bike networks are for all types of riders.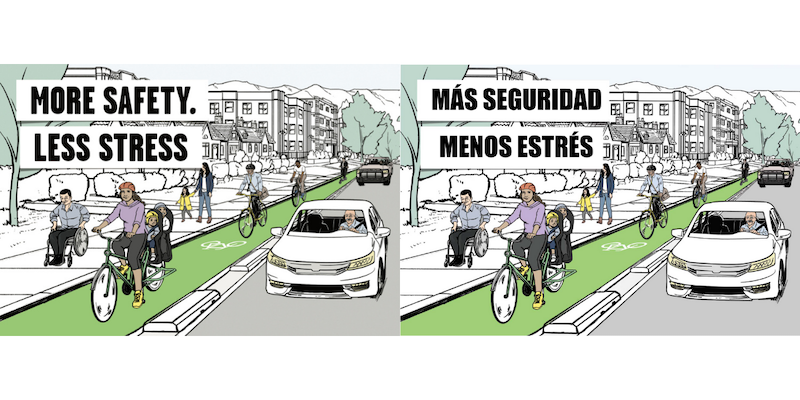 Postcards made and disseminated by the City of Fort Collins, in English and Spanish.
Getting the Community Involved
Fort Collins' response to the pandemic was to pivot, leaning into its existing bike network and engaging locals. When it came time to install the temporary wayfinding signs, the city tapped volunteers from their Bicycle Ambassador Program to get out and do stenciling. "We wanted to make sure there were ways we could continue to bring in our regular volunteers," said Heimann. 
The Shift Your Ride campaign was also undoubtedly a community effort, built around a public platform where folks could exchange ideas, download resources and hold one another accountable for helping to reduce greenhouse gas emissions. Fort Collins was intentional about not singling out motorists, but instead emphasized the importance of making small, incremental changes. 
"We're going to continue to do great things for bicycling in Fort Collins," said Heimann. "In the very same breath, we're going to be looking at other modes and other ways that we can get people to shift their ride."
Read about our other 2020 COVID-19 Mobility Response Grant recipient, Tucson, Arizona.