January 20th, 2021
How Bicycling Changed During A Pandemic
By: PeopleForBikes Staff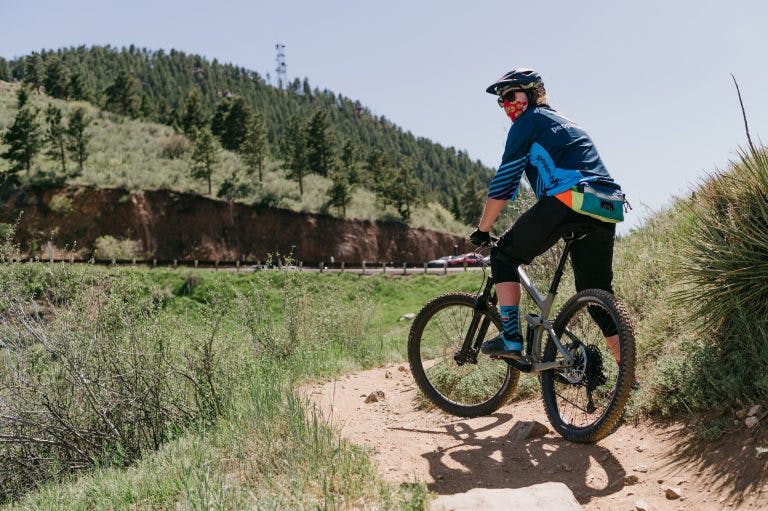 The COVID-19 pandemic brought unexpected challenges to the health, livelihood and well-being of communities across the world last year. Working, shopping and getting around fundamentally changed amidst global efforts to control the spread of the virus.
Adapting to a "new normal," people turned to the outdoors for exercise, mental relaxation and to help escape the stress caused by the new patterns of daily life. By May 2020, bicycling was one of the most popular forms of recreation and exercise in cities around the world.
Data collected by PeopleForBikes' new Business Intelligence Hub mirrored the headlines — Americans were riding bikes at unprecedented levels, increased sales of bicycles left store shelves and bike shops critically low of inventory and cities were closing streets to make way for this surge in bicycling.
These insights proved useful as communities navigated the unique landscape that COVID-19 presented, but were often anecdotal and lacked the in-depth understanding of how riders and city leaders were responding to the changing constraints caused by the pandemic.
In response, PeopleForBikes launched two simultaneous studies at the end of 2020 to better understand how personal riding and purchasing habits changed during the pandemic, as well as what cities did to improve and create spaces for bikes and other forms of active transportation. 
Below are six research-based observations about how bicycling fared during the pandemic and what we can do to build momentum in 2021.
1. During the COVID-19 pandemic, 10% of American adults engaged with bicycling in a new way.
Since 2009, bicycling rates in the U.S. have been relatively stable, but 2020 saw a surge in bicycling rates across all demographics. Automated bike-counters, like those used by Eco-Counter, registered a significant increase in rides. 
Since March, 4% of the U.S. population (ages 18 and older) rode a bike for the first time in one or more years, or for the first time ever. An additional 6% participated in a different type of bicycling during the pandemic, trying indoor riding or riding their bike for transportation.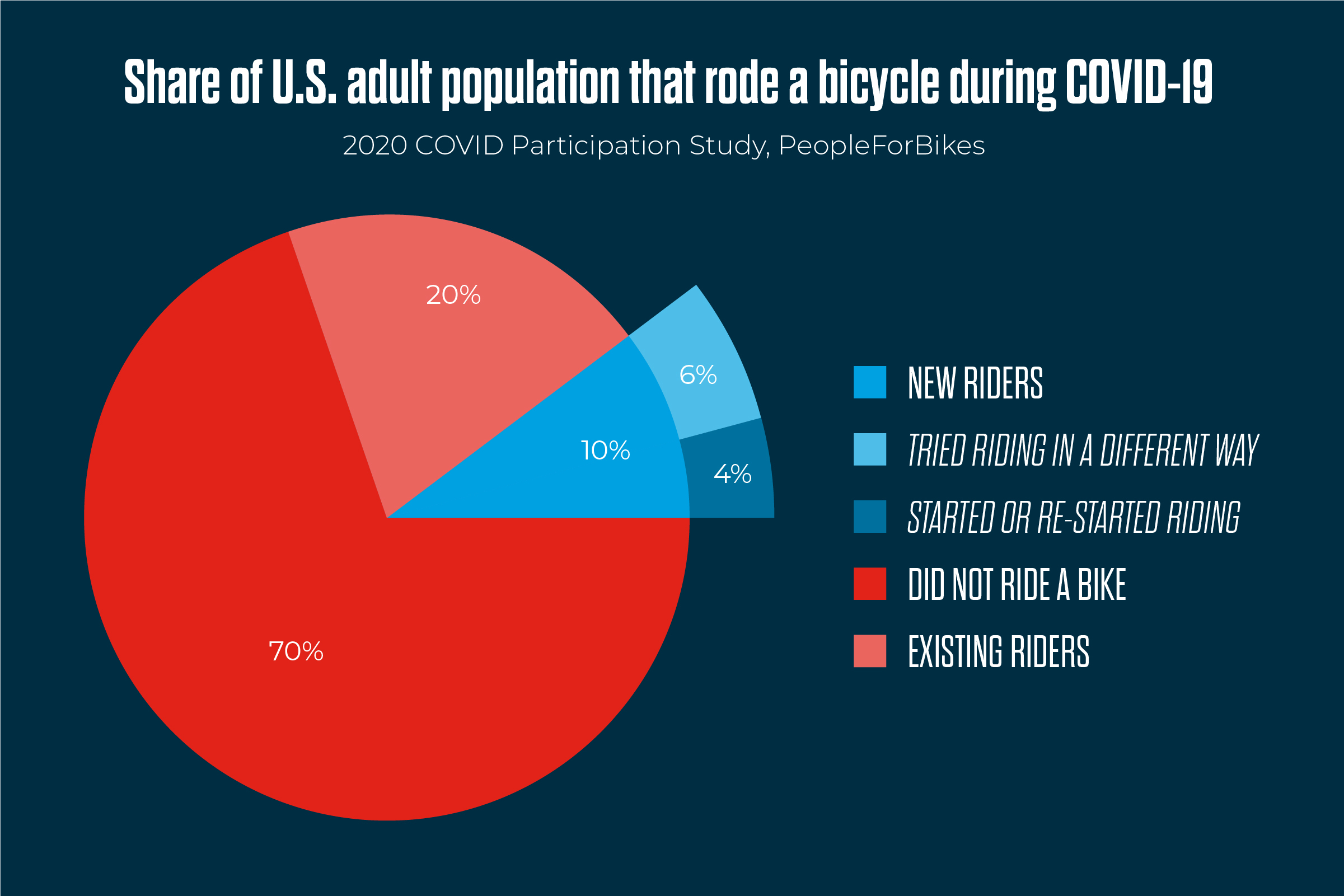 2. Approximately 200 U.S. cities changed the functionality of their streets to accommodate increased outdoor activity.
At the request of community members, local elected officials led the charge to change city streets as a way of promoting social distancing for those biking and walking. Overwhelmingly, 83% of cities indicated a high level of preparedness, asserting they had the necessary technical guidance and procedures in place to assist in implementing selected measures.
By June, however, city leaders began to reprioritize their efforts to support local businesses and restaurants. While these expanded measures — like slowing traffic and closing automobile lanes — did tangentially benefit cycling, fewer than half of cities advanced measures specifically designed to sustain increased levels of bicycling.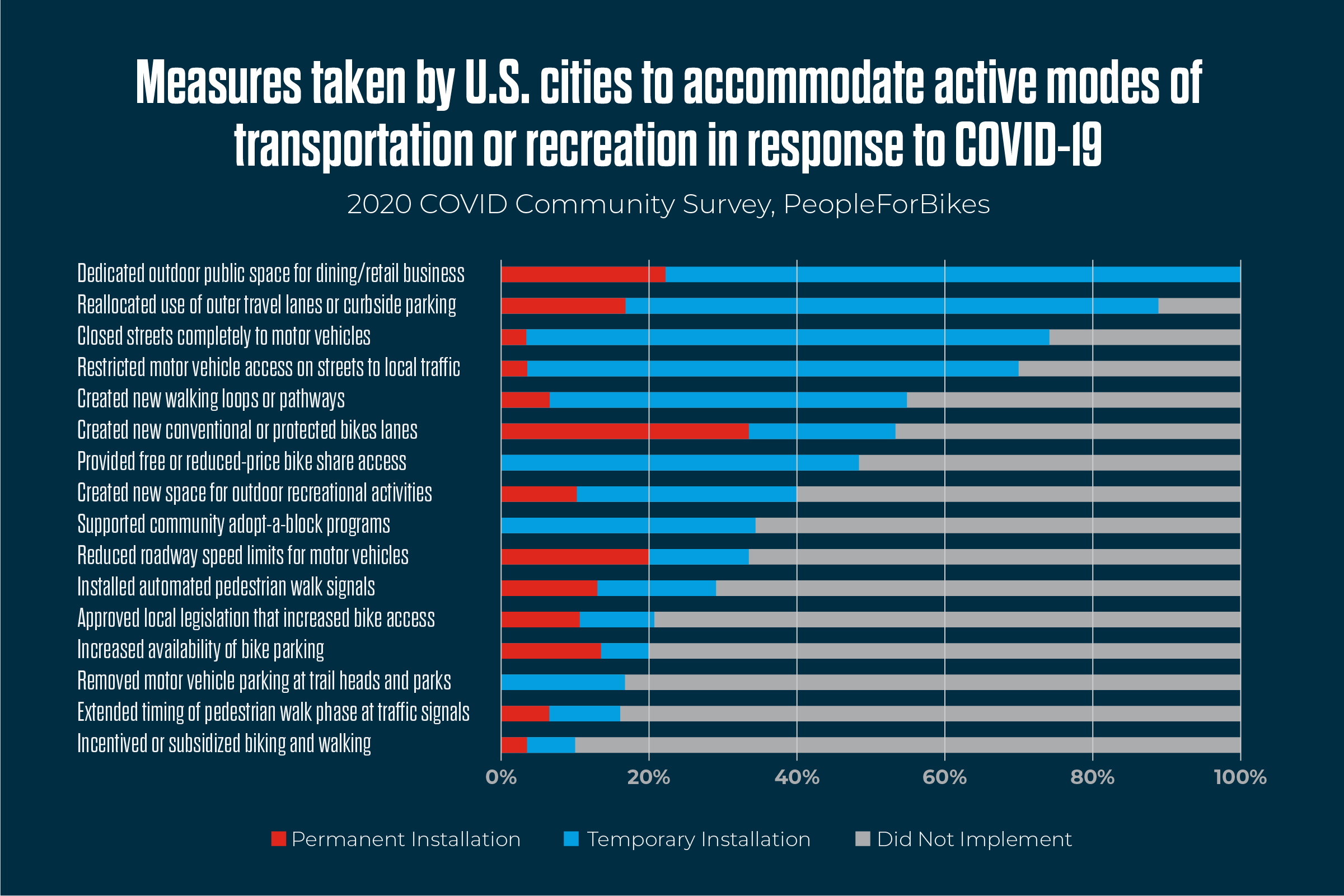 3. New riders were motivated to ride because they enjoy exercising and being healthy (56%), or found bicycling a fun, safe way to interact with others while remaining socially distanced (43%).
Before the pandemic, new riders indicated a lack of time (35%) as the primary reason why they weren't riding bikes. However, when social distancing measures and stay-at-home orders were enacted, many needed a way to exercise, wanted to get out of the house or searched for ways to safely socialize with friends and family.
New riders were more likely to be motivated to ride by the socialization that bicycling offers (43%) compared to many existing riders (18%) who enjoy the solitude of riding their bike. Those who started riding during the pandemic were more likely than existing riders to engage with bicycling because bike rides offer stress relief (57%) and a way to relax (36%).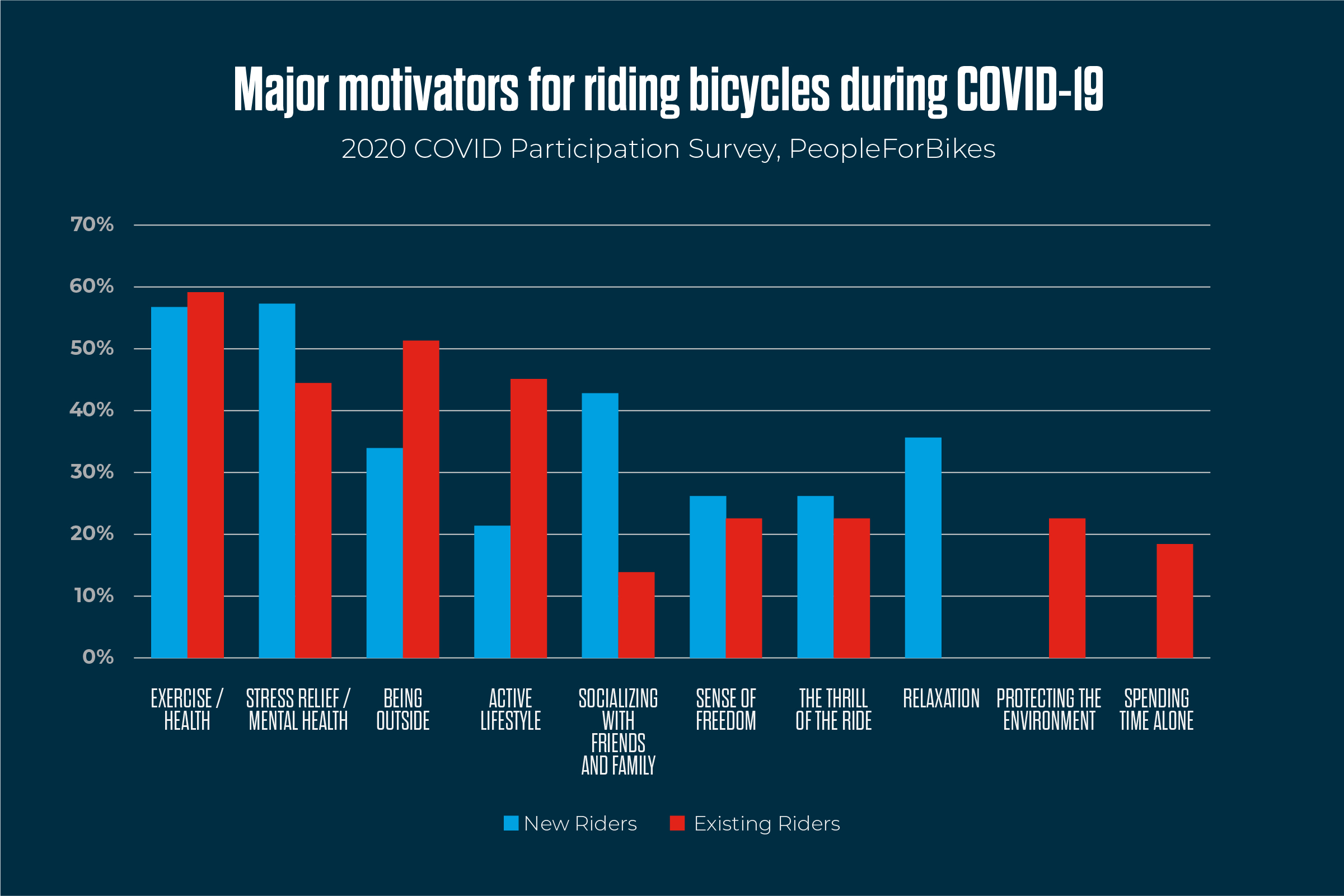 4. In nearly half of American cities, a lack of community engagement jeopardized the success of measures taken to support biking during the pandemic.
Only 58% of cities engaged in a public input process before implementation of any measures, temporary or permanent, and few cities relied on any official planning documents or emergency preparedness policies to guide decision makers on the appropriate actions to take.
Nearly half of cities that implemented new projects faced vocal opposition to those changes. Of those cities, about one-third removed or significantly altered their projects in response to cited objections of inconveniencing drivers, failing to perform effective public outreach or interfering with business operations.
On average, cities were only able to complete two-thirds of the projects they publicly committed to creating in response to the pandemic.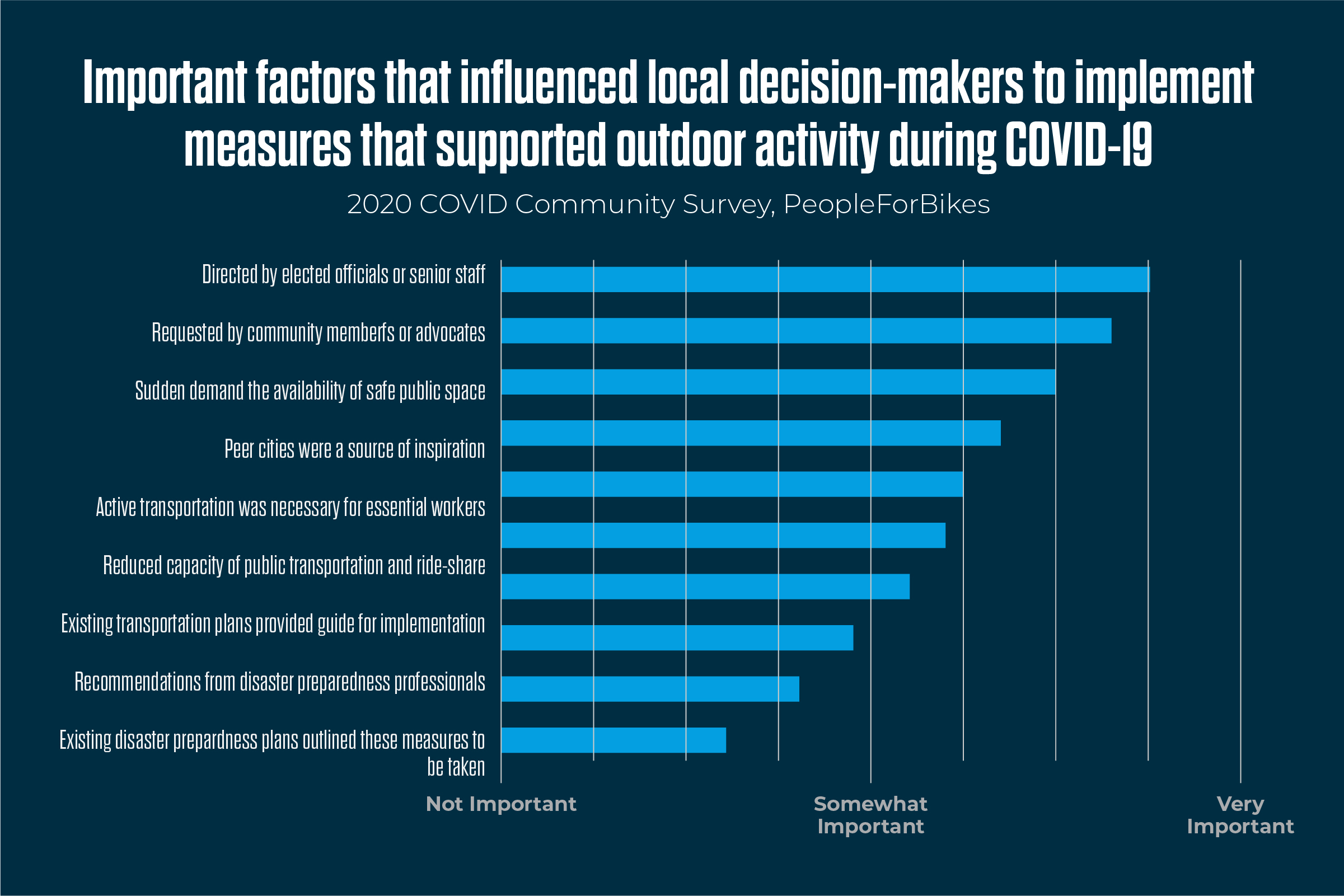 5. Those who started riding during the pandemic recruited others to ride and plan to stick with bicycling in 2021.
Compared to existing riders, new riders were more likely to invite their friends or family to join them for a bicycle ride during the pandemic. Those who were invited to ride were twice as likely to be a beginner or infrequent rider.  
In the coming year, new riders expect to continue riding. The majority of those new to indoor riding (75%), commuting by bicycle (75%), riding for recreation (73%) and riding for transportation (63%) plan to continue riding at least once per week in the coming year.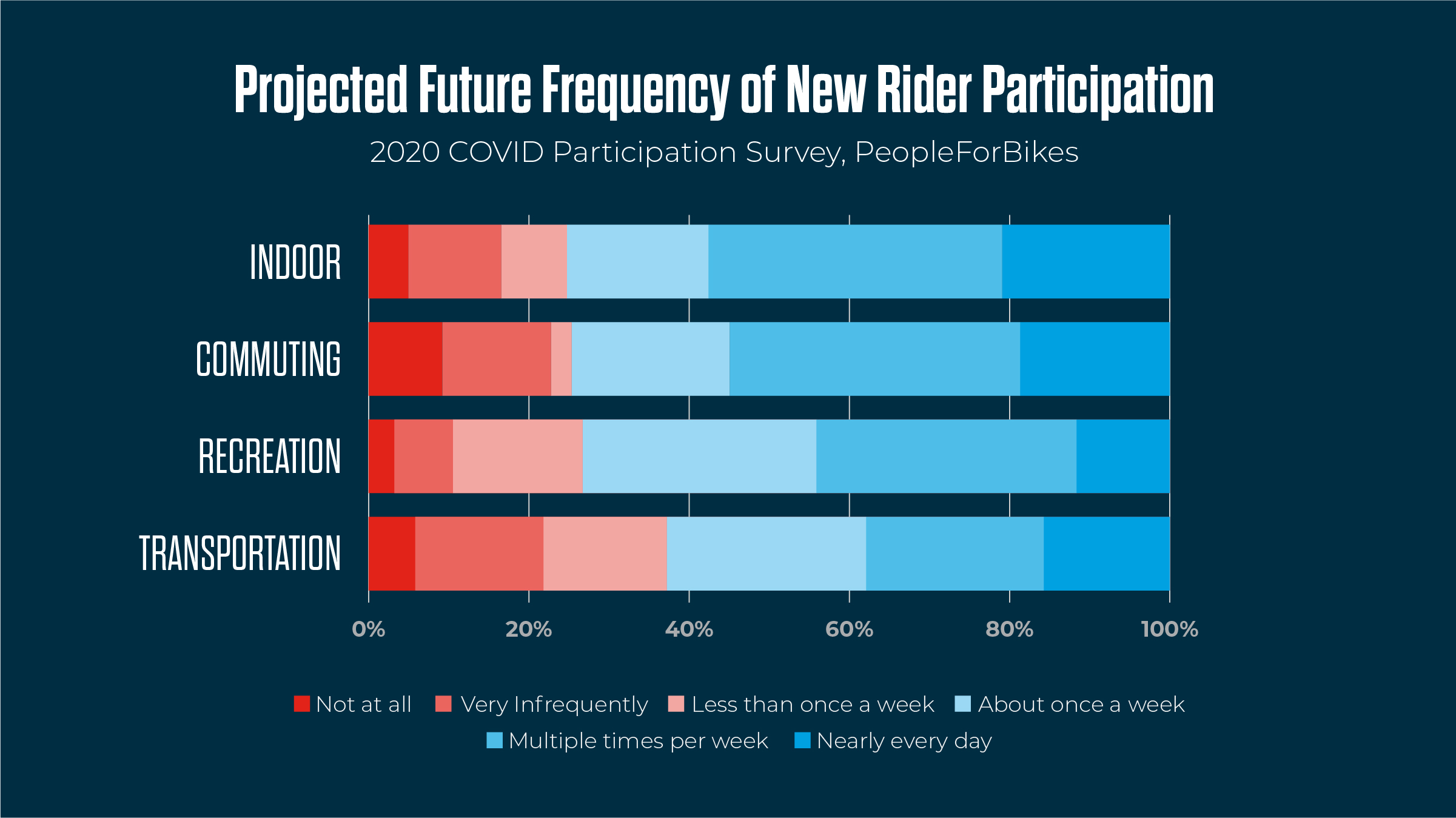 6. 86% of cities consider the measures taken to support biking during COVID-19 as critical components of their future mobility or recreation networks.
Almost all cities (96%) reported increased levels of riding, prompting a renewed sense of optimism and necessity to make biking a part of future emergency preparedness plans, expanded recreational access policies and an essential component of every transportation network.
That optimism, however, is tempered by an uncertain future: 59% of cities advise that expected financial restrictions could result in staffing reductions, further limiting the ability to sustain or implement future measures supporting this work.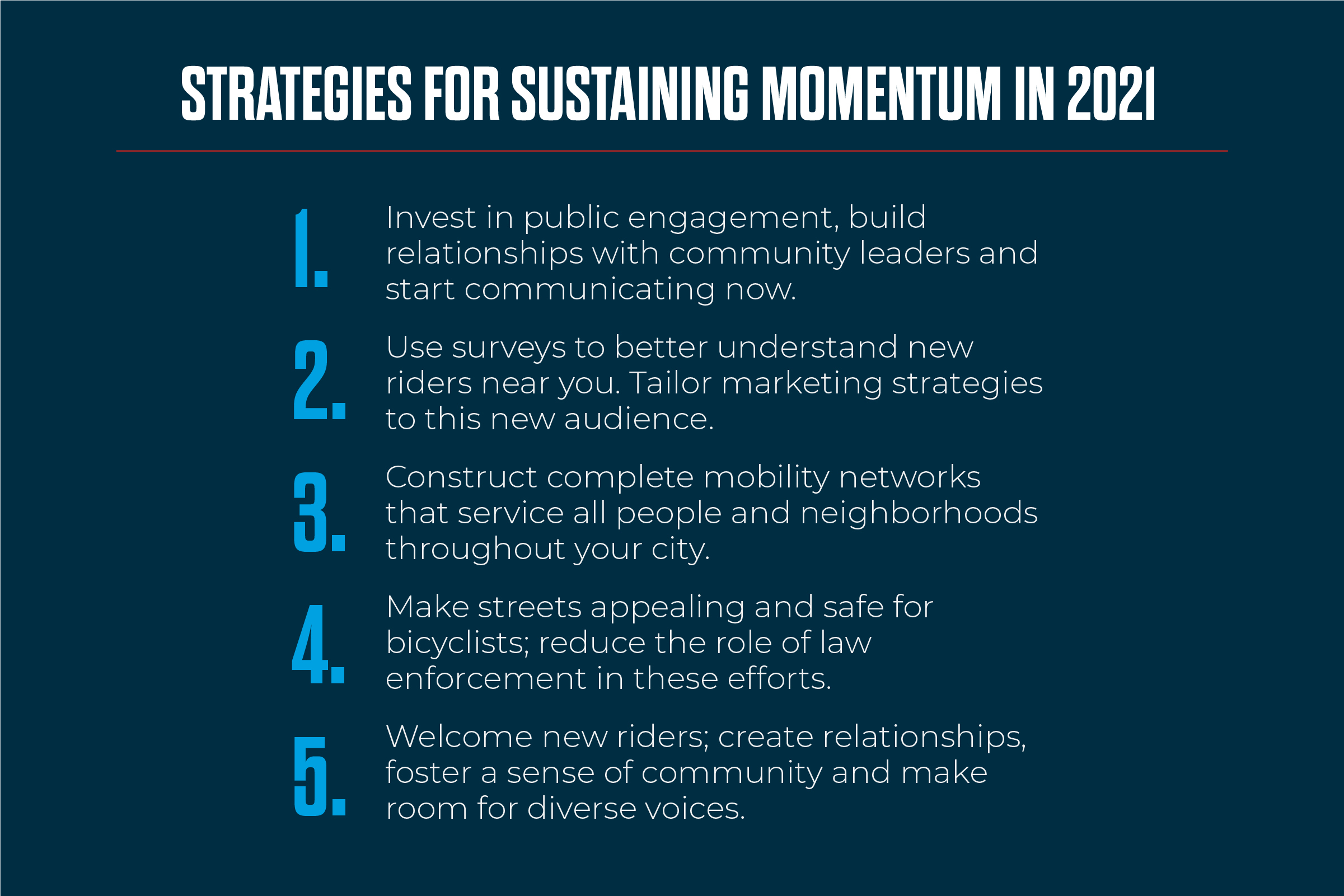 Download a summary of our research findings here.