February 2, 2021
A Data-Driven Pandemic Response
By: Kiran Herbert, PeopleForBikes local programs writer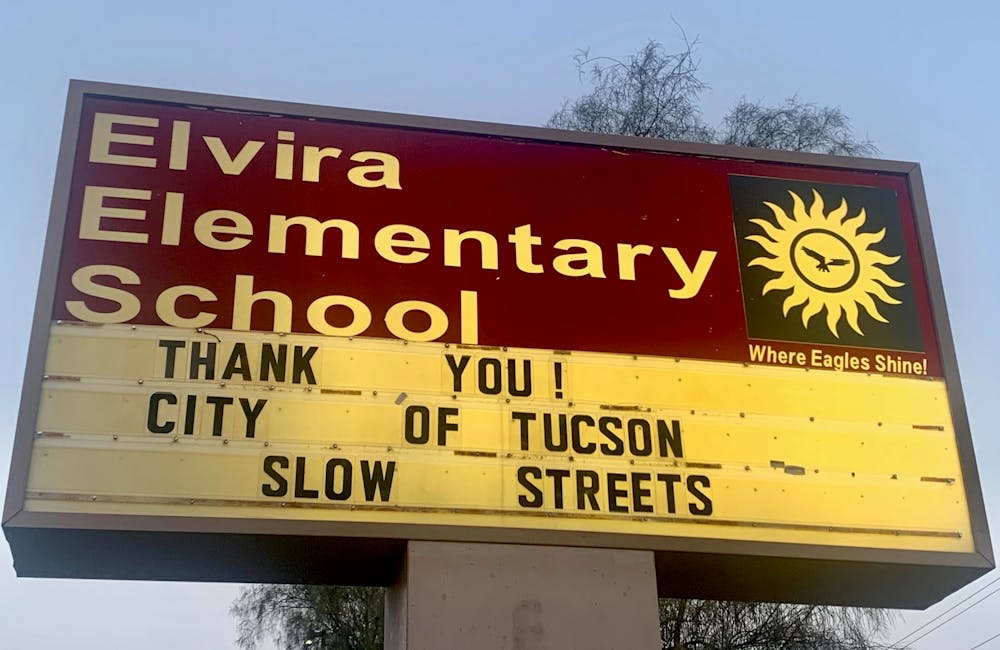 All photos courtesy of Gabriela Barillas
Tucson, Arizona, a recipient of our 2020 COVID-19 Mobility Response Grant, used the funding to create an equitable Slow Streets program and build community through socially distanced events.
Gabriela Barillas works as a livability planner for the Department of Transportation and Mobility in Tucson, Arizona. The fact that her position exists at all is a testament to the city's commitment to creating systems that function for everyone. 
"I work with neighborhoods to see how we can make streets safer so people feel more comfortable using them," said Barillas, noting that Tucson is one of the worst cities in the country when it comes to traffic fatalities. "Ultimately, we also want to reduce some single-occupancy vehicle trips and replace them with walking, biking or transit trips."
Tucson, which boasts a population of more than half a million, is a border town that, according to the 2010 census, is about 41% Latino.
"Along with English, Spanish is definitely the predominant language," said Barillas. "In terms of our land use, we are a typical sprawling city with a downtown core that's growing. We also have a really ugly history of highways dividing communities that were pushed out due to red-lining and other practices."
For that reason, Barillas' work maintains a strong commitment to equity, which only intensified when the pandemic hit. With support from the mayor and other community leaders, Tucson was able to track what neighborhoods were being hardest hit by COVID-19 and develop a responsive transportation plan. In June 2019, the PeopleForBikes Foundation offered a cash grant of up to $20,000 to support the local implementation of mobility networks that increased biking and walking as a response to the pandemic. Along with Fort Collins, Colorado, Tucson was chosen as a recipient of the grant.
With the funding, Tucson expanded its burgeoning Slow Streets program, using temporary equipment to close and slow traffic. Federal CARES Act funds were also allocated for permanent low-cost traffic calming improvements, such as speed humps and traffic circles. What Tucson managed to accomplish in just a couple of months is impressive: The Slow Streets program reached roughly 68,000 people across 15 neighborhoods, with a 75% increase in bicycle ridership.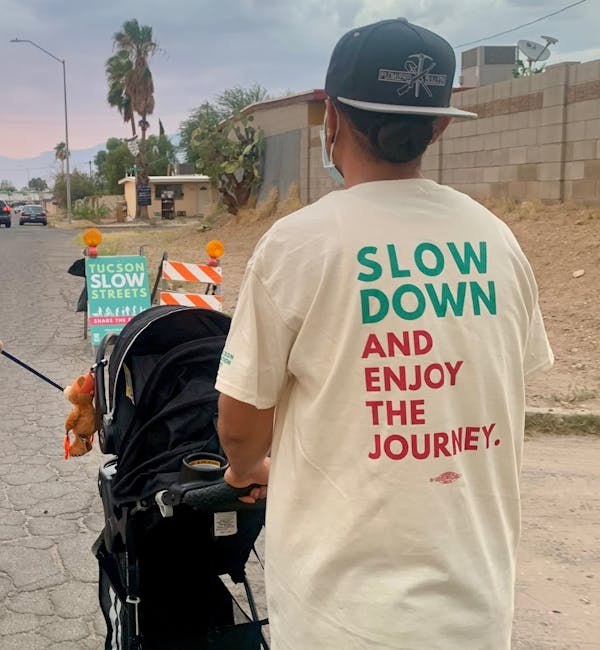 A parent walks with their child in the middle of one of Tucson's new slow streets.
The Importance of Support from Leadership
Across the board, Tucson's COVID-19 response was successful thanks to the support it received from leaders at every level. The political support from Mayor Regina Romero and the City Council were critical in jumpstarting the Slow Streets program, as well as funding the semi-permanent traffic calming improvements that followed. According to Barillas, council member Lane Santa Cruz stood out for her tireless championing of mobility justice.
"Crisis response presents a new set of opportunities to do things differently — so that's what we did," said Santa Cruz, who pushed for the Slow Streets program and a community-centered funding framework for the allocation of Tucson's CARES dollars. "Advocating for mobility justice, we acted on the opportunity to create safe retrofits in neighborhoods that had long been neglected and make public transit free during the pandemic."
Additionally, Barillas credits Tucson's success to leaders in the community who saw value in alternative mobility networks, including neighborhood ambassadors and local journalists that helped garner public support, as well as teachers that encouraged their students to get involved in the planning process.
Letting Data Drive Equitable Decisions
Tucson received 121 applications from neighborhoods lobbying to be a part of the Slow Streets program, but due to the high-demand and limited funding, Tucson decided to focus its work in communities hit the hardest by the pandemic.
Other factors taken into consideration when choosing the 15 final locations were the need for traffic calming and the lack of infrastructure; heat vulnerability; safe connections to schools, parks and transit as well as community buy-in. By letting data drive its decisions, Tucson was able to target low-income areas where the resources would have the greatest influence.
Tucson's Slow Streets fliers, in English and Spanish.
Engaging the Community
Tucson also chose to spend an additional $10,000 in communication support funding from PeopleForBikes on their marketing and outreach efforts. Money was used to print and distribute flyers promoting Slow Streets, in English and Spanish, as well as on paid, targeted social media outreach campaigns. Crucially, the city also piloted a neighborhood block leader model to distribute flyers to the communities along Slow Streets routes and collect feedback on the semi-permanent improvements. Not only did this approach create multiple opportunities for feedback from locals on how city streets can best serve them, but it also helped ensure that the permanent infrastructure was well received.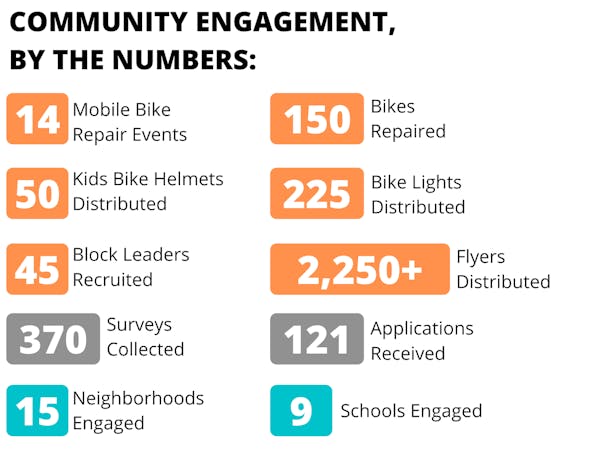 Overall, 45 block leaders were engaged across 15 neighborhoods, ranging in age from 16 to 85. In addition, Tucson organized 14 free mobile bike repair events where locals could get their bikes fixed and take home a free bike light. "The PeopleForBikes funding was critical when it came to community engagement and getting buy-in," said Barillas. "I think we would have gotten a lot more angry calls if we hadn't had the built-in group of champions we did."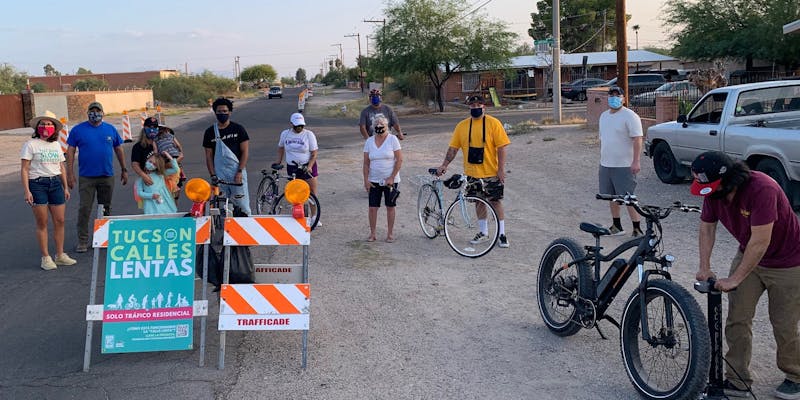 Carrying the Momentum Forward
Tucson is continuing to use the federal funding it received through the CARES Act to carry out more semi-permanent improvements, which will average about $50,000 per location. For future projects, Barillas hopes to engage more local nonprofits and other community organizations, as well as translate materials into more languages to educate other immigrant populations. "One thing we're really focusing on doing right now is adding more informational signage for the streets that identify traffic circles or bike lanes," said Barillas. "Communicating why something was done, how it happened and the history behind it — that's really important going forward."
Read about our other 2020 COVID-19 Mobility Response Grant recipient, Fort Collins, Colorado.