June 30, 2022
Working to 'Ungap' Seattle's Bike Map
By: Kiran Herbert, PeopleForBikes' content manager
Wanting to bring more people to bicycling, nonprofit Seattle Neighborhood Greenways is advocating to close gaps in Seattle's bicycle network.
In many ways, Seattle is already a great city for bicycling. For the last two years, it's ranked third among large U.S. cities in PeopleForBikes' annual City Ratings. Plus, it's also made significant network progress year over year: From 2020 to 2021, Seattle's Bicycle Network Analysis score jumped from 53 to 58, thanks in part to nearly 10 new miles of protected bike lanes and trails.
Seattle's Bicycle Master Plan lays out a vision for a connected network that includes 100 miles of protected bike lanes and nearly 250 miles of neighborhood greenways. When complete, every household will be within a quarter-mile of an all ages and all abilities bike facility. In order to ensure kids learn to ride, the Seattle Department of Transportation (SDOT) funds Cascade Bicycle Club's Let's Go school education programming. Although SDOT doesn't have a firm date for network completion, Seattle committed to having 90% of all personal trips have zero greenhouse gas emissions by 2030, opening up substantial funding for bikes and allowing for the completion of critical infrastructure.
In recent years, SDOT prioritized infrastructure decisions based on safety, equity and connectivity, particularly in regard to building key bicycle connections to transit. Last year, the department also announced a historic new Transportation Equity Framework (TEF), the goal of which is to help reimagine the city's streets and transportation system by addressing persistent economic, racial and social inequities in Seattle. Bike champions are also ubiquitous in the city, helping elevate safety concerns, advocate for connections from certain underserved neighborhoods or allocate funds for historically marginalized communities.
One such champion is the nonprofit Seattle Neighborhood Greenways, a coalition of 16 neighborhood-based, volunteer-led chapters working to make Seattle's streets more livable. Seattle's cost-saving strategy for building new bike infrastructure has been to do it in conjunction with other paving projects or by scooping funding from other projects that are already happening. The result has been a lot of great new bike infrastructure in small chunks that don't necessarily connect. In 2021, Seattle Neighborhood Greenways developed UnGap the Map, an advocacy campaign focused on getting the city to fill the gaps in its bicycle network.
"It's really frustrating because if you want to bike in Seattle, you still have to be comfortable mixing with traffic," said Clara Cantor, a community organizer with Seattle Neighborhood Greenways. "There are these super comfortable bike routes that will just end abruptly and leave you stranded in a terrifying intersection with no clear direction on where you're supposed to go."
While a great bike route might pick up a few streets away, a lack of good wayfinding signage makes it difficult to find for those who aren't familiar with the city's bike infrastructure. Likewise, a route that requires riders to mix in traffic, even for a quarter-mile, can be a big deterrent for some and an insurmountable obstacle for others, including children.
"It's scary and dangerous, but it's especially hard for new riders," said Cantor. "It makes for a much more exclusive bike culture."
Although Seattle Neighborhood Greenways focuses on pedestrian safety as well, the Ungap the Map campaign is solely focused on bikes. The crux of the campaign is a shortlist of 10 major gaps in the city's bike network — corridors the organization has identified as the most important places for the city to tackle first. Since smaller neighborhood groups make up the larger organization, there are other grassroots efforts happening to push for the closing of gaps on the neighborhood level, but the 10 routes remain the organization's main focus.
The UnGap the Map project is planning both long and short term. In the long term, Seattle Neighborhood Greenways is working to influence the larger discussion with city planners around what a connected bike network looks like and how the city can get there. By changing the emphasis from how many bike lane miles are built to how many bike lane miles connect, advocates hope to create a city where people of all ages and abilities feel comfortable commuting exclusively by bike.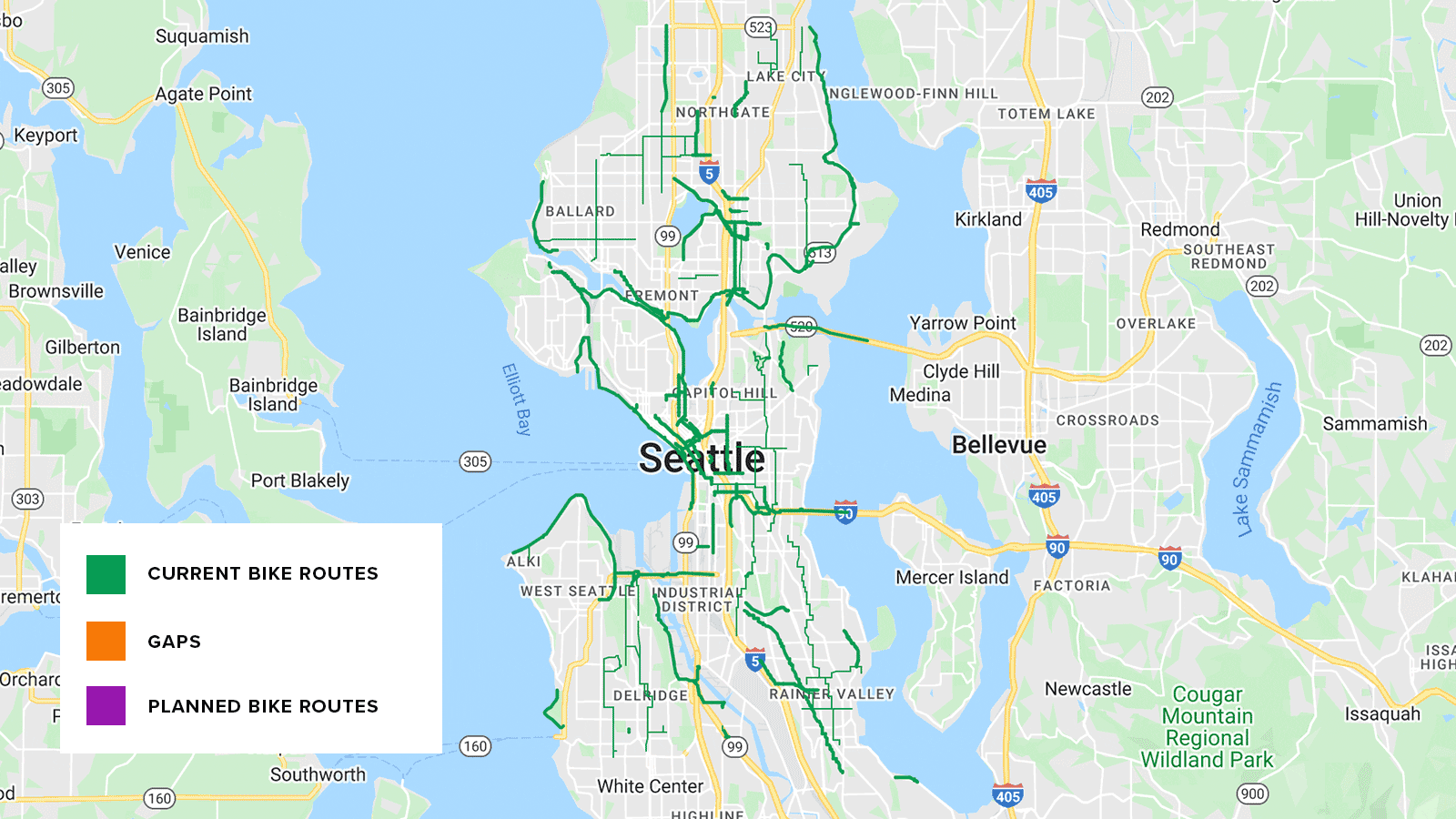 "Seattle is currently doing a big transportation plan update and we're trying to influence that effort," said Cantor. "We want to push the city to prioritize complete, connected routes, rather than keep building bits and pieces here and there."
In the immediate term, the UnGap the Map campaign is focused on installing new wayfinding signage in order to help guide riders around Seattle, especially those that are new to biking or returning after a long time out of the saddle. In 2020, Seattle saw a 21-35% increase increase in the number of people riding bikes, and citywide, 60% of residents say they want to bike more but fear for their safety. The wayfinding signage, which will be installed across the city this summer, will help direct people through some of the existing gaps. Someone that comes to the end of a comfortable bikeway would reach a map that then points them to the best nearby routes.
"It's not making people any safer but it's helping them navigate through and find those routes that feel safer," said Cantor, adding that for many people, that might include hopping up onto the sidewalk for a while.
Seattle Neighborhood Greenways settled on its list of 10 major gaps by prioritizing routes that connect different parts of the city, as well as accounting for safety and equity concerns. Four of the routes are what Cantor calls "citywide connectors," or gaps that when filled would help people move around the city more efficiently. The other six are equity-focused routes that would majorly benefit the mostly South Seattle neighborhoods where they're located, places with higher BIPOC and low-income populations that have historically been ignored when it comes to infrastructure investments.
Although none of the gaps have been filled yet, there has been significant progress on some of them. One is the "Beacon Ave. South" route, which would connect Seattle's downtown to the entirety of its southeastern portion. The northern section of that route is currently funded and SDOT is working on design, with construction anticipated to begin in 2023 (the southern portion has yet to be funded but it's on the city's shortlist).
Another major connection, the "Georgetown" route, could bridge the Georgetown neighborhood to downtown through the SoDo neighborhood. Zoned industrial, every street in SoDo is wide and built to accommodate freight. Without a single safe bike corridor, SoDo is unsurprisingly dangerous to ride through and injuries and fatalities are common — two bicyclists have been killed there in 2022 alone. Because of the fatalities, SDOT is prioritizing this project and hopes to have it completed by the end of 2023 or the beginning of 2024.
"It still seems really far out but it's closer than it ever has been," said Cantor.
In fall 2021, PeopleForBikes awarded Seattle Neighborhood Greenways a $10,000 grant to support the organization's advocacy work, outreach efforts, wayfinding signage and long-term planning. The emphasis on connectivity directly aligns with PeopleForBikes' City Ratings system, which — recognizing that most people are only interested in biking when it's a comfortable experience — prioritizes low-stress biking connections and how well bike networks connect people with the places they want to go.
While Seattle has made significant progress in recent years and remains one of the best places to bike in the U.S., there's still room for improvement when it comes to connectivity. According to Cantor, many bike infrastructure projects get heavily compromised before completion by stopping shy of a major intersection, not quite reaching a destination or being built with protection only in one direction. Compromising on individual projects can harm the connectivity of a network, as well as interrupt ambitious mode shift goals.
"If our goal is to have more people biking, that actually won't happen if it feels the way it currently feels to bike," said Cantor. "You have to make it comfortable, efficient and joyful or people are going to try it once and not come back."