June 21, 2023
Bike Share Boosts Long Beach's Bikeability for All
By: Kiran Herbert, content manager
The Southern California city has an ambitious plan to build a true 15-minute city, complete with protected bike facilities on every arterial and a bike share dock in every neighborhood.
Paul Van Dyk was born and raised in Long Beach, California, never living more than a mile outside of the city's limits. When it came time to attend college — at California State University, Long Beach — he decided to study traffic engineering, driven by a longtime love of cars. Van Dyk was eventually hired on by the Long Beach Public Works Department, where he has worked as an engineer for more than a decade.
"After being tasked with the design of bike facilities, I started riding a bike to and from work and fell in love with the principles of living in a 15-minute city," says Van Dyk, who was recently promoted to the position of city traffic engineer. "My work is now trying to expand that type of lifestyle to the entire city, so folks can bike or walk to a grocery store or school or the dentist or wherever around town."
Van Dyk's conversion from car to bike lover isn't so surprising — Long Beach has the year-round sunny, warm weather California is known for and there are few things as joyful as riding a bike near the coast. As early as 2012, Van Dyk saw an opportunity to bring bike share to Long Beach to help make bicycling more accessible to visitors and locals alike. While it was still the early days of shared micromobility, the nearby city of Fullerton already had a bike share pilot and Van Dyk and his team took notes with their own system in mind. In 2016, in partnership with CycleHop, the city launched Long Beach Bike Share with 10 stations and 100 bikes. 
About a year and a half later, seeking more unilateral control over the program, the city took ownership of the operation of the bike share system. Since August 2017, the city has owned and operated the program with the assistance of Pedal Movement, a Long Beach-based operator that oversees maintenance and rebalancing services for the pedal-powered system. Under this operational model, Long Beach Bike Share has expanded considerably, refurbishing more than 500 bikes from now-defunct systems and more than doubling its fleet size and geographic reach. 
"The bike share system has been complimentary to our rollout of infrastructure — they leverage one another," says Van Dyk. "If we're trying to promote our bike share hubs somewhere, we'd better make sure that we have a bike boulevard or protected bikeway that gets people to that ultimate destination."
For example, the rollout of bike share at Cal State Long Beach wouldn't have been possible without protected bike lanes on the campus arterials and bike boulevard projects that move folks from downtown to campus safely. Since the city oversees bike share as a public service, its integration with safe places to ride just makes sense. It also means that as bike share has expanded outside of the more tourist-heavy parts of the city, infrastructure has too. 
When Long Beach Bike Share was first deployed, it was primarily concentrated mostly in the southern half of the city, an area that includes the downtown core, coastline, and access to the local light rail. In the last few years, however, city planners have shifted their focus to making bike share a primary commute option that equitably serves all community members. That means expanding the system's footprint into the more underserved area of North Long Beach and Central Long Beach.
"Having now deployed throughout the city, we are analyzing the gaps in our network in order to better serve disadvantaged communities," says Van Dyk, explaining that in places without sufficient sidewalks, that might mean adding in-street docking stations. "In the past, we've been limited to places with park space, so we're moving now towards an in-street paradigm which gives us more flexibility."
As a way to complement the system expansion and grow use among low-income residents, the city recently launched Bike Share For All. The program, which is funded through the Long Beach Recovery Act, provides qualifying applicants with $5/year memberships, which include up to three hours of ride time each day (a standard annual membership costs $15/month or $120/year and includes 90 minutes of daily ride time). 
To qualify, applicants must provide proof of enrollment in one of 16 various local, state, or federal assistance programs, which include food assistance, state financial aid for students, and veterans benefits. Interested community members can sign up online or in person and are able to pay in cash. Members without smartphones can also receive a tap card to unlock bikes, available upon request during the application process.
As part of a larger effort to break down barriers to use, Long Beach Bike Share has removed out-of-hub parking fees for mid-trip stops. For example, if you check out a bike from a hub, go to the grocery store, and then return the bike to a hub at the end, you won't be charged. Additionally, Bike Share for All members will receive a warning call before they're ever fined.
"Our libraries don't collect fines and we really wanted to adopt a more user-friendly model for bike share, similar to a library," says Van Dyk. "I really consider these bikes to be a public amenity, almost like a book we want people to lend back and forth."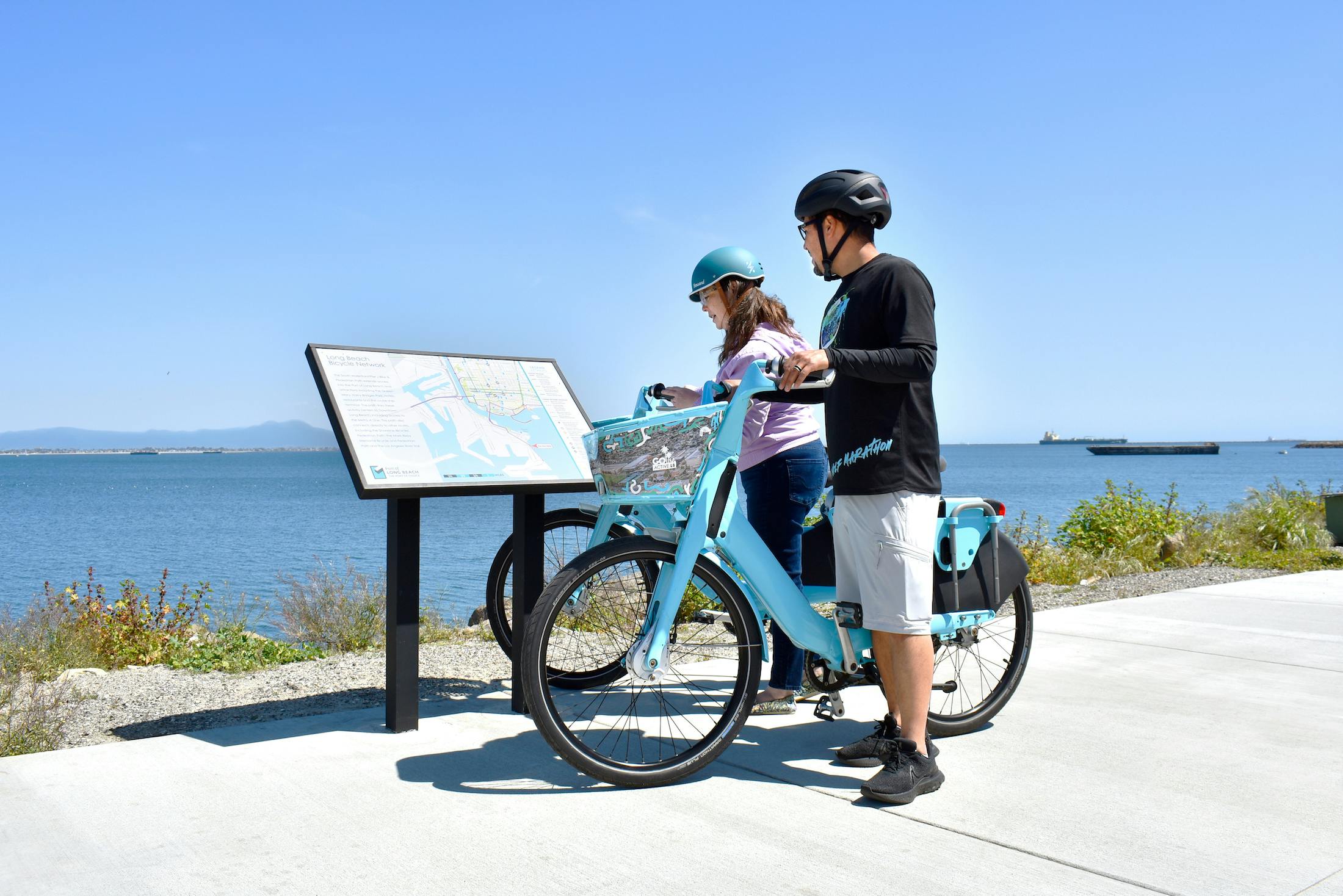 Inspired by low-income bike share programs in Philadelphia and New York City, Long Beach's main concern when designing Bike Share For All was to make sure the cost was affordable and that everyone could use it. While marketing materials are already available in the city's four most common languages — English, Spanish, Khmer, and Tagalog — Van Dyk says that the plan is to conduct more targeted community outreach around Bike Share For All in the upcoming year. 
"We plan to build relationships in the year to come, partnering with local community organizations that connect us to those who would benefit the most," says Van Dyk, adding that a collaborative advocacy environment is also crucial when it comes to implementing bike infrastructure. "We also have a youth climate core intern on staff and he'll be deployed as a Bike Share For All ambassador this summer, performing some in-person engagement throughout the city."
Long Beach city staff has found that whenever they do conduct community outreach, people consistently ask for the same thing: More protected bike lanes. The city has responded with an ambitious Bicycle Master Plan, which by 2040 will bring an all-ages and abilities network to every Long Beach neighborhood. Once completed, Long Beach will be one of the safest bicycling cities in America, with protected bike facilities on every single one of its arterial streets.
The challenge thus far has been balancing that vision with other priorities, including rail and pedestrian amenities. This year, the city is taking yet another step in the right direction by creating its own Street Design Guide for engineers. The goal of the design guide is to connect all relevant departments around a shared vision that ties into the city's Bike Master Plan, Vision Zero work, and sustainability commitments. So every time a road is repaved, planners will have to account for a variety of considerations from what species of trees to include to where a bike share hub will go. 
"We're equipping our staff, whether they're engineers, planners, or interns, to have a street design guide that lays out all of these considerations," says Van Dyk, adding that engineers especially need a toolbook to draw from. "We're overhauling our project implementation to put people first and create more opportunities for 15-minute lifestyles."
Long Beach's City Ratings score hovers in the 30s, a ways off from a score of 50, the benchmark for safe, convenient places to bike. Still, the city is committed to making bicycling safe, convenient, and accessible for all. Crucially, there's also political will amongst Long Beach's electeds, including a city council that wants to see 30% bicycle mode share by 2040 and Vision Zero in a decade. At the national level, Rep. Robert Garcia, a California Democrat and the former mayor of Long Beach, introduced a bill that would eliminate parking minimums, a crucial step in creating better cities for bicycling. 
Currently, Long Beach offers more than 150 miles of bike paths, bicycle boulevards, and separated bike lanes, about 50% of the 300 miles the Bike Master Plan calls for. While there's a lot of work ahead, the city is well-positioned to see it through. Indispensable to meeting its goal is Long Beach Bike Share, which will not only make bicycling an option for casual cyclists or those with limited means but will help spread the gospel of bicycling by making it ubiquitous on city streets.
"Over the past few decades, it's been easy to be in a bubble, whether it's inside of your personal vehicle or in a social media space — bikes are such a great antidote to that," says Van Dyk. "Bicycles humanize a city and make it a place of community, where you can turn your head and greet a person, engaging with the city at that tactile level. That's something that we just really want to share with people."