October 12, 2022
The Cycle Effect Gets Latina Youth Riding
By: Nick Aguilera, PeopleForBikes' youth and community partnerships manager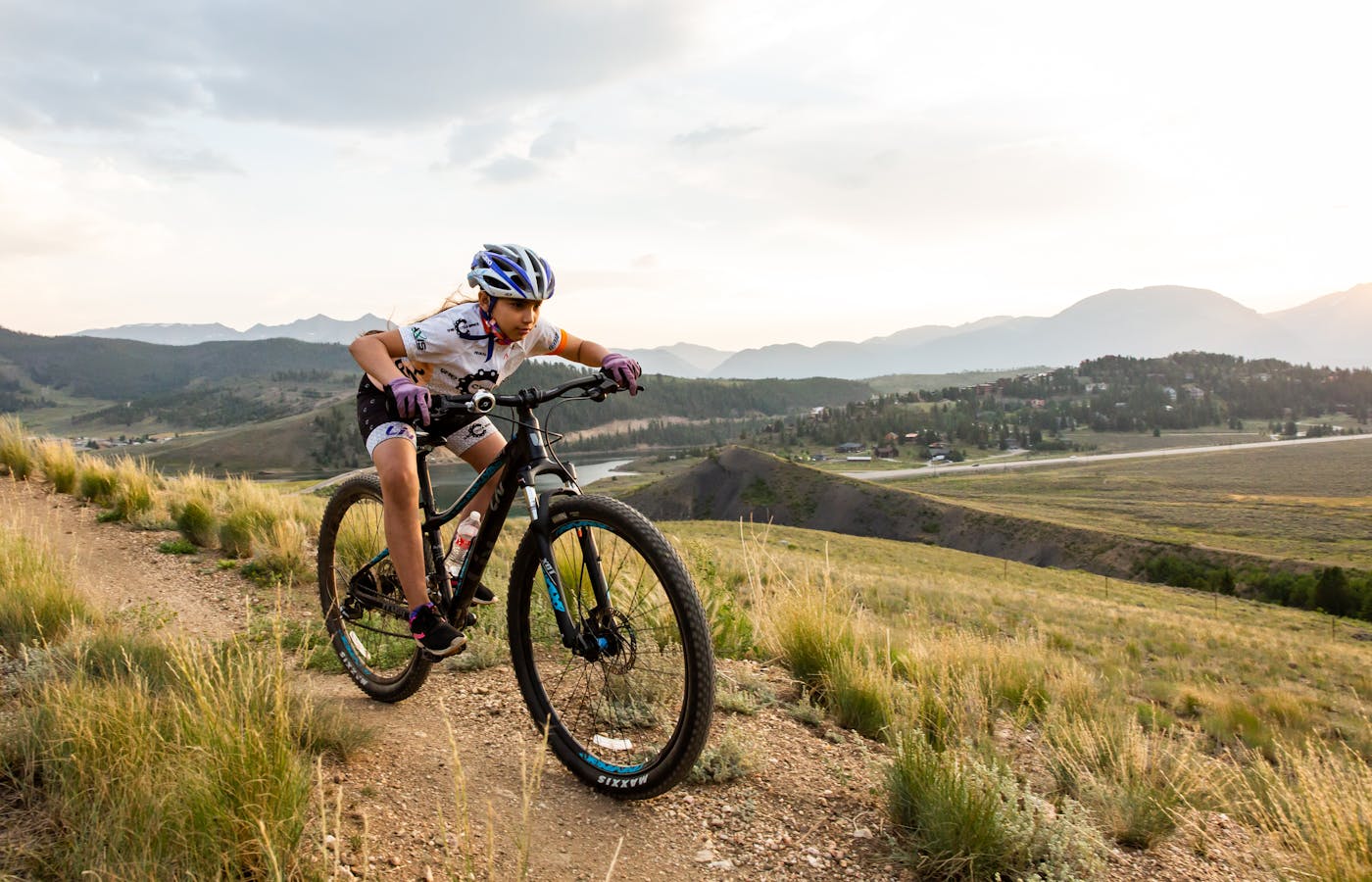 Photo Credits: The Cycle Effect
The Colorado-based nonprofit uses culturally relevant, bilingual programming to get more young women into mountain biking.
Bicycling is one of the most popular outdoor activities for youth. According to the 2022 Outdoor Participation Trends Report, 29% of kids aged 6-17 rode a bike last year. That said, participation rates for girls aged 13-17 are the lowest in the youth category. Racial discrepancies and income disparities also show up in bicycling: Latinos make up a smaller proportion of bike trips than the total Latino population would suggest if all races biked at the same rate. In Colorado, The Cycle Effect is working hard to change that. 
The nonprofit empowers young women through mountain biking, helping break down the barriers Latina, low-income, and at-risk youth face along the way. The Cycle Effect's work goes beyond simply getting more girls on mountain bikes by also providing mentorship, strength training, nutritional guidance, transportation, and strong, direct engagement with the Latino community. Through weekly, bilingual programming, extensive curriculum, active support from bike shops and the bicycle industry, and mentorship on and off the bike, the organization is a great example of how to build an inclusive, accessible bicycle community.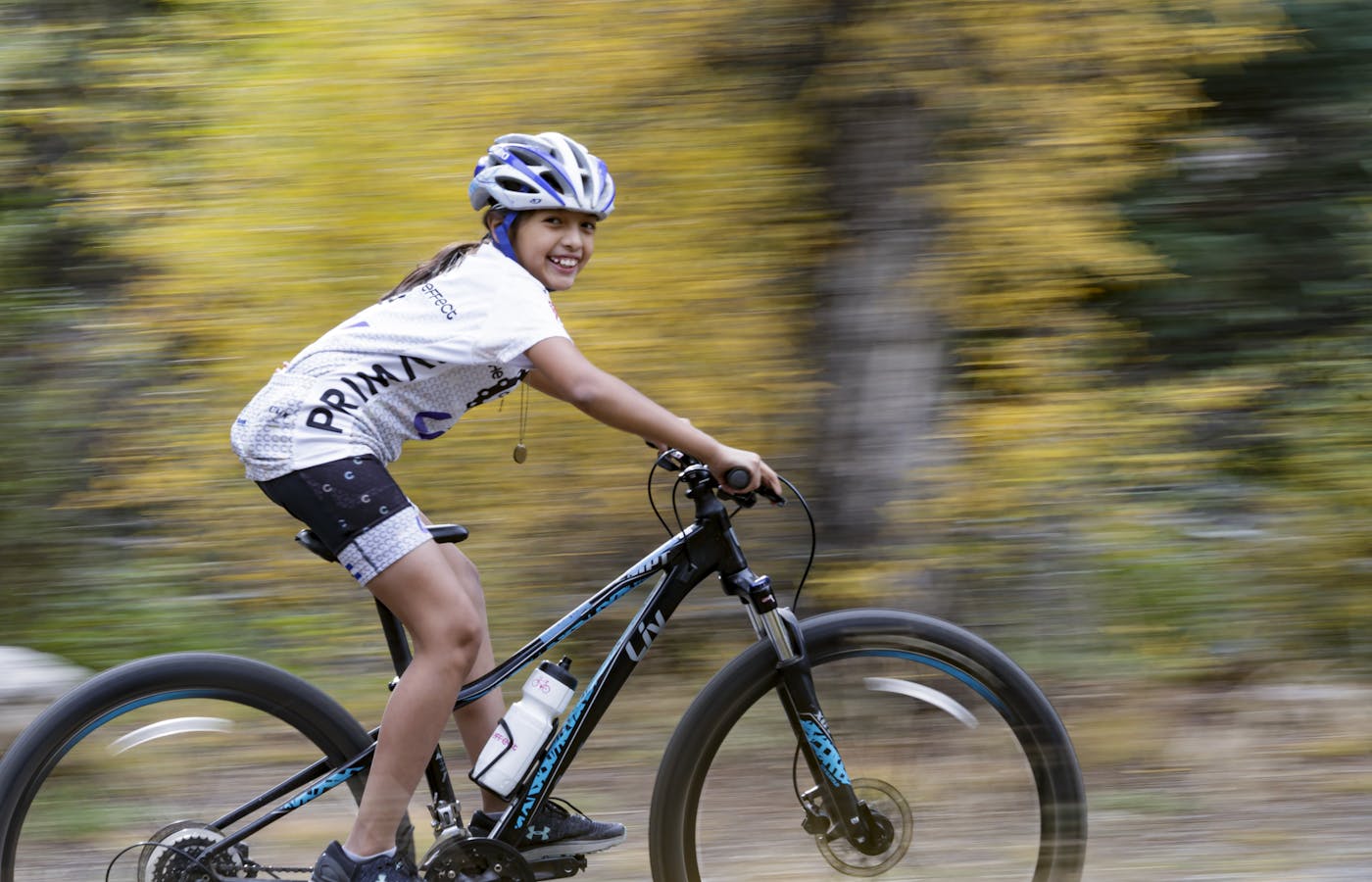 Borrowing key recommendations from PeopleForBikes' 2021 study, "Where Do We Go From Here: Breaking Down the Barriers to Bicycling in the US," The Cycle Effect successfully utilizes culturally relevant education materials, marketing, and community outreach in their approach to getting more youth on bikes.
The 10-year-old organization operates in Eagle, Summit, Mesa, and Routt Counties, all nestled in  Colorado's Rocky Mountains and home to high numbers of low-income and Hispanic residents. This is reflected in The Cycle Effect's participants, with more than two-thirds identifying as low-income and having origins in Latinidad, a Spanish-language term that refers to the various attributes shared by Latin American people and their descendants without reducing those similarities to any single essential trait.
"A lot of our athletes only speak Spanish," says Isidra Luna, who's originally from Zacatecas, Mexico, and works as The Cycle Effect's Summit County program manager. "We honor and relay information in both English and Spanish and keep that up in every practice. It's an important equity piece for us, to be able to give that to the girls — it really makes a difference and also builds trust."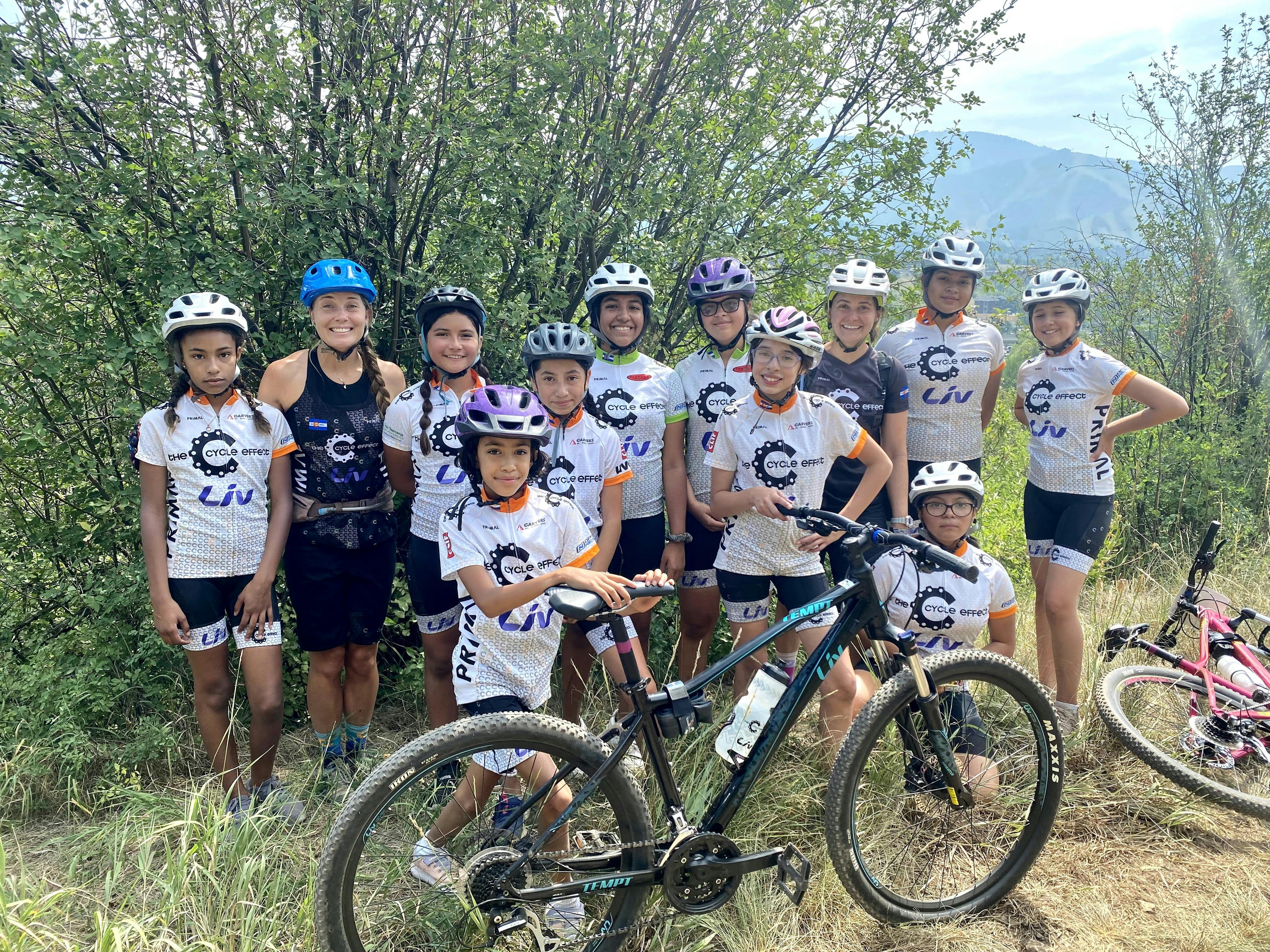 The Cycle Effect also goes beyond bilingual materials, coaches, and mentors, conducting outreach in local schools, providing transportation, directly engaging adults in the Latino community, and regularly updating its curriculum to focus on local needs. In Summit County, The Cycle Effect conducts outreach directly at two public elementary schools, one public middle school, and the only public high school. "We also put on clinics for certain groups in the county, whether that be a specific elementary school or an organization that comes and joins us for a small practice or a little bike ride," says Luna.  
Once students are signed up for the program, The Cycle Effect also provides transportation support to help participants get to and from mountain bike practice. "Our transportation needs are different in every county," says Brett Donelson, co-founder and executive director of The Cycle Effect. As a personal trainer and USA Cycling Coach, Donelson knows the transformative potential that athletics and mentoring can have on youth. A resident of the area since 2005, he also knows the transportation disparities. In Eagle County, for example, schools are adjacent to trails, making it easy for kids to get out of school and go straight to practice. But in Summit County, transportation is a huge need and The Cycle Effect sends out updated weekly transportation schedules. "Each county is not a cookie-cutter model. We really try to see where the needs are. Transportation in Summit County was a huge need."
Through all-ages community rides, The Cycle Effect has also managed to generate more widespread interest and support for its programming. "A leader in the Latina community came up to me and said, 'Hey, will you ride bikes with some women that have been asking me?" says Donelson. "We started riding bikes with this group of women and now we do Latina women's rides in three out of our four counties. They have consistently shown up every other week for the last three or four years and it's really grown into something beyond what we thought it would."
By building trust, The Cycling Effect is showing community members that their daughters, nieces, or friends' kids are in good hands. As is the case elsewhere in the U.S., getting more kids on bikes can change adults' perceptions of bicycling and get them riding too. Donelson and Luna have seen shifts in community attitudes toward bicycling as adults are given the chance to ride a bike for the first time or participate in a bike race. 
The Cycle Effect has quantitative data to back up its programmatic impact: More than 92% of all program participants say The Cycle Effect is a community they belong to and that mountain biking with the group has increased their confidence and resilience as they set and achieve goals. Parents are also reporting positive impacts from the program: More than 88% of parents say they have seen increased self-confidence in their girls, while 84% say they have seen an increase in the time their child spends outdoors.
Financially, The Cycling Effect is sustained through partnerships with local bike shops, members of the bike industry, volunteers, and local sponsors. Still, bike shops and the bike industry can learn from The Cycle Effect on how to continue supporting more diverse, inclusive, and equitable participation in the sport. 
"There's been quite a few companies and well-meaning organizations that use lines like, 'Everybody's welcome here,' but the reality is you have to be very intentional in how program partnerships and support from companies is built," says Donelson. "It is a different mindset when you're truly trying to bring in the Latino culture or any historically-marginalized community." Liv Bicycles has been a strong partner of The Cycle Effect for a decade. "They have been very generous," says Donelson. "They can't provide us with every single need as we continue to grow, but they've been a great partner in figuring out how to best structure our partnership."
The Cycle Effect and local bike shops have also learned how to adapt and make changes to be a welcoming, inclusive environment. "Some of the shops have been intentional in realizing they need to slow down their pace and listen to what our girls truly need and what they're there for, which is usually very different than what a standard summer customer up in the mountains is there for," says Donelson, who believes gender inclusivity is key to making bike shops more welcoming. "One of our sponsors in Eagle County has been intentional about making sure there's a female on staff in the bike shop — and if they can have a Spanish speaker, even better."
The Cycle Effect plans to continue evolving and finding new ways to empower Latina youth through bicycling, reduce barriers to participation, and share the benefits of the bicycle with the community. Speaking to the Latino community, Luna says, "Me encantaría dejarles saber que [andar en bici] es un opción. Es bueno invertir en uno mismo y es una manera genial de ser parte de la comunidad y super buena para el corazón." 
Translated, this means, "I would love to let you know that bicycling is an option. It's a good way to invest in yourself, a great way to put yourself out in the community, and super good for the heart."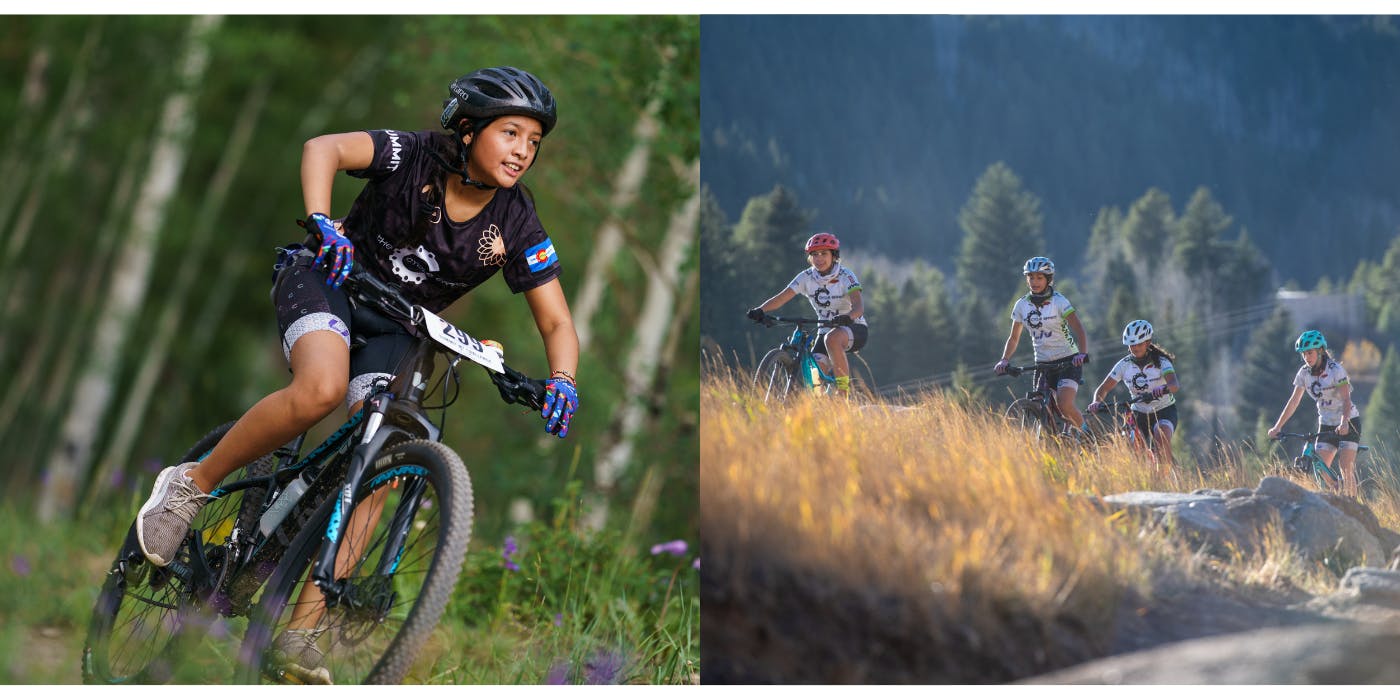 In recognition of its work to empower youth through bikes and diversify the sport, The Cycle Effect received a $15,000 matching grant from Outride. You can connect with youth bicycling organizations, researchers, teachers, and community leaders around the country who are using the power of the bike to transform the lives of young people and their communities at the 6th annual Outride Summit, taking place October 25-26, 2022. Registration for the virtual Outride Summit is free and open to the public. Learn more and register for the summit here.