March 29, 2022
How My Electric Bike Helped Me Heal
By: Noa Banayan, PeopleForBikes' director of federal affairs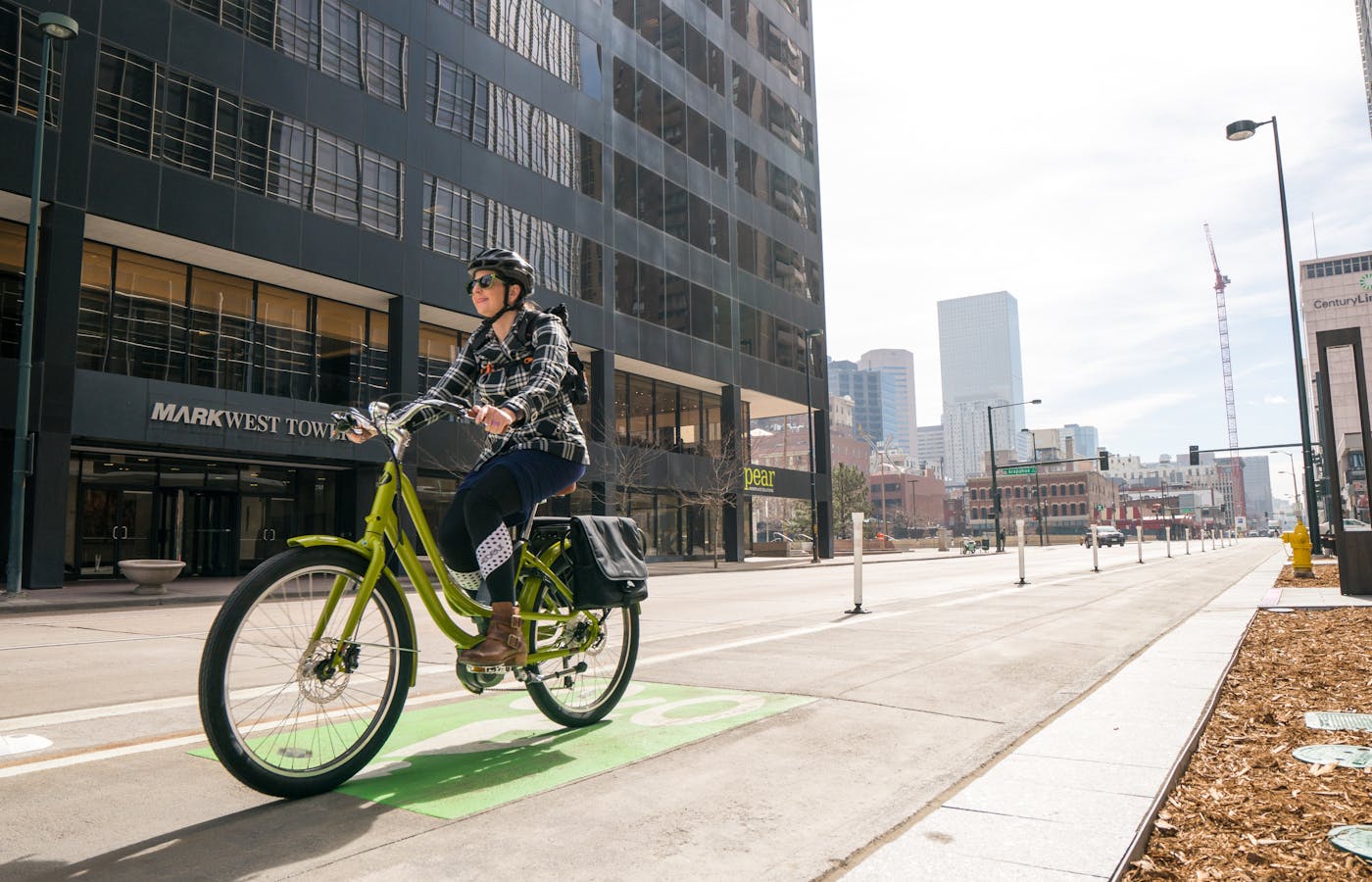 After breaking a leg skiing, this rider's e-bike has been instrumental in aiding both her physical therapy and mental well-being.
There's a growing body of research on the myriad of health benefits that electric bicycles offer, from improved cardio to helping people keep riding as they age. They can even quicken the recovery time of some injuries, my latest included. 
In early January, I suffered a broken tibia and fibula in my right leg from a nasty fall while skiing. Two months after breaking my leg and undergoing surgery, I'm more comfortable riding my e-bike than walking to get around. 
As I heal, I'm using my e-bike as part of my physical therapy. Biking is a low-impact activity and the small electric boost makes the work of going uphill easier for anyone, especially if you have a Class 2 electric bike with a throttle. My leg muscles, atrophied while I relied on crutches and sat on the couch for six weeks, are slowly charging back up with every ride. I could not be more grateful I brought my e-bike home in 2021.
It's been less than a month since I've put weight on my right leg, and I can already ride my e-bike to physical therapy appointments, for small errands, to see friends and get out to enjoy the spring sunshine. Walking is also getting easier because I've been biking, loosening stiff joints and building up muscle.
I've lived in Washington, D.C., for nearly eight years, all without a car. I've always relied on my bike, shared micromobility, walking and transit to navigate the city. Getting back to that level of independent mobility is priceless. I also recognize I'm incredibly lucky to both own an e-bike and have access to connected and protected bike infrastructure right outside my door, since my safety feels more important than ever knowing that a fall or a crash could further damage my leg and set my recovery back — if not worse. 
Most physical therapy appointments start with a warm up to get your muscles and body moving. Limping in, I'm asked to spend a few minutes on a stationary bicycle before pointing to my helmet to show I've already biked there. Therapists are often shocked until I explain I rode an e-bike, and after a few questions about it, we get right to work poking, stretching and strengthening my leg. 
I'm no stranger to PT: I'm a high-energy, low-skill athlete with a dramatic falling habit. I tried playing soccer in an adult recreation league in the fall of 2017 but tore my left ACL in the first game. I was back on Capital Bikeshare within weeks, opting for a slow roll to most destinations instead of walking since it was less strenuous and more efficient. 
In the summer of 2018, I hopped on a mountain bike for the first time and flipped over the handlebars, shattering my left collarbone (only seconds after watching my friend flip and break hers too). Though it took awhile to get back on a bike, I again relied on the comfort and ease of an upright bikeshare bike before hunching over the drop bars of my well-loved 1974 Schwinn Sprint. 
In the aftermath of these injuries, biking did more than provide me with a low-impact physical activity, though that was major for my body's overall rehabilitation. It completely transformed my mood and my mental well-being, giving me agency over how and when I could move through my city and our natural world. With an e-bike, I'm back in the saddle sooner than previous injuries, cranking the motor up to turbo mode so I can gently work my leg back into action.
My last big bike ride before this most recent injury was my first century ride, 102 miles at El Tour De Tucson, in November. I was regularly biking 15-30 miles several mornings a week and spending weekends on the abundance of bike paths, scenic rides and gravel roads around D.C., Maryland and Virginia. I kept a clear divide between my e-bike and my road bike, even leveraging the difference to help convince skeptics. My e-bike is for utility only, like getting groceries, taking meetings across town or commuting to my grad program. My acoustic bike is for fun and exercise. 
In my recovery though, my e-bike is everything. It's going to be a while longer before I'm back to my spandex-clad morning workout rides, but I'll get there sooner thanks to my e-bike. 
I'm now meeting up with friends I didn't regularly ride with on their commuters and hybrids, spending more time in conversation on our bikes, enjoying good weather and each others' company. Check out my first joyride since breaking my leg! I plan to keep blurring this line even when my leg is in better shape. 
I considered myself an e-bike evangelist before I broke my leg, advocating for the E-BIKE Act and electric bicycle incentives with PeopleForBikes and in my personal life, talking about them to anyone and everyone who would listen. Now, I can't imagine where my body and mind would be without my e-bike.