August 11, 2021
Does America Have a Big Bike Ego?
By: Jack Foersterling, copywriter and editor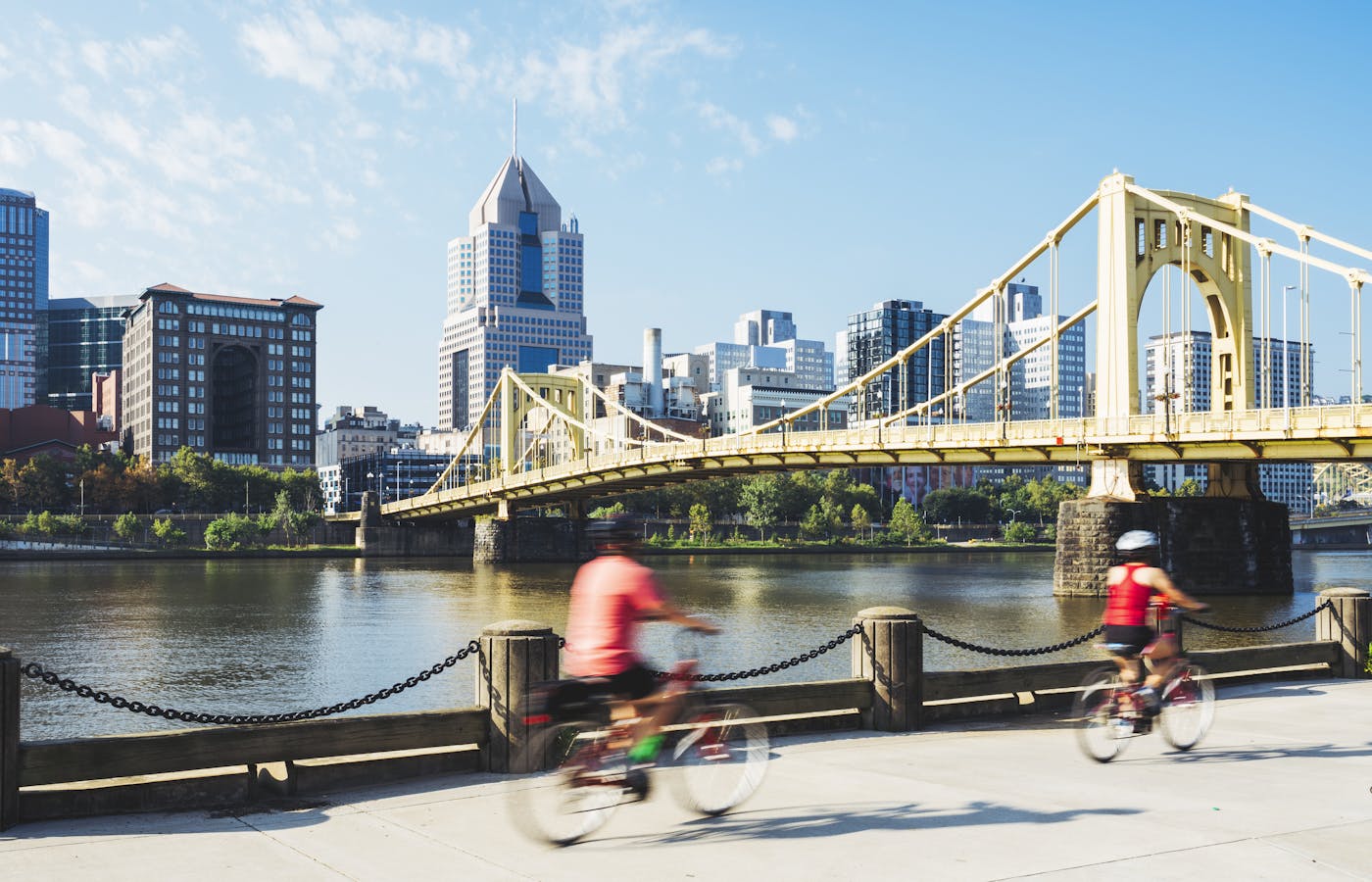 Unlike their European counterparts, Americans appear to have inflated perceptions about the state of bicycling in the U.S.
The release of the 2021 PeopleForBikes City Ratings featured a new way of calculating city scores, emphasizing the importance of building safe, comfortable and connected bike networks. The revised analysis incorporates only two metrics: the quality of a city's bicycle network via the Network Score (worth 80% of a city's total score) and community perceptions of bicycling via the Community Score (worth 20% of a city's total score).
Diving into the numbers, cities' Network Scores generally aligned with common perspectives of great places to bike. Since this was our first year going global, we were also able to compare U.S. scores to well-established bicycling meccas across the pond. European top performers like Utrecht and Amsterdam in the Netherlands, Antwerp, Belgium and Copenhagen, Denmark all far outscored U.S. favorites including Portland, Oregon, Seattle, Washington, Boulder, Colorado, and Davis, California when it came to their networks. 
Looking at Community Scores, however, we found a much more surprising trend. The top 10 Community Scores among European cities ranged from 56 to 66 out of a possible 100, while top performing American cities were higher, spreading from 68 to 73. Cities with the highest Community Scores in the U.S. — including places like Park City, Utah, Fort Collins, CO, and Fayetteville, Arkansas — did not match cities with the highest Network Scores, while nearly all of the European cities that scored a top 10 Network Score also ranked in the top 10 for their Community Score.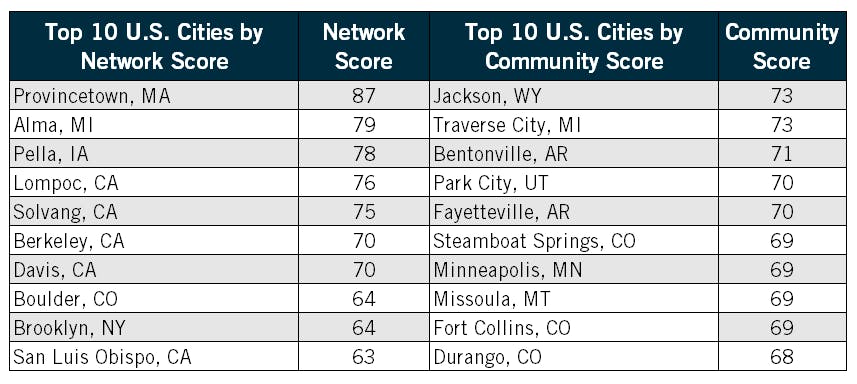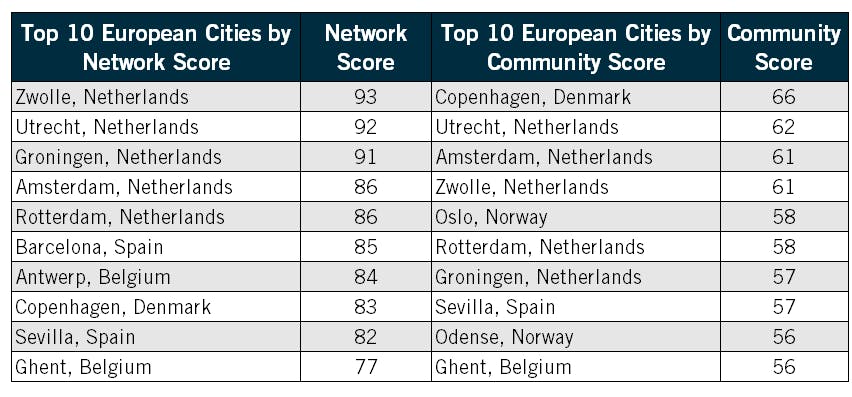 The data begs the question: Do Americans think our cities are better for biking than they actually are? To dive deeper into the possible differences between U.S. and European perceptions of bicycling, we spoke with Dr. Tara Goddard, assistant professor of urban planning at Texas A&M University, whose work focuses on transportation planning, road safety and traffic psychology and behavior.
"There are cultural biases that [make it so] Americans are more likely to overestimate. We're highly motivated to rate ourselves well," said Dr. Goddard. "However, everyone is willing to complain on a survey — just look at Yelp. So, there might be a potential respondent bias in who is actually taking the survey."
Goddard explained that U.S. respondents may not be intentionally overrating a city, but simply responding to the micro environment they ride in versus the macro environment of city-wide biking measured by the Network Score. If the 10 square blocks where a respondent spends the majority of their time biking are made up of low-stress, bikeable streets, it makes sense that they rate it well. They aren't incorrect in their opinion, but their neighborhood-level view of bicycling usually does not equally correlate to how good their city is for biking as a whole. Additionally, survey respondents may also conflate the quality of a city's infrastructure for biking for transportation with their experiences riding recreationally.
On the flip side, European cities' lower Community Scores may reflect different travel experiences. "Europeans travel to other countries more. They have more of a sense of comparison," said Goddard. "A European completing the survey has likely been to Amsterdam, Copenhagen, etc. and seen first hand what good bike networks look like. The U.S. is a large country, and there's much less basis for comparison. An American's frame of reference for what 'good' looks like is so different."
Political leaders are moved to take action and create change when the public demands it. How do we encourage riders who already think their cities are great for bikes to keep pressing for a high-quality bike network in their city? According to Goddard, bike share is helping pave the way when it comes to creating that demand for quality bicycle infrastructure. "When you don't bike for transportation, you're not really seeing the full picture of your city's bike infrastructure," said Goddard, noting that recreational riders have the ability to pick and choose their route, avoiding unsafe streets, where point A to point B riders usually only have one way to go. "Bike share is getting more people on bikes on real infrastructure around their city, showing them there is truly room for improvement."
Goddard also says cities need to be willing to make the investment in new and improved infrastructure, showing riders who may not have experienced great urban bike infrastructure in a city like Antwerp or Copenhagen what's possible. "The real challenge is showing people how bad their current infrastructure is without making them unsafe," said Goddard. "We have to find ways to get quality infrastructure in place to create real change. By working with city leaders on this investment, we can show these riders the way."
Ultimately, U.S. cities' high Community Scores and low Network Scores may not reflect a big bike ego, but rather the lack of world-class bike cities close to home to serve as a model for future development. Respondent biases towards hyperlocal and recreational riding experiences may further skew results. Network Scores indicate that U.S. cities need to build a lot of protected bike lanes and off-street paths to rival the bike networks in the best European cities. Thankfully, U.S. cities can look abroad for recent examples of rapid infrastructure deployment in places like Paris, France, and Sevilla, Spain, which have both demonstrated that change can happen quickly when the public demands safer streets and city officials commit to building them.
Watch the video below to learn more about the importance of building bicycle infrastructure fast, and check out the PeopleForBikes' Advocacy Academy for more case studies, explanations of the City Ratings program and other tips for building great bike cities.