June 1, 2021
Lessons From Europe
By: Jack Foersterling, copywriter and editor at PeopleForBikes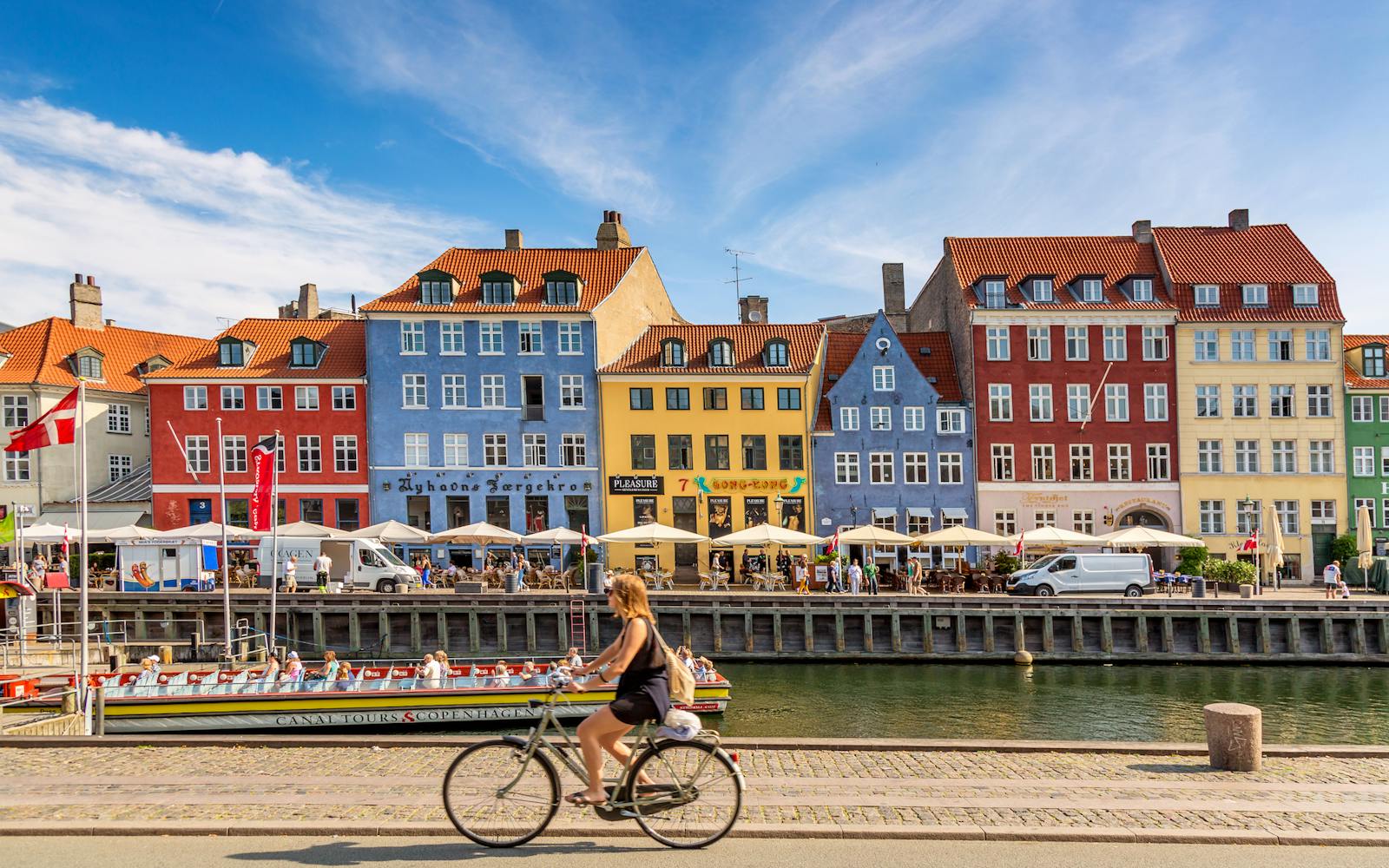 These seven European cities are role models when it comes to great bicycling. Here's what U.S. cities can learn from them.
New this year, our annual City Ratings program scored 30 European cities across nine countries, including Belgium, Denmark, France, Germany, Italy, the Netherlands, Norway, Spain and the United Kingdom. Whether they have a long history of bicycling, like Copenhagen and Utrecht, or have just turned their focus to bicycling, like Paris and Barcelona, most cities on this list outscore their U.S. peers by double digits. What's their secret? We've identified key lessons from seven European cities that are integral to building great bike communities anywhere.

Every day, more than 125,000 people bike to work, school, public transportation, shops or home in Utrecht, a city just south of Amsterdam in the Netherlands. With a total population of just under 360,000, it's easy to see why the Dutch city ranked number one overall in our 2021 City Ratings.
Like other wealthy European cities, Utrecht was incredibly car-friendly in the 1950s and 1960s. However, the rising gas prices of the 1970s, combined with an uptick in traffic-related child deaths, led to national policies that re-prioritized urban spaces for walking, biking and public transit. Today, 98% of Utrecht households own at least one bike, and nationally in the Netherlands bikes outnumber people. 
Utrecht spends an estimated $55 million per year building and improving its bike infrastructure and facilities. By comparison, Portland, Oregon, a city nearly twice the size of Utrecht, only spends about $30 million annually. According to the local Dutch government, however, the benefits of a healthy, biking population far outweigh the cost — the estimated annual savings from reduced air pollution and healthcare costs related to increased bicycling in the city is $300 million. But It's not just bike lanes that get and keep more people riding. In Utrecht, an emphasis on the entire cycling experience, including bike parking, is key to its massive success. 
In 2019, the city unveiled the world's largest bicycle parking garage under Utrecht Central Station, the city's main transit hub. The massive, three-story structure can house more than 12,500 bikes and is easily accessible from both street level and the train station. Across the city, digital signs point bike riders to the nearest available bike parking, including the number of available spots. All municipal bike parking in Utrecht is free of charge, too, highlighting the city's commitment to prioritizing the use of bikes.
What American cities can learn: Making biking better means more than just building bike lanes — it's about improving the entire bicycling experience. Massive investments in safe, convenient and free bike parking ensures riders are prioritized on and off their bikes.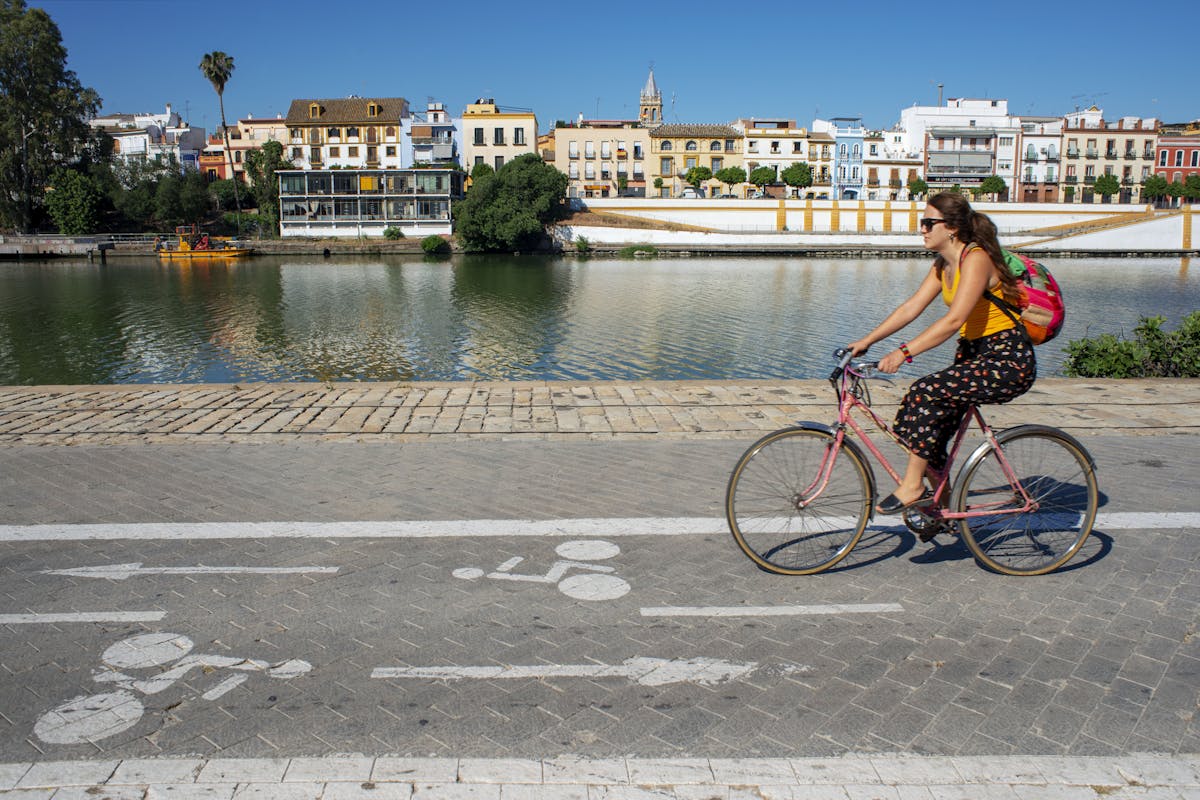 Between 2005 and 2010, Sevilla, a city of nearly 700,000 in the southwest of Spain, created a 120-kilometer (75-mile) network of protected on-street bike lanes, eliminating 5,000 parking spaces along the way. The result? A fivefold increase in cycling trips. In 2006, approximately 13,000 trips were taken by bike daily. By 2011, that number increased to 72,000. 
Rapid network expansion with a focus on connectivity are key to Sevilla's success. The city went from having almost no dedicated bike facilities to a citywide bike network in just a few years. In 2007 alone, Sevilla built 40 miles of protected bike lanes, a 542% increase over the existing network miles. This high-speed buildout didn't come as a financial burden to the city, either. Sevilla's entire bike network only cost the city $40 million — a fraction of the cost of proposed car-centric highway projects, with far more benefits to locals and tourists alike.
Recently Sevilla drafted a new bicycle plan, complete with expansion plans for the network, as well as new, in demand bike parking structures in neighborhoods, workplaces, schools and public transit stations across the city. Aiming to double the rate of bicycling by 2022, Sevilla is now focusing on making bicycling a safe and convenient option for more residents.
To learn more about how the Spanish city accomplished its rapid infrastructure buildout, check out our feature on Sevilla in our Advocacy Academy series "Lessons From the Best Biking Cities."
What American cities can learn: It doesn't necessarily take a lot of time or money to build out a high-quality network. Focusing on the creation of safe, protected bike lanes can lead to a massive increase in ridership in just a few years.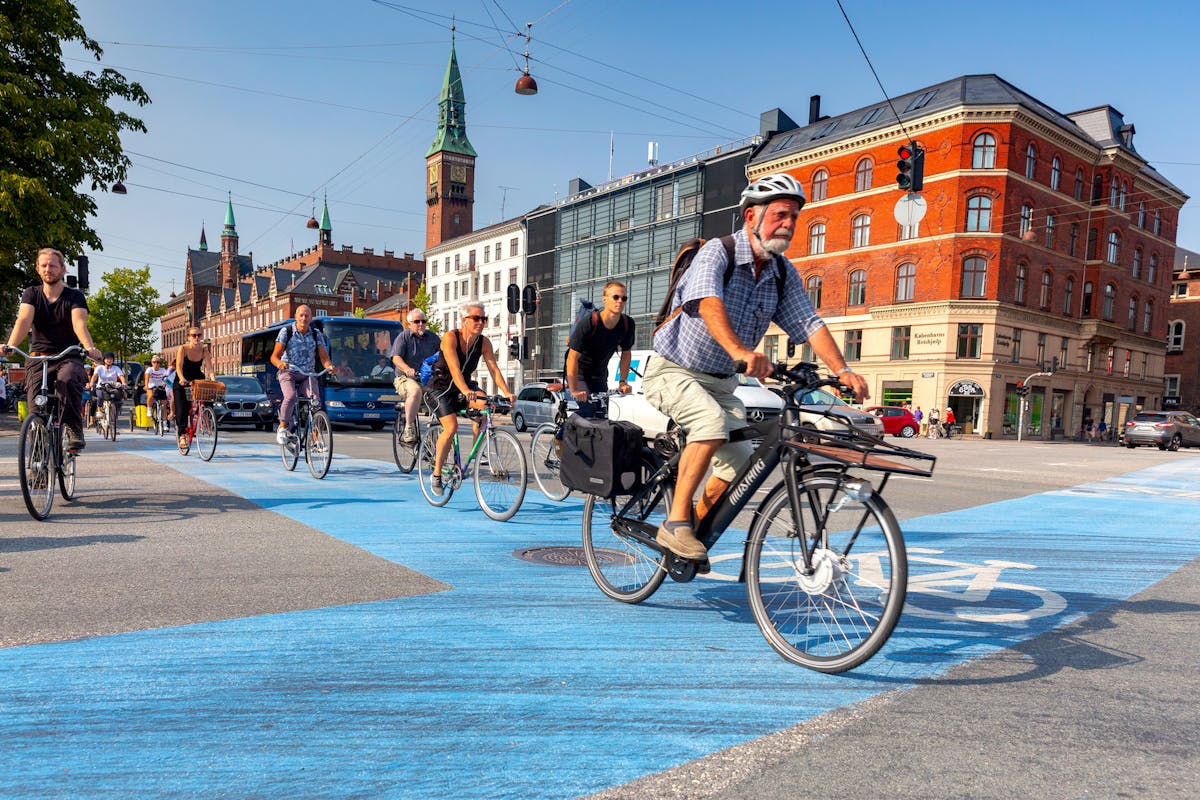 The Danish capital of Copenhagen is known for being one of the safest, greenest, most prosperous and most egalitarian cities in the world. But this transformation didn't happen overnight — Copenhagen is the product of more than 50 years of dedicated investment and hard work. 
Starting in the 1970s, Copenhagen gradually began replacing parking lanes and parking lots with protected bike lanes and public cafes. Traffic speeds fell, and the city became quieter and cleaner, a place where Danes wanted to live and work and tourists wanted to visit. Today, nearly 300 miles of elevated cycle tracks, carefully planned intersections and convenient bike parking prioritizes biking above all other forms of transportation. Bicycling is the fastest, easiest and most convenient way to move around the city.
Copenhagen has normalized bicycling as a primary means of transportation for people of all ages and abilities and made the city a better place to live in the process. By building an entire city with business districts and entertainment hubs that don't have to be surrounded by parking lots, Copenhagen has made its streets safer and more alive. Today, bikes outnumber cars six-to-one, and Copenhagen is one of the happiest and healthiest cities in the world.
Copenhagen has an annual budget of $12 million specifically dedicated to bicycle infrastructure, much of which has recently funded bicycle and pedestrian bridges. And even with more than half of its residents commuting by bike, more and more people continue to take up biking — in 2016, for the first time, the number of bicycles crossing the city on a daily basis surpassed the number of cars. Copenhagen is living proof that even the best can continue to improve.
Want to learn more about what makes Copenhagen a model city for great biking? Hear from Marie Kåstrup, head of Copenhagen's bicycle program, in our Advocacy Academy series "Lessons From the Best Biking Cities." 
What American cities can learn: Normalizing bike riding is key to building a great bike city. Breaking down stigma starts with building great infrastructure and creating a network that's easily accessible to people of all ages, abilities and backgrounds. This leads to safer, more livable cities.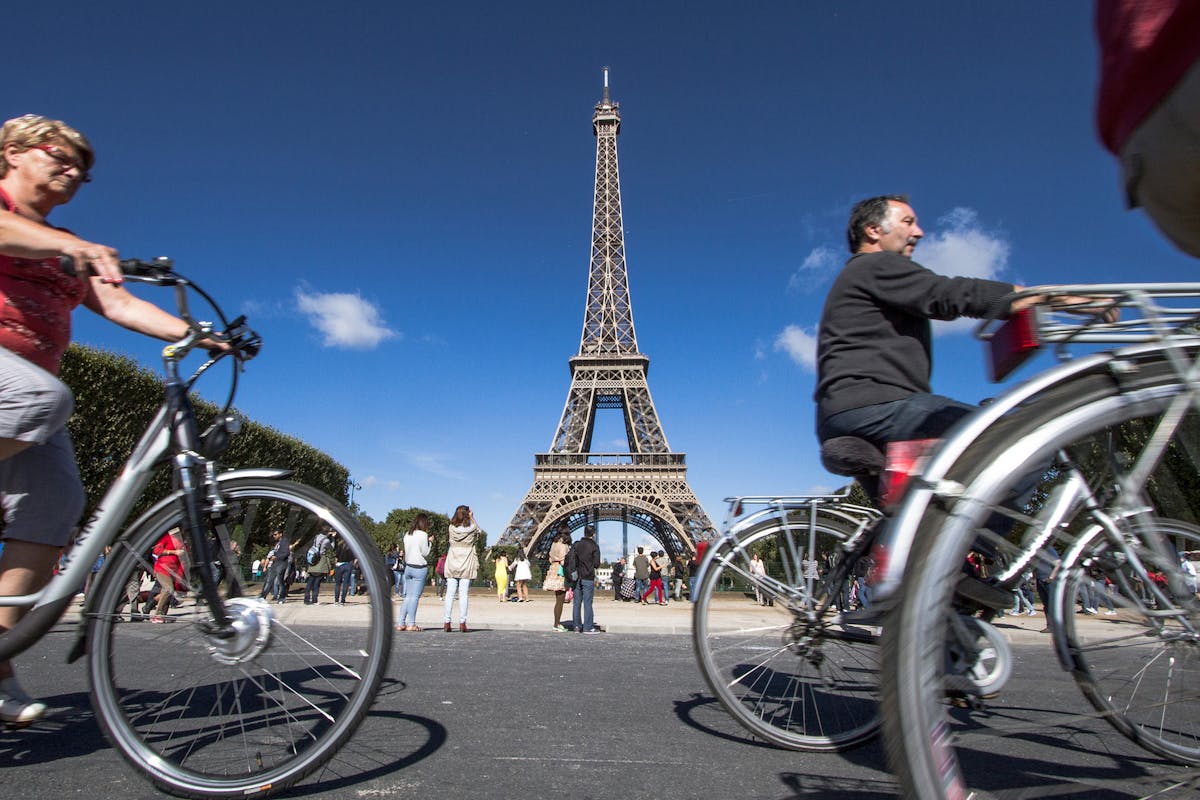 In 2015, newly elected Mayor Anne Hidalgo announced big plans to transform Paris into a more people-friendly city that caters to bicyclists and pedestrians. Her initiative to improve bicycling, Plan Vélo, included doubling the size of the bike network from 435 miles to 870 miles, fixing the deteriorating local bike share program and creating 10,000 new bike parking spots across the city, all within the span of five years. 
Since then, Paris has invested $178 million in projects to incentivize residents to bike, including pumping $23.8 million into a subsidy program that helps pay for bike repairs and tune-ups for local residents in September 2020. In response to COVID-19, the city turned 31 miles of traffic lanes into dedicated cycling lanes, and while originally temporary, local leadership announced plans to make the changes permanent last June. Mayor Hidalgo also recently pushed forward a proposal that would ban vehicle through traffic in the city center, creating a Limited Traffic Zone that prioritizes bicyclists, pedestrians and other non-motorized road users. Another pledge by the mayor promises to remove 140,000 on-street parking spaces throughout the city, taking street space back from cars and allowing more room for bike lanes, bike parking, green spaces and other public amenities.
All of this hard work is paying off. Since the beginning of the pandemic, bicycling rates across Paris have soared, with 6 out of 10 users on the city's new bike lanes having never biked before. And importantly, thanks to specific requirements for gender equality outlined in the Plan Vélo — protected bike lanes but also better street lights and more access to electric bike share — the number of women bicycling has risen. 
What American cities can learn: Strong buy-in from local female leadership combined with comprehensive plans to reshape how people move around in a city can lead to tremendous outcomes, including less traffic, cleaner air, healthier citizens and an uptick in female riders.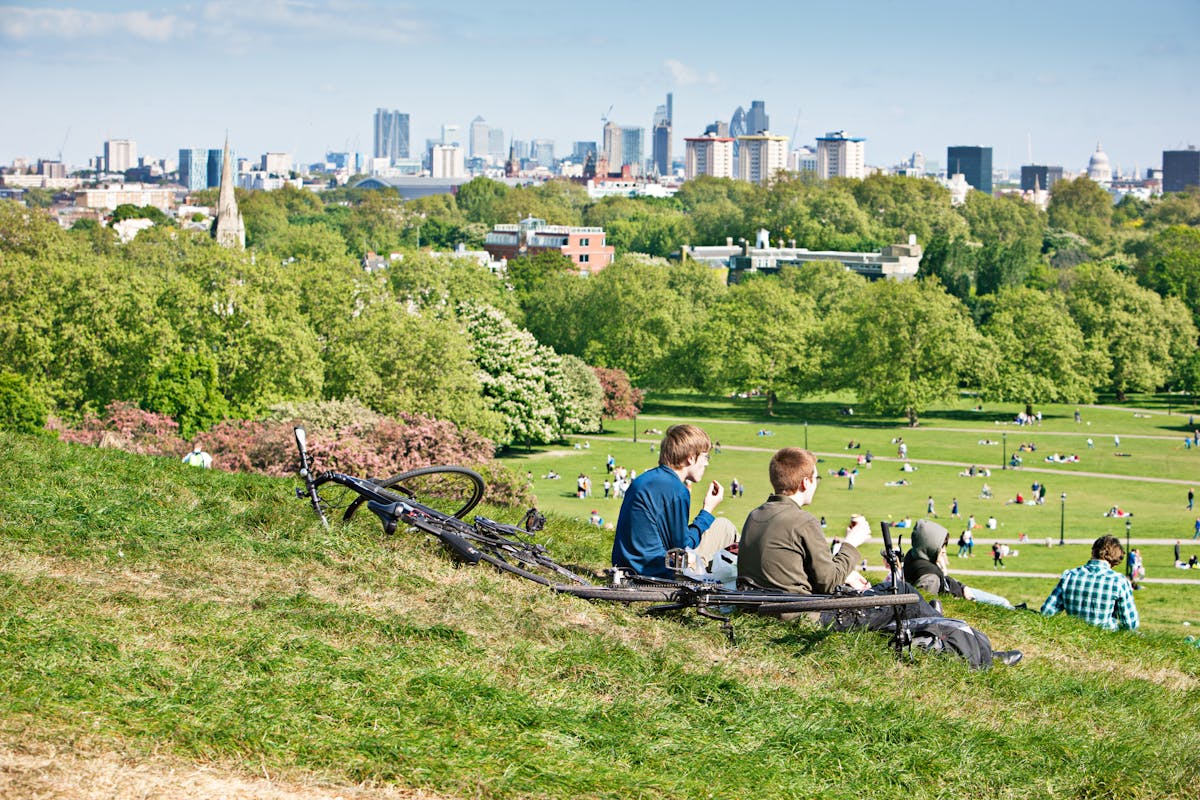 In spring of 2020, the Mayor of London, Sadiq Khan, released "Streetscape for London," a detailed plan outlining projects and other initiatives to create more space for people to safely walk, cycle, scoot and wheel their way around the city, helping to mitigate the effects of the pandemic. Soon after, Transport for London, the governmental body responsible for implementing the projects, got to work. By design, the main projects were quite simple: Build out a network of temporary cycle lanes and routes, widen sidewalks, and create Low-Traffic Neighborhoods (LTNs) by restricting vehicle through traffic on low-speed side streets.
As hoped, these projects helped satiate the increased demand for places to safely walk and bike, as scores of Londoners turned away from the city's well-established public transportation options amid social distancing requirements. Will Norman, London's walking and cycling commissioner, shared that the city saw a 200% increase in cycling compared to pre-pandemic numbers, touting the 100 kilometers (62 miles) of new bike lanes and 70 LTNs as reasons for the increased ridership. 
As the effects of the pandemic begin to wane, Transport for London s beginning the process of gathering public feedback on whether to make permanent, amend or remove the infrastructure and traffic calming measures installed in 2020. While there is pushback about certain bike lanes and whether or not the money involved in Streetscape for London was well spent, initial research suggests that the LTNs are popular. The main complaints are around inequitable distribution and the lack of public outreach prior to implementation.
What American cities can learn: Acting quickly and prioritizing all road users can assist in larger public health initiatives. While not every initiative is going to be a massive success, implementing projects equitably and soliciting community engagement throughout their lifespan is key to making sure infrastructure actually serves residents.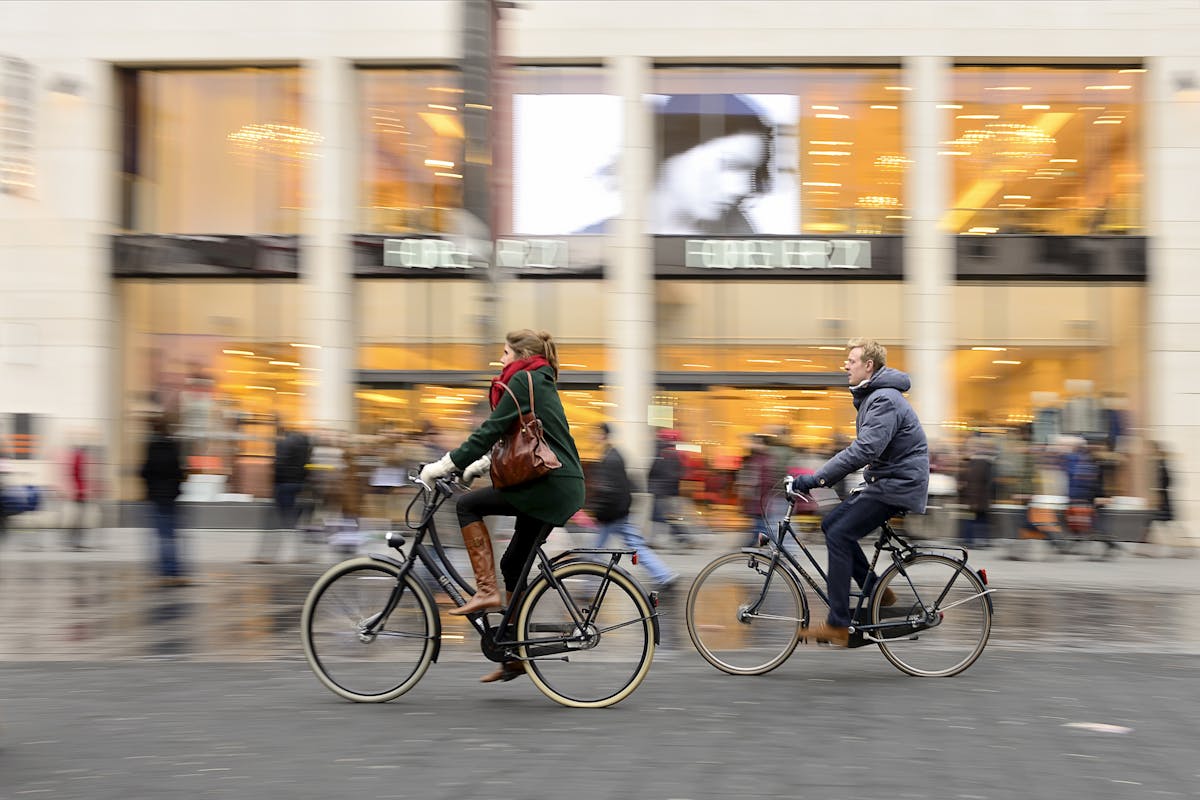 Antwerp, a Belgian port city with a history dating back to the Middle Ages, has 700 kilometers (435 miles) of bike lanes, which account for nearly half of its municipal streets. That expansive network has paid off with an astonishingly high mode share for bicycling: nearly 30% of Antwerp residents commute by bike, 36% bike to school and 28.6% of all trips in the city are taken on two wheels. And the city is continuously improving.
In 2015, Antwerp released its long-term bicycle policy plan, which focuses on the completion of a safe and well-connected bike network. The plan targets missing, weak or unsafe connections within the existing network and includes specific details on what bike infrastructure is needed depending on the speed of the road. For example, 30 km/h is suitable for mixed travel with cars, 50 km/h calls for dedicated on-street bike lanes and 70 km/h requires separated, protected infrastructure. Antwerp has also set a long-term goal of lowering speed limits to 30 km/h on 95% of all city streets.
For those looking to travel around Antwerp by bike, the city offers a route planner where riders can choose from one of four different route options. "Shortest route" is based solely on kilometers, "fastest route" follows the city's bike network as much as possible, "comfortable route" avoids cobblestone roads, unpaved paths and roads with fast traffic and "junction route" offers scenic rides. Additionally, Antwerp is expanding its Velo bike share system and upping its bicycling education programs for youth and adults — ensuring that biking remains accessible to everyone. 
What American cities can learn: An expansive, well-connected network combined with low-speed limits helps bicyclists feel safe and comfortable no matter where they need to go. Route-finding services, educational initiatives and bike share ensure journeying on two-wheels is an option for all residents.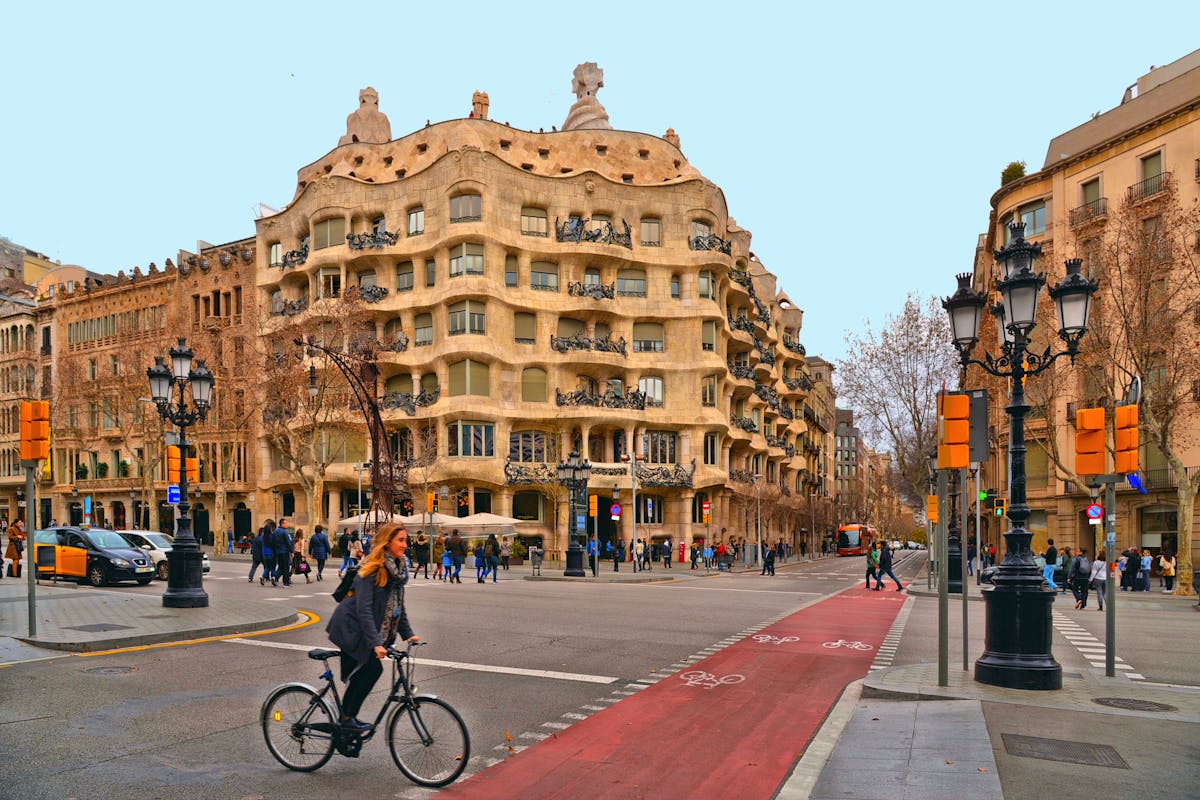 Barcelona, situated on Spain's northeastern coast in the Catalonia region, is one of Europe's most densely populated cities. With around 1.6 million people, Barcelona has the EU's highest density of cars, resulting in some of the worst air pollution and noise pollution levels in Europe. When the pandemic hit, it spurred conversations around the importance of natural environments and clean air, forcing city leaders to begin drafting plans for improvement. 
The Catalonian capital recently published its 10-year plan for making the city more green, prioritizing pedestrians, bicyclists and other road users over cars. The main focus of the policy centers around "superblocks," which groups together regions of the city by nine square blocks, closing them to through traffic and promoting outdoor wellness with the inclusion of bike lanes, play areas and green spaces. Although cars aren't banned completely from the superblocks, most parking spaces are eliminated and the zones as a whole give priority to people. 
Six superblocks currently exist across the city, with 11 more planned for the next three years. That number could exceed 500 if the plan is completed in its entirety, a number that would correlate to the prevention of 667 premature deaths annually and a 200-day extension on the average life expectancy of locals, according to the Barcelona Institute for Global Health. While Barcelona is far from that goal, the project has gained widespread support from locals.
What American cities can learn: Public space is public health. Open, green spaces throughout a city provide residents with places to recreate, relax and take a breath of fresh air, correlating to a happier, healthier population.