December 13, 2022
Building Inclusive Bicycling at School and Beyond
By: Nick Aguilera, PeopleForBikes' youth and community partnerships manager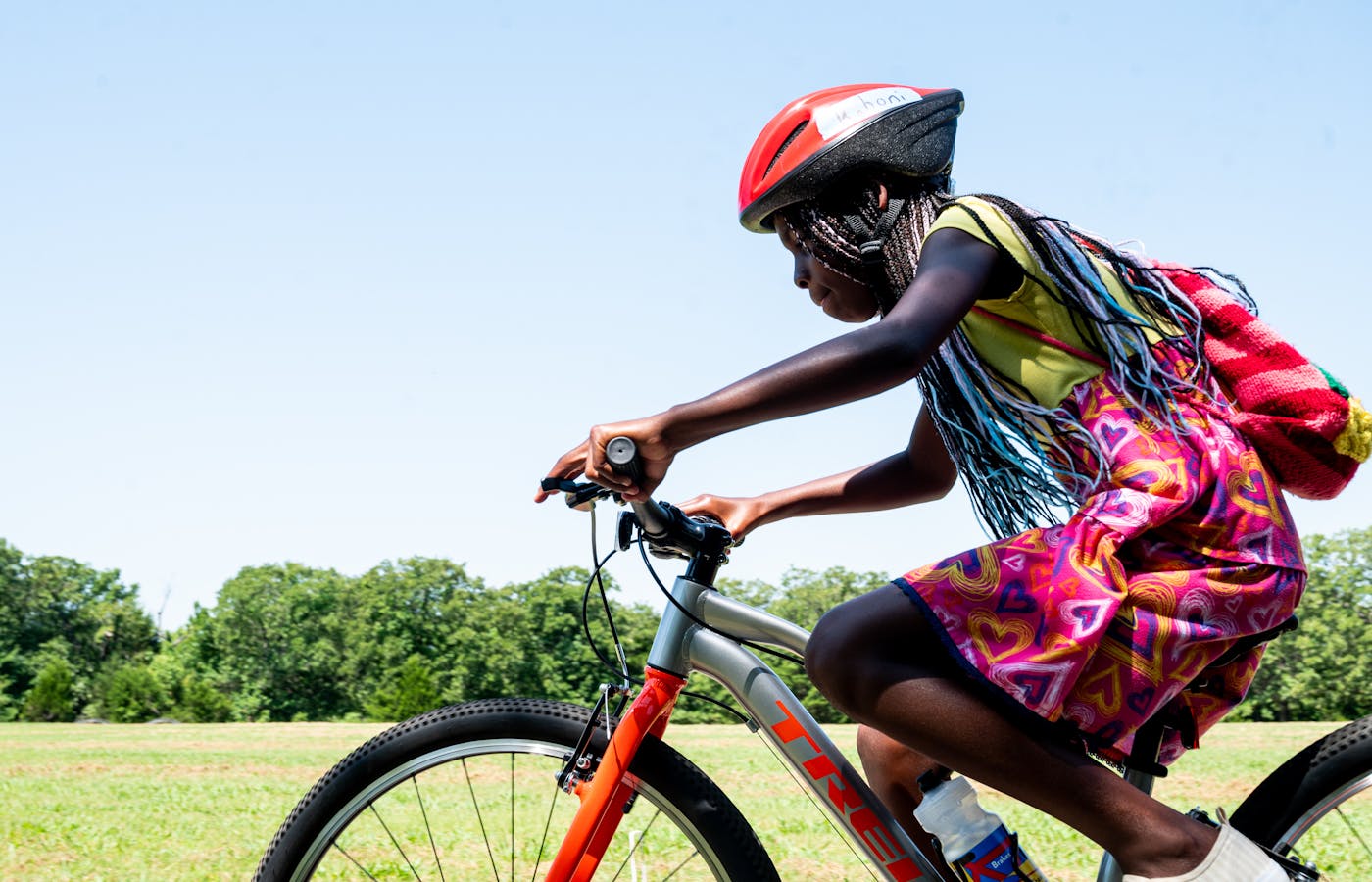 Photo Credit: Melissa Lukenbaugh
In Oklahoma, Bike Club Tulsa is creating a bicycle ecosystem, complete with adaptive cycling, educational opportunities, community repairs, and safer places to ride.
In Tulsa, Oklahoma, a local bike club is going beyond just teaching kids to ride bikes in school, working to also build safe, inclusive, accessible bicycling infrastructure.
"Fifteen years ago, we could have just come out of the gate saying, 'Dear Mayor, please build 50 miles of bike lanes,' and city officials would've probably turned around and said, 'For who?'" says Jason Whorton, executive director and co-founder of Bike Club Tulsa. "So Bike Club Tulsa said 'Okay, let's work on increasing ridership and exposure to get more kids on bikes.'" 
The club's decision-makers thought about how they might have the largest impact and settled on targeting the 33,000 kids in Tulsa Public Schools. In 2014, Bike Club Tulsa launched its first after-school program.
"Fast forward to now, we're operating bike clubs in 29 Tulsa public schools, running 12 in-school bicycle education PE programs, and building safe places for our kids to get out and ride," says Mike Wozniak, program manager at Bike Club Tulsa.
Bike Club Tulsa also uses Project Bike Tech's bicycle mechanic curriculum to teach science, technology, engineering, and mathematics (STEM) to students at a local high school. Plus, the club operates a local National Interscholastic Cycling Association (NICA) mountain bike team, organizes pop-up community bike repairs, leads bicycle classes for adults, and is a key player in implementing adaptive bicycling opportunities across the city. Bike Club's curriculum is also being used in cities and towns outside the Tulsa metro area.  
Bike Club Tulsa's impact and student reach has expanded as a direct result of implementing its in-school bicycle education programming. Each after-school program engages roughly 20 fifth-grade or middle-school students for weekly meet-ups and rides. The club works on bicycling skills, life skills, and STEM learning in the fall, while the spring is focused on off-campus rides in the community. The after-school programming currently reaches about 475 students and the in-school PE curriculum — taught to all third-grade students at select partner elementary schools — will hit more than 700 participants by the end of the 2022-23 school year. 
"Every third-grader at that school site gets a four-lesson skill and safety curriculum," says Wozniak. "We're teaching a lot of kids how to ride bikes."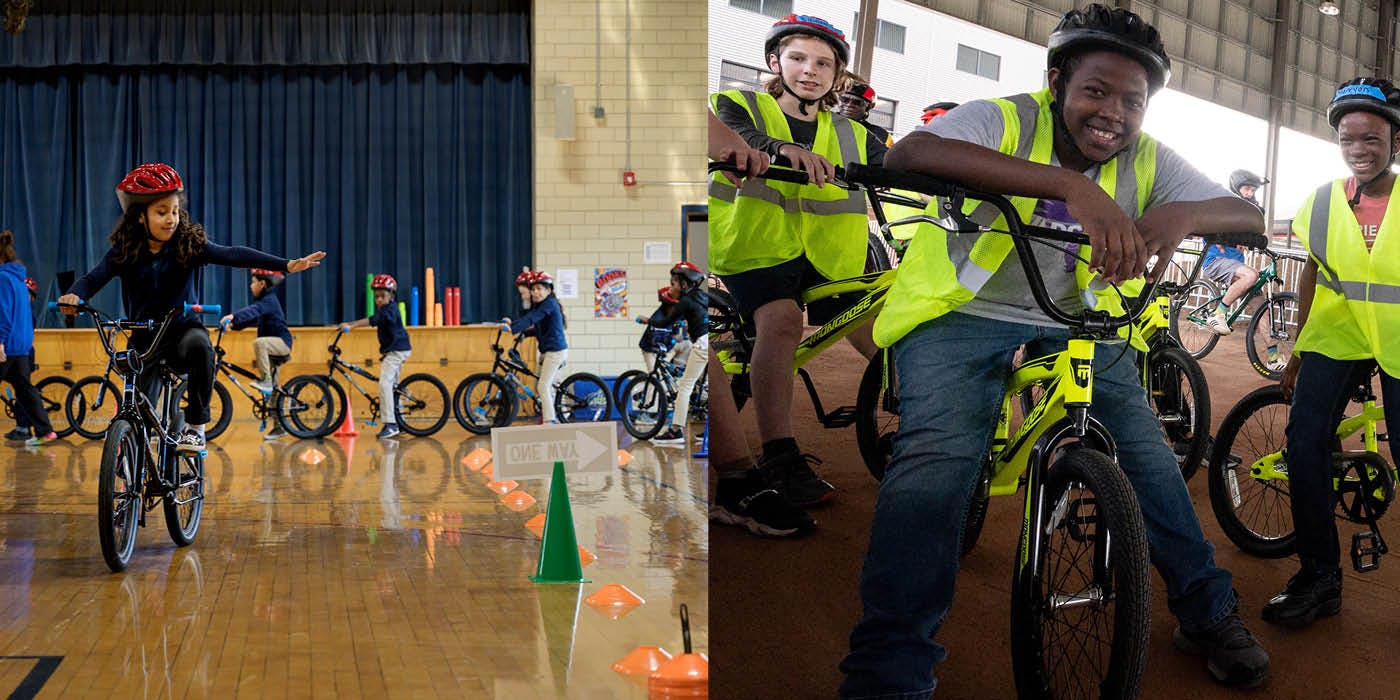 After conducting extensive research and looking at a variety of programs across the country, Bike Club Tulsa developed its own curriculum.
"We took those concepts taught in other curriculums and put our spin on them," says Whorton. "We use custom photography, videos, equipment, and local students to put an urban spin on cycling education."
Using its custom curriculum and local influence, Bike Club Tulsa is working hard to break down barriers to bicycle access and participation in the city. The organization is working closely with the school district to implement more clubs, which is crucial considering the number of Title 1 schools and kids on free and reduced-price meals (both are used as indicators for low-income, marginalized communities). Importantly, thanks to community donations, Bike Club Tulsa is able to provide all its programming and equipment at zero cost. 
"Every school has about 30 bikes, 20-25 youth bikes and five adult bikes for volunteers," says Whorton, adding that all of the kids that graduate from Bike Club Tulsa also earn a bike. "We give them a bike, helmet, safety vest, gloves, high-visibility t-shirt, and a water bottle — all of this well-earned swag." 
While the cost of bicycle equipment is a barrier for many low-income youth bicycling, it's not the only one. In the U.S., adult women ride bikes less than adult men for both transportation and recreational purposes, and gender parity is something Bike Club Tulsa explicitly aims for: Bike Club Tulsa's participation rates are about 50% male and 50% female.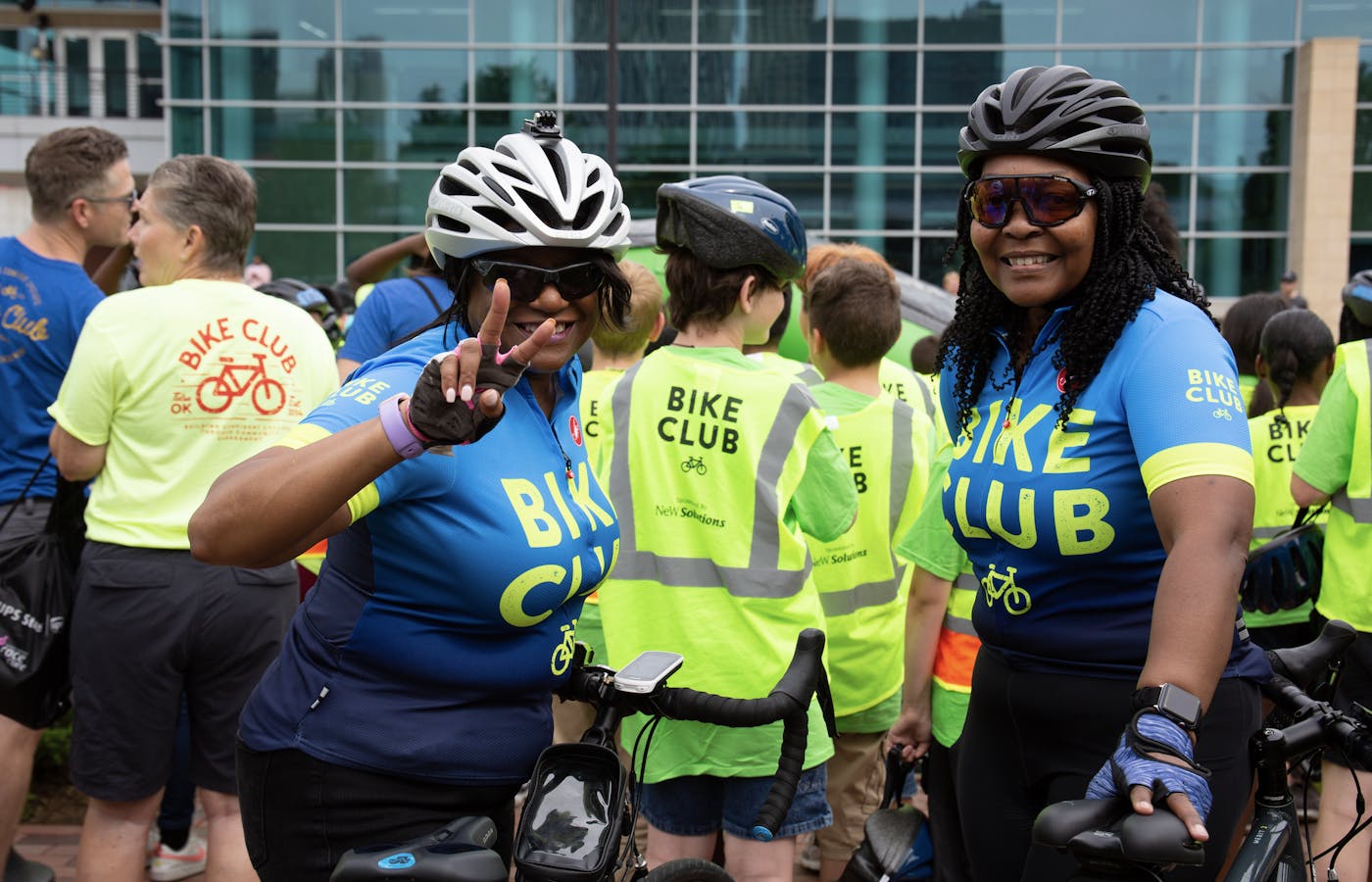 "[Our demographics] also mirror the breakdown of the school district ethnicity, which is currently one-third white, Black, and Hispanic," says Whorton. "It's very important for us that we represent the makeup of students that the district serves." 
Many of Bike Club Tulsa's students are also completely new to bicycling. "In one of our PE classes, 17 out of 25 kids didn't know how to ride," says Whorton. "We really feel that what we're doing here is teaching a lifelong lesson around something that promotes health and wellness." 
In fact, improving community health outcomes bicycling is another central component of Bike Club's work. Oklahoma kids have some of the highest rates of adverse childhood experiences (ACE) in the country and many have three or more ACEs, higher than most other states in the country. 
"We know the best way to combat that, to compensate for that, is mentorship," says Wozniak. "You see all this activity on a bike, but it's also a vehicle for mentorship." 
Mentorship and the creation of safe, stable, nurturing relationships in families and communities is a key component of ACE prevention and another focus of Bike Club Tulsa, which works hard to ensure that program mentors represent the backgrounds of the kids they work with.
Underlying all of its other work is Bike Club Tulsa's efforts to develop and advocate for accessible places to ride in close proximity to student's schools and homes. Tulsa Bike Club's most recent bike park project, Bales Park Trails, was constructed next to a Tulsa Housing Authority project, where the club also gave many residents free bikes. 
In order to remain inclusive, Bike Club Tulsa makes sure that the trails they build are rated for adaptive use. Lubell Park Trails, another Bike Club project, is Oklahoma's first purpose-built adaptive mountain bike trail (aMTB), with Bales Park Trails also being designed intentionally for aMTBs.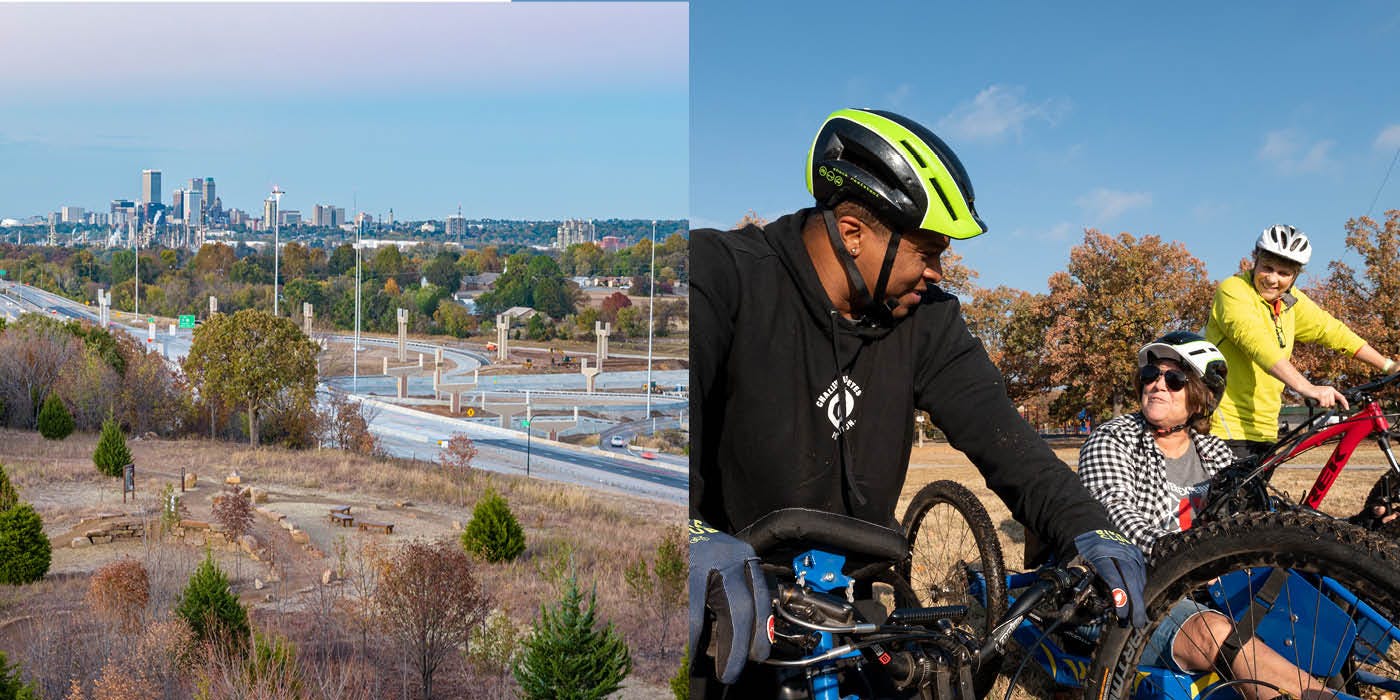 Bales Park Trails and adaptive mountain bike riders. (Photo credit: Damon's Droneography and Melissa Lukenbaugh)
"We have three and a half miles of inclusive trail out there," says Whorton, noting that they'd just received an adaptive mountain bike report from Jeremy McGhee, an authority in the space. "We want the trails we're developing to be fun for all ages and abilities — we want them to be interesting and challenging, but we also want them to be inclusive."
Financial barriers to adaptive bicycling are challenges Bike Club Tulsa is addressing alongside the need for inclusive infrastructure. Through a grant from the Sanford & Irene Burnstein Foundation, the club was able to purchase adaptive mountain bikes for local use. The organization also has a collaboration with The Center for Individuals with Physical Challenges that includes weekly rides with their clients on these adaptive trails.
Bike Club Tulsa helps drive Oklahoma bicycle culture and its emphasis on inclusivity doesn't go unnoticed. The group has also built strong relationships with bike shops in Tulsa and conducts regular bike repair pop-up shops throughout the city. 
"We do community popups where we'll bring out our staff, stands, and tools and we'll service bikes in Tulsa Housing Authority projects, in schools or parks, and YMCAs," says Whorton. "We go to the people, working on bikes for free to keep them running and keep the kids active."
After almost a decade of operation, Bike Club Tulsa has built community trust by delivering on its promises to the Tulsa Public School district and the community at large, drafting a blueprint that can resonate in any community across the country.
Do you know a youth organization in your community that's supporting youth bicycling? The 2023 Outride Fund Application Cycle opens on January 6, 2023.