November 1, 2021
Austin Will Be America's Next Great Biking City
By: By Kyle Wagenschutz, PeopleForBikes vice president of Local Innovation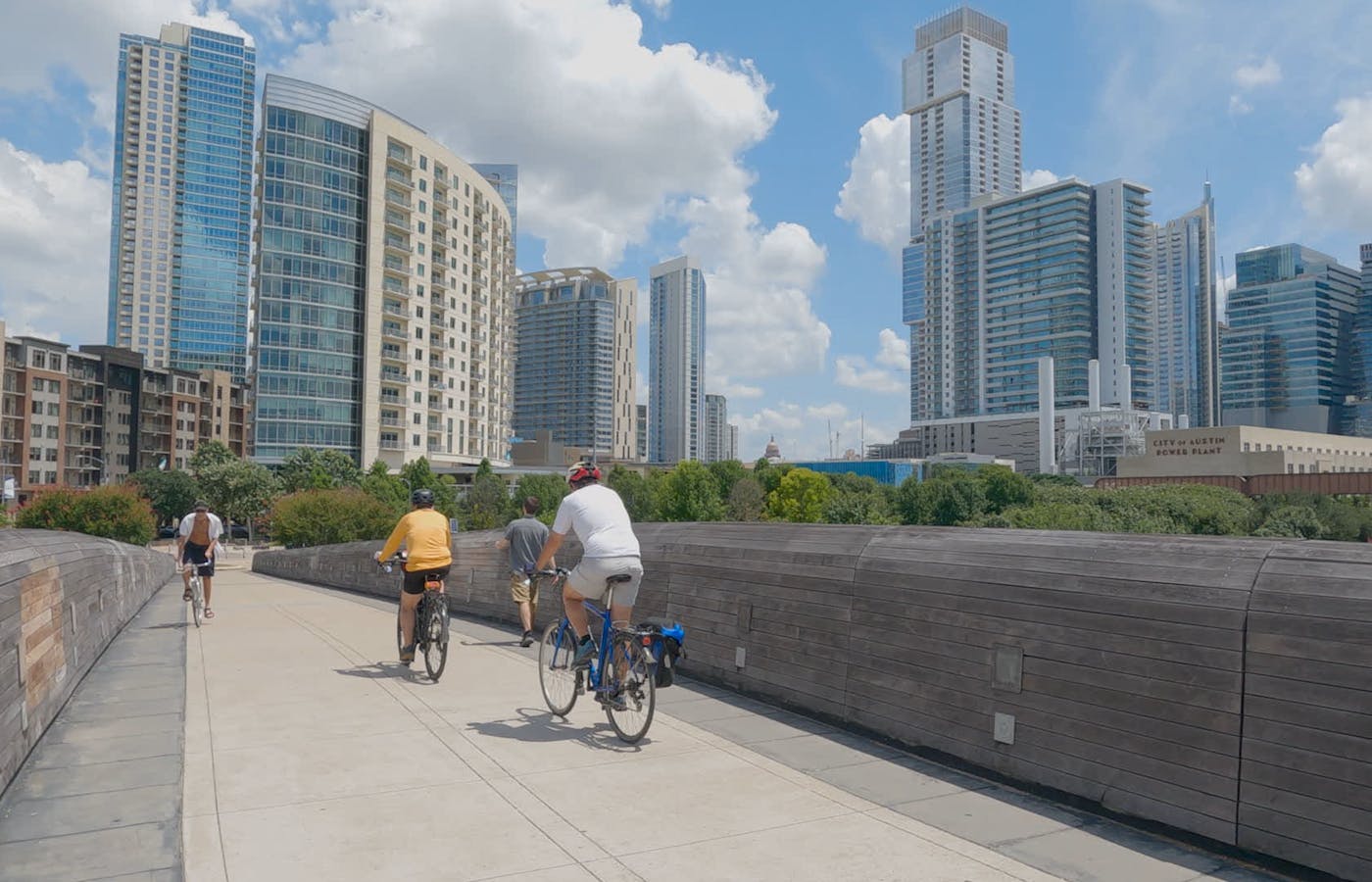 Over the last two years, the Texas capital accelerated the buildout of its all ages and abilities bike network, building more than 100 new miles with no signs of slowing down.
In 2014, the City of Austin set an ambitious goal: Build a 400-mile bicycle network that winds throughout the city, connecting urban trails, quiet neighborhood streets and new protected bike lanes. A network that would offer residents a choice in how they get around, no matter the person's age or ability. The envisioned All Ages and Abilities (AAA) Bicycle Network would be accompanied by major street crossing improvements and other infrastructure updates, eventually delivering more mobility options, relief from congestion, greater safety to all and a more livable community for Austin residents. 
Buoyed by funding made available through voter-approved mobility bonds, a robust and transparent community engagement process and the support of the city's elected leadership, Austin's Transportation Department (ATD) worked diligently to move the network beyond the pages of their plan and into reality. By 2017, however, fewer than 20 miles of the network had been constructed, and while the process and projects were significant achievements, the pace of development meant that the completed network might be decades away. 
In 2018, city leaders decided a change was needed to help Austin meet its mounting transportation needs and the urgency of climate change. A significant acceleration of its AAA bicycle network was determined to be the best course of action. MoveATX — a coalition of community leaders, advocates, activists and local organizations — was founded in order to support the city's efforts, creating a potent partnership with ATD that has achieved far more together than either would have been able to accomplish alone.
MoveATX launched a media campaign that tapped into the city's popular support for bicycling, emphasizing the use of out-of-home advertising to drive participation in the city's public meetings and showcase how the proposed projects would result in reduced congestion, fewer crashes and a more equitable city. This partnership helped build support among residents and allowed ATD to accelerate its project delivery timeline by three times its previous pace.
Learn more about how Austin achieved this milestone by watching our Advocacy Academy video:
Today, Austin has completed 215 miles of the AAA bike network, more than half of the network mileage envisioned in the original 2014 plan. It's one of the few North American cities to reach such a milestone. Approximately 64% of Austin's residents can now access and navigate the completely connected, comfortable system of bike lanes that allow people on two wheels to get to where they're going safely, all without inconveniencing drivers and walkers.
And Austin isn't stopping there. 
Decisively, in November 2020, 67% of Austin voters approved Proposition B, a $460 million active transportation bond meant to expand walking and biking networks throughout the city.  With this funding secured, City of Austin officials expects that the entire AAA bicycle network will surpass more than 400 total miles — or 100% of the mileage envisioned in the 2014 plan — by 2025. Impressively, this investment exceeds the commitment recently made—and widely celebrated—by Paris, France ($291 million, with a 2026 completion date). Once complete, 83% of Austin's residents will be able to easily walk, bike or scoot using the AAA network, connecting them to destinations throughout the city.
Reflecting on what this achievement means for Austin's future, Mayor Steve Adler said, "Twenty years from now, I hope life on the street just looks active and involved, with lots of people doing many different things and the streets being used in a variety of ways. I want everyone in Austin to have the ability to be able to come together and to move with one another and talk to one another in an environment that is safe, friendly and accessible to everyone."
Austin is setting a new precedent for American cities, showcasing that not only is a new era of mobility possible, but we don't have to wait decades for it to become a reality. By building bike infrastructure into our transportation improvements, cities can ensure drivers, walkers and bikers can get where they need to go with the greatest safety and the least amount of hassle. 
We can have peace on the road — and more livable communities — when everyone has a piece of the road.