November 6th, 2020
Austin Positioned to Surpass America's Greatest Biking Cities
By: PeopleForBikes Staff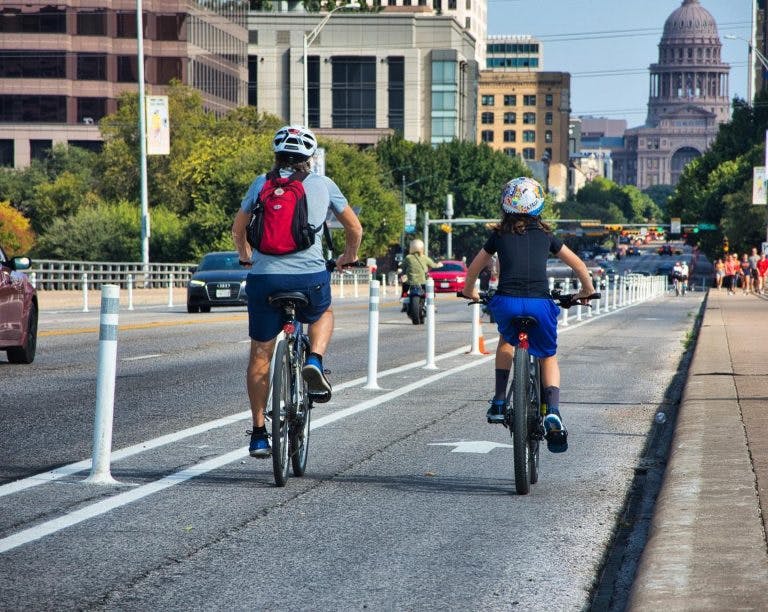 Bike riders on Austin's South Congress Avenue take advantage of the fresh paint and new construction of protected bike lanes, created in response to the COVID-19 pandemic. On November 2, Austin voters approved Proposition B which included $30 million for future enhancements to this corridor. (Credit: Bike Austin)
In decisive fashion, 58% of Austin voters cast ballots on November 2 supporting Proposition A, a $7.1 billion public transit expansion and rail line plan, and 67% supported Proposition B, a $460 million active transportation bond meant to expand walking and biking networks throughout the city.
On their own, each measure has the potential to transform the way Austin residents move around their city. Together, they're a surefire way to usher in a new era of mobility throughout the city.
Project Connect, the transit plan supported by Proposition A, includes a new rail system, a downtown transit tunnel, expanded bus system, the transition to an all-electric fleet, and $300 million for affordable housing and anti-displacement efforts. 
A meager funding proposition by comparison, Proposition B takes the city another step closer to a completely connected, comfortable network of bike lanes, trails, and sidewalks. Already nearing 50% completion of the city's All Ages and Abilities Bicycle Network, this measure will inject another $40 million into the network expansion, $80 million into urban trails, and $340 million into various projects that fill the gaps, improving safety and convenience for walking and biking alike. 
"Our tomorrow will be filled with more equitable, safer, cheaper and convenient mobility choices for everyone. We are ready to move beyond the status quo," said Mayor Steve Adler. "Congrats to the bike advocates who joined with a broad coalition to deliver a better future for Austin!"
It's no secret that Austin's population, economy, and tourist destinations have been booming for nearly a decade.
As a result, its freeways and arterials have filled with cars, making it one of the nation's most congested cities. So for years, the Texas capital city has been working on a solution: street by street, major repaving projects have striped bike lanes alongside each curb to encourage trips by bike.
In the 25-square-mile area surrounding the city center, the city estimates only about one in 20 working residents currently commute by bike. Over the last three years, city officials have accelerated efforts to double that rate, and encourage thousands of people to take up biking on its streets each day. Their plan: to simultaneously close the gaps in the city's biking network and to add simple physical barriers to more clearly separate bike and car traffic.
During COVID-19, bicycling rates soared throughout the city, prompting city leaders to create the Healthy Streets program, temporarily closing streets to traffic and opening them to people. The city even pursued a permanent protected bike lane design along South Congress Avenue, the "Main Street of Texas" with leading views toward the Texas State Capitol and direct connections to both the natural and urban spaces of Austin (which will receive an additional $30 million for enhancements from Prop B).
"People understand that a healthy lifestyle requires systems that make active transportation safe and efficient, and they voted overwhelmingly in support of Proposition B to build infrastructure that connects every part of the city," said Hill Abell, Bike Austin board member.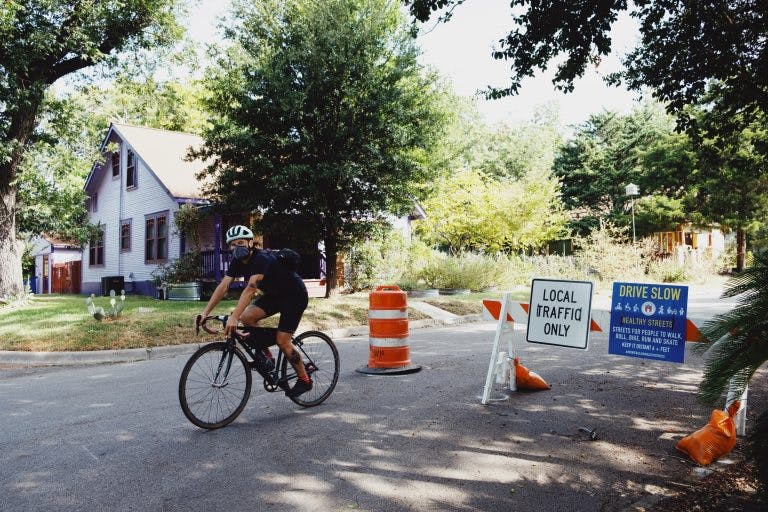 In the context of Austin's past achievements, the most intriguing facet of this week's ballot win isn't the individual progress that transit, biking, and walking will make, but what they can achieve together. Modeled after the interconnected transportation systems found in countries like the Netherlands, Austin's simultaneous rapid pursuit of expanded public transportation and connected bike networks ensure mutual success for both systems. 
"The overwhelming support for Props A and B shows that Austinites are ready for a greener, mobility-friendly city," said Councilmember Paige Ellis. "While Texans typically view a commute as utilizing one type of vehicle, we need to create an infrastructure to encourage multimodal options. This is something the Dutch embraced when planning their transit systems, and we have incorporated it into our transit maps. When we make these spaces comfortable and accessible to all users, more people will use them."
If you're not putting transit connections at the heart of your bike planning, you're not doing it right. And, if you're not building transit corridors and stations that make biking attractive and intuitive, you're not building them right, either.
A brief analysis of Austin's most recent funding victories proves the point. 
Today, approximately 26,000 people live within a safe, comfortable bicycle ride to Austin's existing high-capacity transit system. The fact that so few people can safely ride to a transit stop is a reflection of both an underdeveloped bicycle network fraught with broken connections and dangerous intersections and the limited number of transit stations present in the city.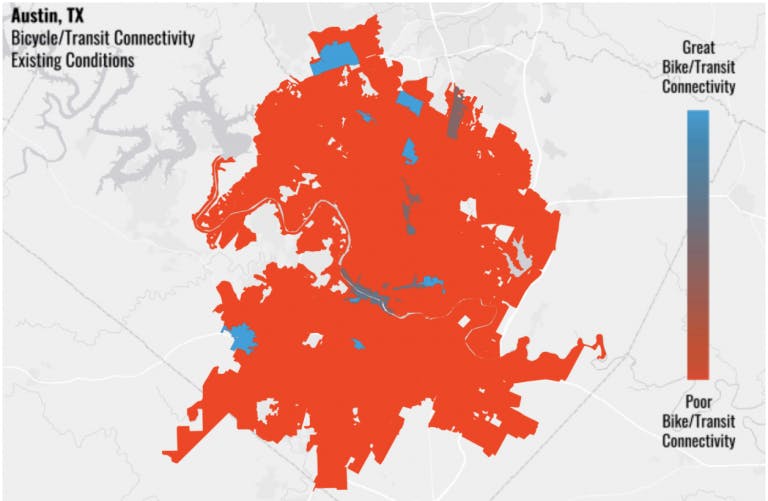 Fully implemented, Project Connect should drastically improve access throughout the city. The  rapid expansion of high-capacity transit services will expand its reach to 146,000 residents within biking distance, a 5.5x increase from current conditions. That's a substantial improvement.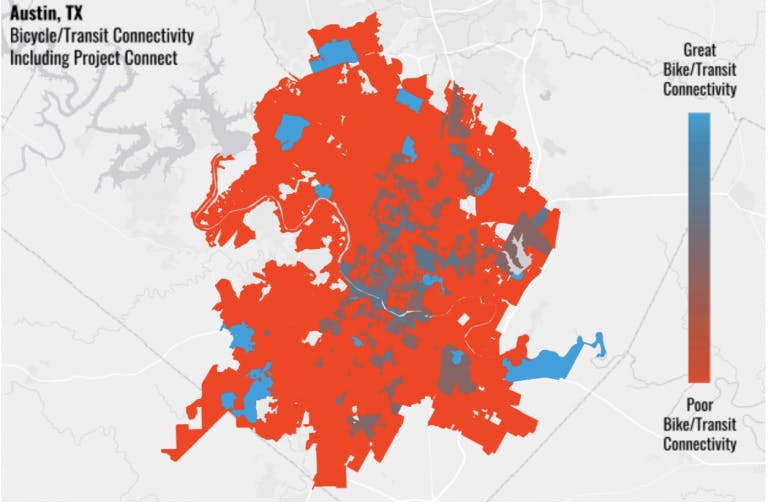 But accounting for the build out of the All Ages and Abilities Bicycle Network alongside Project Connect's transit expansion, 429,000 residents will be able to access the transit network by bike – a 16x increase from today.
By any measure, spending 6.5% above your original budget to build out the bicycle network easily puts 3x more riders within reach of transit stations – a fiscal bargain for transit operators compared to the costs of transit expansion alone. 
Adam Greenfield, Bike Austin board member reflected on the significance of these victories for the city. "Having voted down similar initiatives in previous elections, Austinites have clearly indicated they are ready for change. Props A and B will work together to make sure that people can walk and bike safely to and from public transportation lines, further enhancing the impacts of both initiatives. This is a new day for mobility in Austin."
While the potential of this week's vote will take years to fully mature (Prop A operates on a 20 year horizon while Prop B will be implemented in 6-8 years), Austin leaders and advocates believe they can give everyone more options to get where they need to go quickly and safely by building bike infrastructure into their transportation improvements. 
And other cities should take note of Austin's example.
When positioned as part of overall transportation improvements, bike lanes, trails, sidewalks, and safety improvements  deliver more mobility options, relief from congestion, greater safety to all and a more livable community for its residents.