May 28, 2021
Why Local Bike Shops Should Support Youth Bicycling
By: Nick Aguilera, youth and community partnerships manager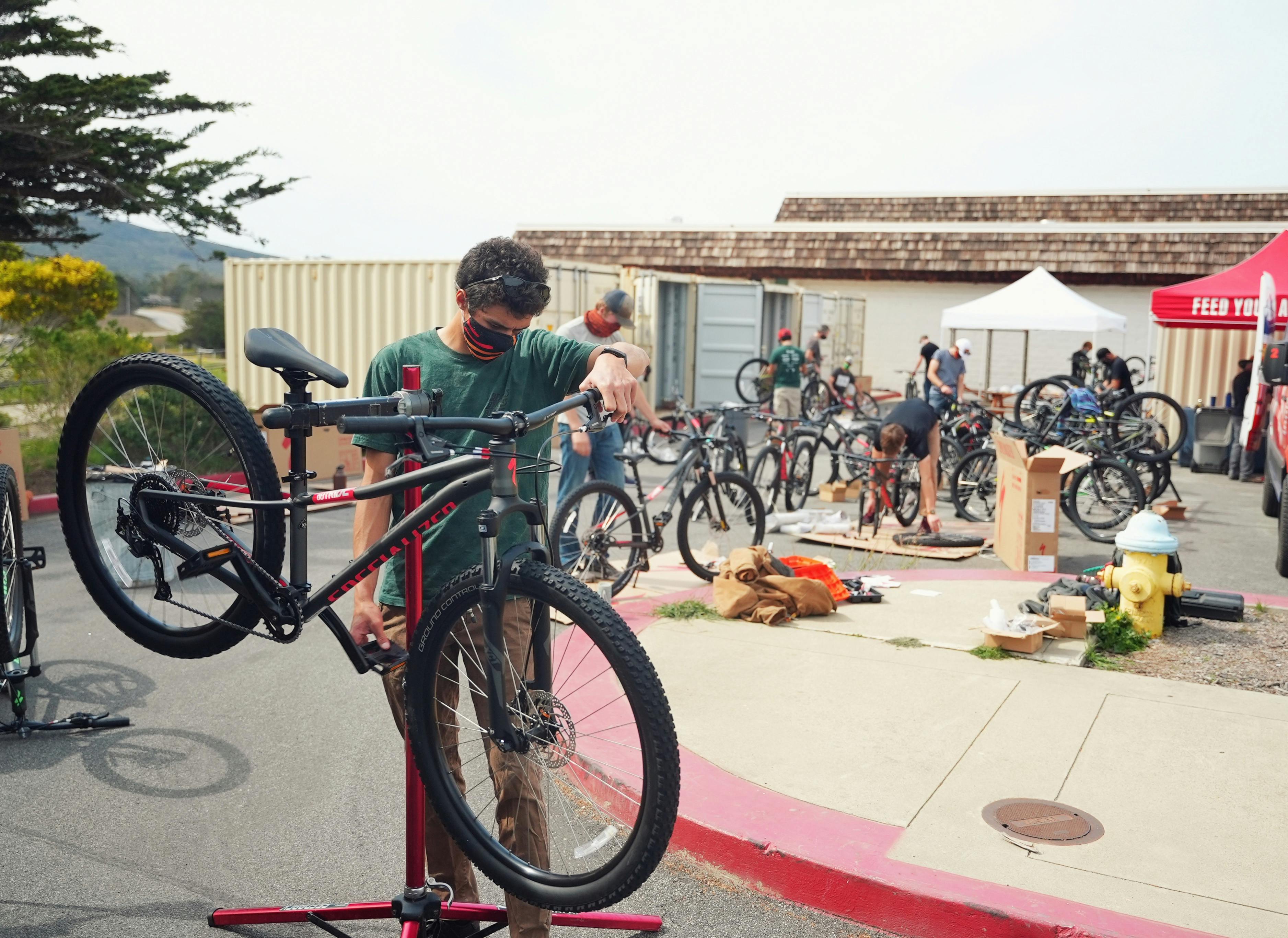 Building fifty one bikes for Los Osos Middle School's Outride Riding For Focus program. Credit: Outride.
We spoke with retailers across the country to learn about various initiatives that are boosting business and building community.
Around the country, for-profit and nonprofit bike shops are stepping up to get more kids on bikes. We spoke directly with local retailers to learn about the different ways they're engaging youth, from offering discounts on gear to hosting youth-focused bicycling workshops and events. Though the specifics on programming and reach vary, all of these shops are committed to building community for the next generation around bikes.  
Supporting youth cycling is an investment in the future of biking
For Brian Pierce, service manager at University Bicycles in Boulder, Colorado, championing youth programs is an investment in the future. "We feel it is important to expose young people to bicycling as a sport, a means of transport and a possible career," said Pierce. Scott Smith, owner of The Bicycle Chain shops in the Raleigh-Durham area, is likewise thinking long term. "Your twelve-year-olds are your twenty-five-year olds in thirteen years — they're my future customers," said Smith. "It's important to make bicycling safe, inviting and fun."
Eric Supil, executive director of the Charlotte Re-Cyclery community bike shop and of the local Trips For Kids chapter in Charlotte, North Carolina, emphasized the transformative role youth play in shaping communities. "We want to build a strong future by making sure that we're enriching and we're encouraging youth to make cycling part of their lifestyle," said Supil. With the understanding that the youth are going to be the ones most impacted by current infrastructure investment and urban planning decision making, Trips For Kids Charlotte leads bike camps in local neighborhoods so youth can understand and engage with decision-making for transportation infrastructure investments and help shape the future of mobility in Charlotte. 

Supporting youth cycling engages families and is good for business
By backing local youth cycling programs, bike shops can have a ripple effect, encouraging parents, guardians and other family members to both ride bikes and buy them. At the Charlotte Re-Cyclery, a youth-focused, earn-a-bike program makes it easy for kids to enroll in a street smarts curriculum and receive a free refurbished bike, lights, lock and helmet upon completion. Through a partnership with Cycling Savvy, the Re-Cyclery expanded in order to host entire families. 
"The [family] program provides a bonding opportunity and a way to continue engagement," said Supil. "It creates a pathway so that youth can learn and build reinforcement and support from the people that are closest to them."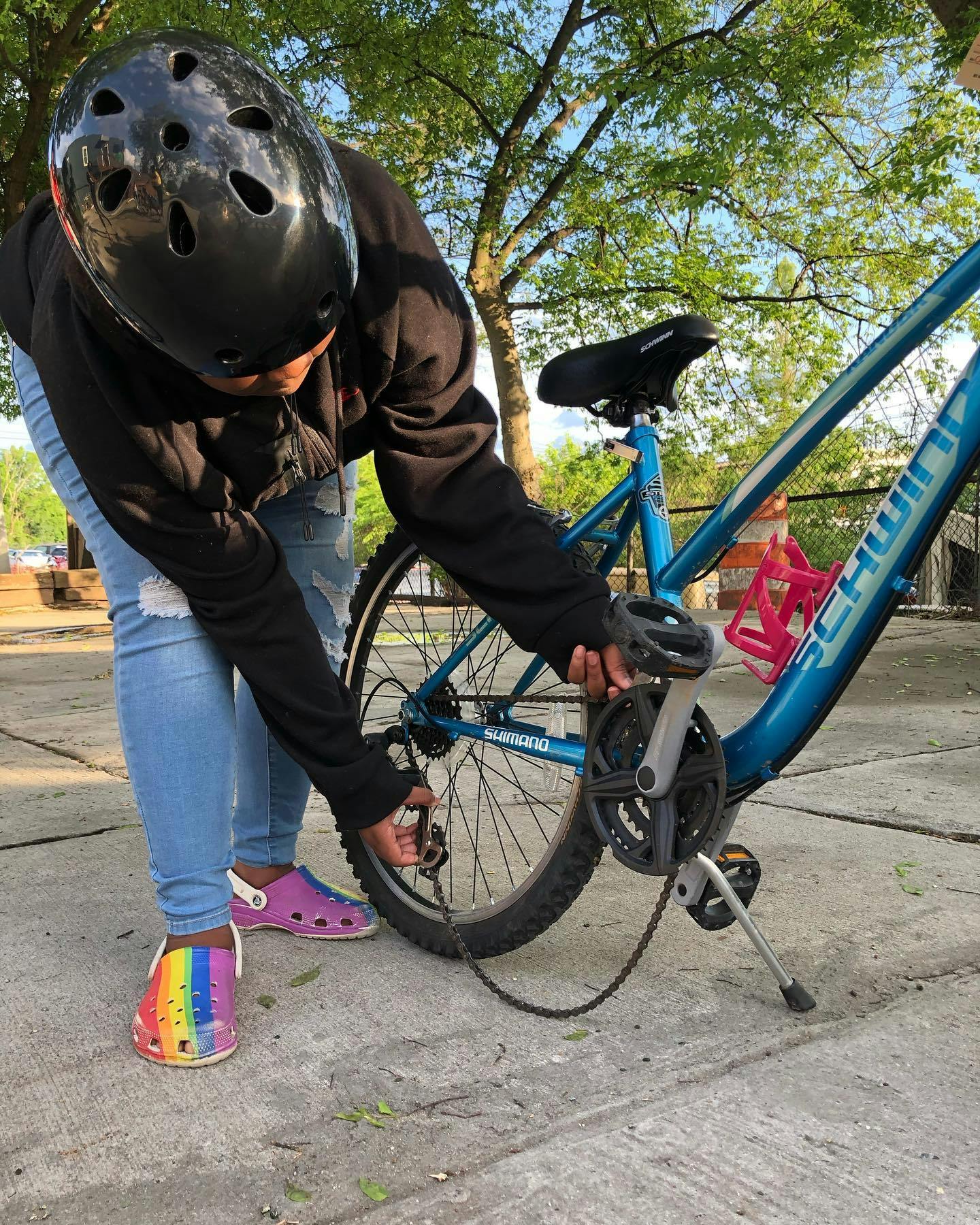 Learning to reattach a bicycle chain at the Charlotte Re-Cyclery. Credit: Charlotte Re-Cyclery.
Engaging youth and their families also has a financial benefit, helping shops bring in more customers. The Bicycle Chain offers discounts to youth who participate in the local National Interscholastic Cycling Association (NICA) team, a decision that pays off in increased sales to parents looking to ride with their children. University Bicycles and Art's Cyclery, a bike shop in San Luis Obispo, California, also offer discounts to local NICA teams with similar results. Josh Job, owner and service expert at Art's Cyclery, has seen how getting kids stoked on bikes can set off a domino effect, ultimately bringing more parents into the store. "That parent will come out next time that we have an event and maybe that'll get a brother or sister into it too," said Job.
Supporting youth cycling diversifies the bicycle industry
Exposing youth of all backgrounds to biking helps diversify a historically male-dominated and predominantly white industry. By targeting female and BIPOC youth in particular — with workshops, skills clinics and mentoring programs — local bike shops are helping remove barriers for populations that have typically been left out. These efforts have the added benefit of helping create a more diverse talent pipeline for bike shops and the bike industry in general. 
In Boulder, University Bicycles offers youth mechanic clinics specifically for women. "We've only done a few clinics, but that helped us get a bunch of young women interested in working on their own bikes," said Pierce. Representation in bike shops can also help youth feel comfortable entering bike shops, creating an environment where they're able to ask questions and even envision themselves working. "I am incredibly proud of the more experienced women we have working in service," said Pierce. "They are active in teaching the younger, less experienced women and opening up opportunities to these young women that they previously might not have thought possible." 
As a direct result of these clinics, University Bicycles ended up with five high-school-aged women working at its shop over the summer. Across the country, Supil and the Charlotte Re-Cyclery are in the process of developing an internship program to train diverse youth in bike mechanics and create a skilled, marketable workforce that represents the Charlotte community. The Re-Cyclery also offers low-cost or free bicycles in order to remove the high up-front equipment costs to biking. 
"That's a pro for the ecosystem of cycling here in Charlotte," said Supil, who sees some of his program participants upgrading to bicycles from for-profit shops after discovering biking through the Re-Cyclery or Trips For Kids programming. For-profit bike shops in Charlotte accept used bike donations on behalf of the Re-Cyclery. "You have a gateway to bicycling, you have a next step and it almost becomes like a circular economy in a way," said Supil.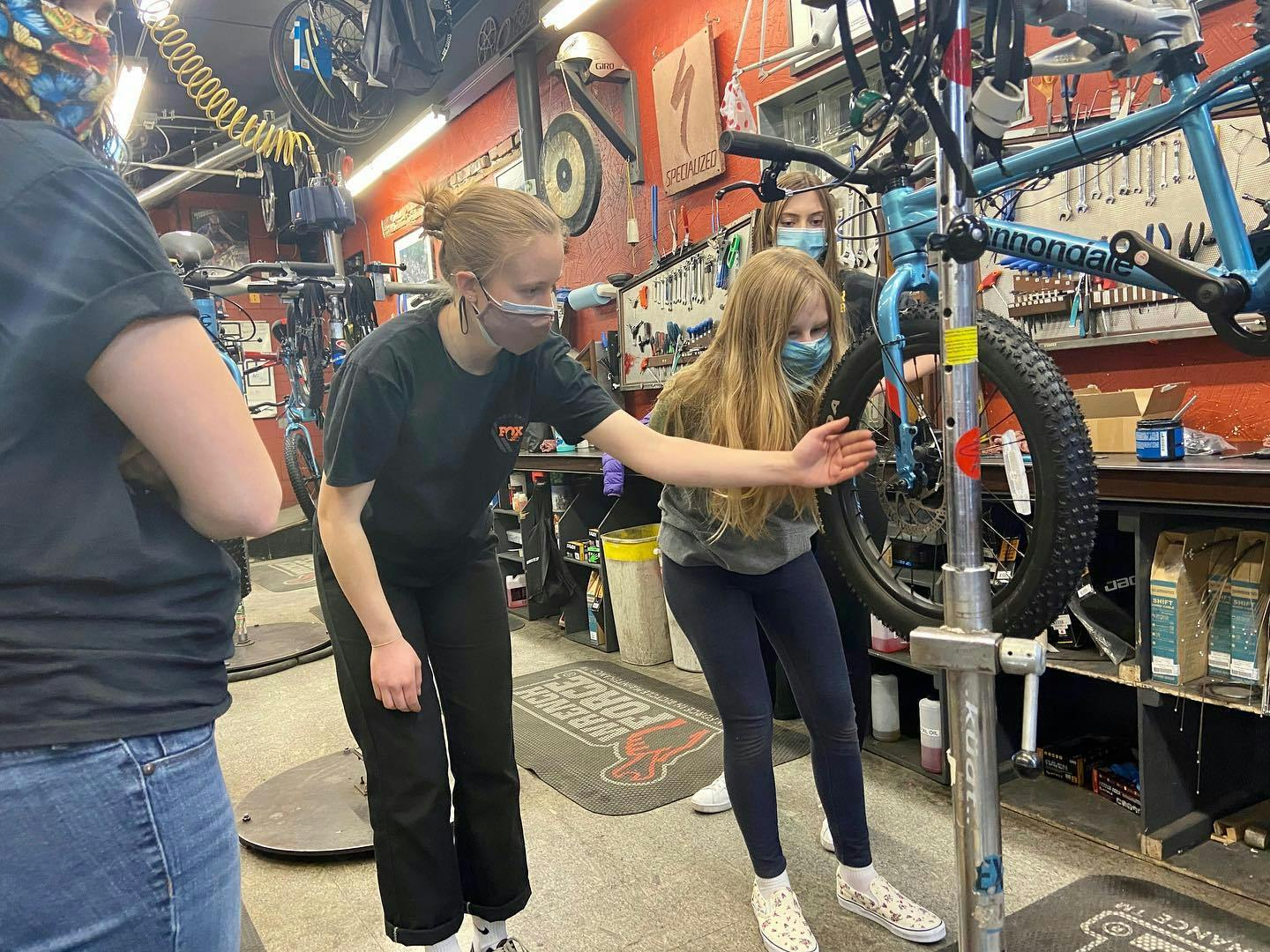 [Youth mechanics clinic for women at University Bicycles in Boulder, Colorado. Credit: University Bicycles, Boulder, CO.]
Other actions bike shops can take include offering up stores as meeting spaces for youth programs, as well as collaborating with non profits like Outride, which works to diversify cycling communities and advance youth health outcomes through its Riding For Focus (R4F) middle school education program. In Los Osos, California, Art's Cyclery championed an Outride Bike Build at Los Osos Middle School. Together with Foothill Cyclery, Bike San Luis Obispo and volunteers from the Cal Poly Cycling Team, Art's Cyclery built 51 bikes for the Los Osos R4F program. "Outride is helping less fortunate kids that don't have a bike to really get out there and experience it," said Job.
PeopleForBikes applauds the work of local bike shops around the U.S. supporting youth cycling programs. Is a local bike shop in your community doing awesome work to get more kids on bikes? Let our PeopleForBikes' youth team know. Drop a line to Nick Aguilera, youth and community partnerships manager.