June 1, 2021
The Secrets of Small Town Bicycling
By: Kiran Herbert, local programs writer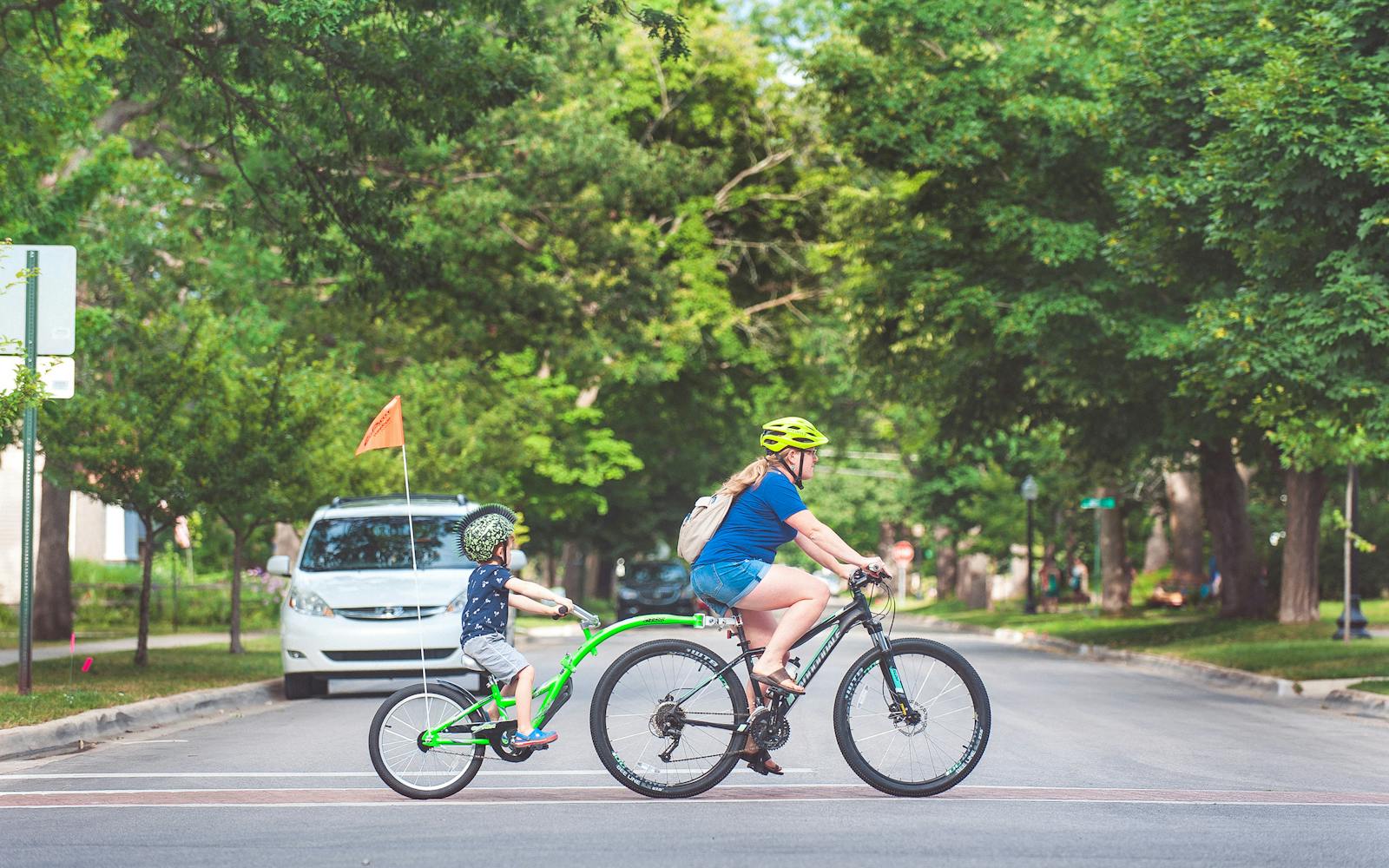 A female bicyclist and child in Traverse City, Michigan. Photo by Gary Howe.
These four U.S. cities, all with populations under 50,000 people, scored well in the 2021 City Ratings. Here's what they're doing right.
Small cities have an inherent advantage when it comes to bicycling — since they tend to have smaller road networks, changes to a few key streets can really make a difference when it comes to bicycling. On average, the top small cities (those with populations of 50,000 or fewer) score higher in the 2021 City Ratings than the top medium and large cities. Independent of a city's efforts to build great bike infrastructure, there are a few possible explanations for this scoring trend.
First, many of the smaller cities and towns in the 2021 City Ratings tend to have smaller boundaries than we might think. We often envision a small city as extending into the land surrounding it, while in reality, its borders might not encompass much beyond a few main streets. Our 2021 City Ratings are based on our Bicycle Network Analysis (BNA), which only evaluates trips that start within the city boundary. Thus, if your home falls outside the city limits and it's difficult to bike downtown, that wouldn't impact your city's score. Inaccurate or missing data in OpenStreetMap will also have a larger impact on a small city's network score, with poor data sometimes improving a city's score. 
Moreover, small cities, especially more rural ones, often consist of a traditional downtown street grid, a few main connecting streets and one or two roads that lead out of town. If speed limits are low, the downtown grid becomes largely low stress, offering multiple routes to reach the same destination. The flip side is that if there's only one high-stress road to your destination, it can be impossible to bike there using only low-stress routes.
Although the four small cities below definitely benefit from their size, we've chosen to highlight them for reasons that go beyond breadth. While completely different in terms of geography, culture and approach, they're all doing something right when it comes to bicycling.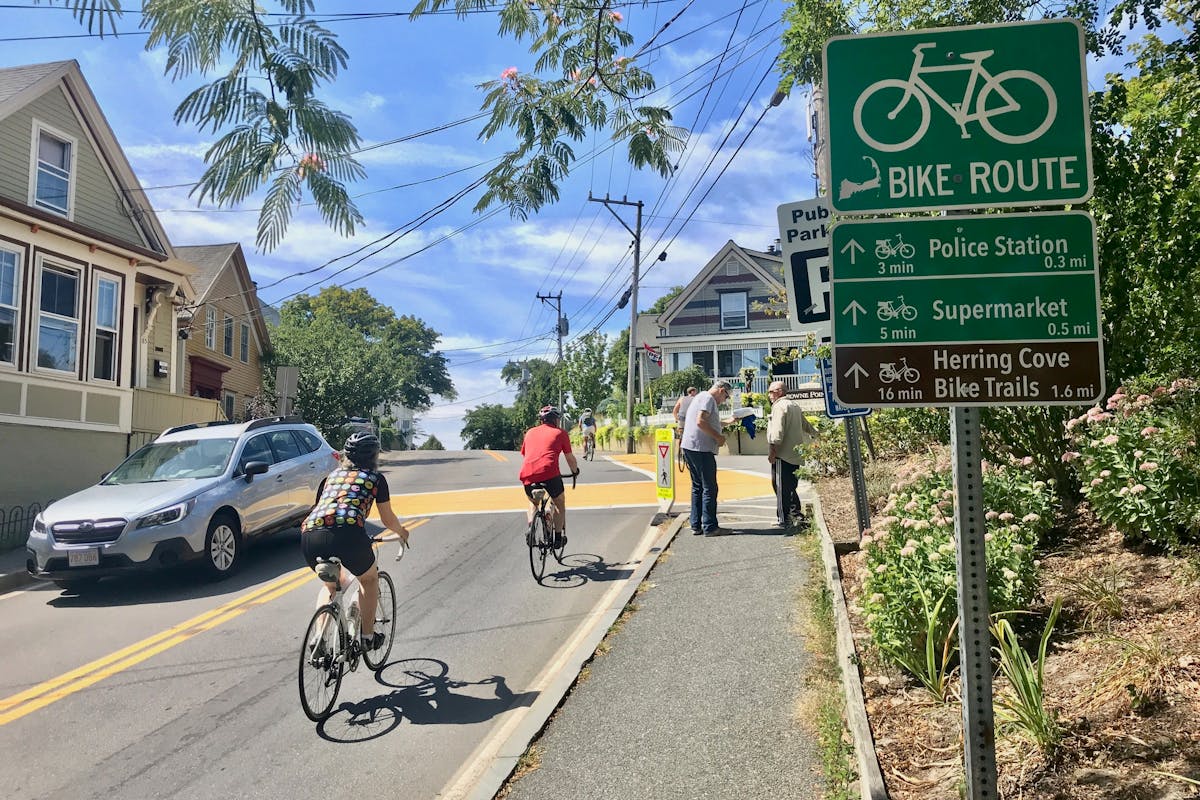 "You hear a lot of people talking about the 15-minute city," said Rik Ahlberg, chair of the Provincetown Bicycle Committee and owner of Pedal Ptown Bike Tours. "Well, this is the five-minute town. I can get from one end to the other in seven minutes on my bicycle."
Located on the northern tip of Cape Cod, Provincetown has a year-round population of 3,000 people and five bike shops. Bicycles were introduced to Provincetown in the late 1800s — the first bike path was proposed in 1899 — and they've been a primary mode of transportation ever since. Today, residents are able to access all essential services, from the grocery store to the dentist, within a two-mile bike ride. 
"There's virtually no corner you can stand on in Provincetown and not see a bike rack somewhere," said Ahlberg, noting that there's even waterfront bike parking at the beach. "Our bike racks were old and not attractive, so we invested in upgrading them all to the APBP [Association of Pedestrian and Bicycle Professional] standards." 
Commercial Street, Provincetown's main drag, is one way for cars but two way for bicycles. Almost every other street is small, forcing drivers to go slow, creating naturally low-stress bikeways. It also helps that development is dense in Provincetown and no highways bisect it. In the summer months, Provincetown's population balloons to nearly 60,000 people, and although many people arrive by car, they also bring their bikes.
"Bikes also aren't tied to economic status here," said Ahlberg, noting that Provincetown has one of the best year-round commuter rates, as high as 20% by some counts. "Across the board, people ride bikes just because it's convenient."
This year, we featured Provincetown in our Advocacy Academy series, "Lessons from the Best Biking Cities." Watch to learn more about how the town has embraced and encouraged bicycling, engaged its community and invested in low-stress, complete streets.
Traverse City, located in the northwest part of Michigan's mitten and bordering Lake Michigan, has a population of roughly 15,000 people. With a total area of 8.66 square miles, the small city is flat and laid out on a grid, making it easy to navigate by bike for folks of all ages and abilities. There's also a strong history of recreational mountain biking, which helped lay the foundation for in-town bike culture.
"Most of the biking in Traverse City really started off as recreation and we have a lot of very large areas of mountain bike trails right around downtown," said Shawn Winter, planning director for the city. "Within five minutes you can be in the woods — everything is just compact and accessible."
Although recreational riding helped jumpstart the bike culture in Traverse City, Winter attributes the larger shift to different organizations that have come together and advocated for change over the years. Nonprofit TART Trails, for example, maintains a network of multi-use trails, 5.4 miles of which are in Traverse City proper, and has been hosting a bike commuter event for 27 years. Likewise, Norte, a bike-centric, youth-focused advocacy organization, has been instrumental in achieving a 473% increase in participation in kids actively transporting themselves in the Grand Traverse region. There are also three bike shops in town and regular workshops where residents can learn about things like winter biking.
"Winter is very real in Michigan — it's a legitimate season that dominates most of the calendar," said Winter, noting that people sometimes use it as an excuse for not investing in non-motorized infrastructure. "Traverse City does a great job of plowing the sidewalks and people have the gear to bike year-round. Winter really doesn't have the impact on bicycling that I think people assume it would."
In the summer, tourists flock to Traverse City, taking part in Kayak, Bike & Brew tours and using the bike racks on BATA, the local transit system, to pedal trails further outside of town. According to Winter, Traverse City's downtown, as well as most parks and beaches, are so popular that they're actually more accessible by bike due to limited parking. The city's main east-west corridor, 8th Street, was also redesigned to be more walkable and safe, with lowered speed limits and new bicycle tracks.
"When they redid the street, they added three mid-block crossings in that stretch and did a lot of streetscape improvements with landscaping design, lighting and benches," said Winter, noting that there are now brand new multi-story buildings under construction in a once bleak stretch. "It's a great example of how public investment can be a catalyst for additional private investment."
Pella is a small midwestern town of around 10,300 people, home to Central College and famous for its Dutch roots. The tourist town, which covers just 8.73 square miles, celebrates that history with a fully functional 1850s-style windmill, an annual tulip festival and a downtown canal. Like the Netherlands, Pella is also a great place to bike — although it could do more to embrace that aspect of its heritage.
"It's a small, grid town that's just easy to get around in," said Mark Wyatt, executive director of the Iowa Bicycle Coalition. "Pella also has a pretty substantial trail system leading out of town."
That trail, the Volksweg Trail, is a 17-mile asphalt path that extends from town to Lake Red Rock, Iowa's largest lake. Aside from the miles connecting the trail to town though, Pella hasn't invested in the infrastructure that might set it apart as a bicycling destination. Chris Van Gent, who owns the sole bike shop in town — Iowa Bike Co. — believes relatively inexpensive investments like wayfinding signs, sharrows and crucially, more much-needed bike parking, would help boost ridership.
"Protected bike lanes don't really make sense here," said Van Gent, adding that the bike "advertising" that comes with some of the low-cost fixes does. "People would bike more and shop more if there was bike parking."
In 2018, Pella launched a bike share system in partnership with VeoRide, which despite being profitable and working well, was pulled by the national micromobility company in 2020. In large part, Pella scores well because the town has grown around its downtown core and is evenly dispersed with clusters of essential services, retail shops and residences. Unlike many other small towns in rural America, Pella's main street is also distinct from the highway, leaving a series of connected, low-stress streets intact.
Iowa is also home to RAGBRAI, Register's Annual Great Bicycle Ride Across Iowa, an epic seven-day bicycling adventure that changes routes every year. The longest, largest and oldest bicycle touring event in the world, it's an Iowa institution that has a real effect on the whole state. For many, the race is the reason people start biking in the first place.
"It can be a real financial generator, with 20,000-plus bicyclists rolling through," said Wyatt. "It's created this opportunity for rural Iowa to see bicycling as an economic generator."
Pella is blessed with a setup that naturally makes it a great place for riding bikes. With some smart investments and political willpower, it could easily become a true bike town, thriving economically and benefitting from safer streets in the process.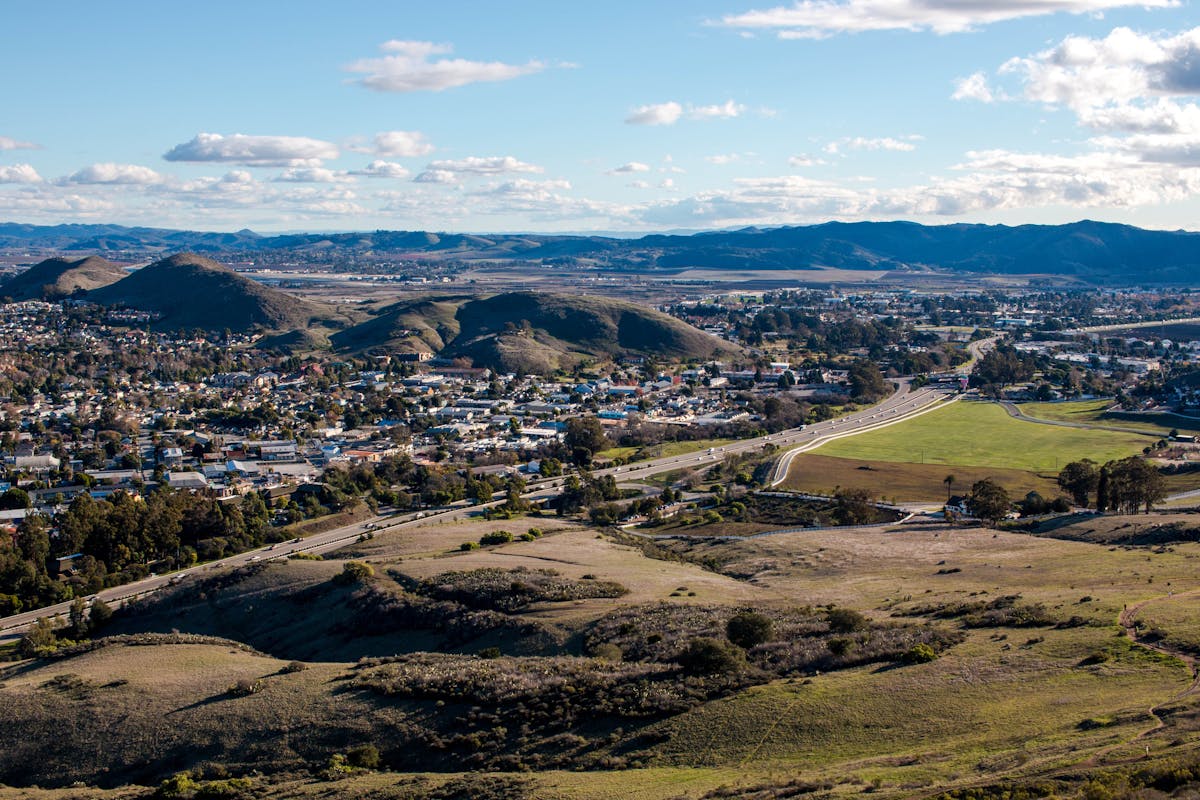 With a population of 47,302, San Luis Obispo, or SLO, is the largest city on this list. Located in California's Central Coast region, the city is just under 13 square miles. Its relatively small size coupled with the temperate climate makes SLO a great place to bicycle, whether you're going to work, recreating or running errands. Around town, you're as likely to see a mountain biker as you are two kids on the back of their parent's cargo bike.
"It's a dynamic community and we have a major university in California Polytechnic State," said Rick Ellison, executive director of Bike SLO County. "College towns bring a certain energy that's good for the whole bicycling community."
The city is also phenomenally progressive when it comes to roadway safety, consistently improving bike lanes, planning for a safe, complete network and promoting bikes as a way to address climate change. 
"The city recognizes that the key to getting more people on bikes is to have effective and safe infrastructure," said Ellison, noting that greenways, neighborhood networks, bike lanes and traffic calming efforts all play into that vision. "Our leadership believes that San Luis Obispo can be the leader when it comes to climate action by making bikes part of the solution."
Last year, SLO was featured in our Advocacy Academy series, "Lessons from the Best Biking Cities." In the episode, we learn from SLO Active Transportation Manager Adam Fukushima about the city's 75-mile-plus bike network and how climate action funds are allocated for bike improvements.