August 10, 2022
The Lost Sierra Route
By: Kiran Herbert, PeopleForBikes' content manager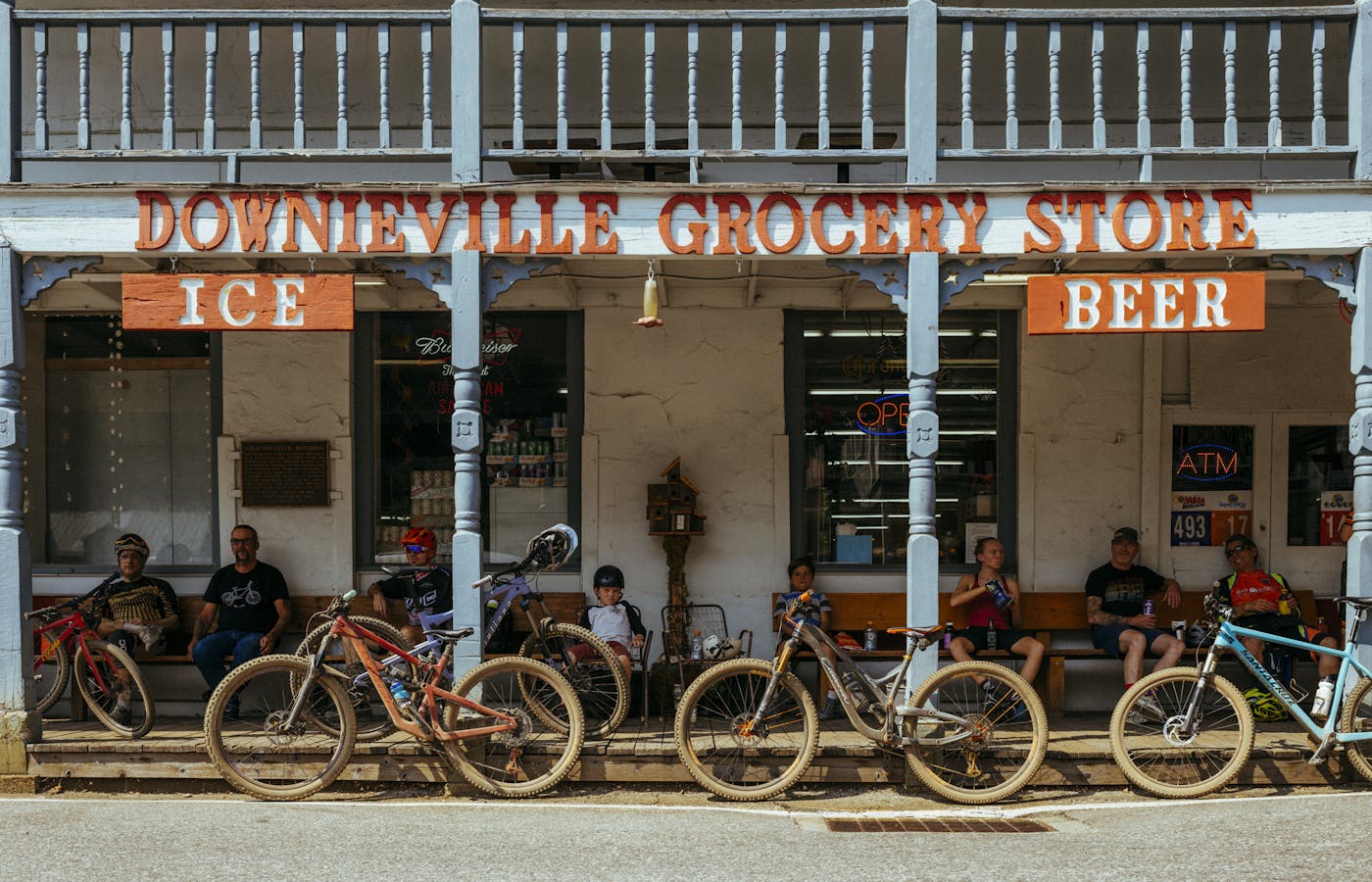 The Downieville Grocery Store is the main stop for rest and provisions when you get back from a ride. (Photo credit: Ken Etzel)
In Northern California, a planned 600-plus-mile trail will connect 15 mountain towns, bringing economic revitalization alongside new mountain bikers.
Like many towns across the U.S., a change in the way we do business has led to a loss of jobs, local economies and even pride. Places that once relied on logging or mining are now left without industry and struggling to maintain once-thriving population centers, all while also coming to terms with the need for a more climate-resilient economy. The Lost Sierra region of Northern California — which includes communities in California's Plumas, Sierra, Butte and Lassen Counties — is no different.
The Sierra Buttes Trail Stewardship (SBTS), a nonprofit that builds and maintains multi-use trails in the region, wants to rethink how its towns do business. The organization developed a Trails Master Plan for Connected Communities, funded by the Sierra Nevada Conservancy, which puts forth a vision for a recreation-focused lifestyle through community investment, shared stewardship, economic opportunity and new local jobs. 
The project includes building a new 600-plus-mile trail system, dubbed the "Lost Sierra Route," which will ultimately connect 15 mountain towns that span from Truckee northward to Westwood, near where the Sierra Nevada end and the Cascade Range begins. The landscape is nothing short of spectacular and once completed, is sure to become a destination for outdoor adventurists near and far — and a home for all of the business they tend to bring.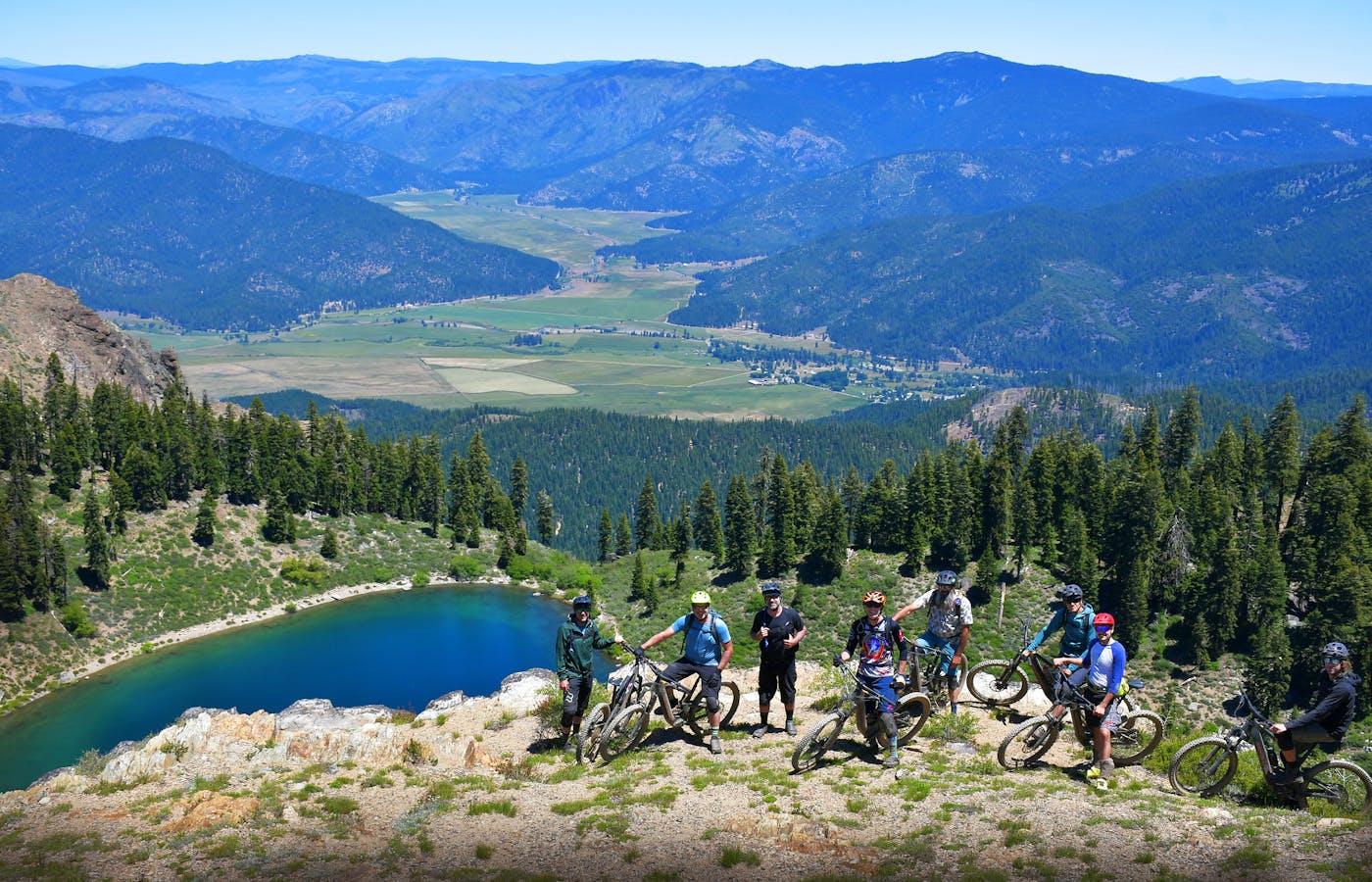 Mountain bikers riding from the town of Quincy pose on Mt. Hough before descending into Taylorsville below for an overnight stay. (Photo credit: Patrick Cavender)
"We're not trying to replace the logging or mining industry. We still need industry, but we feel like recreation can complement things," said Greg Williams, executive director of the Sierra Buttes Trail Stewardship. "We create jobs, opportunities, apprenticeships and trainings — we're trying to retain working families here and retain talent."
With wildfires increasing every year, the project also seeks to strike a balance between fuel management, recreation, healthy watersheds and public education. Williams is Northern Sierra Miwok and telling the story of his Indigenous ancestors, as well as others like the Washoe and Maidu, is another important part of the equation, not only to honor the original stewards of the land but also to draw inspiration from the less-extractive ways they continue to interact with it. 
A longtime bicyclist and former shop owner, Williams founded SBTS in 2003 after a big winter left a lot of trees down and trails damaged. With the Forest Service losing a good deal of its funding, Williams and a group of volunteers took the initiative to take care of the trails. Since then, the organization's employees and volunteers have built more than 120 miles of trail, maintained more than 1,479 miles and collectively contributed well over 100,000 hours of labor to the surrounding National Forest lands. There are currently 66 full-time and seasonal employees, 24 of which are high school students from throughout the region. 
Employees and volunteers have worked on everything from garden-variety singletrack to wilderness portions of the Pacific Crest Trail to ADA-compliant paths to multi-use flow trails. The Connected Communities Project, which is slated for a summer 2030 completion date, will include the creation and maintenance of multi-purpose trails that allow for all dirt trail travelers, including eMTB and traditional mountain bikes, hikers and trail runners, equestrians, hunters, fishermen and, of course, wildlife. When possible, the trails will be ADA accessible.
"We're not saying no to any trail user that can fit on a trail," said Williams. "It's about inclusion, equity, diversity and access — not just in people but how they recreate."
The trail will include mainstreet connections in the 15 mountain communities it serves, as well as traverse the headwaters of the Yuba and Feather Rivers, critical watersheds that supply more than 65% of California's drinking water. The master plan also includes designated recreation zones, or areas that are on Forest Service land close to commercial centers. These areas will provide close access to trails for locals, helping them avoid having to drive to trailheads, as well as convenient downtown parking for visitors, which will help generate business.
The recreation zones were the result of community feedback from some 16 town hall meetings, 100 virtual meetings and in-person park sessions, complete with big dry-erase boards and maps where residents could draw in their dream plans. SBTS also opened up an online public survey and solicited takers using kiosks and booklets strategically placed at gas stations and businesses. All in all, the nonprofit got almost 1,200 people throughout the region to take the survey and some 800 took the time to draw on the maps to showcase their vision. 
It was through that public process that SBTS was able to gain support from other organizations, including the Forest Service, individual cities, counties and members of Congress. A strong partnership with the Forest Service is particularly important, as all of the proposed trails are susceptible to an environmental review. Importantly, SBTS is sure to always contract with local folks — whether that be biologists, hydrologists, archeologists or trail builders — in order to support the local economy and help build investment in the network.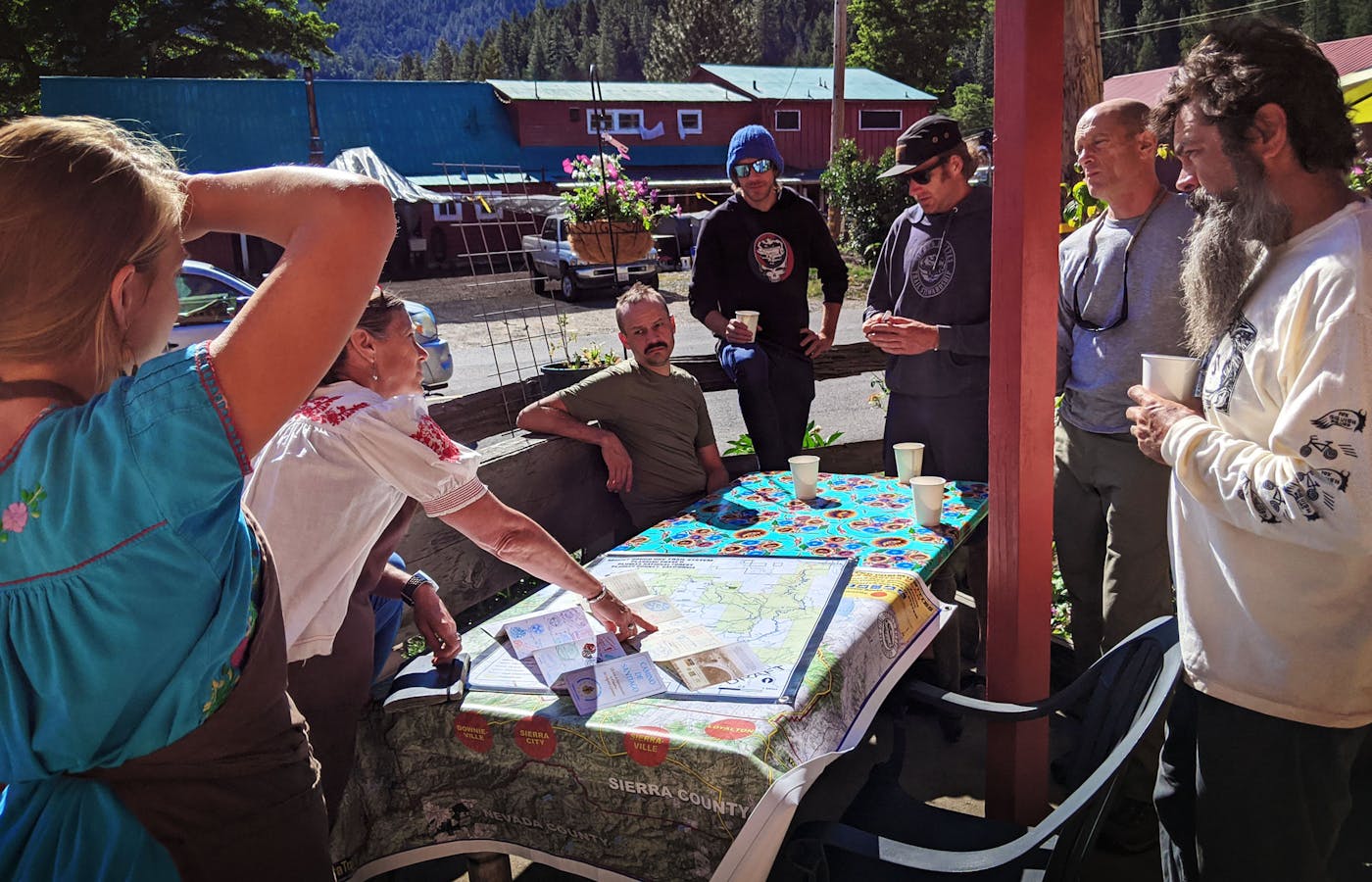 Kelly Tan of Taylorsville provides input to members of the Sierra Buttes Trails Stewardship on the Lost Sierra Route.
"We want this project to be like a recipe book — a national model for how communities can engage with land managers," said Williams. "At every step of the way, we're documenting the pitfalls we've experienced and some of the really great things we did, and we'll be sharing throughout the nation how we did it. Hopefully, we can save people some grief and also inspire them to take it to another level."
As part of that commitment to being open and transparent about the project, Williams is scheduled to speak at PeopleForBikes' Electric Mountain Bike Summit on September 15, 2022, in Olympic Valley, California. For Williams and SBTS, allowing eMTBs on the trail system is an important part of keeping it inclusive and accessible to everyone. Like many things pertaining to good trail use, education is key and that's why good signage, maps and informational kiosks are a key component of the Connected Communities master plan. Industry partners, shop owners and land managers all also have a role to play in making sure e-bikes are used responsibly.
"We want people to be able to ride e-bikes up here and we've been working with the National Forest and our industry partners to get bikes up here and take land managers out," said Williams. "We want to give them an experience riding so as they're making decisions, they have a good understanding of what an e-bike is."
The Connected Communities project has a long list of industry partners, including Shimano, Santa Cruz Bicycles and Fox, but SBTS always welcomes more support. While the project has received the green light and secured some $2.6 million in grant funding to date, it will require an estimated $40 million total over the next eight years. For a team that's committed to building trails — and doing so in a way that's low-maintenance and won't require a lot of additional money down the road — fundraising, while necessary, can be exhausting. For a volunteer-driven nonprofit, that time is better spent on outreach, education and trail building.
"To bring an economy to towns that desperately need it, $40 million isn't that much," said Williams. "Especially when you consider all of our programs, how many people we reach and the jobs and opportunities we create."
It's that impact that's gotten most folks in the region on board. Pushback, in general, has been minimal and tends to dissipate once people realize the ways a recreation-based economy can help keep grocery stores and restaurants open, as well as motivate future generations to stay in place. After all, hikers and bikers aren't the worst sorts of visitors, having an innate desire to protect the places where they play. Although there are sure to be some pressure points, the ultimate goal is a region with diversified recreation opportunities that connect communities and provide economic stability. A place where all people, especially youth, can learn about the environment and where climate resiliency is top of mind. 
"What we're trying to create is multigenerational pride and a workplace for people to be able to come back to and raise their kids, and this is our chance, through recreation," said Williams. "I'm confident that Connected Communities will be built in such a way that it's going to change people's lives — this will last, generation after generation."