April 14, 2022
Steering Students Towards Health and Success
By: Nick Aguilera, PeopleForBikes' youth and community partnerships manager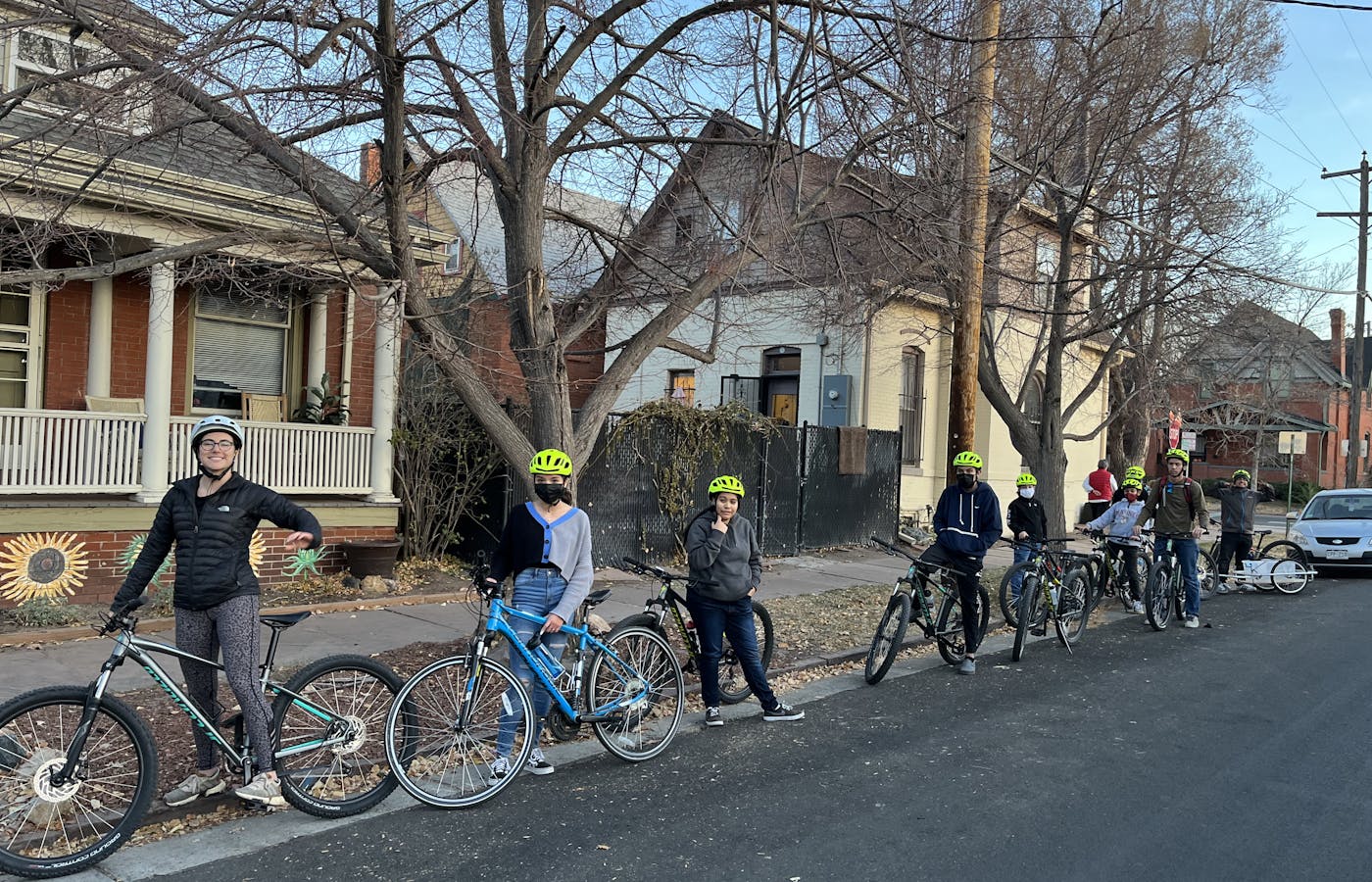 Mile High 360 is teaching Denver youth to ride, helping them see bicycling and their city in a new light.
How does the way you move impact your health, your relationships and your connection with the outside world? For students enrolled with the Denver-based nonprofit Mile High 360, movement through biking has been positive, increasing well-being, close ties with peers and their ability to move around the city. As a result, bikes are now a central part of the support Mile High 360 provides students to set them up for future success.
From sixth grade into early adulthood, Mile High 360 offers students year-round, long-term, out-of-school support in four main areas: academics, mentoring, life skills and health and wellness. The majority of youth at Mile High 360 identify as Latino and live in West Denver, a community central to Denver's Latino history and its active social movements of the 60s and 70s. Although Mile High 360 is expanding its partnerships with local schools, most of its students attend Bryant Webster Middle School or Colorado Early College (CEC) and many come from immigrant communities. 
Through its health and wellness programs, Mile High 360 teaches students to ride using a dedicated bicycling curriculum. The organization breaks up bicycling instruction into three main categories: Explorers, Adventurers and Racers. Explorers learn the basics of bicycling, changing gears, safely riding in groups and navigating city streets. Adventurers build on the Explorer skillset to develop stamina, learn about bicycle maintenance and mechanics and use the bicycle as a primary mode of transportation. Racers learn about bicycle racing, hydration and nutrition, as well as how to engage with the local bike racing community. Furthermore, Mile High 360 integrates elements of its life skills, mentoring and academic work into its bicycling curriculum, letting students decide where they'd like to ride and empowering them to take the lead when making decisions.  
Biking allows students to experience their surroundings in new and meaningful ways. "[I]n the cycling program, we get to explore the city of Denver," said Hannah Broderick, high school academic coordinator and former cycling, health and wellness coordinator at Mile High 360. "A lot of our students haven't done that in the past, especially on bikes. We get to go to different parts of the city that aren't in their immediate neighborhood in their immediate surroundings." 
Beyond teaching students how to bike, the organization also helps youth form a strong connection between the physical, mental and emotional health benefits of bicycling. Students keep riding logs to note how they feel when they ride, as well as descriptive observations of the world around them. 
"If you're having a stressful day, how do you feel before and after a ride?" said Broderick. "We talk about how riding makes you feel and tie that into mental health."
Notably, students' perceptions of bicycling dramatically change over the course of the program. Beyond teaching every student to ride as they go through middle school, the program helps youth build confidence and learn to love the activity. 
"Students can be very nervous about their first bike ride," said  Broderick. "Afterwards, they say it was their favorite thing they had done and that they've never really been out in the city like that, even on foot." 
Mile High 360 instructors help students think about how riding a bike improves their mental health, ability to focus and overall physical activity — including how it exposes them to fresh air and encourages time away from their devices. Broderick mentioned a student who was very stressed as she studied for upcoming tests and prepared scholarship applications before a big deadline. She didn't want to ride, but ended up going with the group. "On the way back, she actually turned around and said, 'I feel so much better,'" said Broderick. "Students become a lot more cognizant and aware of changes in their bodies."
The positive impacts of bicycling on the mental, physical and emotional health of youth are well documented. According to the latest research report by the nonprofit Outride, students that ride report higher levels of well-being, fewer hours of screen time and greater satisfaction from spending time outside with their friends. Mile High 360, with support from Outride and the Colorado Health Foundation, continues to grow and track the impact of its inclusive cycling program, incorporating youth feedback along the way. The deep impact of the program has made it clear that bikes can serve as a tool to empower youth, especially those coming from historically marginalized communities.
Mile High 360's work continues to help students, caregivers and the community see bicycling as both a form of recreation and transportation. "A lot of parents saw biking as a means of transportation before their students were in this program," said Dan Williams, current cycling, health and wellness coordinator at Mile High 360. "Now they're also seeing it as a fun activity and exercise, something that their students can do to destress and wind down from the day or wind up to the day." 
Want to see a school near you empower youth through bikes like Mile High 360? Outride is accepting Riding For Focus applications through April 15, 2022. Riding For Focus brings bikes, helmets, curriculum, and intensive teacher training to a middle school near you. Share the news and tell a school in your community to apply today.