May 27, 2022
Oklahoma Youth Love This Bike Club
By: Nick Aguilera, PeopleForBikes' youth and community partnerships manager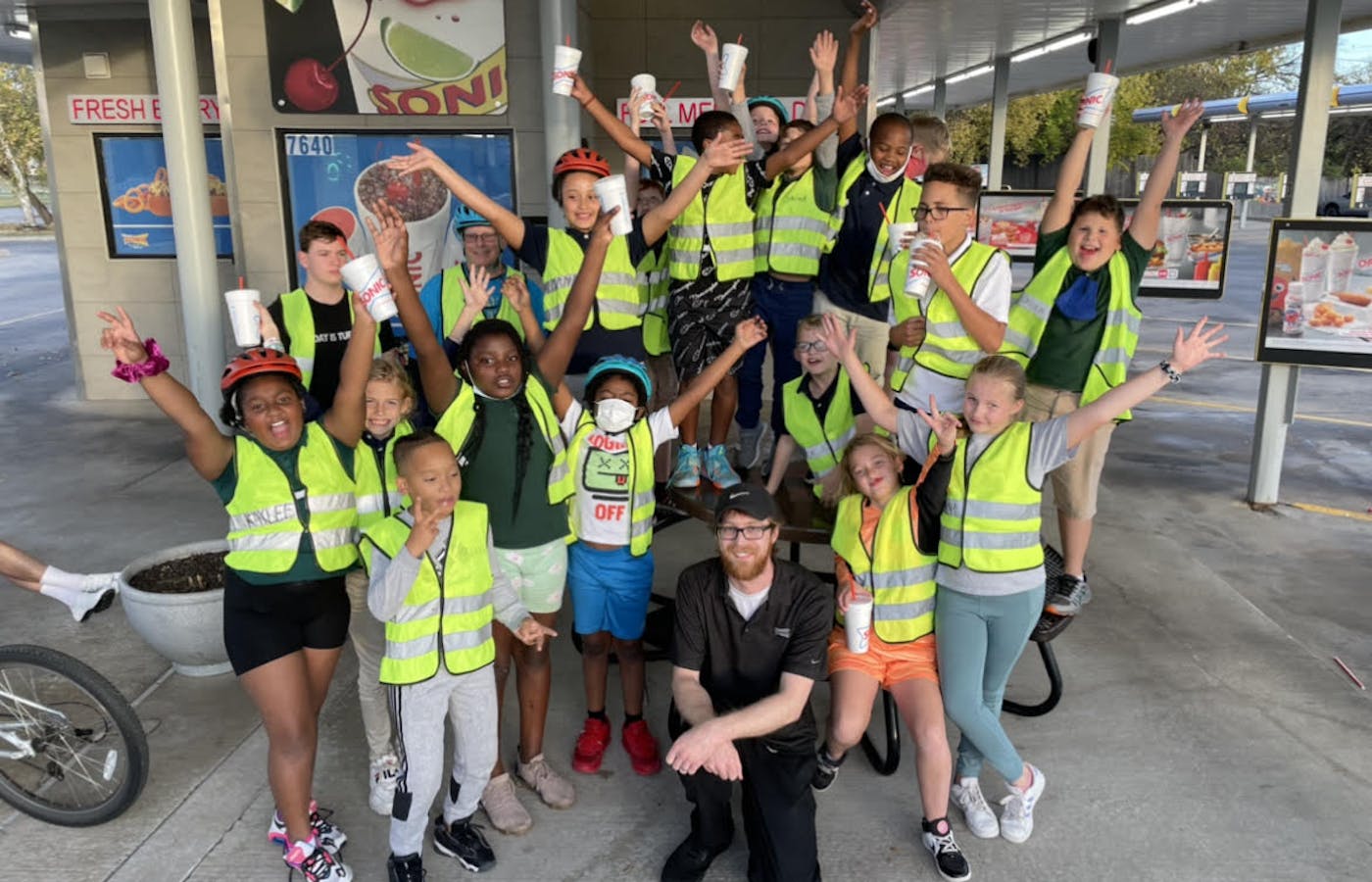 Bike Club OKC is helping kids build community locally and better express themselves, improving health and academic outcomes along the way.
Bike Club OKC president and program director Alyssa Lutz has story upon story to share about the opportunity, impact and transformation that bicycling has brought to the youth she works within Oklahoma City, Oklahoma. 
"Opportunity is the biggest thing that Bike Club OKC brings," said Lutz. "Twenty percent of the kiddos that come to Bike Club OKC have never been on a bike."
Founded in 2018, Bike Club OKC is an afterschool program that works with groups of 20 students in three local elementary and middle schools, fostering better students and community members through cycling. Students apply with their teacher and are selected by their principal based on those who most need, want and merit the program. Accordingly, many club members are students from underserved communities. 
Learning to ride is the first opportunity that OKC kids are presented with. In the fall, students spend the first half of the 20 to 25-week program learning how to safely ride as individuals and in a group. When they return to Bike Club OKC after winter break, they dive into route planning, community field trips and deeper community engagement. The entire time, Bike Club OKC leaders, parents, teachers and the community watch the joy, enthusiasm and positive outcomes that blossom through the program. 
Bike Club OKC works closely with parents and teachers at its partner schools so that kids in the program uphold the ABCs: attendance, behavior and coursework. According to Lutz, the program has never had a kid drop out because participation in the program is a major incentive.
"Parents and the teachers love the fact that if a student is behind in their homework, they can tell them they need to catch up if they want to stay in Bike Club," said Lutz. "We've never lost a student because they all are motivated [to stay in the club]."
What's driving the students? Beyond learning science, technology, engineering and math (STEM) alongside bike riding and mechanic skills, the youth love the engagement, connection and feelings of community connection, exploration, wellness and opportunity that Bike Club OKC brings.
"Most of our kiddos do not own a bike. They learn that a bike is transportation as well as physical wellness, mental wellness and time away from electronic devices," said Lutz. "These are opportunities for socialization, communication, physical and mental wellness that these kiddos would not have without Bike Club OKC." 
By working with economically and racially marginalized youth, Bike Club OKC empowers youth and changes lives for the better. The club strives to create an inclusive, welcoming and comfortable environment for LGBTQ+ youth as well as kids with ADHD, anxiety and health challenges. One student who entered the program with significant anxiety was able to verbally relay how much riding had helped, eventually asking to serve as the bike ride leader at the front of their groups. 
"She told me, 'You know what, when I ride with Bike Club I feel really good,'" said Lutz. "I was like 'My sweet child, you just figured out in fourth grade what some grownups are still trying to figure out.'"
Lutz's stories about the social, mental, physical and emotional impacts of bicycling have been supported by research conducted by the nonprofit Outride, whose mission is to improve the lives of youth through cycling-based research, after-school programs and matching community grants. Lutz has attended every Outride Research Summit, which provides a platform for the latest research on the physical, mental and socio-emotional impacts of cycling, and she frequently references the organization's most recent research report.
"I love the fact that we have data — real scientific data — to back up what we know and what we've seen," said Lutz. "Cognitive abilities, attention span — all of these things really are improved [through riding]. Data backs it up and there is science that shows this is real, which helps me when I'm trying to explain some of the benefits of our program." 
Visits to community parks and trails, local museums and police and fire departments also allow Bike Club OKC students to build relationships with community members they might not otherwise interact with. Bike Club OKC recently visited the Oklahoma City Riversport outdoor adventure park facilities to try a surf machine, the Oklahoma Contemporary Art Center to gallery hop, and the Oklahoma City National Memorial and Museum to learn about the tragic domestic terrorism of the 1995 federal building bombing. 
Local bike shops have also been a popular destination for Bike Club OKC members and visits with them often include a lesson. For example, Bike Lab OKC did a tire change tutorial, while Wheeler Dealer built small a-frames and teeter-totters for kids to strengthen their riding skills. Trek Bicycles OKC met students at a pump track downtown for a skills workshop. Just for laughs, one of the staff at Phat Tire bike shop took an aluminum can and smashed it on the back wheel, making it sound like their bike had a motor. 
If students keep up their attendance, behavior and coursework, they graduate from Bike Club OKC and receive a bike, a helmet, a safety vest, lights, a bike lock and a bike pump. These tools are in addition to the skills, confidence and community they've developed throughout the program. Most club members continue to ride on local trails and some even participate in races even once they've graduated. Lutz says that every time she sees a former student, they express a desire to come back to Bike Club OKC. Because of those strong ties, the club has started to host events for graduates and their families to ride together. This year, some 40 kids and their families came to ride at the Oklahoma City Redbud Classic.
Recently, Bike Club OKC received a Summer 2022 Outride Fund grant, which will help the club expand to two additional elementary schools, bringing them to five elementary and middle schools in Oklahoma City. With sixty students currently graduating from Bike Club OKC each year, the expansion will lead directly to more kids on bikes.
"There will be a hundred kiddos next year getting new bikes and the impact of the program at their schools," said Lutz. "When five years have passed, that's going to be a hundred kids in each school's neighborhood that will have received bicycles. You can imagine the impact that will have in the neighborhood and for the community."
Follow Bike Club OKC on Instagram and check out the organization's website. Bike Club OKC is one of the many youth bicycling organizations supported by the nonprofit Outride, which recently announced $462,000 in matching community grants for 44 youth cycling organizations around the country.