April 26, 2021
New Leadership, New Vision
By: Kiran Herbert, local programs writer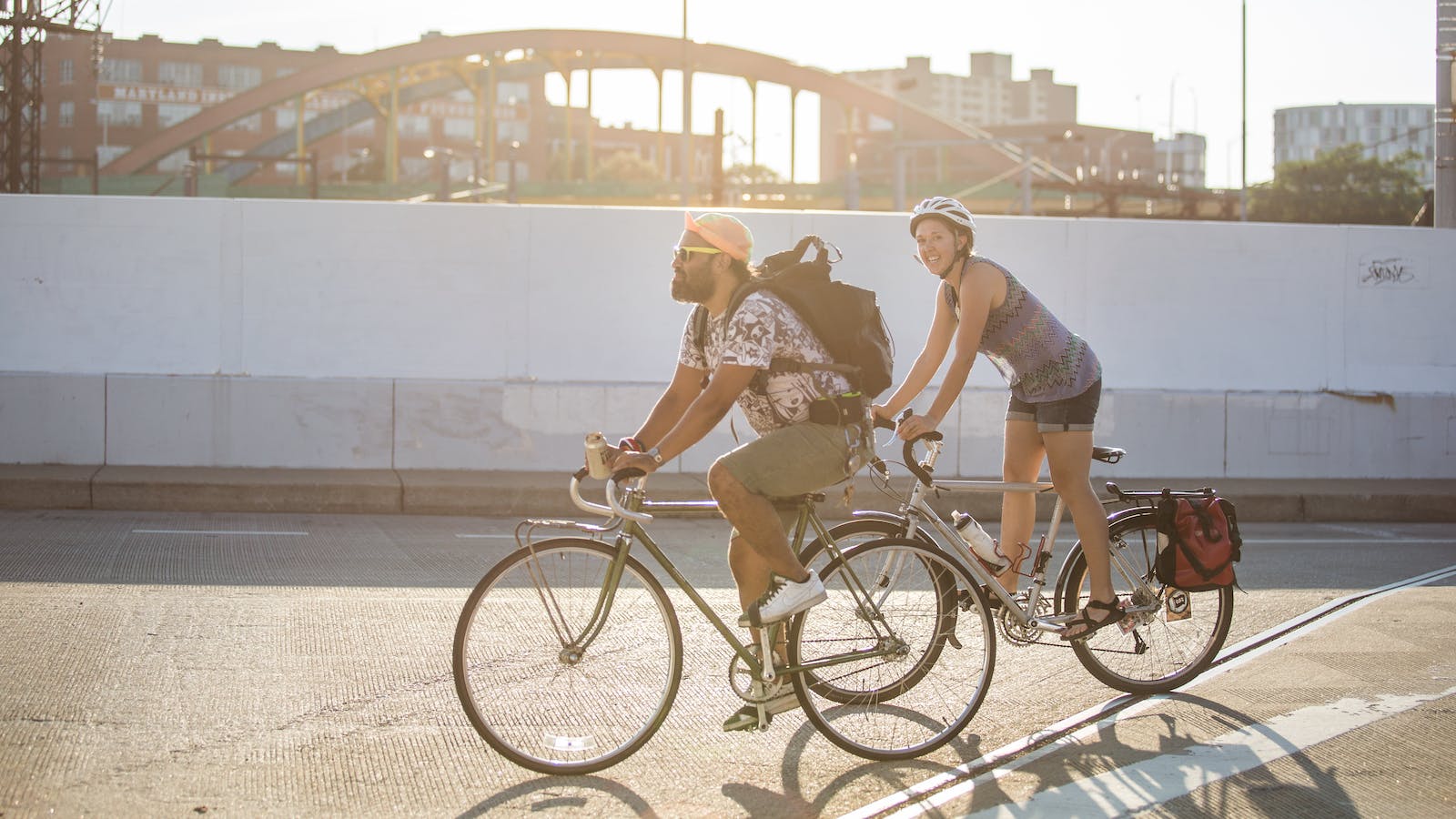 Baltimore's Mayor Brandon M. Scott has set ambitious goals for his first term, highlighting a commitment to equitable transportation.
For decades, transportation planners have made a lot of assumptions about users — who they are, what they need from public infrastructure and importantly, what neighborhoods are worthy of investment. Bike advocates are no different. Occasionally, in an attempt to "look out" for the needs of historically marginalized and low-income communities, we promote ideas about what people want and don't want without first doing the crucial work of actually engaging communities to solicit opinions. 
In our recent report, "Where Do We Go From Here? Breaking Down Barriers to Bicycling in the U.S.," a research team set out to understand the reasons why some people bike and others don't in 10 cities across the country. Based on the common experiences and concerns illuminated by the study, five recommendations and implications for future research were outlined. Chief among them: "Meaningfully engage with historically marginalized communities where they live, work and play."
In Baltimore, one of the 10 cities included in the study, a new administration, led by Mayor Brandon M. Scott (pictured below), already started taking those recommendations to heart. Nationally, the Biden administration and the U.S. Department of Transportation, led by Secretary Pete Buttigieg, also committed to improving racial equity in transportation, a process that involves acknowledging historical harm and investing in radically different policies and infrastructure plans. It's a refreshing change considering that new administrations often require a fair amount of onboarding, or proving there's a problem before starting on solutions. 
"What's really exciting about Mayor Scott's administration is that we do not have to teach up," said Liz Cornish, the former executive director of the bike advocacy group Bikemore and an advisor on Mayor Scott's transition team. "We started on the same page around inequities in transportation in Baltimore and how these inequities came to be."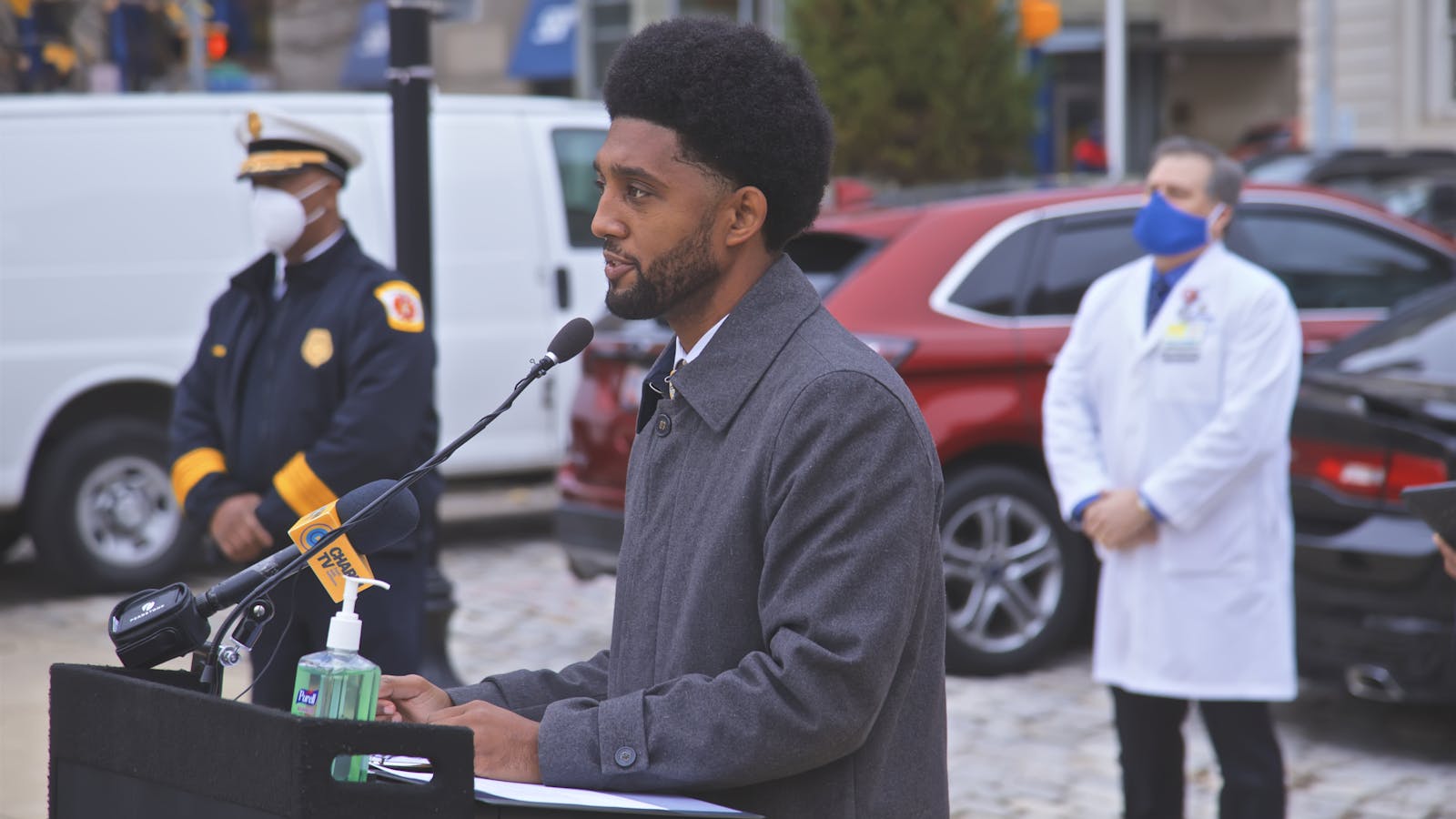 In his first 100 days, Scott committed to adopting the Complete Streets Manual, ensuring design standards for promoting safer streets, slower speeds and increased walkability. "The manual will be used throughout all city agencies so that any time there are changes into the roadway, they have to be put back together in a way that prioritizes people," said Cornish. Although a commitment to complete streets isn't a commitment to miles of new bike lanes, it's critical to creating a legal backstop when it comes to the "two steps forward, one step backward" pattern that's plagued Baltimore's infrastructure planning for years. Even more important, it's a commitment to cities that work for people rather than just cars.
"There is a huge demand across our city for traffic calming to make our streets safer, and bike infrastructure, alone or paired with other treatments, can address that need," said Mayor Brandon Scott, noting that safer streets are better for businesses, neighborhoods and people who drive. "You don't need to bike to appreciate that." 
The second thing Scott committed to was moving forward with the Baltimore Greenway Trails Network, a 35-mile bike trail around the city. Despite there being just under 10-miles left to complete, it'll take an estimated $28 million and navigating the real estate acquisitions, utility companies and partnerships needed to make it happen is going to require political will. 
"I've been proud to support the Greenway Trails Network since its inception because it spreads equitable access to open space, recreation and safe alternative means of transportation — including walking, biking and riding scooters — to more of our neighborhoods," said Scott.
Crucial to Scott's vision is his commitment to equitable transportation, which requires thinking beyond just bike lanes to include access to transit. The Mayor believes in alternative modes of transportation as a way to ensure people can access jobs, education, health care and grocery stores. In Baltimore, nearly 30% of households do not have consistent access to a personal vehicle — three times the national average. In formerly redlined neighborhoods, the number jumps to as high as 70%. 
"Baltimoreans rely heavily on public transit, and that's why I have made transit a huge priority for my administration, including coordinating and expanding service with MTA and our free bus circulator system," said Scott. "Improving mobility options increases access to jobs and other opportunities that can be life changing."
For bike advocates like Cornish, the Mayor's viewpoint can be a welcome challenge to the assumption that bike lanes should take precedence over other city services. "Seeing a bike lane prioritized over things you've identified as being a significant need in your community can feel like a slap in the face," said Cornish. "That's something Mayor Scott understands and his administration has pushed bike advocates to think differently."
In historically marginalized neighborhoods, bike lanes are often seen as being a thing for affluent people, the telltale sign of a gentrifying neighborhood. Bike lanes aren't a cure-all but they're also not just for the wealthy. For a relatively inexpensive investment, bike lanes can provide connectivity for neighborhoods that need it most, leading to opportunity and even helping build equity in long-depleted home values. Comfortable networks of bike lanes help relieve congestion and, when done right, actually make streets safer for bicyclists, pedestrians and drivers. All too often, however, decisions about bike lanes in historically marginalized neighborhoods are made with little to no input from those who live there.
"When [a bike] investment first comes to a neighborhood that has long been underserved and disinvested, it comes with skepticism of how that will impact our communities," said Scott. "This is why my administration will be focused on more proactive communication and collaboration with our communities."
Charles T. Brown, lead researcher on the report noted earlier in this article, believes this type of meaningful engagement is crucial when it comes to breaking down barriers to bicycling in any city. For Brown and Mayor Scott alike, meeting people where they are and remaining flexible is a crucial component of the work. 
"A lot of times we'll go out to talk about bike lanes and the community wants to talk about crime," said Brown. "If you're not well versed in the various ways in which this work is intersectional, you may not see the importance of addressing a crime question within a bicycle discussion."
It's a lesson almost all U.S. cities could stand to learn from: To move forward with bike lanes and infrastructure, we must first address the systemic inequity that has created distrust in the first place.
"We need to address the root issues and acknowledge the historical legacy of racism on the city's built environment, our infrastructure and how that's impacted our communities — and be proactive in addressing those inequities by investing in our people and neighborhoods that have long been disinvested," said Scott. "That's how we move towards justice."