June 3rd, 2021
Good Networks Make Better Bike Cities
By: Jack Foersterling, copywriter and editor at PeopleForBikes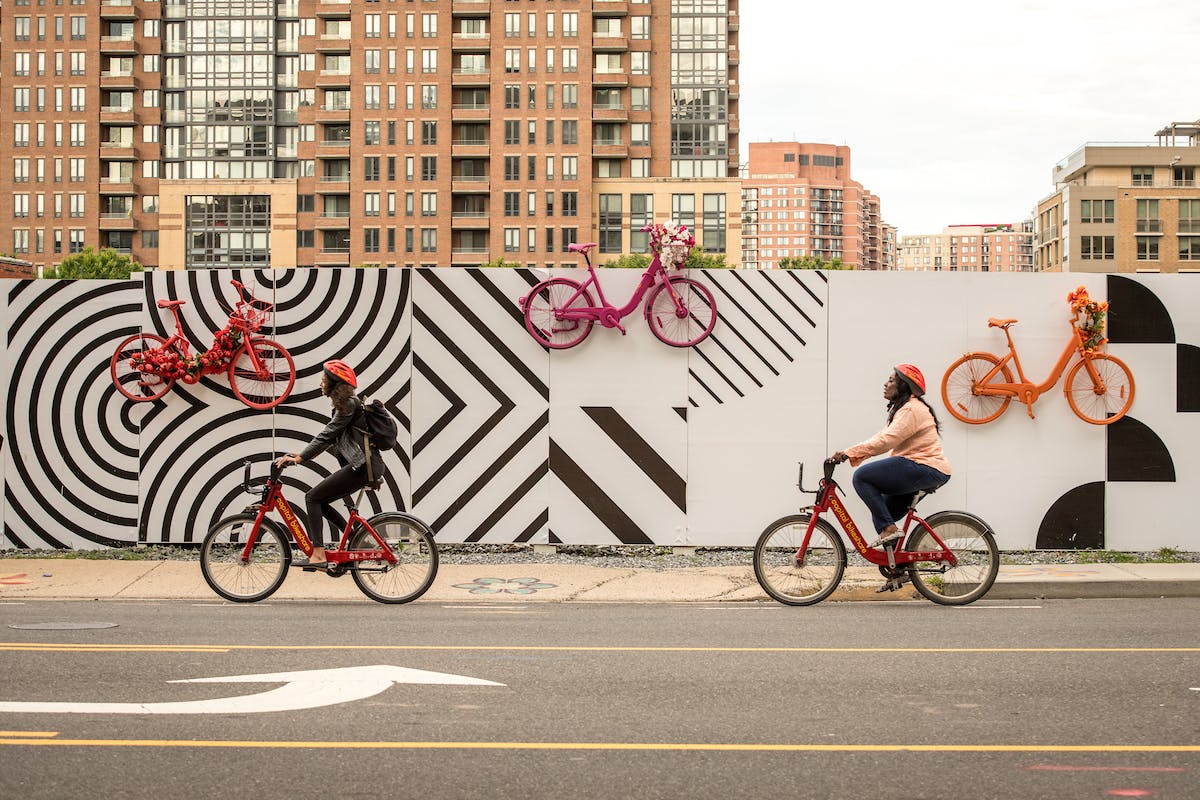 Two bikers use Capitol Bike Share in Arlington, Virginia. (Photo credit: Sam Kittner/Kittner.com, courtesy of Arlington County Commuter Services.)
A focus on safe, connected bike networks helped boost these medium-sized cities to top spots in our 2021 City Ratings.
Now in its fourth year of analyzing, evaluating and comparing great cities for bicycling, our annual City Ratings program utilized a new and improved rating system for 2021. With an emphasis on safe, connected places to ride, a city's Network Score makes up 80% of its overall score. Using data from PeopleForBikes' Bicycle Network Analysis, or BNA, the Network Score measures the quality and connectivity of a city's bike network — the bike lanes, paths, trails and neighborhood streets someone on a bike can use to access everyday destinations. 
The U.S. cities below range in population from 50,000 to 300,000 and all share one thing in common: a dedication to creating great bike networks.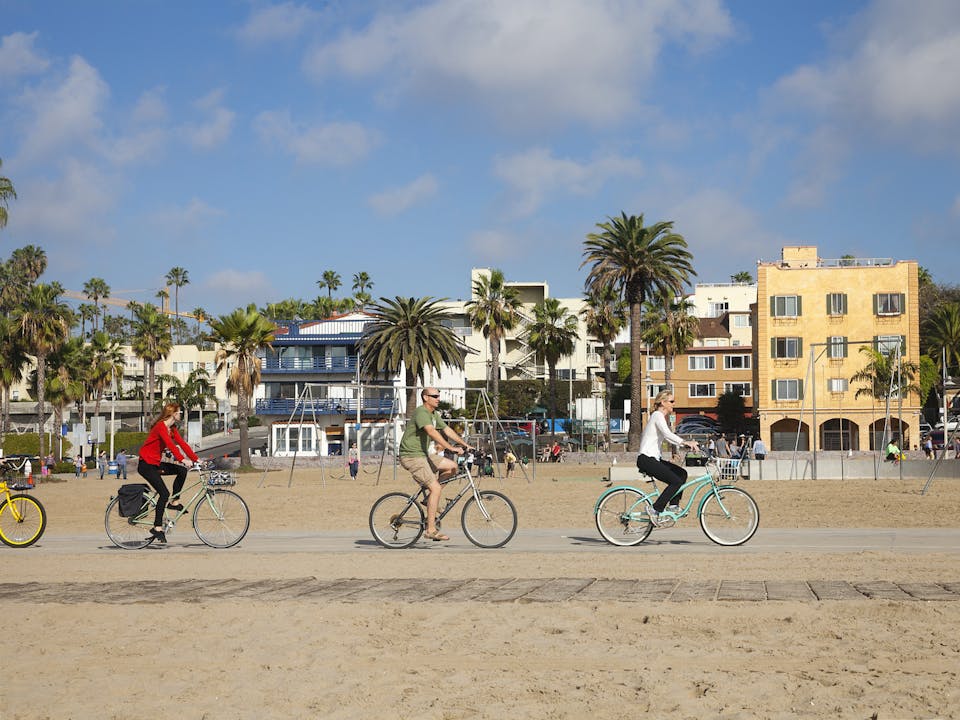 For Santa Monica, a coastal beach town in Southern California surrounded on three sides by Los Angeles, the first big effort for better bicycling came when the city passed its Bike Action Plan in 2011. The plan outlined the city's goals for getting more people on bikes, making bicycling more convenient, creating a safe bike network and establishing a local bike share program.
Santa Monica started small with low-cost, programmatic work such as offering bike valet services at big community events, as well as installing more bike racks at key locations around town. These smaller projects complemented the larger work of implementing bike infrastructure, and, over the last decade, Santa Monica has seen a steady trickle of bike shops and organizations popping up around the city. "Bicycling is now woven into the urban fabric of Santa Monica," said Kyle Kozar, senior transportation manager and bike program coordinator.
Kozar credits Santa Monica's idyllic location, infrastructure and year-round sunshine for the city's relatively quick adoption of bicycling. Compared to other nearby Southern California destinations, infamous for nauseating traffic congestion and miles upon miles of concrete, Santa Monica has a lot of greenways and protected bike lanes, making it easy to traverse the beach town by bike.
Last October, the city council approved amendments to the Bike Action Plan, which looked at what Santa Monica's already accomplished and what needs to be reprioritized. "We laid out a long-term vision for expanding our low-stress network," said Kozar. "We'd like to build out 15 miles of new protected bikeways in the next five years."
Going forward, Kozar says Santa Monica's mission is to make bicycling more inviting for people of all ages and abilities. "We get there by creating infrastructure that is really inviting," he said. "There are so many reasons for people to get out and experience Santa Monica by bike."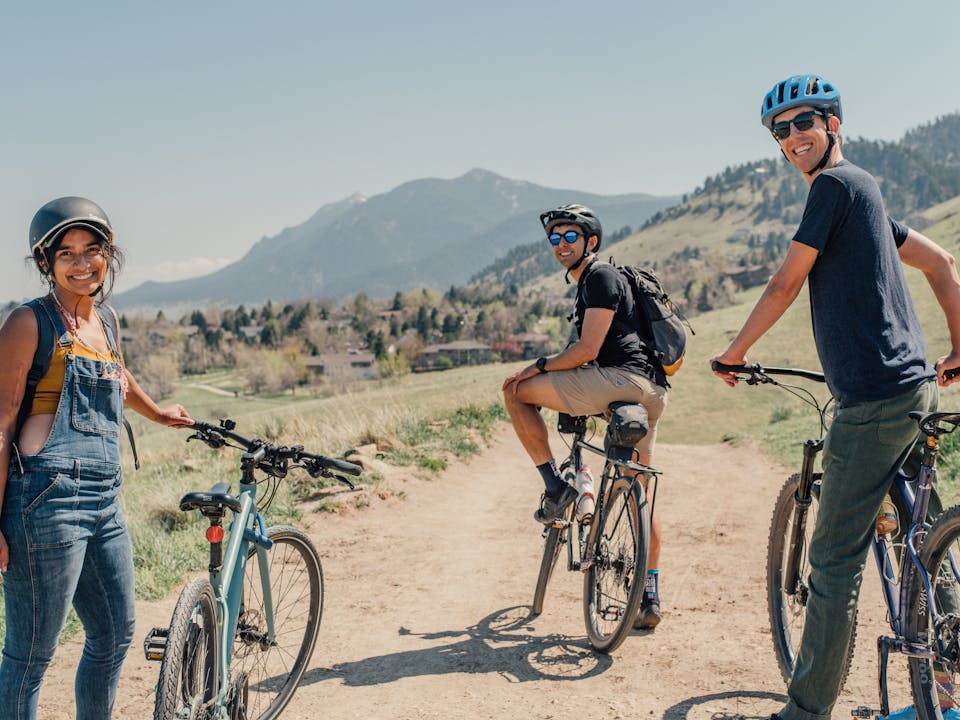 Set against the picturesque background of the Flatirons in the Front Range of the Rocky Mountains, Boulder, Colorado, has a rich history of bicycling that dates back to the late 1960s. Today, the city is home to 65 miles of multi-use paths that feature more than 80 underpasses and form the backbone of Boulder's bicycle infrastructure. 
"Over the years, Boulder has adopted a belt and suspenders approach to infrastructure or the construction of multi-use paths adjacent to conventional bike lanes," said Dave Kemp, senior transportation planner for the city of Boulder. "This approach has helped all types of cyclists feel confident and safe in terms of getting around by bike."
In addition to its doubled-down efforts on building safe, comfortable places for people to ride, Kemp believes the bicycling culture of Boulder has elevated biking as a transportation mode in general. "There are lots of us [bicyclists] — 20 times the national average, in fact," said Kemp. "This creates a 'safety in numbers' effect and most people driving know to look for bicyclists everywhere."
Kemp notes that the city's embrace of electric bicycles has also had a huge impact. Boulder was the first city in Colorado to allow electric bikes on their multi-use path system, and in recent months it's been working to evolve and refine its shared micromobility program to include an all-electric bike fleet by summer 2021. Looking to the future, Kemp is encouraged by the city's ability to leverage local dollars and grant funds for bike-related projects. Community Cycles, a local nonprofit bike shop and advocacy group, recently won a grant through the Colorado Department of Energy to purchase e-bikes for underserved community members and essential workers in the Boulder region.
"We are also cross-pollinating with other programs in the Transportation Division to enhance bicycle facilities when and where feasible," said Kemp. "We are in the process of constructing our first protected intersection and we hope the project evaluation will result in installing more of these throughout Boulder at locations that really need it to improve safety."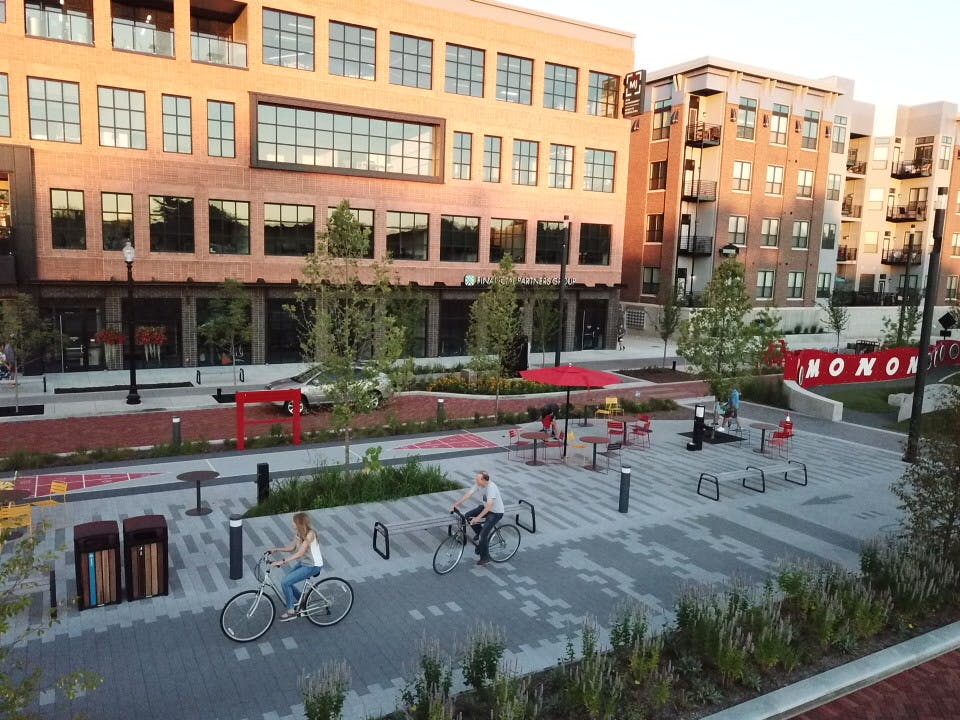 Carmel, Indiana, a town of just under 100,000 half an hour north of Indianapolis, began its journey in bicycling in 1996 with the construction of the Monon Trail. A former railway line, the Monon is a paved, multi-use trail that stretches 25 miles from the town of Sheridan to the state capital, passing through the center of Carmel along the way.
"With the construction of such a popular amenity like the Monon, our biggest project became getting people to the trail safely," said David Littlejohn, transportation systems administrator for Carmel. "We developed our alternative transportation plan in the early 2000s, and since then, the implementation of multi-use paths and expansion of our bicycle and pedestrian network through city projects or private development has been a key priority. Twenty years later, we have nearly 220 miles of paths and greenways throughout Carmel."
When Carmel was initially developed, like most suburban communities it was car-centric. According to Littlejohn, an emphasis on interconnected, multi-use paths has allowed for nearly every resident to be within a seven-mile bike ride from the center of town. He also notes that some car-focused infrastructure has made Carmel safer for bikes. "We pride ourselves on being the roundabout capital of the U.S. — our 139th roundabout is getting built out this summer," said Littlejohn. "The community becomes more bikeable when everyone approaching an intersection has to slow down."
Littlejohn, who has worked for the city for more than 15 years, says Carmel is an ever-growing community both for bikes and in general. "We're always working on improving our network and the ability for people to use it," he said. "Over the last 10 years, we've built about 10 miles of new trails each year. We want to continue that momentum."
Located directly across the Potomac River from Washington, D.C., Arlington, Virginia, is home to more than 230,000 residents, as well as the Pentagon and Arlington National Cemetery. Like all cities featured on this list, Arlington boasts a robust bike network, featuring 30 miles of bike lanes, 52 miles of off-street trails and many more miles of low-stress, residential streets.
In addition to its extensive network, in 2009 the Arlington County Community Services Bureau launched BikeArlington, a program focused on helping promote bicycling for all ages and abilities. In 2010, the organization was also involved in the launch of the D.C. metro area's Capital Bikeshare, the first major U.S. bike share program in the country.
"We have an incredibly knowledgeable and engaged advocacy community, many of whom volunteer on the County's Bicycle Advisory Committee," said Henry Dunbar, director of active transportation operations for Arlington County Commuter Services. "There are also scores of volunteers that organize to support bike events and facilities, like the Friends of the Mount Vernon Trail, and the annual group that coordinates the Freezing Saddles competition, an annual team competition to see who can ride the most miles between January 1 and the first day of Spring."
Looking ahead, Arlington recently updated its Master Transportation Plan to emphasize expanded bike routes and protected bike lanes. In an effort to help make bicycling more equitable, Arlington promotes the Capital Bikeshare for All program, which makes annual memberships to the system available to low-income residents for just $5/year.
Policywise, Dunbar sees a bright future for Arlington. In 2019, the county board voted to adopt Vision Zero — a strategy to eliminate all traffic fatalities and severe injuries while increasing safe, healthy, equitable mobility for all — and in May 2021, it approved an action plan to achieve it by 2030. According to Dunbar, "This has the potential to be the biggest policy shift toward improving bicycle and pedestrian safety we have seen in many years."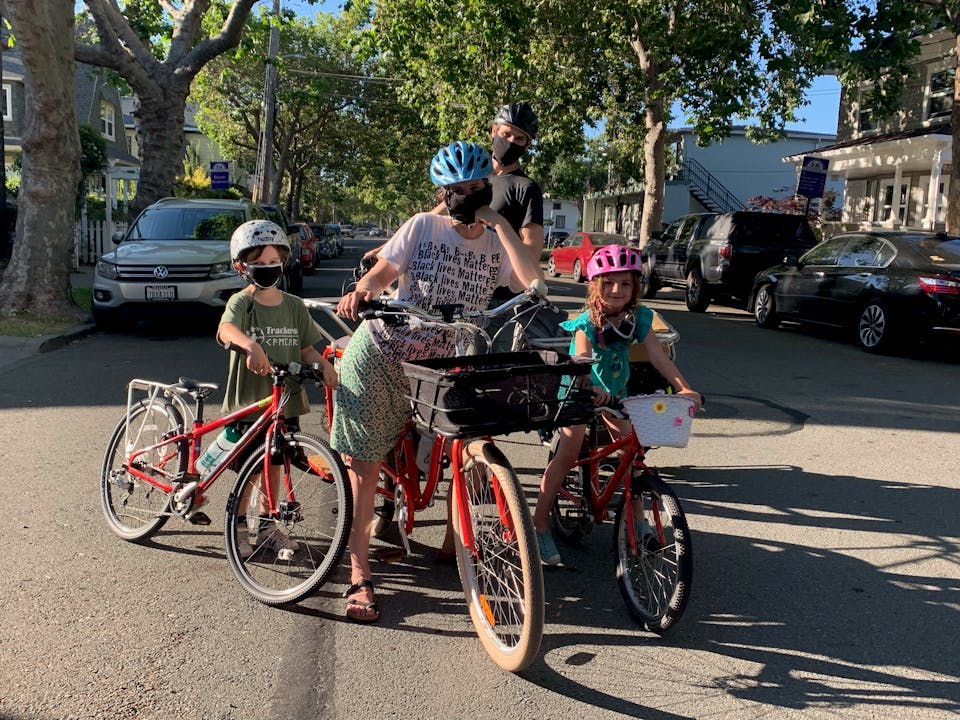 Berkeley, California, located in the Bay Area just northeast of San Francisco, is a true 15-minute city. Thanks to good buy-in from local leadership and a connected network of low-stress neighborhood streets, the university town sees high levels of ridership. "If you're on a bike, you can be pretty much anywhere you need to be quickly," said Ben Gerhardstein of Walk Bike Berkeley, an all-volunteer-led advocacy organization promoting safe, low-stress and fun active transportation in the city.
Most essential services are within an easily bikeable distance of residents, and thanks to Berkeley's "Bike Boulevards," the city's network of low-stress neighborhood streets, there are usually multiple ways to safely reach a destination. "You're not locked into being on a four-lane arterial street," said Gerhardstein. To create the Bike Boulevards, Berkeley relied on aggressive traffic calming measures on existing city streets, in conjunction with signs and pavement markings to prioritize bicycle traffic.
This ease of bikeability, combined with the Bay Area city's temperate climate and easy-on-the-eyes locale, lends itself to a lot of locals choosing to get out on two wheels. Some 10% of Berkeley residents travel to work by bike, among the highest rates of bike commuting in the U.S. Berkeley Mayor Jesse Arreguín doesn't even have a driver's license, choosing instead to get about by electric bicycle. 
Borrowing from the Critical Mass culture of nearby San Francisco, Berkeley's East Bay Bike Parties involve a massive gathering of riders celebrating all things bikes. "It's a monthly event with the most diverse group of people riding bikes and having fun together," said Gerhardstein. And around town, it's as common to see college students getting to class as it is to see parents hauling toddlers on a cargo bike. Berkely is also reimagining the way it does traffic enforcement through BerkDOT, all with the aim of making streets safer for its Black and brown residents.
"There's always people on bikes from all walks of life," said Gerhardstein. "Berkeley wants biking to be safe for everyone."