May 3, 2022
Fire on the Mountain
By: Kiran Herbert, PeopleForBikes' content manager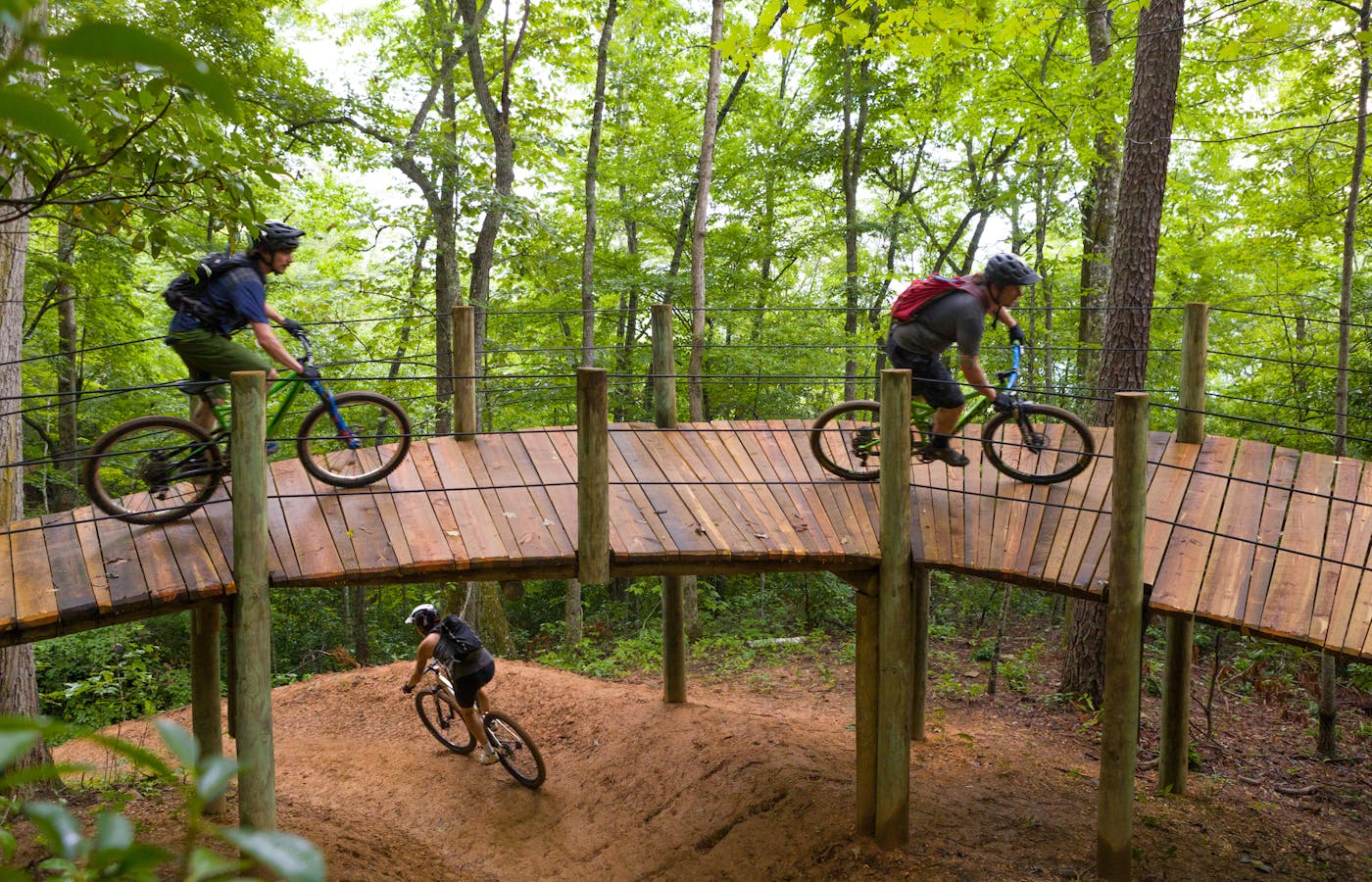 In North Carolina, mountain bike trails on Cherokee land are improving citizens' quality of life and transforming the local economy.
There are some 16,000 enrolled members of the Eastern Band of Cherokee Indians, a sovereign nation located on more than 57,000 acres in the western part of North Carolina. The area, known as the Qualla Boundary, is mountainous and forested and its main town, Cherokee, serves as a gateway to the nearby Great Smoky Mountains National Park and a number of recreational opportunities. 
In early 2015, Tonya "Tinker" Jenks, a tribal member and employee, received approval to start building trails on 212 acres within the Qualla Boundary. Rates of obesity and diabetes are high amongst the Cherokee and her goal was simple: provide another option for enrolled citizens to connect with nature and stay active. When Jeremy Hyatt, the tribe's secretary of operations and an avid mountain biker, took over the program later that year, he expanded on Jenks' vision to include 10.5 miles of singletrack. The Fire Mountain Trails opened in June 2017 and they quickly became a regional destination. 
"I'm excited about building outdoor infrastructure in general and being secretary, I'm always trying to find the low-hanging fruit," said Hyatt, adding that outdoor initiatives tend to be significantly less expensive than other tribal expenditures.
Designed by trails specialist Valerie Naylor and built by Trail Dynamics, based in Pisgah Forest, North Carolina, the Fire Mountain Trails system was paid for with revenue from Harrah's Cherokee Casino, the tribe's main economic driver. Although it's been optimized for mountain bikers, the trail system also accommodates hikers and trail runners. The latter makes up about 10% of the mountain's users and so far, there hasn't been any conflict — bikers yield to hikers no matter what, and everyone yields to the elk. 
While the goal was to keep the entry point low, the naturally steep terrain of Fire Mountain means it's not great for all beginners. There are two green trails — one of which is aptly named "Tinkers Dream" — a handful of blues and one black diamond. Riders love it because it's not too technical and a ton of fun, with top-to-bottom runs that offer a groomed, flowy ride. Plus, electric bikes are allowed, making tough uphills more accessible.
"We were surprised and taken aback by how popular it's become," said Hyatt. "It's not just a tourist destination — it also improves the quality of life of our tribal citizens."
According to Hyatt, the trail system has brought together the community in new ways, facilitating the intermingling of the tribe and surrounding Jackson and Swain counties. This is especially apparent on Thursday nights during the summer and fall when enrolled members and other locals come together around a love of mountain biking. Hyatt notes that the handful of tribal members that were already avid riders have helped spread the word, encouraging more people to get involved.
"There are several folks who haven't ridden a bicycle since they were 14 and they started riding two years ago," said Hyatt. "They've lost weight, their health has gotten much, much better and they're racing now — they're getting on the podium. They're doing well there and they're spreading the word to their friends, their family and their community members."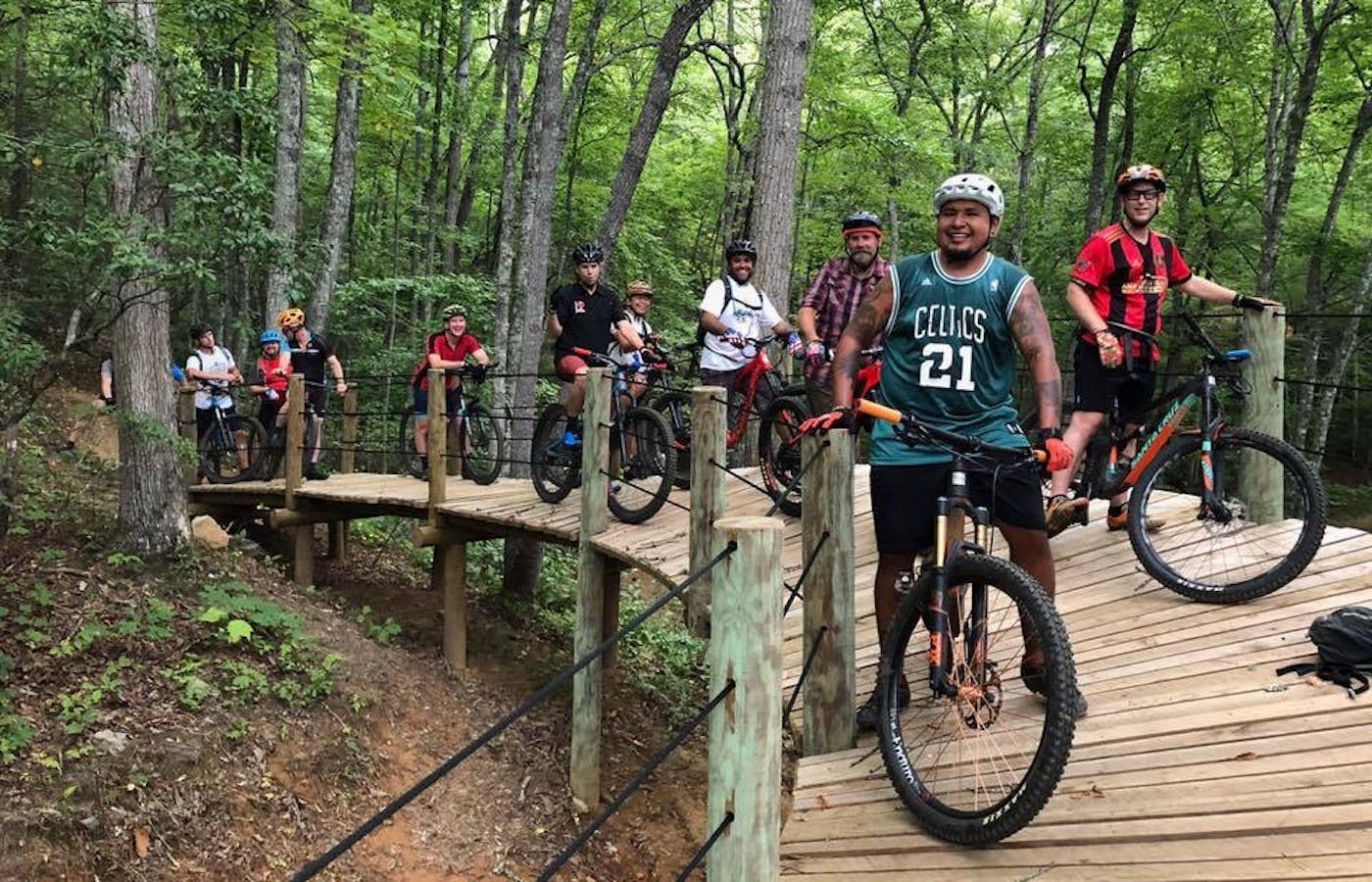 Participants take a break during one of the Thursday night group rides.
Bicycling in general — and mountain biking in particular — can often be intimidating for those just starting, especially if you haven't ridden a bike since childhood. You might not know the lingo or what to even ask when inside a bike shop, and that's if you even make it there at all. When trusted members of your community make the introduction, however, the whole experience becomes more accessible. This is especially true in a tight-knit tribal community where people are rightfully wary of things. 
"We're an Indian tribe that has fought for this land for millennia, that has taken the scraps off of the [Bureau of Indian Affairs] (BIA) table for generations," said Hyatt. "It's created a general suspicion of anything new." 
Having buy-in from locals around a healthy, community-building activity has helped generate pride and bring in new business. The Fire Mountain Trails are accessed through the Oconaluftee Indian Village, a replica of an 18th-century eastern Cherokee community, and the routes connect to different parts of Cherokee proper. Three years ago, Motion Makers Bicycle Shop opened a branch in town, and in 2020, Bryson City Outdoors followed suit, opening its Fire Mountain Outpost. During the busy summer season, the trail system also brings in around 2,000-2,500 visitors each month, which has its own economic impact.
"In terms of the local input into the economy, I've estimated it to be about $100,000 to $150,000 a month on those big months," said Hyatt, noting that his data is conservative and based on national averages. "That's nothing to sneeze at."
When considering the implications for Cherokee, Hyatt was particularly inspired by his trips to Bentonville, Arkansas, which has become a go-to destination for mountain bikers of all skill levels. Not only has Bentonville invested heavily in beautiful purpose-built trails, but it's done a lot of work around activation, education and getting various community members involved, including beginner and differently-abled riders. Part of the rationale for allowing e-bikes on Fire Mountain — other than the fact that they're a ton of fun and the largest growing sector of bike sales nationwide — was to increase accessibility. 
"If you don't get children or families involved, trails aren't going to do the job they're supposed to," said Hyatt. "That's to keep everybody active and create another aspect of community that they've never had before. That's something we're still working on."
The trail system's success has made it easier for Hyatt to push for more outdoor initiatives. The 18-hole Fire Mountain Disc Golf Sanctuary opened in March 2022 and an additional 12-plus miles of bicycling infrastructure is currently in the works. Located just a quarter-mile from the Fire Mountain Trails on land that's steep and unusable for housing, the tribe is building out more advanced gravity trails, as well as an asphalt pump track, skills park, tot track and bicycle playground. There will also be a shaded, family-friendly area for hanging out, as well as a storefront. The facility is being built in partnership with the International Mountain Bicycling Association (IMBA) and is slated to open in 2024. 
"We'll be able to accommodate both the super-advanced rider and also, on the other end of the spectrum, the little guys and their families who haven't been on a bike in a while," said Hyatt, who's committed to carrying out a community vision. "I'd also like to include some sort of representation of tribal folklore, whether it be a painted installation or part of the pump track — something that is legitimately and truly Cherokee."
Although other tribal nations have embraced mountain bicycling, the Eastern Band of Cherokee Indians is the first to lay down purpose-built singletrack. It's a decision that's not only put the Qualla Boundary on many riders' bucket lists but it's also helped build local affinity around exercise, well-being and the outdoors. Naming the trail system Fire Mountain was fated in its own way — not only does the land have a history of literally catching fire but it also speaks to the enthusiasm that's ignited around bicycling.
"Whether folks ride or not, the general attitude towards these trails is all positive," said Hyatt. "If they're not riding, they're cheering on those that are."
Interested in learning more about the Fire Mountain Trails system? Jeremy Hyatt will be the keynote speaker at PeopleForBikes' 2022 Electric Bicycle Summit, taking place in Asheville, North Carolina, on May 19.