November 18, 2020
Electrifying the Bike Boom
By: PeopleForBikes Staff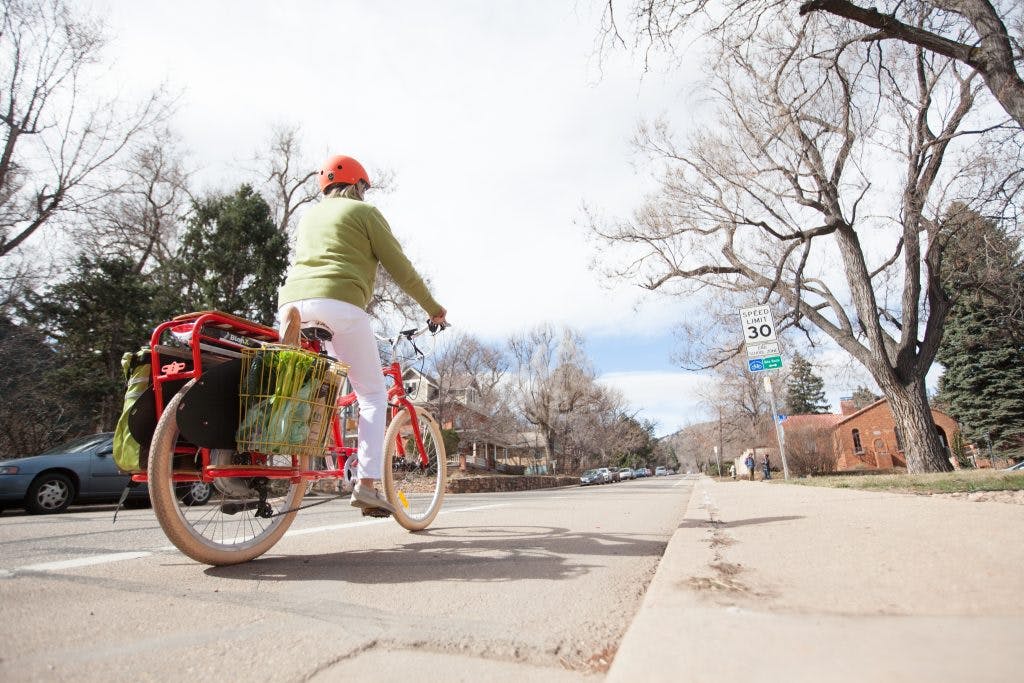 Riding an electric bicycle.
At PeopleForBikes, we're focusing our energy on maintaining the bike boom. As electric bicycles grow in popularity across the United States, they are becoming the preferred mode of transportation for many Americans in cities large and small. And for good reason: they shorten distances, squish hills and get you to your destination with ease and efficiency. 
In supporting this growing trend, some electric utility companies now offer rebates to their account holders for electric bicycle purchases. 
Burlington Electric Department and Other Utilities in Vermont
Four utility companies in the state of Vermont offer their customers rebates for electric bicycle purchases:
According to VBike, Green Mountain Power (Vermont's largest utility company) has processed nearly 600 e-bike rebates this year — triple from last year. Even with snow cover nearly two-thirds of the year, it's clear Vermonters see the advantages of getting around by electric bicycle. We asked Burlington Electric Department (servicing Burlington, VT) how its rebate program works, and how it came to be, so that we can help spread their message to other utility companies across the U.S. and increase access to electric bicycles.
Here's What We Learned:
In 2015, Vermont updated its renewable energy standards to direct utility companies in the state to "acquire fossil fuel savings from energy transformation projects." Offering rebates for electric bicycles — along with tractors, heat pumps and more — falls within this broad charge. 
50% of emissions in the state of Vermont come from transportation. 
Burlington Electric Department was the first in the state to implement an electric bicycle rebate program and did so in partnership with nonprofits VBike and Local Motion. 
Burlington residents are eligible for a $200 rebate at the point-of-purchase at participating bike dealers in the city. 
BED calculated the price of the rebate by determining the cost of the fossil fuel that is expected to be replaced by the electric bicycle over the product's lifetime.
Austin Energy
Halfway across the country, the city of Austin, Texas' energy utility company offers an electric bicycle rebate to its customers.
In 2015, the city of Austin passed a resolution to reach the goal netzero emissions by 2050 and make "Austin Energy (AE) the leading utility for greenhouse gas reductions." 
AE took the initiative and started its E-Ride rebate program to make electric, netzero emissions transportation more accessible to Austinites.
In partnership with local dealers, AE customers are eligible for:
undefinedundefined
AE customers have to submit a rebate form online to the company after purchasing the electric bicycle to receive their rebate.
 Have you used a utility-based rebate program (or something else) to help finance your electric bicycle purchase? We want to hear from you: email noa@peopleforbikes.org to share your experience.