September 14, 2018
America's Best Large Cities for Biking
By: Allegra Abramo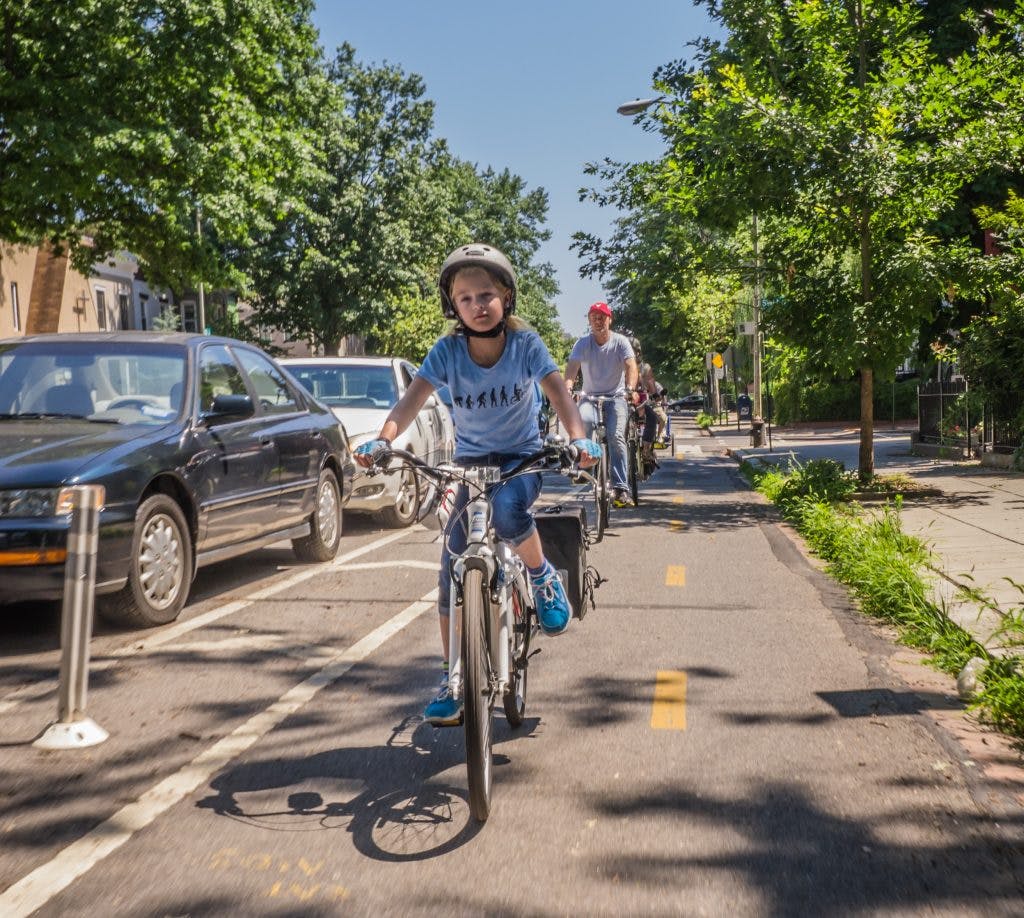 Biking in Washington, DC
What does it take to stand out as one of the nation's best biking cities? We looked at our top-scoring large cities in the PlacesForBikes City Ratings — Portland, Oregon; Tucson, Arizona; San Diego, California; Madison, Wisconsin; and Washington, D.C. — to find out.
A review of how each of the cities scored shows there's no single recipe for success: Some cities boasted strong ridership numbers (Portland and Washington, D.C.), while others (Tucson, San Diego) demonstrated impressive efforts to rapidly build out their networks and get more people riding. Madison didn't stand out in a single category, but was well-rounded in each scoring area. Consistent across all of these cities is a strong and broadly shared commitment to improving biking in their communities.
Tucson and San Diego work to quickly grow biking
Year-round sunshine makes Tucson, Arizona, and San Diego, California, appealing places to bike, but ridership isn't where these cities excel — yet. Both earned spots among the top five large cities (those with more than 200,000 residents) thanks in large part to their "acceleration" score, which measures growth in bike facilities and events.
Kyle Wagenschutz, PeopleForBikes' director of local innovation, says Tucson is working hard to get people on bikes and to make opportunities for biking more accessible. Tucson is developing a city-wide plan to connect low-stress bikes routes to parks, recently launched a bikeshare program and hosted a new open-streets event on the city's south side to include more diverse neighborhoods and get people out riding.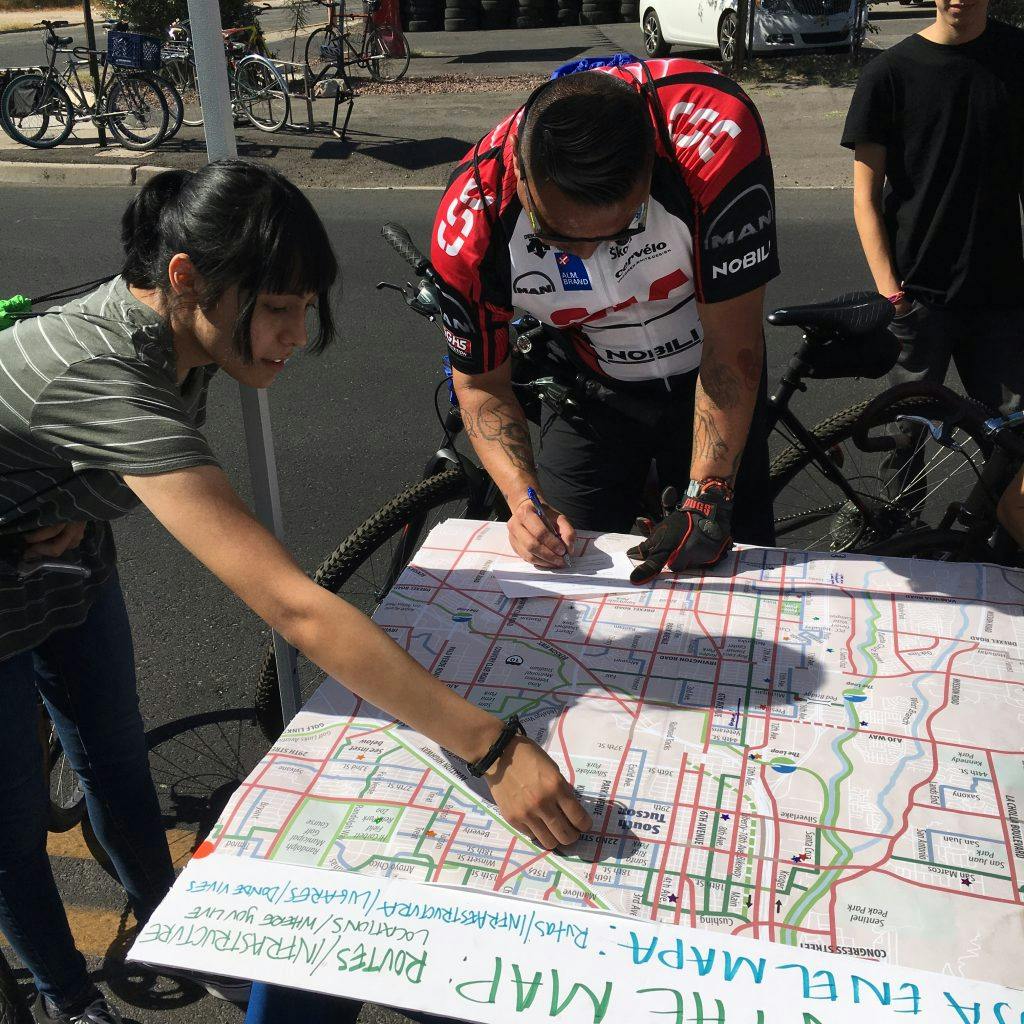 Efforts to improve biking are also gaining momentum in San Diego. The city has sped up implementation of its bicycle master plan and hired a "mobility champion" in the mayor's office to sustain progress, says the city's bike program senior engineer, Brian Genovese. At the same time, the regional planning organization has developed an early-action plan for bikeways and provided $200 million in funding.
The outcomes of these projects on San Diego's ridership remain to be seen. Today, just over 1 percent of workers commute by bike. The city has a goal of 6 percent by 2020 and 18 percent by 2035, within key corridors. "We have a lot to do still," Genovese says.
Portland and D.C. take the lead in ridership
If some large cities are just starting to make a big push to grow biking, others have been in the game for decades. That's the case in Portland, Oregon, which took the top spot among big cities in the ratings, largely due to its high ridership score: 3.9 out of 5.
"We have been doing this for a long time, and people have really been able to see the benefits of increased bicycling," says Roger Geller, bicycle coordinator for the Portland Bureau of Transportation. "Bicycling is something that is done in every demographic group in Portland, across ages, across incomes, across races."
Today, says Geller, the city continues to make biking more appealing for everyone by upgrading on-street bike lanes to be fully protected, with a special focus on underserved areas. The city is also experimenting with creative ways to encourage people to walk, bike and use transit. For example, a surcharge on neighborhood parking passes helps pay for bikeshare memberships and transit passes for residents of new housing developments.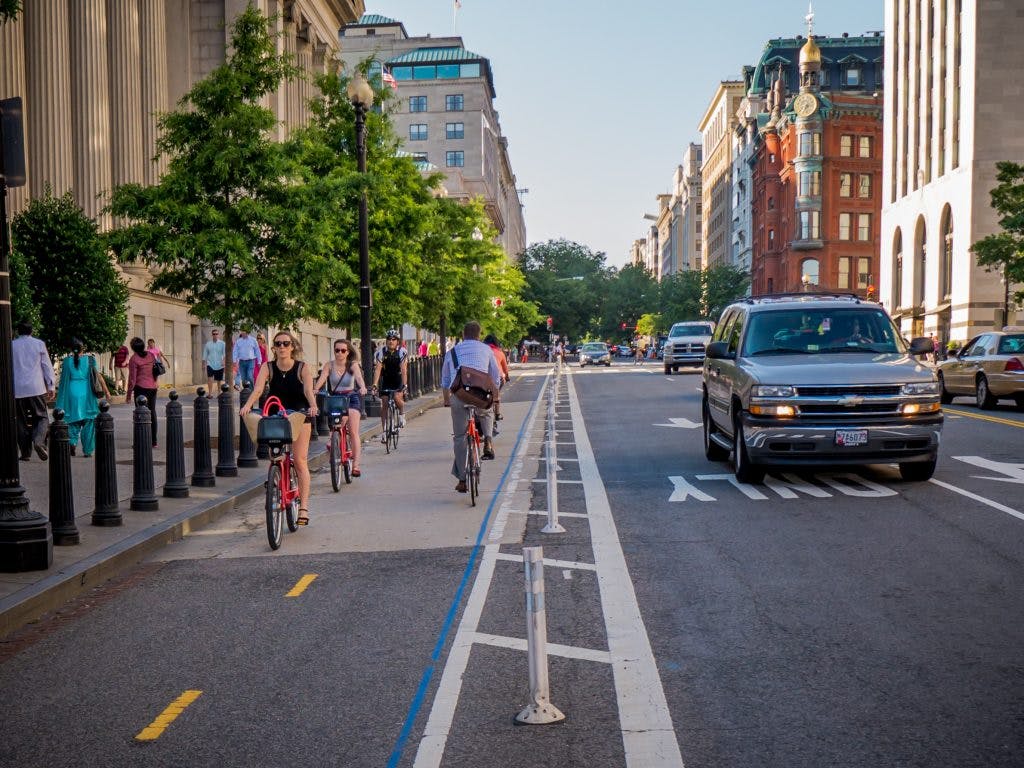 Washington, D.C., also rose to the top of the rankings through its ridership numbers. Excluding workers who walk, take transit or work from home, 9.6 percent of Washingtonians commute by bike, according to PeopleForBike's analysis of census figures. That's the highest in any large U.S. city.
The high ridership figure also represents a huge increase from 15 years ago, says Mike Goodno, D.C.'s bicycle program specialist. In that time, the city has grown from having just a few miles of bike lanes to nearly 83 miles. The city also has been filling in connections to regional trails. "That's really been helpful for those people who are a little nervous about biking without having a bike facility for their whole commute or ride," Goodno says.
Anecdotally, at least, the improve network connections are encouraging more diverse kinds of people to ride, including more parents with kids and people in suits and dresses.
Despite that progress, the city is working to improve outreach to communities where there's been a history of disinvestment and where some residents are skeptical about bicycling projects. "We are trying to build a relationship, which takes time, and slowly get those projects in there," Goodno says. "There are parts of the city where we can't keep up with the demand, which is great, but I want to spread it around as much as possible."
Biking as a path to a sustainable future
As their populations continue to grow, these cities are planning for futures where biking, walking and public transit play an essential role in maintaining the quality of life.
San Diego, for example, has set ambitious bike ridership targets as a way to meet its goals for curbing greenhouse gas emissions. The city's climate action plan, bike master plan and Vision Zero efforts are designed to work in tandem to achieve those goals.
In Washington, D.C., city development is used as an opportunity to improve biking facilities. When a new soccer stadium opened this summer, it was accompanied by a protected bike lane stretching several blocks in either direction. New zoning rules require bike parking and even showers in larger commercial buildings.
Like other thriving urban areas, Portland faces the challenge of more people — and more cars —competing for the same amount of space. The city's recently adopted transportation plan prioritizes walking, biking and transit, because "a city that is safe for walking is safe for everyone," says Portland Bureau of Transportation spokesperson Dylan Rivera.
It's also a smart way to keep people moving in an increasingly crowded city. Says Rivera: "We can fit more people if they are biking and walking than if people are driving alone in cars."