January 13, 2023
A Bicycle Garden Grows in Michigan
By: Kiran Herbert, PeopleForBikes' Content Manager
Photo by Michael Gleason, photographer and Mott Park resident.
In Flint, a neighborhood association transformed an unused urban tennis court into a space where local youth can learn to bike.
Mention Flint, Michigan, and many immediately think of the Flint water crisis, a human-made public health emergency caused by dangerous levels of lead in the local water. Before that, it was known as the birthplace of General Motors, then later for experiencing substantial economic decline when several of the company's auto plants closed in the '90s. For Chad Schlosser, however, who has deep roots in the area, Flint never lost its appeal as a great place to live. He moved to the city's Mott Park neighborhood for its safe, affordable, and family-friendly appeal.
"My grandmother grew up in this neighborhood in the 1920s, and it was such a magical, fun place to be," says Schlosser, who has three kids in elementary school and currently serves as President of the Mott Park Association. "I want kids to keep feeling that."
The Mott Park Association was founded in large part to help neighbors take care of Mott Park, a centrally located, almost 100-year-old park that was built with three tennis courts at its heart. As the city changed, becoming less affluent, much of it fell into disrepair. Around 15 years ago, Flint essentially abandoned all of its parks and recreation, making maintenance largely dependent on a fleet of volunteers. At Mott Park, Schlosser and other volunteers kept the park alive with the help of local group Keep Genesee County Beautiful. They often found themselves raking leaves from crumbling tennis courts that never got used, slowly envisioning what the space could be.
"Tennis is seen as an affluent, white sport," says Schlosser, noting that Flint is a majority-minority community. "Not that people with melanin can't play tennis — we just wanted to diversify our offerings to better suit the community."
The Mott Park Association's former president and Nancy Edwards, the recreation programs and grants officer at Keep Genesee County Beautiful, came up with the idea of converting one of the tennis courts into a bike park or bike garden, essentially a designated area for children to learn how to bike and play. To gauge resident interest, the association sent around a poll in 2019 proposing different ideas, including one for a basketball court. While most people felt anything positive would be great, the bicycle park got the most support.
"No one was against the bicycle park," says Schlosser. "Some folks were indifferent, so didn't donate, but no one was actively against it."
In 2020, the Mott Park Association started working alongside Keep Genesee Beautiful to begin fundraising. As part of that effort, they applied for a PeopleForBikes' community grant, which was awarded in June 2021. More Michigan-based organizations signed on to support the project and with funding secured, the association began to plan the bike park. For the park's design, they chose to work with the Flint Public Art Project, a local public arts organization best known for murals throughout the city (it completed some 120 in the span of five years). Importantly, the artist ultimately chosen to commission the piece, Mike Cobley, was a Flint native.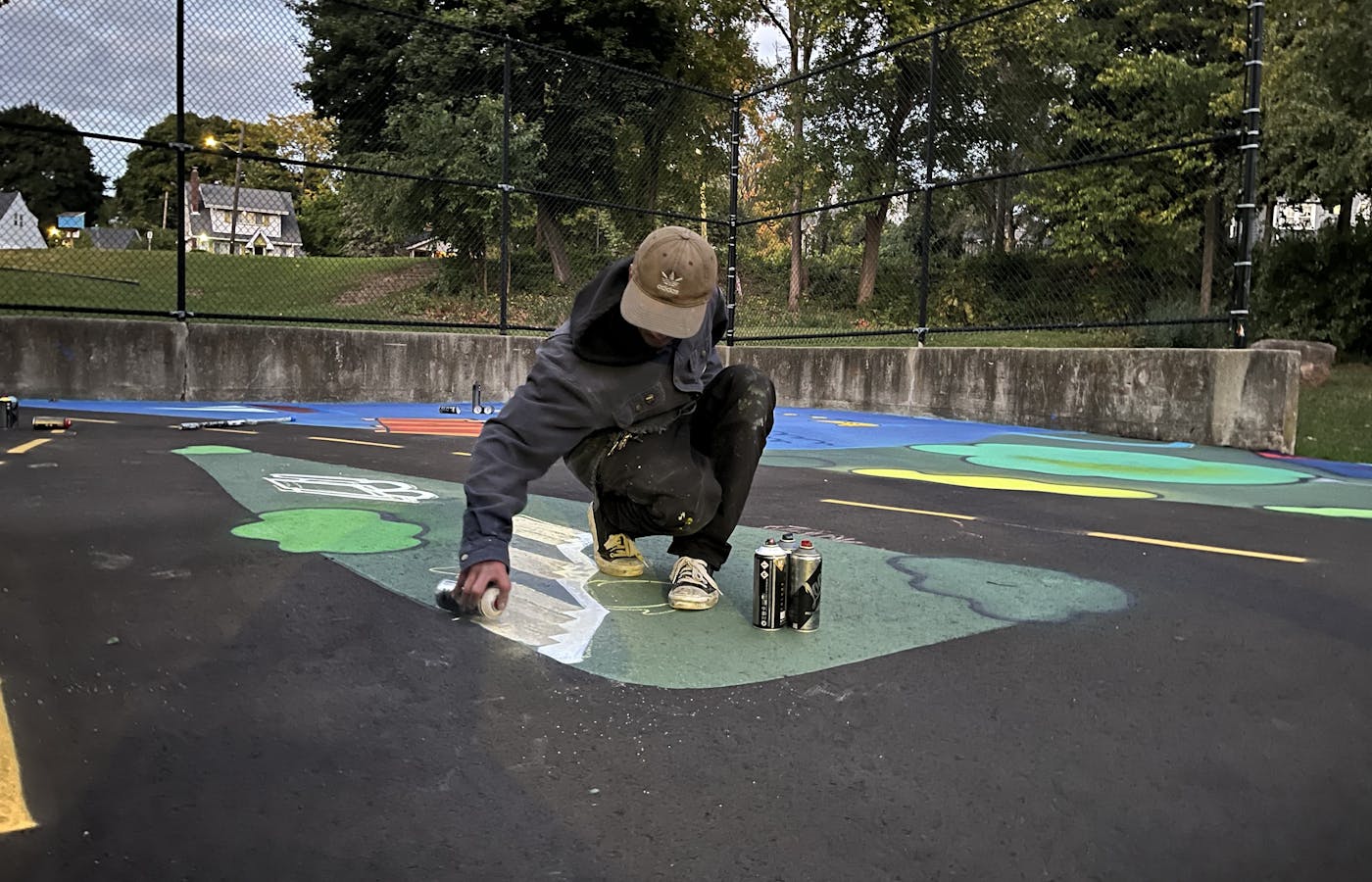 Flint native Mike Cobley was chosen to design and install the bike park's surface mural.
"We wanted to include Flint landmarks in the piece and a lot of the things Mike drew are well-known in our city," says Schlosser, listing the library, farmer's market, and stadium to name a few. "He even put Mott Park in it. The idea was that kids would be able to ride around and have fun seeing themselves in Flint."
To ensure it was long-lasting, the park required new asphalt and paint that could withstand all seasons of weather. A local asphalt company resurfaced the tennis court in late summer before Cobley and an assistant came in and beautified it. The bike park had its grand opening on October 18, 2022, with the mayor and Mott Park's local councilperson in attendance. While the fall weather meant that the court will likely not be used to its fullest until the upcoming spring and summer, the neighborhood kids already love it.
"We had about probably 50 or 60 people down there for the grand opening," says Schlosser, noting that kids can use bikes, scooters, and roller skates in the park (basically, anything without a motor). "It's winter now, so there's not a lot of use, but springtime is a great time for learning to ride bikes."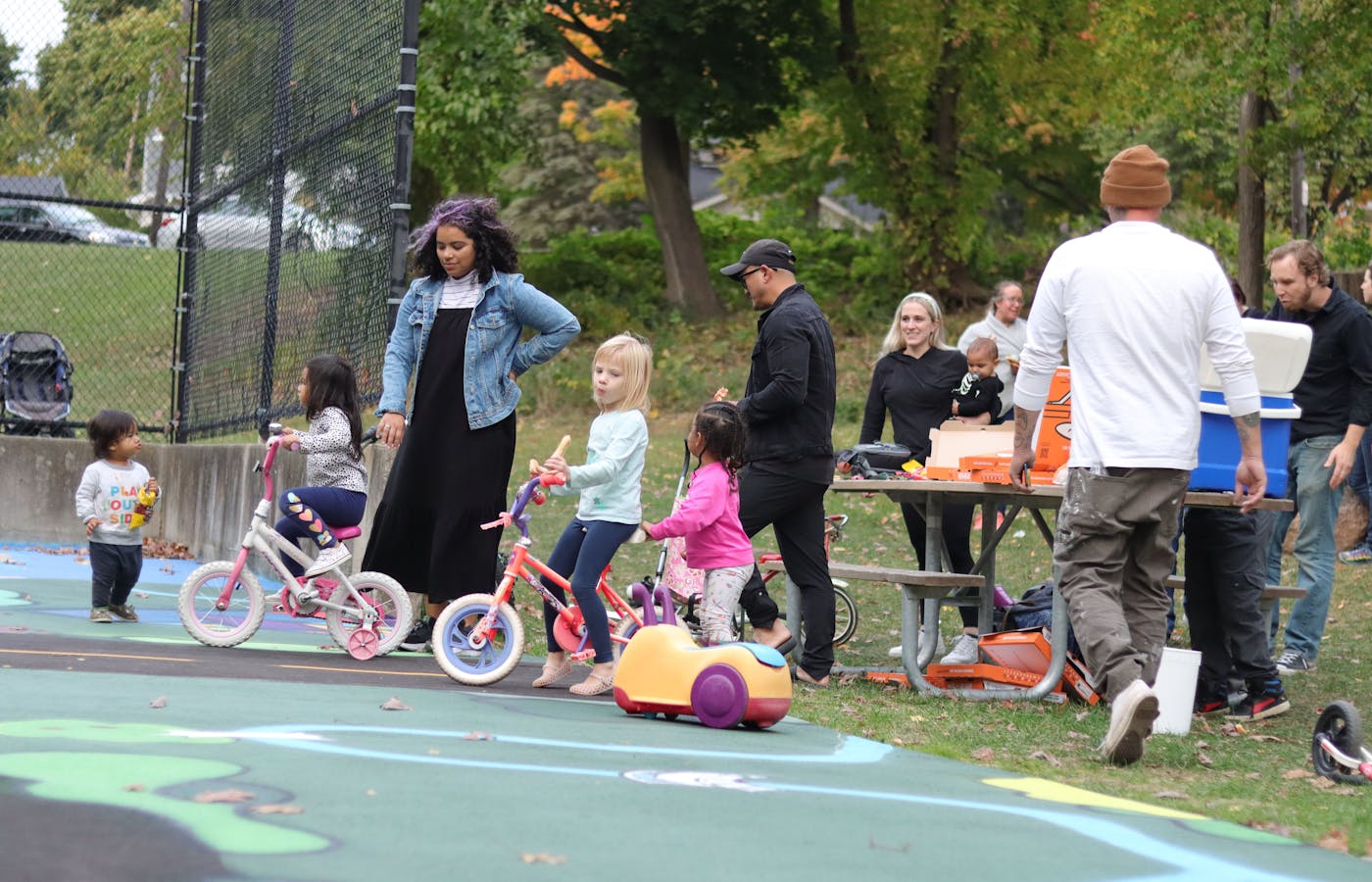 Neighborhood kids have already begun using the bike park, which offers a safe, beautiful area for them to learn and play.
There are no sidewalks in the park itself and those in the surrounding area are in poor condition. The new bicycle garden offers a safe place where children can feel free to learn and play, developing an early relationship with bikes that will hopefully carry through to adulthood. While the project hit a few hiccups (most related to the rising cost of materials with inflation), Schlosser is proud to have taken a community-driven idea and seen it through to something beautiful that everyone can be proud of.
"I don't want our kids to grow up and think, 'Flint was rough but I survived,'" says Schlosser. "I want them to feel that this is an awesome place to grow up with some beautiful green spaces and fun activities. The bike park is helping people to see that Mott Park is a great place to live."