May 31, 2021
5 Strategies Every Bike Advocate Needs
By: Kiran Herbert, local programs writer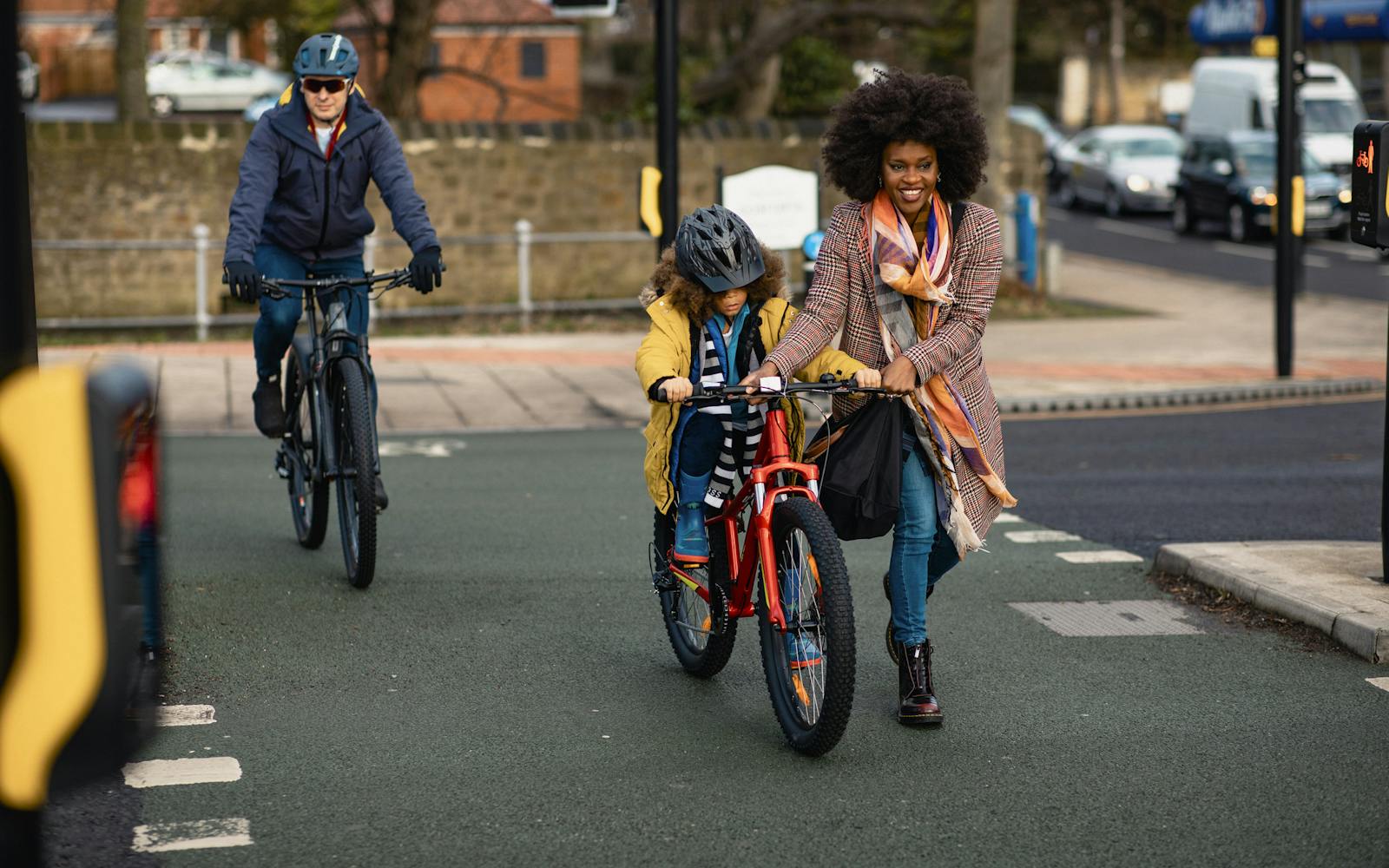 Want to advance bicycling locally? It's time to reconsider how we apply our messaging around bicycling and bike infrastructure.
If the 24-hour news cycle and partisan politics of the last decade have taught us anything, it's that messaging can make or break even the best policies. If you're reading this article, you're likely in agreement that more biking is a good thing. But maybe you're short on staff, lack funding for infrastructure or don't have strong community support to make it happen. Cities of all sizes across the country have overcome these and other obstacles — the key to success lies in the strategies and tactics used.
After years of helping communities build up bicycling, our Local Innovation team wrote a playbook for city leaders working to construct safe, convenient and attractive places to ride. Drawing from that comprehensive document, as well as PeopleForBikes' funded research and first-hand experience, we landed on five strategies every bike advocate needs in order to start garnering wins. As the leaders in the fight for building better communities, the responsibility for messaging falls on us. To win over diverse groups and achieve a bike-forward agenda, we need to shift the conversation.
1. Bring People Together 
Bike advocacy work is challenged by perceptions that bicycling is a niche activity, meant for a select few with minimal potential to improve mobility or reduce traffic and air pollution. Too easily, biking is dismissed as a special-interest activity rather than a populist solution. Although we know that's not the case, in order to change public perceptions and move bicycling into the mainstream we need to rethink our collective definition of "bike advocate."
The typical bike advocate is often portrayed as quirky, condescending elitist — a wealthy, white male who shows up to work or a public meeting clad in spandex. Our work will be more effective, however, the more people we bring in, including families, people of color and even folks who don't bike at all. Biking is actually one of the most income-diverse activities in the United States, but those who it's most important to — the lowest-income commuters who often have few other options — are many times left out of advocacy discussions altogether.
By listening to diverse communities and cultivating partnerships with neighborhood organizations, you can reach people you might not otherwise. Create safe spaces where people can talk openly and then act on what you learn. If you hear that trash on neighborhood sidewalks is more pressing of an issue than bike lanes, tackle that first and build trust. Position bike lanes as an important part of increasing mobility and opportunity, something that will help residents access jobs and move around faster.
Position a "bike advocate" as someone who wants to better their community and create opportunities for other people to get involved, even if it doesn't involve bikes at all. For example, the Providence Streets Coalition in Providence, Rhode Island, offers mini-grants to fund projects that aren't specifically related to bicycling, such as murals, pop-up art events and culture tours. By emphasizing projects that utilize and benefit from public space and bike networks, you can bring more people together around the common cause of building better communities. 
2. Turn Drivers Into Supporters
There's no denying that we live in a car culture — the vast majority of commuters in the U.S. (around 76% of people) travel alone in a vehicle and it's important to respect their choice to do so. For drivers, any proposed reconfiguration of public roads and adjacent space can be perceived as a threat to car use, and there's often concern that creating safer spaces for biking will reduce convenient parking options and hurt businesses. However, we know those bike lanes are actually better for business, contributing to positive economic development, boosting retail sales and even encouraging tourism. 
Bike lanes also fight congestion and can help alleviate traffic for those that choose to drive. In our research, we found that many people would support bike infrastructure if it also meant improvements for better roads and parking. Bike lanes — separate, protected bike lanes in particular — make bikers less of an inconvenience for drivers and make the roads safer and less confusing for everyone, including pedestrians. Careful planning and smart construction can help everyone to get where they are going in the safest, easiest way possible.
Positioning safety as the responsibility of all parties, bikers included, will go a long way when it comes to getting drivers onboard with bikes. Advance the idea that we can have peace on the road when everyone has a piece of the road, and don't be defensive when it comes to safety — we'll all be safer with better infrastructure and once all parties are educated on how to share the road. Emphasizing a Vision Zero approach, or a strategy for eliminating all traffic fatalities and severe injuries, should win over anyone concerned about traffic fatalities.
3. Stop Talking About Bikes
While bikes have amazing implications for the environment, public health and the economy, it's important not to oversell them as a cure-all. Communicate how bike infrastructure adds to communities but acknowledge that bikes won't solve all societal problems. In almost every case, infrastructure changes need to happen in conjunction with other important initiatives to truly benefit people. 
For example, many Black and brown people have vastly different bicycling experiences than their white peers and are often unfairly targeted by an enforcement-centric approach when it comes to safe streets. For these populations, a strategy that reimagines traffic enforcement will be more compelling than one that solely promotes bicycling. In many cases, working to tackle other community issues first will set up a more receptive environment for bicycling down the road.
Make a point to talk about how bicycling infrastructure improves the lives of all, whether or not people bike. By increasing opportunity, relieving congestion and improving recreation, bike infrastructure has economic benefits, adding resources to a community. Continue to emphasize how bicycle infrastructure makes streets safer for everyone, benefits people's health and provides crucial transportation access to jobs and essential services.  
4. Build Better Bike Lanes 
For decades, U.S. traffic engineers assumed that people on bikes could almost always share the road with cars. But a shoulder — even a striped bike lane — on a street with fast traffic isn't an appealing place to bike for most people, especially women and less experienced riders. Putting a bike symbol in the middle of a busy thoroughfare does little to make it a place where parents will ride with their children.
We now know, based on both U.S. and international experience, what kind of infrastructure designs give people of all ages and abilities the sense of safety, comfort and enjoyment that makes them want to ride. This includes protected bike lanes, which are located next to the road and physically separated from traffic, as well as things like better lighting, traffic-calming barriers and well-marked crosswalks. While sharrows might have a place in small towns or on low-stress streets, protected bike lanes should be the default for roadways with speed limits above 30 mph. 
As a rule of thumb, if something's not going to be comfortable to ride for people of all ages and abilities, then don't build it.
5. Create Neighborhood Networks
Most cities have built bits and pieces of good places to ride bikes: A path or two along a river, some appealing neighborhood streets and maybe a protected bike lane. The trick, however, is to move from individual projects to clusters of connected networks. Complete bike networks offer bikers the flexibility to travel safely to essential destinations and are key to getting more people on two wheels. If you want to move away from bicycling as a niche, recreational activity, building out complete networks is key.
In Sevilla, Spain, the city went from almost no bike lanes to an expansive citywide network in just a few years. In 2007 alone, the city built 40 miles of protected bike lanes, a 542% increase over existing miles, and continued to double the size of its network over the next six years. The result was a fivefold increase in bicycling trips. In New Orleans, the Algiers Protected Bike Lane Network, inspired by Sevilla's, is rapidly building out a network in one of the city's most often neglected neighborhoods.
Rapid implementation is also an important factor when building out networks, as it can help rally public support and hold all parties accountable. Push local leadership to make public commitments by including timelines with all projects. And no matter what, make sure that your messaging stays consistent.