June 27, 2023
2023's Best Places to Bike
By: Rebecca Davies, City Ratings program director
An overview of this year's U.S. City Ratings data, including top performers, biggest improvements, and more.
Every year, PeopleForBikes releases the results of its City Ratings, a data-driven program that evaluates, identifies, and compares the best global cities and towns for bicycling. Using this data, we help city leaders pinpoint improvements to make biking better and safer for everyone in their communities.
City Ratings scores are generated using PeopleForBikes' Bicycle Network Analysis, which you can learn more about here. High-scoring cities often perform well across six factors captured in the acronym SPRINT: safe speeds, protected bike lanes, reallocated space for biking and walking, intersection treatments, network connections, and trusted data.
For 2023, we rated 1,484 cities of all sizes throughout the U.S. and 249 international cities on the quality of their bike networks. Each city receives a City Ratings score on a scale of 0-100. A low score (0-20) indicates a weak bike network, meaning the city lacks safe bikeways or there are gaps in the network. A high score (80-100) indicates that most common destinations are accessible by safe, comfortable bike routes that serve people of all ages and abilities. For larger cities, a score of 50 is the tipping point to becoming a great place to bike.
With so much data to sort through, we created this summary report to showcase how the program works alongside high-level takeaways from this year's ratings.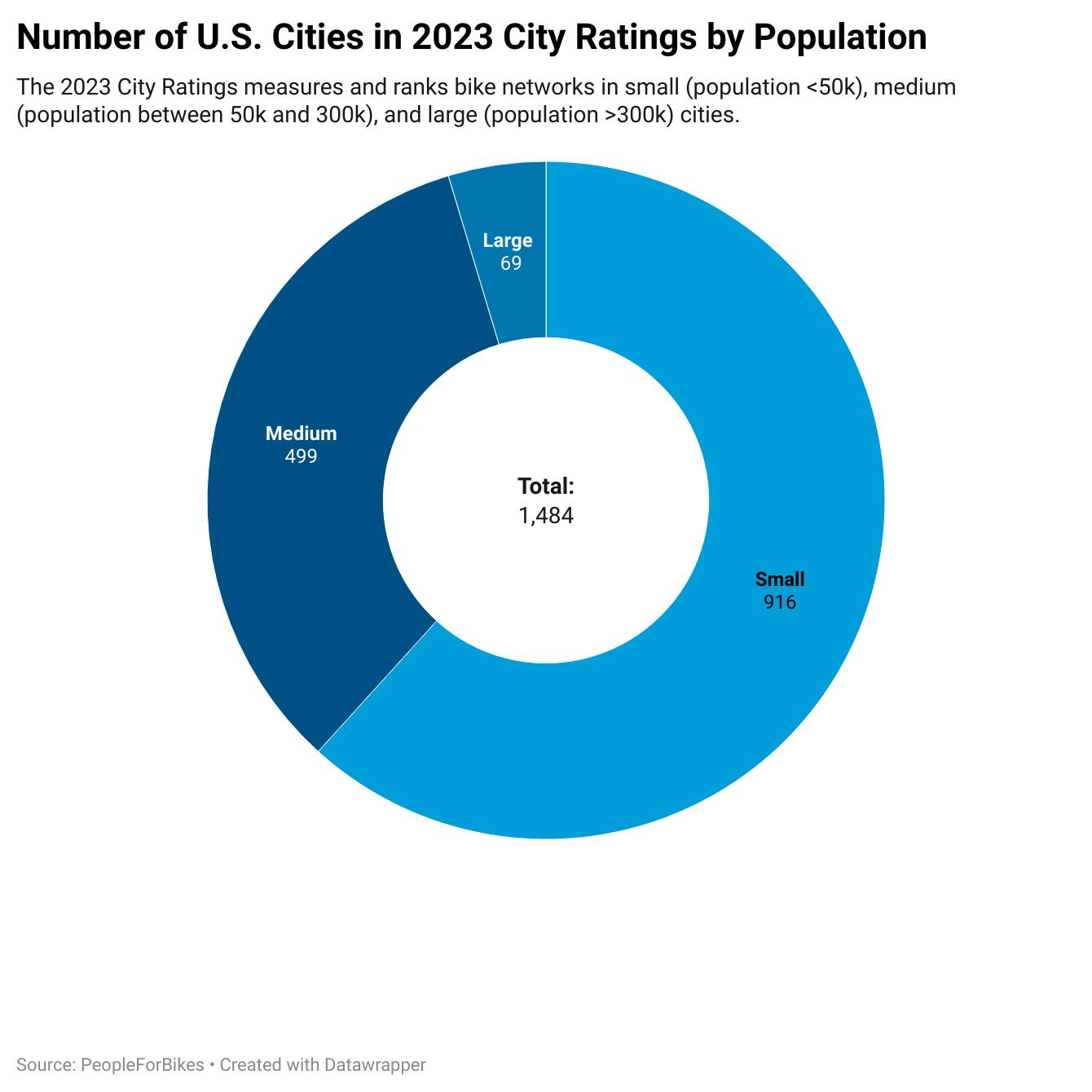 For 2023, the top-scoring small, medium, and large U.S. cities for bicycling are: Provincetown, Massachusetts; Davis, California; and Minneapolis, Minnesota. Minneapolis, Minnesota, saw a tremendous increase in its score over last year, improving 31 points between 2022 and 2023, landing at the #1 spot in large U.S. cities for this year. 
Newcomers to the top 10 include Milwaukee, Wisconsin, a large city that improved its ratings score from 35 out of 100 in 2022 to 45 out of 100 in 2023. That jump also helped Wisconsin see a substantial rise in ridership as well. Eco-Counter data shows that ridership growth in the state outpaced the rest of the Midwest region: On the weekends, there are 20% more rides happening across Wisconsin than there were in 2019 and weekday rides are up 27%.  
Longmont, Colorado, also edged its way into the top 10 medium cities, improving its score from 36 in 2022 to 59 in 2023. Among small cities, Blue Diamond, Nevada; Murdock, Nebraska; Shorewood, Wisconsin; and Mifflinburg, Pennsylvania, are all new to City Ratings and earned top 10 spots for 2023. Jackson, Wyoming, also moved into the top 10 small cities for the first time this year.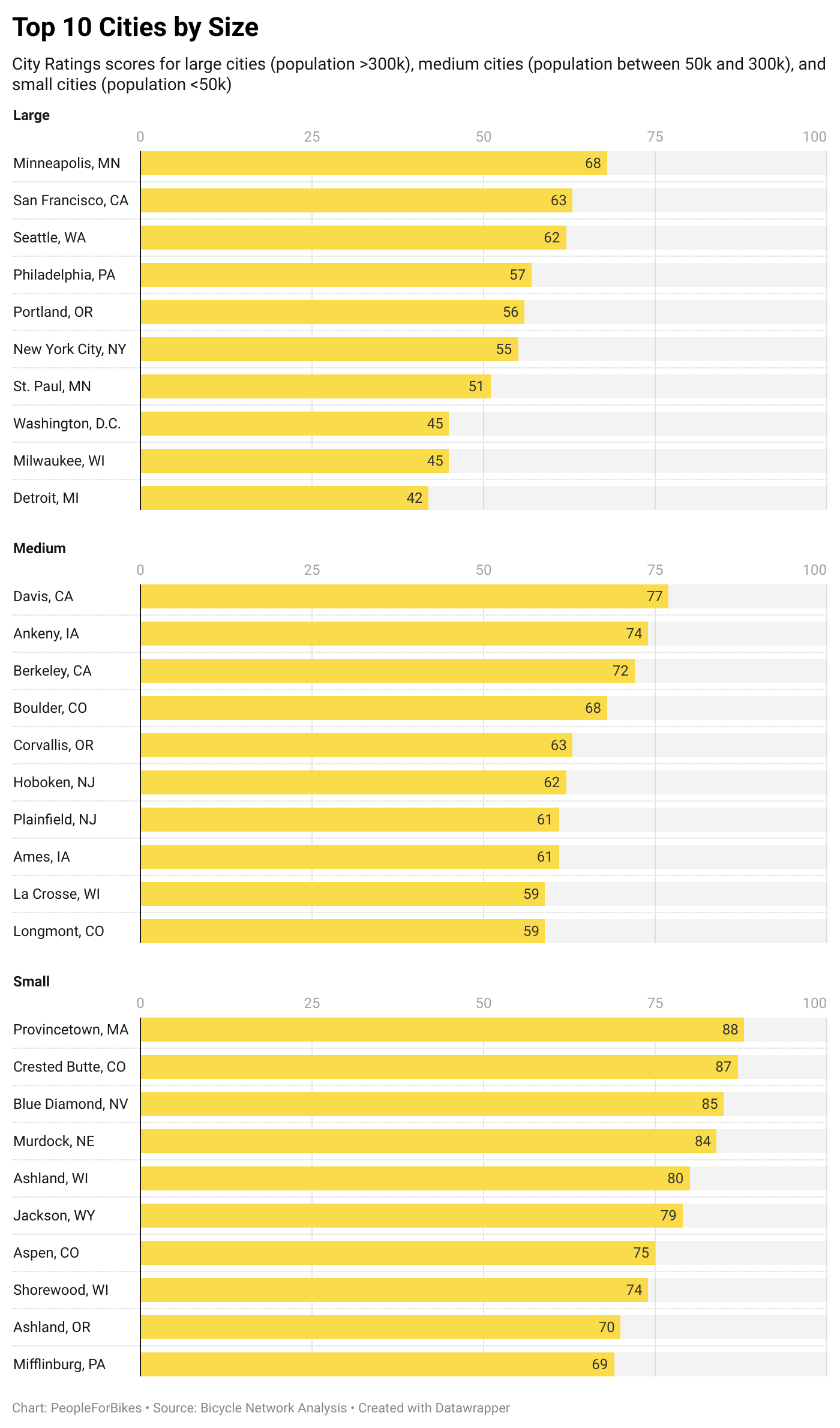 The average score among all U.S. cities is 23 out of 100. Cities in the top 10 score 55 out of 100 on average.


Five percent of U.S. cities score 50 or higher in this year's City Ratings, with 50 being the threshold score for becoming a great place for bicycling. Meanwhile, more than half of U.S. cities score between 10 and 30.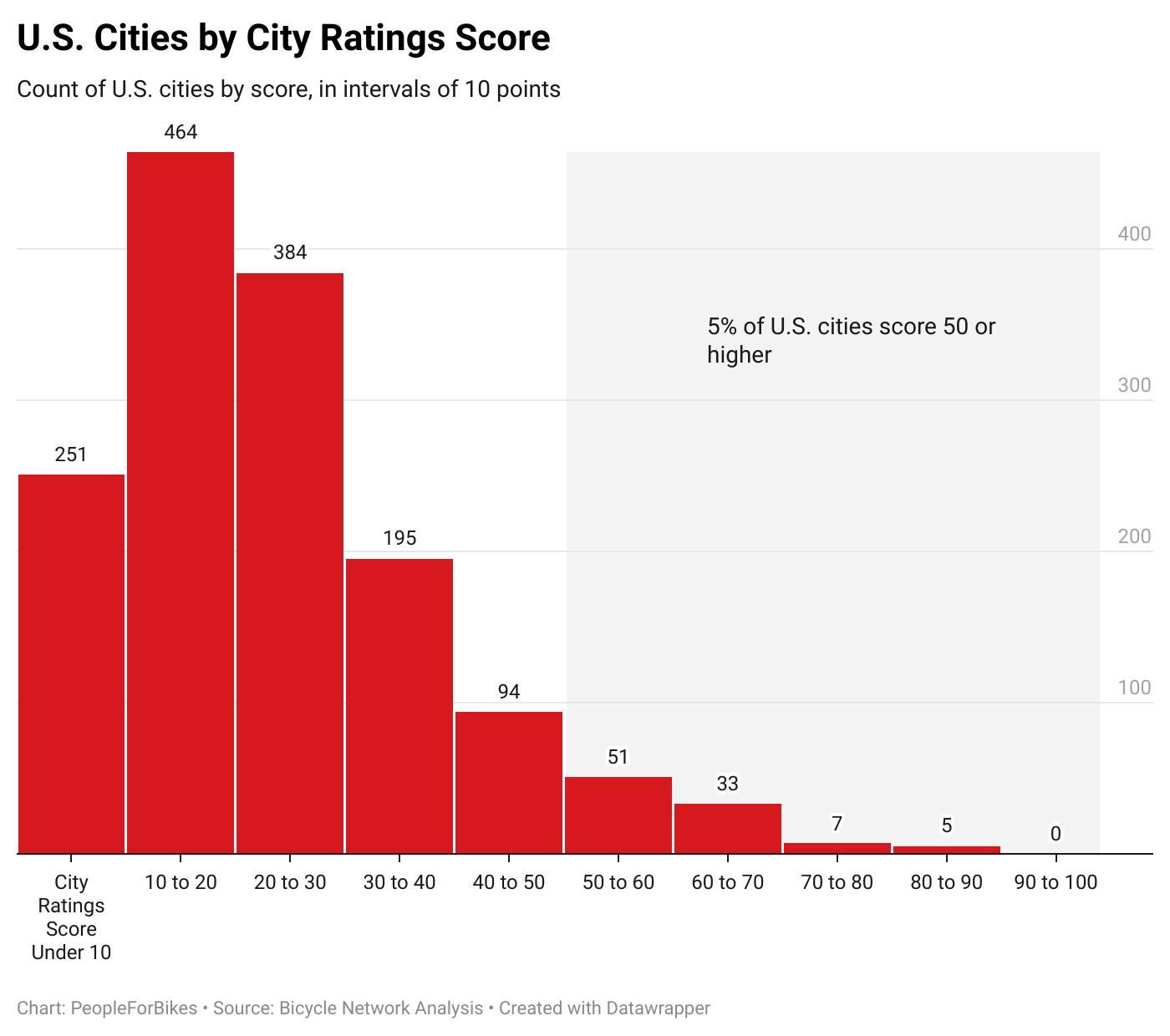 Among medium and large cities with more than 50,000 residents, the top-scoring city in each state ranged from Davis, California (77) to Cheyenne, Wyoming (7).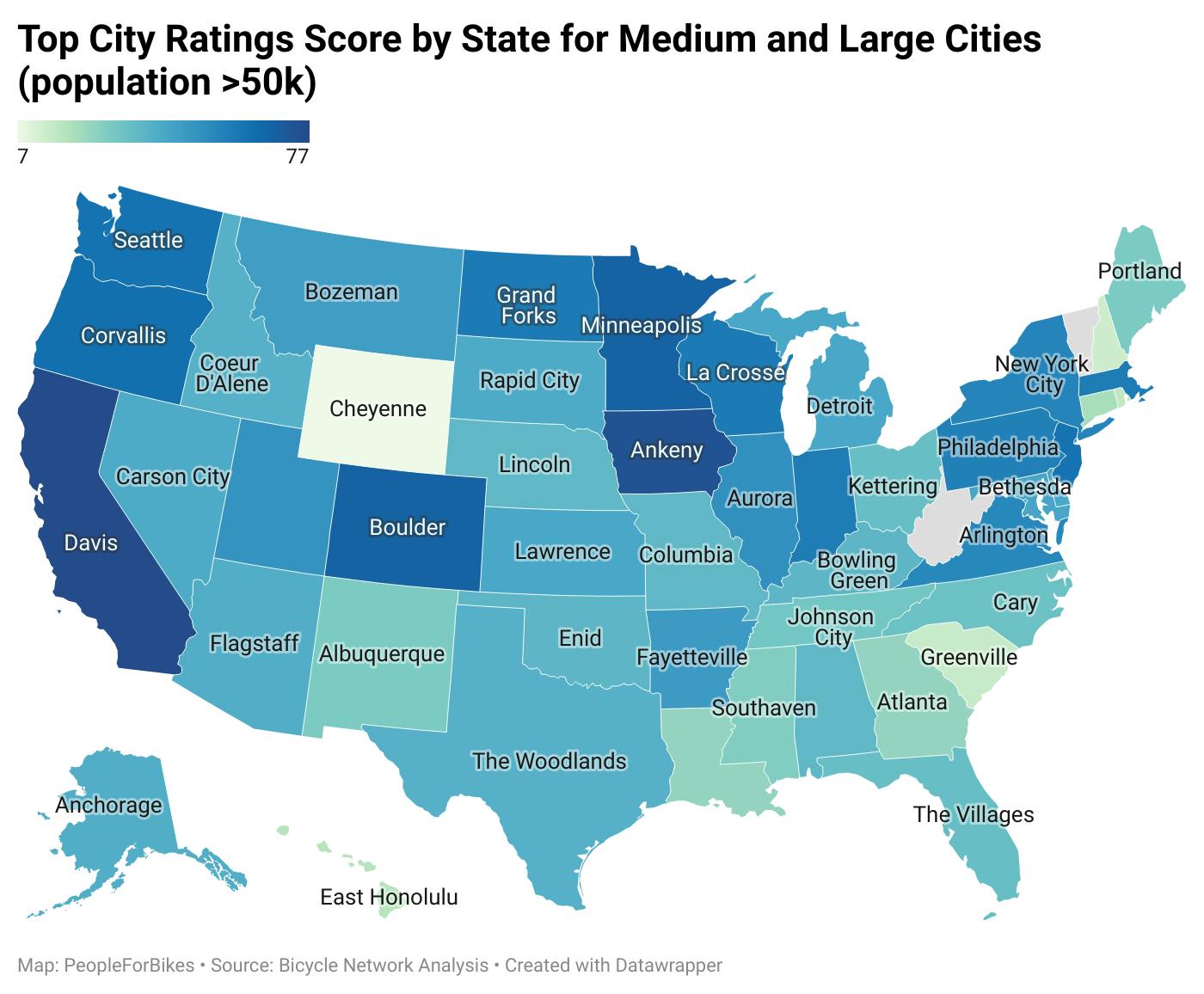 Speed limits play a large role in City Ratings scores, and a growing number of cities across the U.S. are lowering speeds to make their roads safer. Slightly more than half of U.S. cities have speed limits of 25 mph or less on residential roads, while the remaining cities with speed limits of 30 mph or greater on residential roads could improve the safety of their bike network by reducing travel speeds.
Roads outside of residential areas also benefit from speed limit reductions, alone or in combination with other safety improvements such as upgrading bicycle infrastructure. The chart below summarizes the bike infrastructure needed on local roads based on their speed limits to improve a city's score.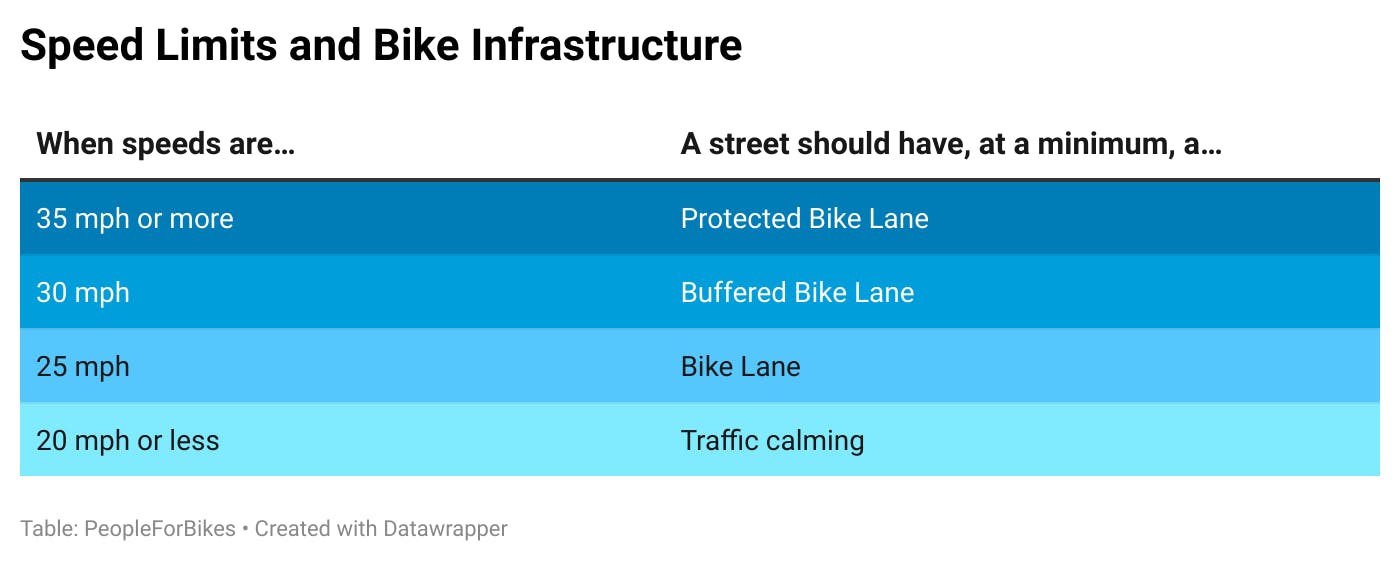 Now in our sixth year of City Ratings, multiple years of data allow us to see changes in the quality of cities' bike networks over time. Data quality has improved over the years as well, which is reflected in score changes. The chart below illustrates five years of data measuring the quality of bike networks among this year's top 10 large cities.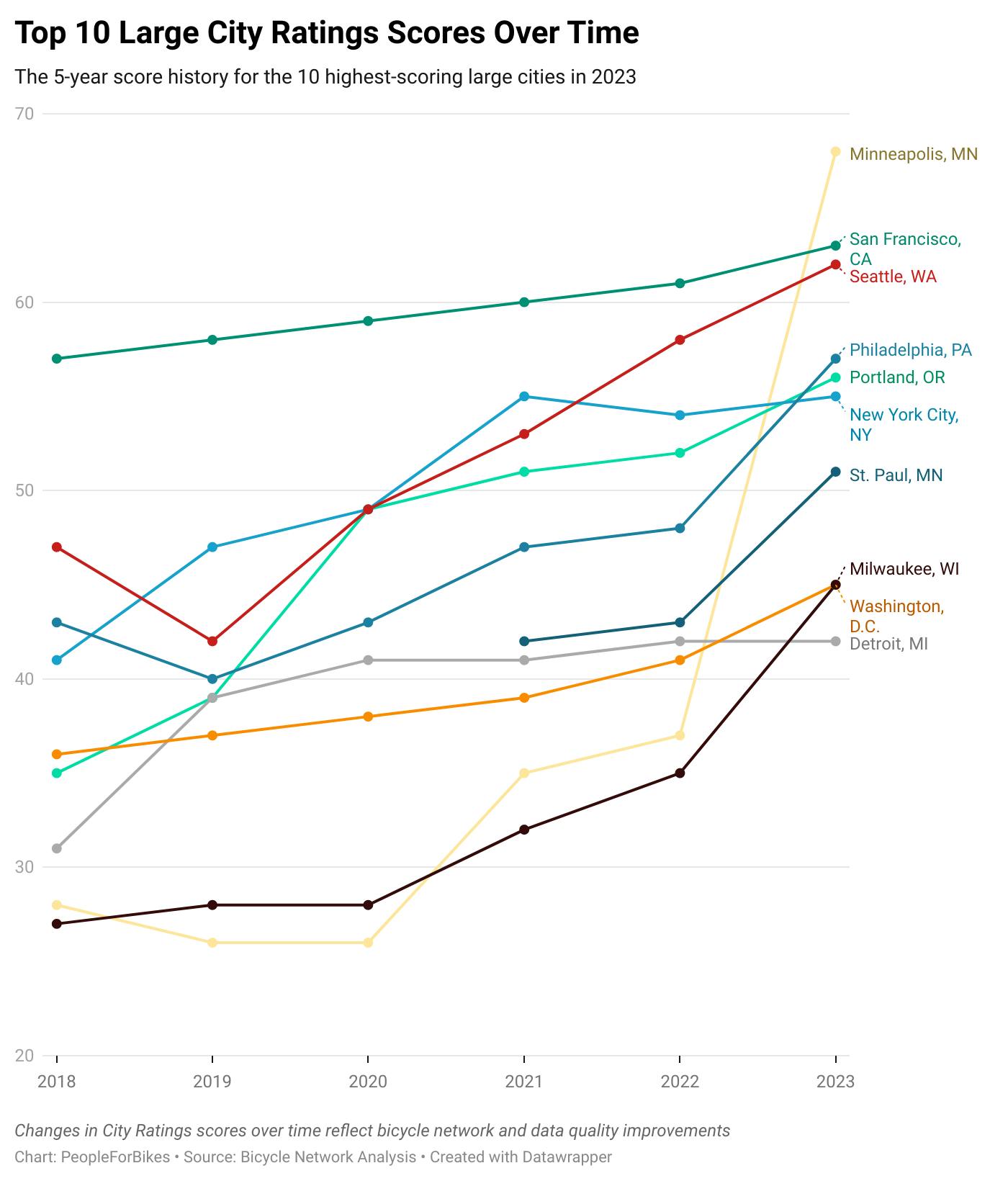 More than just data, PeopleForBikes utilizes its City Ratings program to benchmark cities' progress on improving the quality and connectivity of their bike networks as well as establish best practices for city leaders, decision-makers, and advocates to identify improvements to be made in their communities, ultimately making bicycling better for everyone.