September 7, 2021
What the Growth of Black Peloton Can Teach Bicycling
By: Charles T. Brown and Kiran Herbert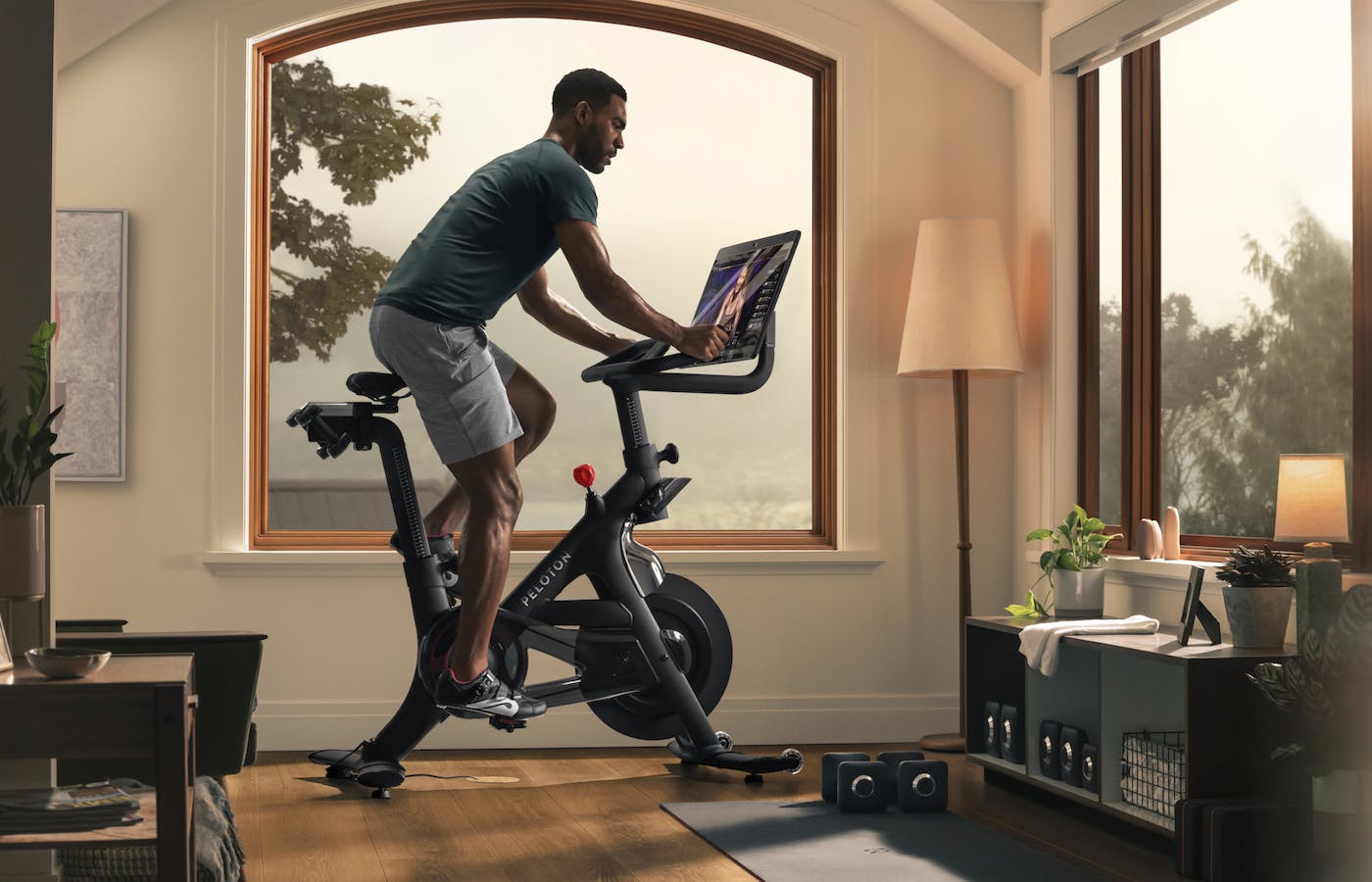 The stationary bike and exercise company offers potent lessons when it comes to fostering safety, comfort and community for BIPOC riders.
Before she joined Peloton, Tonoka Metoyer wasn't a biker, although she always wanted to be. 
"I've always felt like bicycling was cool," said Metoyer, who spent almost three decades living in South Florida and Atlanta. "I've always had friends that bike, and I saw people that did it. I just never did it."
Metoyer, who works remotely as a medical sales representative, moved to Montgomery, Alabama, right before the pandemic. The absence of a commute, coupled with the lack of good bicycling infrastructure and a community to ride with, meant Metoyer was unlikely to take up biking on her own. When COVID-19 led to the closure of her CrossFit gym, however, Metoyer needed something to fill the fitness void. Through a friend, she was invited to a private group chat of Black Peloton users — Metoyer ordered a bike, started riding and is now nearly 250 rides of various lengths and intensity into her journey. 
Peloton Interactive was founded in January of 2012, the brainchild of a Barnes & Noble executive who saw an opportunity to bring the high-end spin studio experience into people's homes. After a successful Kickstarter campaign and several rounds of raising seed money, a version of the Peloton bike that's now ubiquitous — with its mounted touchscreen and speakers for streaming classes — was released in 2014. In 2018, Peloton expanded to the U.K. and Canada and in 2019, the company went public, raising $1.16 billion (Peloton is currently valued at closer to $4 billion).
When the demand for home gyms surged amid pandemic lockdowns, many people turned to Peloton, ordering bikes despite shipping backlogs to join a community of millions. But Peloton's success isn't solely attributed to convenience or COVID-19. Rather, the company employs a growth strategy that values the patronage of historically marginalized groups, celebrating diversity and allowing both its instructors and community members to show up as their whole selves.
When compared to the traditional bike industry, which has long been criticized for its diversity problem and has made few strides despite public commitments, Peloton's user base is much more representative of American demographics. In particular, the growth of Black users, both men and women, on Peloton offers potent lessons for the bike industry as a whole, including those working in city government, transportation, advocacy, health and the nonprofit sector. The Black Peloton group on Facebook currently has more than 29,000 members from around the globe and many of the company's most prominent bike instructors, including Alex Toussaint, Ally Love and Tunde Oyeneyin, are Black. Anecdotally, the number of committed Black Peloton riders appears to exceed Black folks passionate about traditional bikes, with a fair amount of overlap between groups.
So, what is Peloton doing right when it comes to Black Americans? For starters, the company understands and values Black culture, a fact most evident through its marketing, programs and music selection, which center Black lives and experiences. From Peloton's ads to its website to its Instagram, there is an open celebration of diversity, consistently showcasing Black and brown employees and customers. When honoring Black History Month, the company goes beyond rote social media campaigns, instead curating rides set to Black musicians, releasing an apparel collection in collaboration with Black artists and hosting fireside chats with musicians, actors and activists. When was the last time the bike industry celebrated Blackness in a similar way? The success of Marshall Walter "Major" Taylor comes to mind, but his heyday was at the turn of the last century.
Peloton does a great job of bringing in modern Black cultural icons, curating rides with music from Bad Boy Entertainment for example, or developing an 8-week series called the "Year of Yes" with television producer and screenwriter Shonda Rhimes. When Peloton partnered with the queen herself, Beyonce, the company simultaneously gifted two-year digital Peloton memberships to students at 10 historically Black colleges and universities. These rides celebrating Black greatness being led by Black instructors showcases yet another aspect of Black leadership and talent, not only as creatives and cultural icons but as teachers and experts as well. What's more, many Black celebrities, Beyonce included, are Peloton riders themselves.
"They have a brilliant marketing model and are incredibly reactive — and in some cases proactive — to the needs of their customers," said Maisha Rudison-Bryant, a Black healthcare director based in North Carolina. "[Peloton] listens and then they change. I think that for any company that is not often an easy thing to do but they seem to do it flawlessly."
In addition to adding more rides celebrating Blackness, Peloton doesn't shy away from confronting current events head-on. After the murder of George Floyd in May 2020 and the resulting protests around the U.S., the company didn't hesitate to say, "Black Lives Matter," angering some users who viewed it as a political statement. During a time when all sorts of organizations were stalling on what to say, scrambling to craft DEI mission statements and struggling to acknowledge the Black experience, often for the first time, Peloton led the way for corporations coming out in solidarity.
Many people in the Peloton community remember a class Toussaint taught amid the worst of the social unrest, where he shared from his heart the pain he was undergoing as a Black male in America and urged his followers to take anti-racist action. Similarly, Oyeneyin created a 30-minute class dubbed "Speak Up," which was part performance art, part activism and all fitness, imploring riders to "get comfortable with the uncomfortable" and meet the moment.
"Peloton allowed employees to speak to who they were as people and to use that platform as an outlet for some of the rage that was out there in the Black community," said Rudison-Bryant. "They don't seem to separate the fact that we are humans. We have things that we do in our day-to-day lives and our work but those two worlds, they shouldn't be separate."
Rather than censor or edit its employees, Peloton celebrates them, encouraging vulnerability and conversation. Jen Cotter, the chief content officer of Peloton, told The New York Times that while instructors are generally expected to avoid political topics, the Black Lives Matter movement wasn't political. "We see this as a human rights issue," she said. "Those are not the same for us, politics and civil rights."
The direction from Peloton's leadership — who represent a variety of backgrounds and ethnicities themselves — is one of the reasons the company has been so successful in reaching a diverse and devoted user base. Although Peloton's board of directors and executive leadership, like many organizations, is still overwhelmingly white and male, its chief strategy officer, Dion Camp Sanders, and head of global marketing and communications, Dara Treseder, are Black. For her part, Treseder prioritized a marketing strategy that emphasizes diversity and promotes community over products.
"Connection to culture for us is something we do intentionally and authentically," Treseder told AdWeek earlier this year. "It's not enough to just talk about diversity. It's a commitment to anti-racism: What are the things we're going to do to be truly anti-racist? Cultural marketing is not something that sits in a silo over here — it's something that's infused into all we do."
The difference is obvious to users, who take note of everything from the camaraderie and authenticity of Peloton's instructors to the friendships and affinity groups that form outside of virtual rides.
"[Peloton] brought in some of the most well-regarded people of color into marketing positions and into roles that directly affect the customer base, and I think that's the primary reason they've been so successful, no question," said Rudison-Bryant. "At every level of the company, you see a reflection of yourself and I think that that's important."
That sort of modeling goes a long way toward making people feel comfortable trying something new. In fact, comfort is another reason Peloton is so successful: not only does it promote an inclusive atmosphere, but by nature of being an indoor, stationary bike company, it offers riders a way to participate in the sport without leaving their home. Peloton riders don't have to worry about having the right gear, being discriminated against by law enforcement or neighbors, showing up to work sweaty and being judged by colleagues, messing up their hair in public, catcalling from passersby or inadequate bicycling infrastructure — many things we know affect women, and in particular minority women, more than others.
There's also an element of safety that partially explains why Black riders might be drawn to Peloton over biking on the road. It's a fact that traffic enforcement disproportionately affects BIPOC riders, resulting in over-policing and leading to "Arrested Mobility" with a slew of adverse social, political, economic and health outcomes. In America, Black people must face the ever-present threat of discrimination, intimidation and physical harm whenever they step outside, whether it be while driving, walking, running or bicycling. In the world of Peloton, that danger doesn't exist. There, a Black man can virtually high-five a stranger without the possibility of it being taken the wrong way or putting his life and livelihood at increased risk. 
While there are limitations to using Peloton for persons with disabilities, in general, it's also a more accessible product than many similar-quality road or gravel bikes. While the original Peloton bike starts at $1,895 (plus $39/month for the required all-access membership), the company offers 36-month financing at 0% APR. While still expensive, the bikes are easy to navigate and cost less than many premium road bikes, gym memberships or dealing with societal unease.
"Underrepresented minorities spend trillions of dollars on stuff and a lot of companies are missing the ball by not marketing to us," said Bianca Blades, a Black Peloton user who works as an HR consultant and diversity strategist. "We have the money and we're going to spend it. But some people still don't want a certain demographic representing their product due to history, which is sad."
Once Peloton's marketing efforts do the job of getting people in the door, the company's dual emphasis on fitness and community is what gets them to stick around. Peloton riders are constantly being encouraged to connect with other users, via the aforementioned high-fives, various groups and teams or hashtags. For Black riders, hashtags range the gamut from #BPR to the Black Peloton Riders Community to #BlackGirlMagic, for Black women, to a variety that represent the Divine Nine, the umbrella term for historically African American fraternities and sororities. By allowing people to use multiple hashtags, a rider can rep #BPR alongside #PeloBuddhas (the official Buddhist group of Peloton) and #Vets (for veterans). Thus, the company allows for and encourages intersectionality in a way American society typically does not.
Peloton celebrates individuality while promoting the collective, empowering people to feel free to express who they are in the context of a community. Even when riding a Peloton alone in your living room, you never feel alone. Riders can start with a group, take an on-demand class alongside others and even get a shout-out from the instructor during a live class. As a Black bicyclist outdoors, being alone is more of a default, albeit one that Black riding groups are aiming to combat. For many Black Peloton riders, including all of those interviewed in this article, the camaraderie of Peloton often carries over to real-world interactions, via private groups, meet-ups or in-person rides. 
"For me, [my Peloton community] has been a lifeline," said Metoyer. "Just being able to connect has been very motivational, both on and off the screen."
If everyone working in the world of bikes were able to cultivate the same level of community and motivation amongst BIPOC riders, the effects would soon multiply — more bicyclists on our streets would lead to a safer riding environment for everyone. According to a report from the League of American Bicyclists, Black and brown riders are the fastest-growing segment of the bicycling population, and PeopleForBikes' research during the pandemic showed that BIPOC bicyclists represented 44% of new riders, compared to 33% of active riders before COVID-19. 
In June of 2020, Peloton CEO and Co-founder John Foley issued a public statement outlining the company's commitment to anti-racism. In the letter, Foley announced that Peloton would be investing $100 million over the course of four years to "fight racial injustice and inequity in our world and to promote health and wellbeing for all." He went on to note the responsibility of corporations — with their large resources, platforms and influence — in combating systemic racism, acknowledging that "this kind of important work starts from the inside out" at the employee level. The same could be said for many government and nonprofit organizations.
Peloton's trademark saying is "Together We Go Far" and the company brought that ethos to its anti-racism work, co-creating with rather than dictating to those who receive funding. Although simply issuing a statement is never enough, articulating a vision and committing a substantial amount of one's budget to that vision are necessary first steps. People of color, be they customers or employees, know when an organization's platitudes are authentic based on what follows. That, perhaps, is the most important lesson of all: Actions speak louder than words.
Charles T. Brown is the founder and principal of Equitable Cities, a minority- and veteran-owned urban planning, public policy and research firm focused at the intersection of transportation, health and equity. He is also an adjunct professor at the Edward J. Bloustein School of Planning and Public Policy at Rutgers University and an active road cyclist and Black Peloton rider. Kiran Herbert is PeopleForBikes' local innovation writer and content manager.