June 1, 2021
What St. Paul Got Right For Bikes
By: Kiran Herbert, local programs writer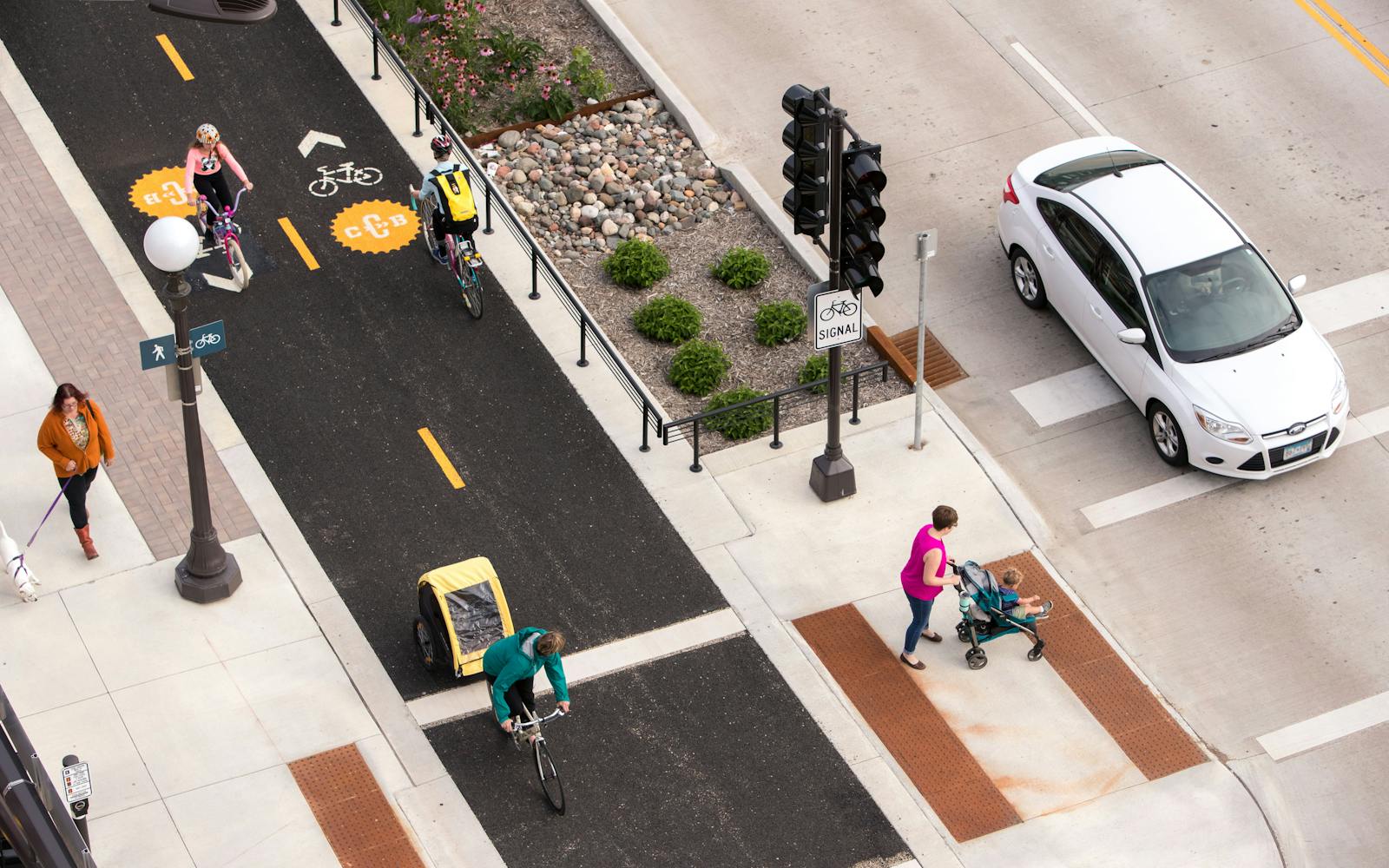 Jackson Street in St. Paul, Minnesota, part of the Capital City Bikeway network. Credit: Toole Design © Bruce Buckley
From 2020 to 2021, the Minnesota capital's City Rating score increased significantly. Here's why.
At first glance, St. Paul, Minnesota, doesn't seem like a particularly impressive city when it comes to bicycling. With a 2021 City Ratings score of 46, the midwestern capital falls just below the threshold of a score that translates to high ridership, improved safety and considerable access. However, St. Paul residents who responded to our Community Survey, a major component of every city's overall score, believe St. Paul is a great place for biking.
Why the gap? Well, the community score accounts for residents' insights regarding how often people ride, how safe they feel, how well the local network serves them and if they're aware of nearby bicycle resources. In a place with a strong bike culture, like St. Paul, respondents might skew in favor of those who ride the most (those who don't ride at all aren't likely to respond to a survey about biking), as well as those who ride recreationally (our scores account for the transportation experience). Add in new, highly visible infrastructure and St. Paul's efforts to take a Complete Streets and Vision Zero approach, and folks may not realize how much better bicycling in the city could be.
Still, St. Paul is among the top 10 large U.S. cities for bicycling and the most improved compared to 2020. Championing bicycling in St. Paul's is Mayor Melvin Carter and his Chief Resilience Officer Russ Stark, who've made a dedicated bike network a top priority. The city's overall bike plan, adopted in 2015, lays out an eventual 346-mile network, although the city is currently at 207 miles with no set timeline for completion. And like just about every place in America, St. Paul has work to do when it comes to making transportation more equitable. Luckily, its diversity is well-represented amongst city officials, going a long way to help people feel like their viewpoints are being represented and advanced.
There are two major factors that led to St. Paul's 2021 score bump, one of them being a series of infrastructure improvements that came to fruition in 2020. Those include critical improvements to the city's downtown area and a significantly improved network by way of several brand new Regional Trails, the term the Twin Cities uses to describe bikeways that link neighborhoods throughout the metro area. The second, relatively easy action St. Paul made was to lower its default speed limits, switching from 30 to 20 mph on residential streets and 25 mph downtown. 
"It was important to us as owners of the rights of way that the speed limits we post be reflective of the speed limits we want people to drive," said Reuben Collins, transportation planner and engineer with the city. "The first step in getting people to drive slower is setting the expectation that you want people to drive slower."
Excessive speed is a chief cause of crashes and fatalities on U.S. roadways yet the issue doesn't often get the national attention it deserves. More than 10,000 people are killed in speed-related collisions each year (the number of which has increased during the pandemic), a statistic that's in line with alcohol-related crashes. Lowering speed limits is a matter of life and death: A person hit by a car traveling 35 mph is three times as likely to die as someone hit at 25 mph. When the Minnesota state legislature changed its laws in 2019, allowing cities to deviate from the state standard and set speed limits on their own streets for the first time, St. Paul saw an opportunity.
Due to the fluid movement between St. Paul and Minneapolis, whose adjacent borders are separated only by the Mississippi River, it made sense for the cities to coordinate lowered speed limits and a "20 is Plenty" educational campaign. From the beginning, both municipalities agreed that increased enforcement was not the desired method, deciding it wouldn't be sustainable, effective or equitable. The changes were primarily communicated through a public awareness video (available in Hmong, Spanish and Somali), press releases and newspaper articles that emphasized safety.
Not wanting to post signs on every single residential street, the Twin Cities collaborated on a strategy to target key areas. Utilizing relatively inexpensive lawn signage, stickers and "gateway signs" at various entry points to each city, St. Paul and Minneapolis were able to communicate that a residential speed limit of 20 mph was now in effect. In the end, St. Paul still installed or changed more than 725 speed limit signs on city-owned streets (Minneapolis' number was more than double). 
"The fact that Minneapolis and St. Paul moved together with the same program, implementing it at the same time — I think it made the system stronger, more resilient to criticism and easier for the public to understand," said Collins, noting that the cities leaned heavily on NACTO guidance. "The response has been universal applause that lowered street limits is a good thing."
It's certainly good for bicycling. In 2020, St. Paul's Bicycle Network Analysis (BNA) score, a key factor in determining our City Rankings, was nine. The infrastructure improvements completed last year, combined with the citywide speed limit changes, bumped St. Paul's BNA score to 42. It's a dramatic increase and only adds to PeopleForBikes' position that slow streets are safe streets.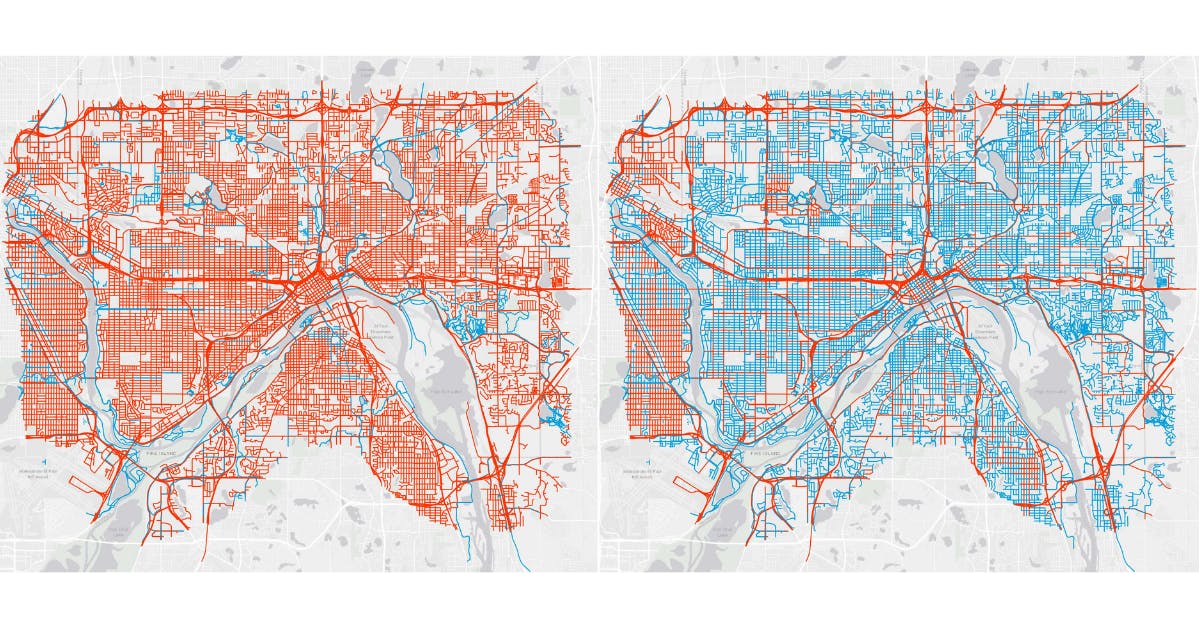 St. Paul's network map in 2020 (left) and 2021 (right). Lowering speed limits on residential streets transformed the city from majority high-stress thoroughfares, represented in red, to low-stress ones, colored blue.
There is a growing trend to reduce speed limits on residential streets within and outside of the United States. Despite residential speed limits being relatively high across most of Canada, Edmonton and Calgary reduced them late last year, resulting in stronger BNA scores. Still, speed limit reductions can be useless without larger design changes. Memphis, Tennessee, also lowered its residential speed limits to 25 mph but resulted in a BNA rise of just six points due to other network limitations — a good example of how speed limits might help, but must also be combined with other infrastructure improvements. 
In St. Paul, the slower speed limits have only boosted an already strong bicycle culture. Many neighborhood commercial areas are based on old streetcar networks, making shops or restaurants an easy bike or walk from most people's homes. Plus, there's the Regional Trail Network, considered the backbone of cities' bike infrastructure, and a parks department that truly supports it. Add in the fact that St. Paul has already reduced off-street parking requirements along some transit routes — and is considering eliminating parking space requirements for new construction altogether — and the city has a lot going for it when it comes to bicycling.
 "I think we're at a place where our infrastructure is starting to catch up with our culture," said Collins, although he notes this year won't be as big a year for new projects. "Over the coming years, we'll be investing almost as much but in shorter projects with more complex engineering. So the money isn't quite going as far in terms of mileage, but we're still creating important and critical connections."