October 20, 2020
Highlights from the 2020 Virtual Bicycle Leadership Conference
By: PeopleForBikes Staff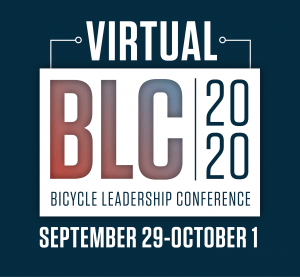 2020 Virtual Bicycle Leadership Conference logo
From Sept. 29 to Oct. 1, nearly 500 attendees gathered for the PeopleForBikes' 2020 Virtual Bicycle Leadership Conference (VBLC) to discuss and learn about diversity, equity and inclusion in the bike industry, e-bike market adoption, sales and ridership data, and continuing the momentum of the current boom in bicycling. 
Our annual industry event brought together global leaders for an agenda packed with virtual keynotes, presentations, panels, training sessions and interactive networking experiences.
Here are just some of the most memorable quotes from the conference:
"In a time that is uncertain, people are looking for products and experiences that bring them certainty and ground them in reality. Consumers are yearning for brands that create an emotional connection and provide comfort in uncomfortable times." – David Kahan, Chief Executive Officer, Birkenstock Americas 
"All other issues surrounding e-bikes are dwarfed by the urgent need for policies that support e-bikes and e-bike use. We need federal, state and local resources to incentivize people to ride e-bikes and make it easy for them to ride." – Ian Smith, Customer Experience and Central Operations, Bicycle Transit Systems
"Bring diversity into your organization like you'd build a bike. If you build a bike for yourself and then give it to someone else, it won't fit. The seat is too high, the reach is too long, the tires aren't right. Bring people in and let them build their own bike." – Sam Scipio, Road, Gravel and Mountain Bike Rider and Racer, Liv Racing Athlete
"Bikes don't discriminate, people do. There is no 'shut up and bike' — we must speak up about the things we see and hear that we know are wrong. Use your power to be the one to create change, don't wait for someone else to do it." – Tamika Butler, Principal + Founder of Tamika L. Butler Consulting
"Make your customer the hero of your story, not your brand." – Kristin Spiotto, Storybrand Facilitator
"The tools we use are only as good as the members that come together to combine data and influence to support and grow the bike industry." – Chris Speyer, Vice President Product Merchandising, REI Co-op and Chair of PeopleForBikes Coalition Board
Day Two of the VBLC, sponsored by SRAM, was dedicated to Mobility Justice and Anti-Racism.
Here are tools to improve diversity, equity and inclusion in your workplace and start taking steps to help build an anti-racist bike industry.
The success of this year's VBLC is due largely in part to the support of our sponsors and coalition members. In addition to receiving exclusive access to ongoing educational events, PeopleForBikes Coalition members gain access to the most up-to-date industry data and insights, policy representation, owner's manual, Ride Spot and sustainability and safety resources. Help support our shared mission to get more people on bikes more often by becoming a PeopleForBikes Coalition member today.