May 2, 2019
Two-Way Protected Bike Lane Critical Link in LA's Downtown Bike Network
By: PeopleForBikes Staff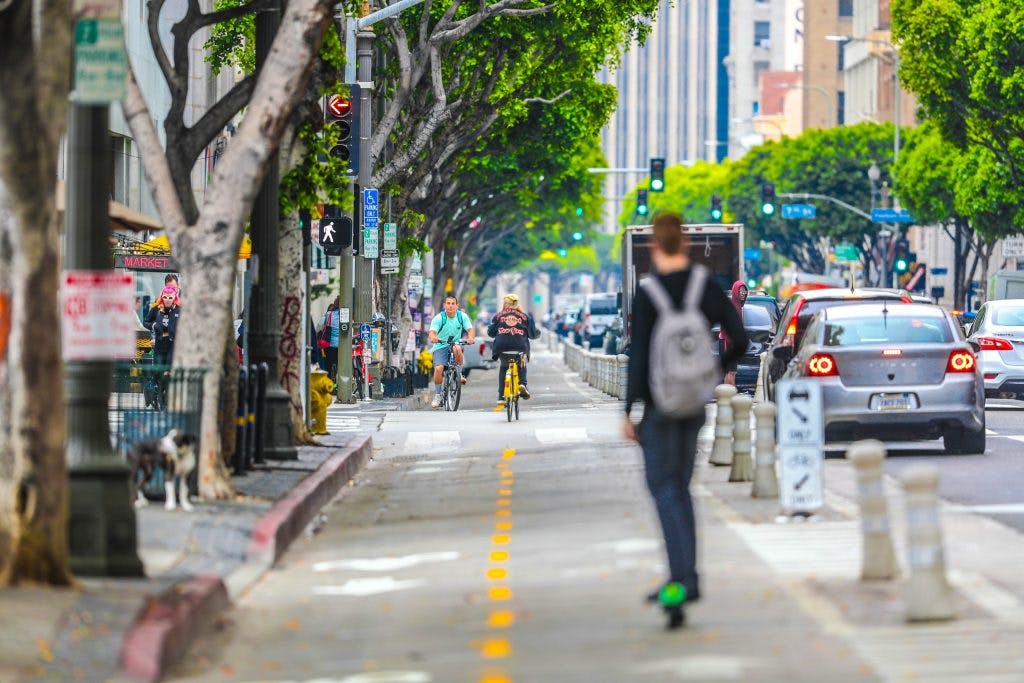 New Spring Street bike lanes.
The newly opened Spring Street two-way protected bike lane is the first half of a project that will provide a major north-south connector for downtown Los Angeles this year. Collectively called the Main & Spring Forward Project, both streets will connect to 11th, which has a new green bike lane going east-west. According to LA Department of Transportation Planning Associate Lameese Chang, the Main & Spring Forward project is critical to the downtown network. Where there used to be bike lane fragments, there's now a complete loop that connects to Figueroa Street — the other major north-south corridor, and allows people on bikes to get throughout downtown and to the University of Southern California.

In addition to the Main & Spring Forward Project, Chang says, "We've made improvements to Figueroa Street to prevent vehicles from parking in the bike lanes — by adding additional flexible delineators at key locations." In any large city, a change in infrastructure is a learning process, and Chang is optimistic about how the new improvements throughout downtown will help the transportation experience for everyone.
Jessica Meaney, Executive Director at Investing in Place, traveled to Spain with a PeopleForBikes study tour in April, 2018. She and a team of city leaders witnessed bi-directional bikeways in Barcelona and Seville, and it really changed how they thought about infrastructure priorities. "We were exposed to such a different way of doing mobility that our chief engineer, Dan Mitchell, came home and implemented what we learned in less than 12 months." Meaney noticed in Seville that there were numerous women and children on bikes. She's hoping that can be replicated in LA. "The bi-directional bikeway on Spring slows everyone down and is barrier-protected. Anything we can do to boost the number of people who identify as women getting on a bike, I think that's a huge win."
Dan Mitchell, Assistant General Manager of Project Delivery & Operations at LADOT, has been working for the department of transportation for 20 years, but had never experienced what he saw in Spain. "I was skeptical at first, but when I saw how effective the two-way bike lanes were in Barcelona and Seville, I became a believer." Mitchell says plans were already in place to create one-way protected bike lanes on both Main and Spring, but as soon as they got back from the study tour, they pushed the two-way plan into action. Mitchell says the two-way bike lane is so effective because of the safety factor. "It's comfortable and it's low-stress…I brought my 11-year-old son downtown over the weekend to give it a try and he thought it made for much easier riding. It's just a convenient connection between destinations on that street."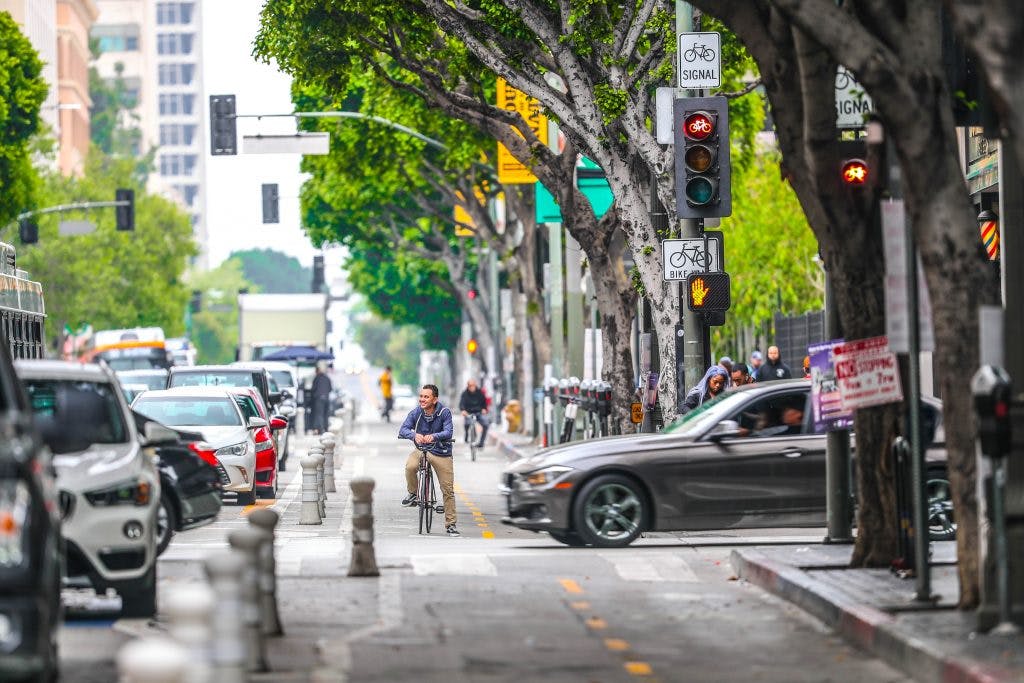 Other new improvements to Main & Spring will include easier crossings for pedestrians, advanced traffic flow for buses, and better parking options. The area has multiple bikeshare stations, as well as dockless bike and scooter options. Changes and upgrades will continue as more residents in the area take advantage of the infrastructure, and LADOT collects data.
This is a significant step forward for downtown LA. Protected bike lanes are especially powerful because they allow people to not only be safer, but to feel safer. Perceived safety is something we measure in our City Ratings, and we know that more people ride bikes when they feel safe. The Main & Spring Forward Project is a great example of improved safety in action.