February 9, 2022
The Evolution of PeopleForBikes' Hiring Practices
By: JJ Trout, PeopleForBikes' chief of staff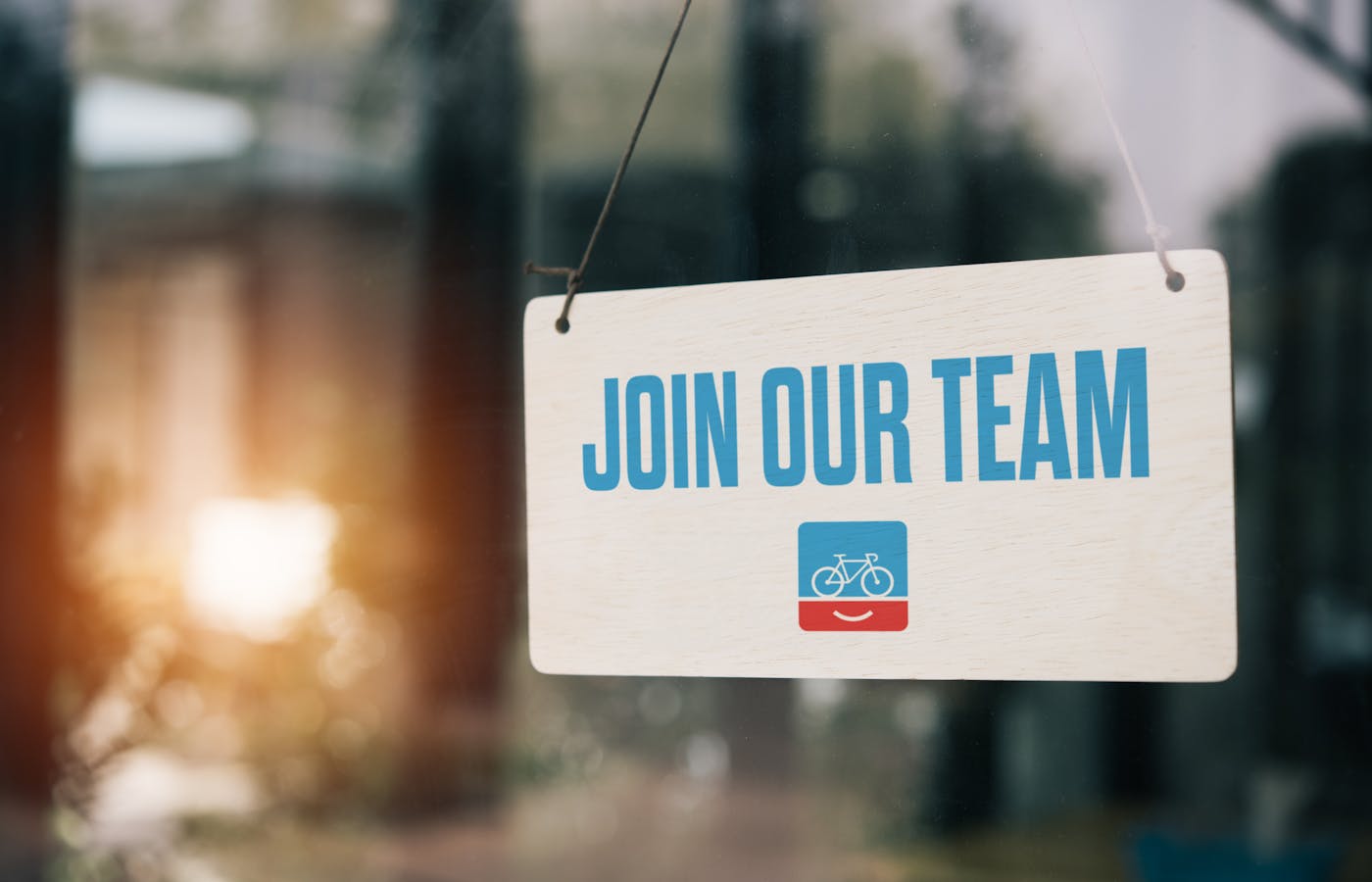 Our chief of staff shares resources and lessons learned from almost two years spent engaged in diversity, equity and inclusion work.
A job description is often a potential employee's first interaction with your company. Not only is it an opportunity to spell out what a position entails, it's also a place to showcase what your company stands for and the type of work you're committed to. The same could be said for all aspects of your talent management life cycle, from onboarding to performance management to recognition. As chief of staff at PeopleForBikes, a big part of my role is to facilitate our entire talent management life cycle and infuse our core values every step along the way. 
One priority at PFB is weaving diversity, equity and inclusion (DEI) into every aspect of the organization, including the talent management life cycle. In the last two years, we've made a lot of changes — some big, some small — and we're proud of what we've been able to accomplish thus far. We realize we're all at different stages in our DEI journey, but in order to remain transparent and inspire positive change, we decided to share some of the resources we've found most helpful, as well as our biggest takeaways. 
As an organization, we know we're not perfect, and there is always more that we can do. But we are committed to continuous improvement and encourage feedback. Suggestions? Questions? Drop us a line and share your thoughts. As the great Maya Angelou said, "Do the best you can until you know better. Then when you know better, do better."

Our Top Resources

Colorado State Law — Working to end the pay gap
PeopleForBikes is based in Colorado, and new laws that went into effect in 2020 — laws that keep companies from retaliating against workers who discussed their compensation, require salary ranges on all job descriptions and ensure companies post all promotions prior to awarding them — were a main motivator for us to form a committee and rethink our hiring processes. These new statewide policy requirements led to some really uncomfortable conversations at PFB that we probably would not have had otherwise and the organization is all the better for it.
Internal DEI Committee — Operationalizing DEI at PeopleForBikes
Our DEI committee, launched in 2019, is composed of passionate PFB staffers from every department who are committed to helping the company envision what a more diverse, equitable and inclusive workplace might look like. It was within the DEI committee that we first started to reevaluate our hiring process. Through biweekly meetings, the committee helps keep PFB's momentum going by creating action plans, seeing those plans through, communicating our efforts and addressing relevant issues that pop up. We review every job description before it goes live, flagging non-inclusive language and providing constructive feedback.
External DEI Committee — Working Towards DEI in the Bike Industry
Formed in 2020, this committee is made up of highly talented individuals representing companies from across the bike industry. Although PFB facilitates the meetings, as a group we're learning together and identifying ways for the industry to work collectively. I sit in for takeaways and there have been some great nuggets from this group, like prioritizing starting with personal anti-racism work and being more aware of how our experiences and biases influence our actions.
This is an open-source tool anyone can use to find and remove subtle bias in job ads. Based on a 2011 study, the decoder scans text for masculine and feminine-coded words. The goal is to write job descriptions that code heavily female, as research shows women are less likely to apply when job descriptions use masculine-coded language. Female-coded language, however, has little effect on men.
This book's four-step hiring method has been PFB's go-to for years. Most important from a DEI lens is that it provides one standard set of questions and processes to evaluate a candidate's qualifications. Uniformity is key to eliminating bias because it stops interviewers from asking different questions from different people. This method also requires our staff to score and rate candidates rather than use their gut feelings, further helping to prevent personal bias.
This BIPOC- and women-led nonprofit works to achieve workplace DEI advances in the outdoor recreation industry. Not only does it offer a lot of resources that extend to all employees of participating member organizations, including the Building Blocks of DEI, but its online training sessions equip leaders at all levels to contribute to inclusive and equitable workplaces. An invaluable resource Camber provides is its annual survey, developed by Camber in cooperation with the Claremont Evaluation Center, which we send to our entire staff. Camber provides us with the anonymous results and key actions we can take to move the needle internally on DEI.
This Black-led, queer-led, woman-led nonprofit's mission is to help build sustainable change by supporting collaborative journeys for racial and economic equity. Beloved performed PeopleForBIkes' first equity audit and led a group of our staffers through several sessions to pin down our DEI goals that we will be finalizing this year.
This BIPOC and women-led consulting group has been excellent at training and facilitating conversations with our External DEI Committee. We're excited to start looping them into internal staff training as well. They create pathways, offer up vetted resources and provide innovative strategies that support the outdoor and environmental sectors as we move toward diversity, equity, inclusion and justice.
This is a public-private partnership to create an inclusive and innovative hiring pathway. Thus far, it's hosted two peer learning and hiring events with the goal of closing the gap between qualified potential employees and employers in the conservation field. At the time, PFB didn't have roles open to hire through these events, but we attended and learned a lot.
Virtual Inclusion Conversations
USA Cycling and The Inclusion Playbook hosted a series of virtual conversations in 2021, all geared towards building a more inclusive bike industry. All four of them are now available to watch online. My favorite was "Unpacking Race, Gender and Socioeconomic Status."

Our Biggest Takeaways

The outdoor industry has done a good job at better representing women — let's go further.
Camber shared a chart with us that showed how far we've come in having women represented equally to men at all levels of outdoor companies. That's cool. Just like Camber expanded its mission from women to include all underrepresented groups, so should the bike industry. We're ready for this.
Making Commitments Public.
Voicing our commitments in a public forum has been helpful with garnering and maintaining support. 
In addition to working on DEI-related campaigns within the outdoor industry, the In Solidarity Project created and stewards the Outdoor CEO Diversity Pledge, which PFB CEO Jenn Dice signed. Equiticity, a racial equity movement based in Chicago with this Racial Equity Statement of Principle is gathering information to publicly report out this year on how national transportation organizations are addressing racial equity and mobility justice. PFB is proud to have participated in that research.
Where you recruit matters.
In addition to the career boards we've used for years, we look for job-specific boards to help in diversifying our searches (like the National Association of Black Accountants job board for our VP of Finance position). We significantly increased our budget for posting job descriptions and it has had a strong return on investment. We also love to use job boards that support organizations working on DEI initiatives in the outdoor industry, including Grow Cycling Foundation, In Solidarity, and Camber.
Include salary ranges in your job descriptions.
So many people who apply to PeopleForBikes thank us for putting the salary range in the job description. It's also a major step towards pay transparency, which in turn helps prevent major pay gaps between white men and women and people of color. Another advantage was that it forced us to be really thoughtful about our pay philosophy for all existing staffers. We now use a Payscale subscription to help set salary ranges and then assess and adjust current staffers' salaries yearly to measure up to the current market.
Don't hire a "mini-me" or dismiss someone who's "not a good cultural fit."
A few years ago, I heard someone from within the outdoor industry describe their hiring practice as finding good "mini-mes." They got excited about people who thought like them and wanted to advance people who made good lunchtime riding buddies. But guess what? When you don't hire based on biased qualifications, you get a diverse set of team members who see and move the power of the bicycle in different ways. While a passion for bicycles is imperative, it's not the same for every person. Ultimately, this leads to more and different people riding bikes, all of which is better for a company's bottom line. 
Needing someone to be a "cultural fit" is another nonstarter. Of course, you want someone who will thrive at an organization, but "I just don't think they fit with our culture" means your culture isn't inclusive.
Inclusion must come first.
Although the term DEI puts diversity first, you really have to start with inclusion. If a diverse hire doesn't feel comfortable or like they belong, they're not going to stay.  Our ultimate goal is for every employee to feel like they can show up as their whole selves and feel welcome. We also ask employees at regular intervals what they need to feel like they belong. What inclusion comes down to is being intentional and deliberate about your efforts.
We send out anonymous staff surveys and create spaces where staff feel like they can voice their feelings and opinions. With Ideas2Impact, we also set aside time every year to work on how to be good team members. We're also really flexible on the things that matter to employees, like office hours and remote work. Our dress code is "dress responsibly." We encourage folks to share photos of their vacations and we incorporate team-building games into every staff meeting.
Welcome and set new hires up for success.
Every new hire is provided with a solid onboarding plan created to make them feel like they are well set up for a positive six-month review. It includes a welcome kit that we walk through during four different one-hour sessions to help the new hire understand PFB's expectations. These conversations also set the stage for learning how PFB can best set them up for success. We also have a buddy system where we pair new folks with a more seasoned staffer outside their department for extra connection and support. We continue their success with one-on-ones, biannual reviews, and professional development - but that's for another blog.
Talk about your company values.
PeopleForBikes has an established set of team norms and core values. I send them in the second interview and tell candidates we're going to ask them questions about the norms to make sure it's a good fit. Turns out this is a really good move on our part to sell PFB. Folks are generally floored that we have values and norms at all, let alone incorporate them into interviews.
It's not necessarily about finding more diverse talent. It's about being attractive to diverse talent.
Eliot Jackson of Grow Cycling challenged us to change our perspective, and work on making the bike industry a rewarding long-term career opportunity. Start with these questions: "What can we do to make the bike industry more attractive to BIPOC and increase representation?", "Why would diverse talent want to work here?" and after looking at your website and materials, "How would they know that?" 
It took us a while to get to this stage because we were really conscious about being genuine. First, we updated our equal opportunity language. Then, we updated our Careers page. Eventually, we added a DEI question as a requirement for every cover letter. In time, we tweaked our job requirements to have more inclusive language. Then we updated our equal opportunity language again. It was iterative because DEI work never ends.
Equity means giving more time and consideration to folks who are historically underrepresented.
We ask the same standard questions of everyone and allow the same amount of time for every interview. This is counter to some great research that says folks from historically underrepresented groups might need more time getting comfortable. So, we give more consideration to moving someone who identifies as part of a historically underrepresented group to the next round. Based on research published in Harvard Business Review, we also make sure that we have at least two diverse candidates in the final pool in order to greatly increase the chance of a diverse candidate being hired. This practice has greatly benefited PFB.
It's all about patience and continuous improvement.
Authentic DEI work is made up of a thousand small, incremental changes. As a Type-A, action-oriented person, the most important thing I've learned is that you cannot improve everything all at once. There's no checkbox list to make sure you've done everything right. The main thing is to just get started keeping moving forward, then commit yourself and your company to ongoing education and change.

Want to join our team? PeopleForBikes is currently hiring! Check out our open positions and consider applying today.
Disclaimer: This blog has been provided for informational purposes only and does not constitute legal advice. This information is not a substitute for obtaining legal advice from the reader's own lawyer in the appropriate jurisdiction or state. All readers are advised to consult a licensed attorney to provide advice on hiring, employment or other matters.