June 17, 2021
Pivot Cycles Is Welcoming Refugees to America
By: Kiran Herbert, local programs writer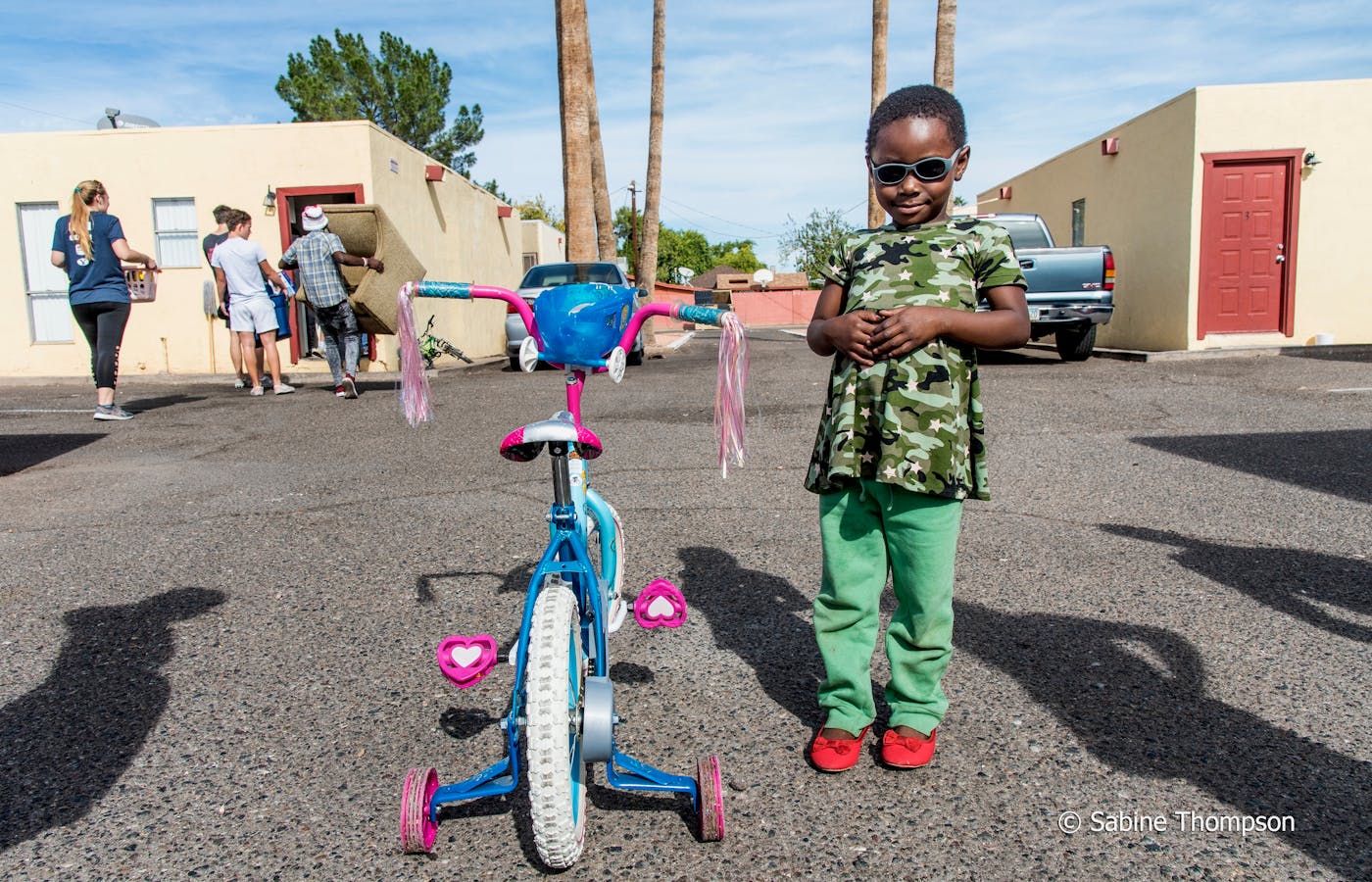 The Arizona-based mountain bike company partnered with a local nonprofit to refurbish bikes for families in need.
In the summer of 2019, Daniel Limburg, a planning and product manager at Pivot Cycles, got lunch with Michael Sullivan, agency director at the Welcome to America Project (WTAP), a nonprofit that helps resettled refugees make a life in the Phoenix Metropolitan Area. As Sullivan described his work at WTAP, Limburg's interest was piqued. It was when Sullivan mentioned the nonprofit's newly launched bike nights, however, where volunteers refurbished donated bikes for refugees, that Limburg saw an opportunity to get involved. 
Founded in 2001, WTAP was the natural outgrowth of one couple's desire to help a newly resettled refugee family from Afghanistan. A refugee, as opposed to a voluntary immigrant, refers to a person who has been forced to leave their country to escape war, persecution or natural disaster. Phoenix consistently ranks among the top 10 cities for refugee resettlement in the U.S., and what started with one family soon blossomed into the 501(c)(3) nonprofit WTAP is today.
For the 2021 fiscal year, the Biden Administration has set a refugee cap at 62,500 people. Once refugees are accepted into the U.S. and placed in a new city, they have just 90 days to assimilate and find a job (they're given six months to pay the U.S. government back for airfare costs). Although refugees are provided housing, many show up with nothing more than a suitcase and a rudimentary grasp of the English language. 
"Imagine if you landed in Tanzania and had six months to figure out housing, food and work," said Sullivan, who served as a WTAP volunteer for more than a decade before coming on as director. "Our goal is to turn fear into hope — and it goes both ways."
Volunteers with WTAP form a welcoming committee, greeting new arrivals and working to make sure they feel accepted in what can be a hostile environment. By providing used and new donated items — everything from furniture to computers to clothing — the organization helps refugees set up their apartments and find work. Recognizing that transportation is a key factor when it comes to accessing essential services, WTAP also provides donated bicycles. For many refugees, a bike might be their only way of getting to an English class or a job, especially during undesirable shift times when transit is less frequent.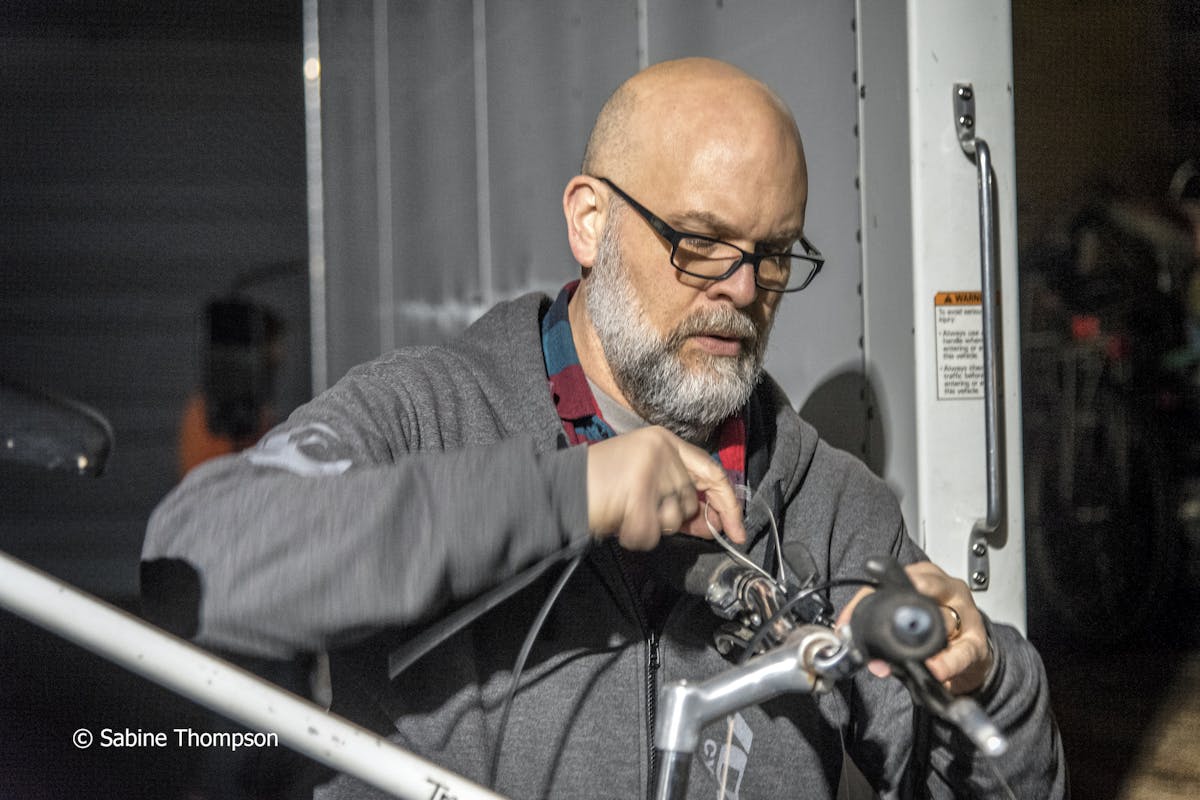 "I realized I could make a difference by repairing and helping people get on bikes," said Limburg (pictured above), who first attended one of the nonprofit's bike nights in August 2019. "When I first decided to volunteer, I shot out a quick office email asking if anyone wanted to join me."
The first night, three Pivot coworkers helped alongside Limburg. In September, a few more attended until eventually, there was a rotating crew of Pivot employees showing up every month. The group would get dinner beforehand at Boulders, a bike-friendly bar and restaurant, before setting out to work for a couple of hours repairing and tuning up bikes at the WTAP warehouse. The bikes are primarily sourced by Shelley Brown, who runs Phantom Cyclist, an organization she started with her husband, a National Interscholastic Cycling Association (NICA) coach and son, a NICA rider. Brown was independently sourcing and fixing up bikes for refugees when she partnered with WTAP in 2018.
By the time Limburg and the Pivot community entered the scene, the bike operation was relatively well established, with Phantom Cyclist and WTAP providing refurbished bikes to families most weekends. Still, the Pivot employees brought a new level of expertise, training volunteers on basic bike mechanic skills, as well as tools and bike stands, which helped accommodate a greater volume of bikes. When Limburg realized Phantom Cyclist was buying bike parts at Walmart, he tapped his network and secured the organization a KHS dealer account and wholesale prices from Biketube, as well as donated cables, housing and brake pads from Shimano, bike components from SDG and tools and cleaning product from Pedros.
"Pivot's been a true miracle force," said Sullivan. "They've given us a continuity that we didn't have before."
When the pandemic happened, many refugees were among the hardest hit, often the first to lose their jobs and become isolated. Although WTAP was still delivering bikes, there were few options for volunteers to gather safely and the repair nights came to a halt. By May, when it was clear COVID-19 precautions wouldn't be lifted, Limburg offered to pick up bikes and repair them at Pivot headquarters. Roughly every other week, upwards of 12 people would get together after hours to work on bikes. Even Chris Cocalis, president and CEO of Pivot Cycles, got involved. 
"My favorite thing about being in the bike industry is giving people a new perspective of how bikes can help," said Limburg. "Bikes are something that can truly save people, allowing them to find jobs, learn the language and assimilate into society."
Bikes are currently being repaired roughly twice a month at both the WTAP and Pivot warehouses. Looking to the future, Pivot is working with WTAP to launch skills instruction programming for refugee children and repair workshops for adults. To date, WTAP estimates that it's been able to get upwards of 500 bikes into the hands of refugees. Since one bike is often shared by multiple people in a family, the ripple effect is much greater. 
Limburg and Sullivan both note the story of a Syrian family, refugees of a war who were shell shocked and suffering from PTSD. Hoping to encourage the family to get outside, WTAP delivered a bike and the family's young son Aziz, who didn't speak English, began pleading with his dad to learn how to ride. A few of the volunteers, including Sullivan, took the boy outside and taught him the basics.
"I forgot you had to run alongside a bike rack," said Sullivan. "At 60 years old, I'm not used to doing that, but the kid learned to ride."
Five months later, the volunteers were back at a neighboring apartment complex when they heard someone yelling at them. Aziz pulled up, alongside a whole crew of new friends on bikes, and started speaking in perfect English—that day, he even helped serve as a translator for a different Syrian family that had just arrived. Learning to ride and having access to a bicycle allowed Aziz to learn English, make friends, explore the community and start dreaming big.
"The trajectory started to change when that bike got into his hands," said Sullivan. "It's not just a bike, it's freedom for the newly free."