September 24, 2020
PeopleForBikes Renews Partnership With National Interscholastic Cycling Association
By: PeopleForBikes Staff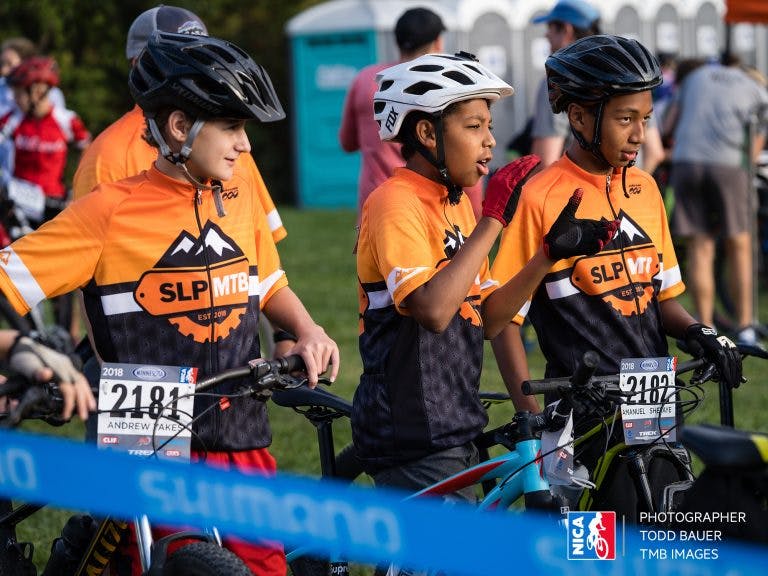 The National Interscholastic Cycling Association hosts events to promote and grow youth cycling.
PeopleForBikes is proud to announce a renewed partnership with the National Interscholastic Cycling Association (NICA) to promote and grow youth cycling across the U.S.
Founded in 2009, NICA develops mountain biking programs for student athletes in middle school and high school across the United States with a mission of building strong minds, bodies, character and communities through cycling. NICA works to train youth cycling coaches in skills and bike fundamentals as well as other leadership and character development programs. Weekend-long community events which feature mountain bike races for student athletes are the most prominent activity the public sees and engages in with NICA leagues. Other programs include: GRiT (Girls Riding Together), a focused effort to bring more girls and women into cycling; NICA Teen Trail Corps, a program that engages student athletes in bike-related advocacy work and NICA Adventure, introducing youth to the world of outdoor adventure through mountain biking. 
"We know getting kids on bikes is the future of bicycling," said PeopleForBikes President and CEO Jenn Dice. "We are proud to continue our partnership with NICA and support all the work they do introducing student-athletes and their families to the joy of cycling, but even more, the leadership and community-building skills they create with the help of bikes. By establishing this connection at an early age, we can help shape the next generation of biking enthusiasts."
PeopleForBikes and NICA first partnered in 2015 to collaborate on efforts to introduce and promote youth bicycling across NICA's 15 leagues. Since then, NICA has expanded to 31 leagues nationwide and continues to grow. Together, the organizations work to educate NICA coaches, student-athletes and parents on ways they can support PeopleForBikes' work in improving biking across the U.S. and getting more people on bikes through community outreach and activism. 
"We are so pleased to renew our partnership with PeopleForBikes," said Steve Matous, president of NICA. "PeopleForBikes' support of NICA and our programs reinforces our shared belief in the power of the bike to bring people and communities together. We celebrate the joy of cycling every day in our mission to get more kids on bikes. Lately, the benefits of cycling have taken on an even greater importance, providing opportunities for physical and mental health, transportation, time outside, camaraderie and lessons in perseverance. We are appreciative of our shared dedication to building community, increasing access and improving lives, and look forward to what we can achieve together." 
NICA is also a member of the Youth Cycling Coalition, a group of national youth cycling organizations, hosted by PeopleForBikes, committed to developing strategies and connecting programs that get more kids on bikes and keep them riding.
To learn more about joining NICA or starting a NICA league, visit nationalmtb.org.