July 31, 2022
Oakland Youth Are Biking Towards a Better Future
By: Nick Aguilera, PeopleForBikes' youth and community partnerships manager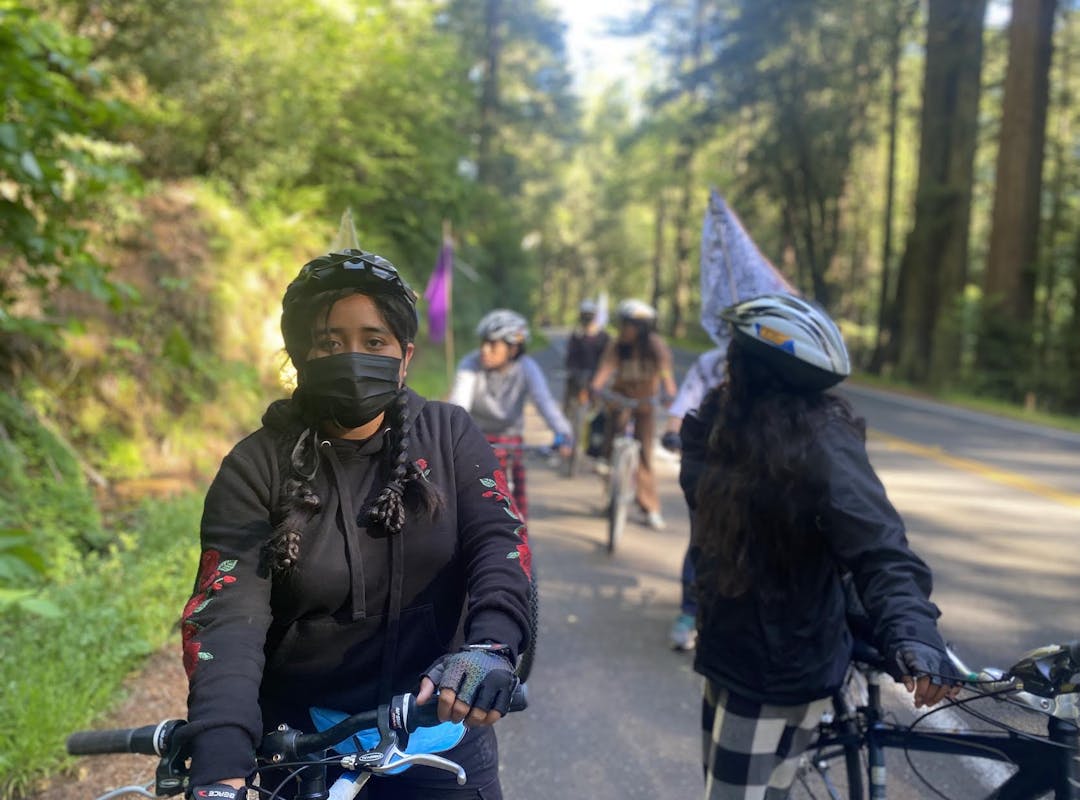 Photo courtesy of California Field School
The California Field School uses the bicycle as a tool for teaching youth about history, the environment and community throughout the state.
"Bicycles have the ability to create transformative experiences for people and allow all of us to connect differently with the land and communities that we travel through," said Nora Dye, founder and collaborator of the California Field School. "They allow for a totally different understanding of the world and our place in it."
The California Field School (CFS), a youth bicycling organization committed to creating life-changing experiences and educational opportunities for high school students, uses the bicycle as a tool for teaching youth about history, the environment, community and social justice as they explore their home state. Through multi-day adventure bicycle tours along the Northern California coast and Freewheel, a bike club for girls and gender non-conforming youth, the school works with high school students from Oakland to create empowering experiences using the bike. 
In addition to monthly rides to teach fundamental bicycling skills — such as navigating traffic and public transit with a bike, basic bike maintenance and carrying gear — CFS embarks on summer bike tours, dubbed California's Changing Coast.  "We took 25 students on a 320-mile ride from Humboldt County through the Redwoods along the coast, ending up in San Francisco," said Dye, describing a 12-day trip that took place in May 2019. "It's a really powerful tool for teaching and for learning."
CFS also uses the bike as a tool for education and health through Freewheel, their monthly bike rides for girls and gender non-conforming high school youth in Oakland and the greater Bay Area. In 2022, CFS's Freewheel program received a $15,000 Outride Fund award.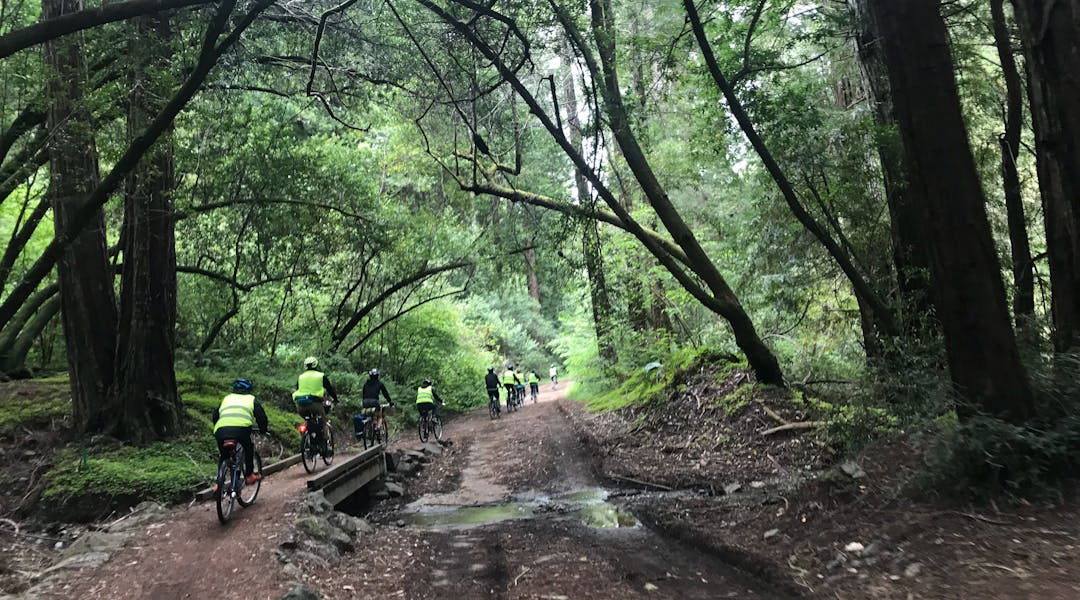 Follow California Field School on Instagram to see more pictures from their group rides.
"During our monthly rides, participants will learn about the social and ecological histories of the land and watersheds they bike through and engage with local indigenous women leaders and women of color working towards social and environmental justice in their communities," said Dye. "As Freewheel participants learn about the ecological restoration efforts of these local groups, they will participate in those efforts through service projects over the course of the school year." 
Bike rides help show youth what they are capable of achieving, teaching them strength and resilience in the face of adversity. "At the beginning, everyone is hesitant, everyone is a little nervous riding in groups. On the first day, several of my students lost their balance while stopping," said Nina Portugal, volunteer at CFS. "Having that experience of pushing yourself — asking, 'Where are my limits? How do I know when I've gotten there?' — is such a profound practice to have in your life." 
According to Portugal, the Oakland-based CFS students are already resilient, having faced a lot of hardship in their day-to-day lives. Bicycling, and experiencing adversity in a different type of environment, can teach youth how to navigate barriers and hardships as they come. Plus, in addition to helping students identify their inner strength, the school's bike rides help youth cultivate a connection to each other as well as the landscapes and ecosystems they move through.  
"There's something really special about doing a trip with peers from your school who you maybe were not friends with prior," said Portugal, noting how easily a group of 25 youth can become a tight-knit family. "[Riding together] is a touchpoint — they have this experience and knowledge of what they can do and get through." 
In addition to building relationships with each other, the CFS model helps students build relationships with mentors and teachers in their community. The act of riding together helps open up space to build caring relationships, community and respect. 
"So many of them would come to see me all the time during lunch and after school through the connection we made on the bike ride," said Portugal. "[They would] talk about what's bothering them or what was happening and we'd always come back to the bike ride." 
Bike rides also afford the opportunity to have conversations about California's environmental and indigenous history. "We really try to ground our trips in thinking about the Indigenous people who were here first and how they were mistreated by the folks who arrived later, as well as the ways that people have related to the environment," said Dye. "We talk about how we got to where we are today, really understanding both what's beautiful about our modern culture and society and the things that are challenging." 
Naturally, other important topics — including the climate crisis, the COVID-19 pandemic, gender inequity and more — also feature prominently as conversation topics. "We are in a time of huge consequences," said Dye.  "It's so incumbent on those of us who are older to be creating opportunities for young people to see and understand the way that the world works and how all these systems work together. If anything is going to help us confront the climate crisis successfully, it's going to be the ingenuity and the efforts of this next generation."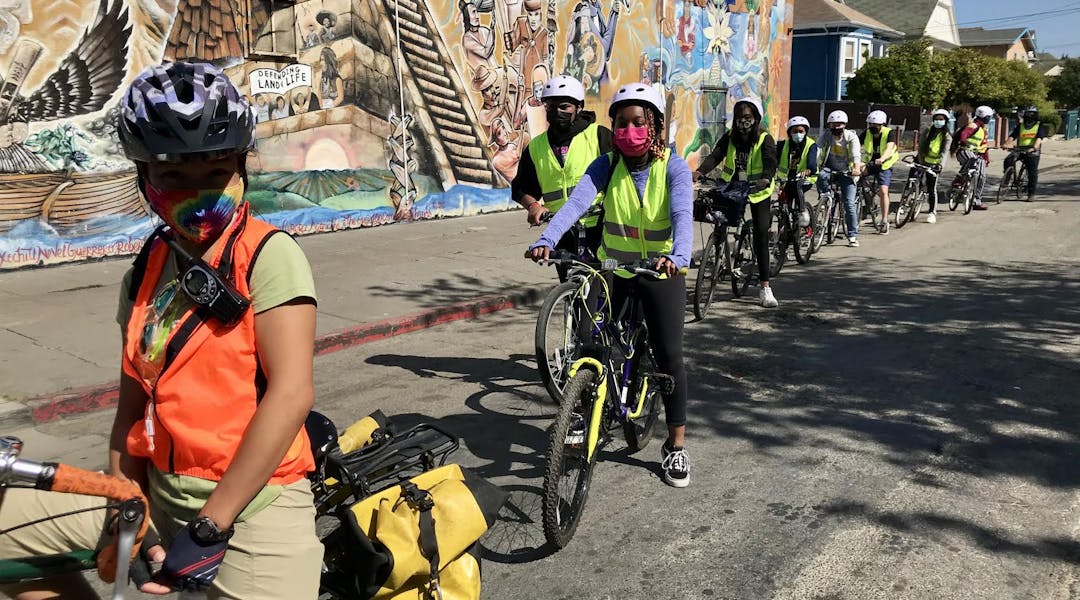 A concrete example of CFS' commitment to empowering youth in the face of challenges is its response to the COVID-19 pandemic: The school put together a bike library where students could rent bicycles for a month-long period, offering youth a way to get outside and continue to be active. The positive impacts of bicycling on the mental, physical and emotional health of youth in the face of the pandemic are well documented.  
"As we have seen during the COVID-19 pandemic, a lot of people turned to cycling, not only for transportation but also for the joy, freedom and the physical and mental health benefits that come with it," said Esther Walker, cognitive science Ph.D and research program manager at the nonprofit Outride. 
Riding Bikes Is Good For Youth and Research Proves It
Throughout all of its programming, the questions CFS asks youth help establish a connection between bicycling and the world around them. They include:
How does the bicycle touch your physical, mental and emotional health? 
How does the bicycle put you in touch with yourself as well as the other animals and ecosystems around you? 
How does the bicycle bring you creativity and connection? 
By encouraging reflection and portraying the bicycle as a tool for transformation, CFS offers youth a way of coping in an ever-changing, often difficult world.
"It's like one of our young women wrote in a short poem," said Portugal. "'You face every uphill and downhill and that's such a part of life.'" 
Interested in learning from and connecting with organizations working to build community, improve health, and empower youth through bikes? The 6th Annual Outride Summit is taking place virtually October 25-26, 2022. Last year, Outride brought together more than 600 community organizers, researchers, educators, youth and community champions from 41 states and nations around the world. Learn more and register today.