October 12, 2020
New to Biking? How to Ride Safely and Courteously Through 2020 and Beyond
By: PeopleForBikes Staff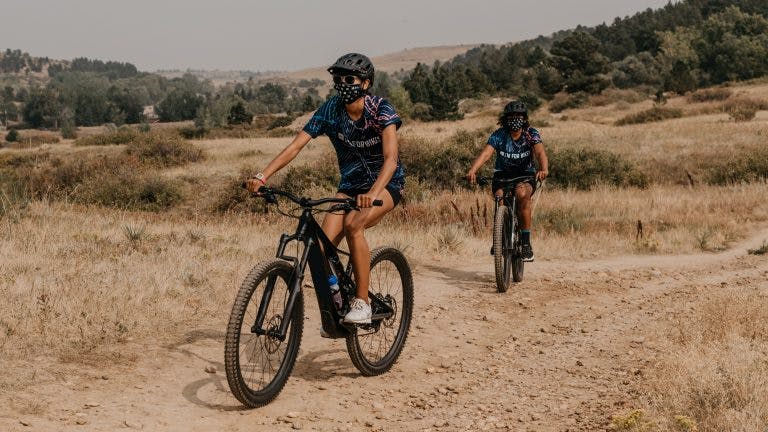 Biking safely in 2020.
Millions of Americans found joy on two wheels this year. Bike paths and trails are the busiest they've been in decades, and with more people sticking close to home, less cars on the road has allowed many riders to feel safer biking on the street. 
With this increase in riders, many of you having picked up your new bicycling habit for the first time ever, or after a long time out of the saddle, we're here to help share a few tips and rules of the road to keep you riding safely and courteously.  
Mask it Up
Even though you're outside, wearing a mask is still the best way to keep yourself and those around you safe and healthy. Covering your mouth and nose is most important when you can't maintain a six foot distance from other riders or pedestrians, especially when passing, at a stoplight or in other high-traffic areas. 
On Your Left!
Announcing yourself when passing is one of the most important ways to be courteous to other riders, whether that's on the road or on the trail. Slow down and give the riders or pedestrians ahead plenty of notice before passing. Investing in a bell for your handlebars is also a great way to alert other trail users of someone behind them.
You Are Not Clear For Takeoff
Our bodies produce a lot of fluids when we exercise — keep them to yourself. "Snot Rockets," spit and the like are bound to happen, especially in the colder months. Pandemic or not, be cognizant of other riders around you. A few emergency tissues in an easily accessible pocket will go a long way. 
R.E.S.P.E.C.T
Treat all trail users the way you'd like to be treated. Other bicyclists, walkers, joggers and, depending on the trail, horseback riders all have the same right to enjoy the trails as much as you do. Most trailheads have posted signs for what trail users yield to who, but in general, yield to non-bikers and yield to uphill riders if you're heading downhill. A smile and wave can go a long way too. We're all just out doing things that bring us joy.
Pack it In, Pack it Out
All bike riders should abide by the number one rule of recreating outdoors — Leave No Trace. If you bring a mid-ride snack, make sure all wrappers and bags are stashed back into a secure place where they won't fly out when you start pedaling again. If you see a piece of litter while you're riding, pick it up and toss it in an empty pocket to throw out when you finish your ride. By working together, we can make sure our trails and paths are clean and safe for years of bike riders to come.