September 18, 2018
New Orleans' Growing Bike Culture
By: Allegra Abramo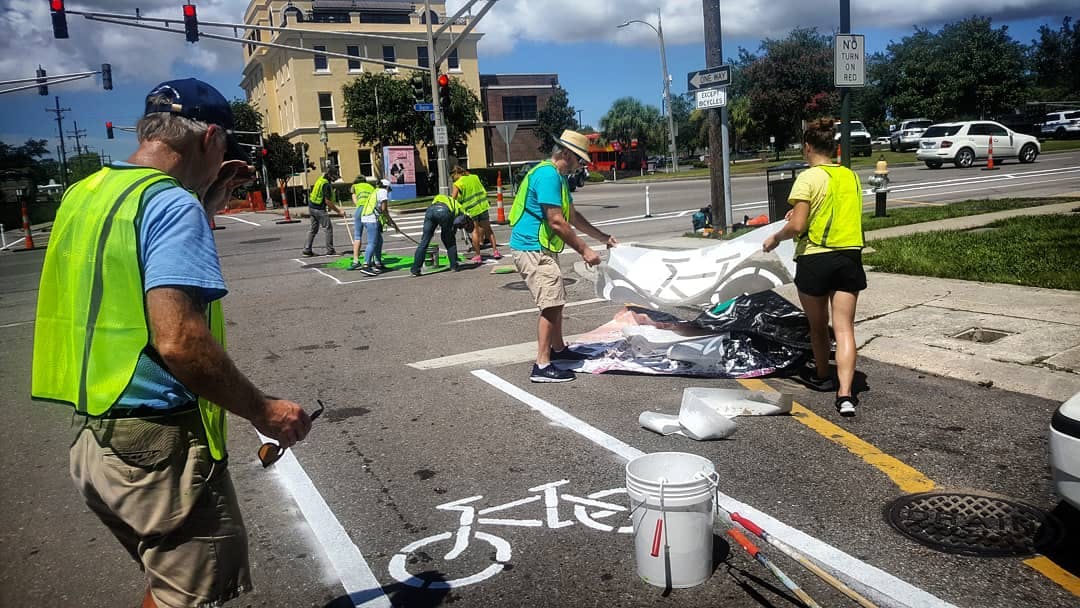 Volunteers paint "sharrows" onto a street in New Orleans to help mark bike routes. (Source: Bike Easy.)
New Orleans is known more for its beignets than its biking. But that could soon change. The city is making strides toward building out a connected network and engaging citizens in a burgeoning bike culture that's as colorful as a Mardi Gras parade.
The promise of a better biking landscape is reflected in New Orleans' outstanding City Rating score in the acceleration category, which measures growth in bike facilities and events, as well as people's perception of progress. With a score of 4.6 out of 5, the city won the top acceleration score in the country.
Biking is "definitely on a roll" in New Orleans, says Dan Favre, executive director of the Bike Easy, the city's bike advocacy and education organization. Bikeways have been incorporated into the reconstruction of streets damaged by Hurricane Katrina. Bikeways now cover about 125 miles, including sharrows (street markings designating the best path for bike riders).
Bike infrastructure improvements are expected to accelerate in coming years with a number of high-profile projects designed to better connect downtown — the city's employment center — with surrounding neighborhoods. As one of 10 Big Jump cities, New Orleans is receiving three years of technical guidance from PeopleForBikes to support its continued progress.
Connect the Crescent
One of the city's most exciting new efforts is a three-month demonstration project that includes about 3.5 miles of bikeways, improvements for people walking and taking transit, art installations, open street events and more. Called Connect the Crescent, the project kicked off this September, incorporating intensive public input via door-to-door outreach and ongoing surveys. Volunteers are providing most of the labor to install the pop-up project.
"We really want to get people engaged in thinking about how it's crucial to have a protected network of bikeways," Favre says, "and also how that interacts with transit and walking and driving, so that everyone on the street is accommodated."
Connect the Crescent is designed to give citizens a real opportunity to be involved in decision-making before any street changes are made permanent. That's especially important among low-income communities and communities of color, which often have been negatively affected by transportation projects in which they had little say.
To help foster the community's trust, the city has promised that bike lanes and other street changes associated with Connect the Crescent will be removed in mid-December, says Laura Bryan, director of the mayor's office of transportation. Her office will compile community feedback and present it to the City Council by early 2019. A timeline for deciding whether the changes will be permanent is yet to be determined.
The city also plans to start developing its first Bike Master Plan, Bryan says. Building bike lanes in recent years has been ad hoc, resulting in "a lot of bike lanes to nowhere," she explains. A master plan will ensure that new facilities are more intentional.
Vital connections
Recent and planned projects are filling in important missing links. One such project is a new bike lane connecting the Lafitte Greenway, a backbone of the city's bicycle network, to the bustling French Quarter. "It's amazing," Favre says, "it feels so cool to be riding through a park for a couple of miles through downtown."
Fixing many of the remaining gaps will involve some harder choices, but Favre says doing so will "have a huge impact on the connectivity and how safe and easy it is for folks to bike in the network."
Making biking safer and easier is a big equity issue in New Orleans. The city has a large low-income population, and about 20 percent of people lack access to a motor vehicle. Biking is an affordable, convenient option to get to and from jobs in a congested downtown where late-night transit options are limited.
Launched in December 2017, the city's new bike share program, Blue Bikes, gives residents and visitors more options to get around. The program offers a $20 annual pass, good for an hour of daily riding, to income-qualified residents. Bike Easy is reaching out to hospitality workers and low-income neighborhoods to increase awareness of the annual pass program and help people find safe routes to work.
For a growing number of New Orleanians, biking is also a fun, social outlet. Almost any night of the week, you can find a group cruising around the city, their bikes decorated with twinkly lights. Twice a year, Bike Easy sponsors a pedal-powered version of the traditional New Orleans "second line," a parade led by a brass band, with close to 500 people riding behind. These social rides attract diverse crowds, Favre says, which helps demonstrate that people of all ages and ethnicities bike in the city.
"Bicycling is being integrated into the incredible cultural amenities of New Orleans more and more," Favre said. "It's really exciting."