September 11, 2019
New California Law Provides Funding for E-bike Purchases
By: PeopleForBikes Staff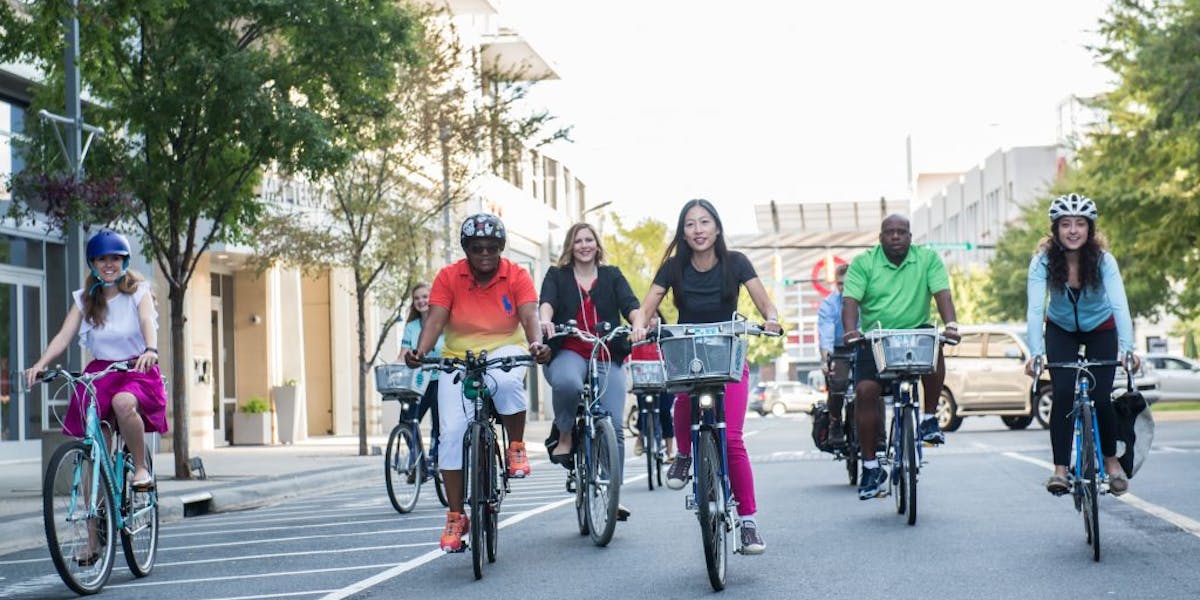 Bike peloton going through urban area
On Friday, Sept. 6, California's Governor Gavin Newsom signed Senate Bill 400 (SB 400) into law. This bill provides funding for low-income and disadvantaged communities to purchase an e-bike or use a bikeshare program, making e-bikes and bikeshares more accessible means of transportation.
SB 400 amends the Clean Cars 4 All (CC4A) Program by expanding the definition of "mobility options" to include e-bikes and bikeshare programs. If a resident lives in a participating air quality district, they can apply to receive a voucher up to $7,500 toward the purchase of an e-bike or bikeshare program in exchange for their gas-powered vehicle.
This amount does not vary based on income level, but may vary depending on the air quality district. In general, a resident's household income must be within the federal low-income guidelines (see the image below) or a resident must live within a disadvantaged area, as decided by the local air quality district.
The purpose of the CC4A is to reduce fleet emissions by accelerating the turnover of the existing fleet and the subsequent replacement with newer, cleaner, and more efficient vehicles.  Reducing emissions from the existing fleet is a component of California's State Implementation Plan for meeting air quality standards and supports efforts to meet the State's 2030 climate change goals. There are currently three air quality districts enrolled in the program, San Francisco Bay Area, South Coast, San Joaquin Valley, and one potential (Sacramento).
The CC4A program is funded by the greenhouse reduction fund, which received $903,726 in the 2019/2020 budget. Leftover funds in the greenhouse reduction budget can be applied to a district if needed. The amount the CC4A program will specifically receive from these funds will be decided in October 2019. The funds designated towards e-bikes and bikeshare vouchers is decided by the participating air quality districts.
This is a model for other states looking to create purchase incentives for e-bikes and we hope to see it replicated in other states. If you want to share this information, check out our fact sheet.