December 11, 2018
Mobility for All
By: Micah Ling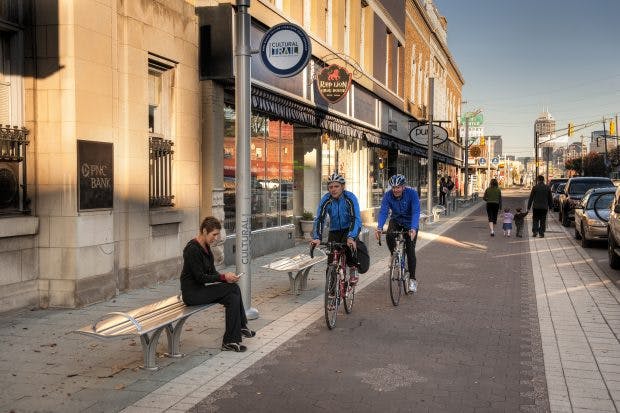 Biking the Indianapolis Cultural Trail.
Most Americans drive cars to work only to sit at a desk all day with little activity required. No wonder we don't get enough exercise. This has been true for a long time, but there is a solution, and it's linked to infrastructure. Instead of trying to figure out when and how to get to the gym more often, what if physical activity could play a role in safe transportation to and from school, and work, and errands? What if exercise was built into, and even helped out with, our daily routine?
In November, the U.S. Department of Health and Human Services released the Physical Activity Guidelines for Americans, 2nd edition. The science-based guidelines recommend amounts and types of physical activity necessary for Americans to improve their overall health and avoid the risk of chronic disease. The Center for Disease Control has made resources available to help communities include physical activity in everyday life. The Physical Activity Community Strategies and Resources website has ideas about building environments that make activity possible when it comes to accessing schools, stores, and public transportation. The goal is to make it easier for people on bicycles, in wheelchairs, or walking to safely and seamlessly get to where they need to go, all while improving their health.
Among the CDC's recommendations for environments rich with activity-friendly routes and accessible every day destinations, there are several real-world examples — places that already have, or are working toward complete networks that promote physical activity. One such example is Atlanta's BeltLine, a 22-mile loop of multi-use trails, light rail, and numerous parks, all built on old railroad corridors that surround the city. At the center of the project is affordable housing. This helps ensure that the cultural, economic, and health benefits are available for all. Some of these infrastructure projects are ambitious, but the payoff for the city is gigantic. And if a place doesn't have the budget to take on BeltLine-sized changes, there are easier ways to start. Regardless of scope, attention to creating complete networks that make physical activity easier, is energy well spent.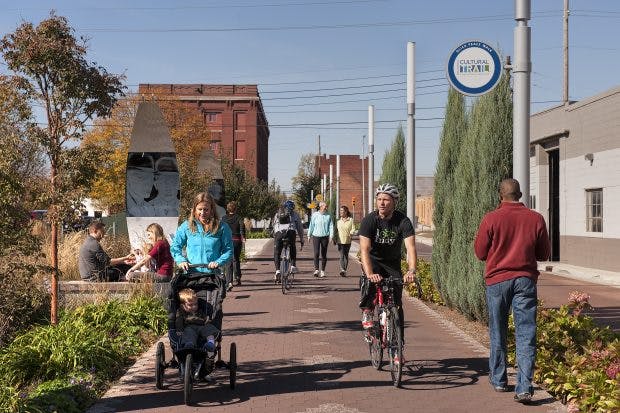 Shared space
In recognizing that the easiest way to add physical activity is to integrate it into transportation, the CDC acknowledges that to make that possible, people need to feel safe getting where they want to go. For some, infrastructure is already the most important factor in choosing where to live. The network that connects them to the things they need is critical to their entire way of life.
Katrina Gossett Kelly is an attorney at Indianapolis' Faegre Baker Daniels LLP, one of the largest law firms in the country. She was born with Spinal Muscular Atrophy, which has required her to use a wheelchair since she was three.
A year ago, Kelly and her husband adopted a son who also has SMA and uses a wheelchair. They choose to live in the heart of Indianapolis for many reasons, but at the top of the list is the infrastructure downtown. While Kelly needs assistance to do many things in her day-to-day routine, she gets around independently without driving. She says, "The Cultural Trail is an amazing way to get around downtown. They keep it cleared of snow and well maintained, so when I can, I choose to go on that path."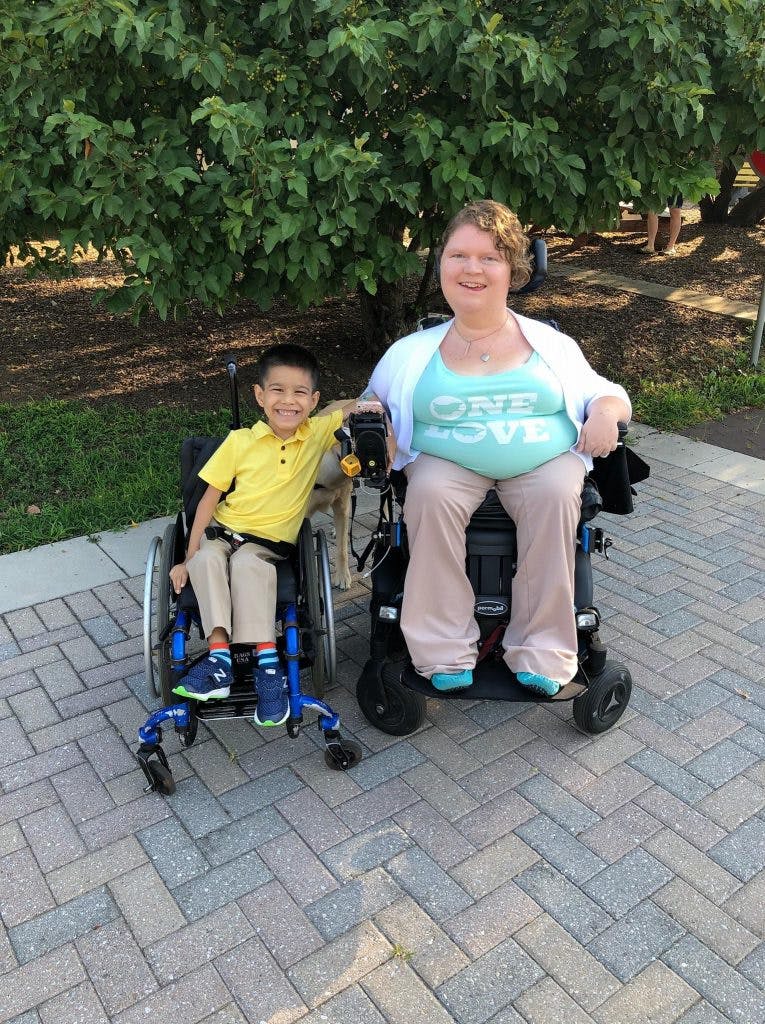 Indianapolis officially opened their Cultural Trail in May of 2013. It consists of eight miles of trail and connects 6 cultural districts. Kelly says that bike lanes on the streets are not specifically helpful for people with wheelchairs, because it puts them at odds with people on bikes. But the Cultural Trail is wide enough, and well protected, so everyone can share the space. For Kelly and her family, who often use service dogs, it's important to have ample room to travel. Kelly adds, "The whole design has the people using the trail in mind: any time the trail intersects with car traffic, cars aren't permitted to turn right on red — they can only turn with an arrow." These details add to the feeling of safety, and encourage people of all ages and abilities to use the trail.
Accommodating all age groups
The new activity guidelines include a chapter dedicated to the needs of older adults. This section includes special considerations such as balance, flexibility, and how to deal with injury. In order for older adults to maintain necessary activity, many times they need specific accommodations.
Shared-space infrastructure helps a diverse range of people with limited mobility. Carol A. Kachadoorian, a senior planner at Toole Design Group, specializes in active transportation for older adults. She's been working in multimodal transportation planning for over 30 years. "You don't really know what it's like to be an older person until you are one." Kachadoorian is 66 and doesn't feel like she's slowing down much herself, but does admit, "My hearing isn't perfect, and my eyesight requires simple signs with big letters." She's becoming aware of the little things that help or hinder her from getting around.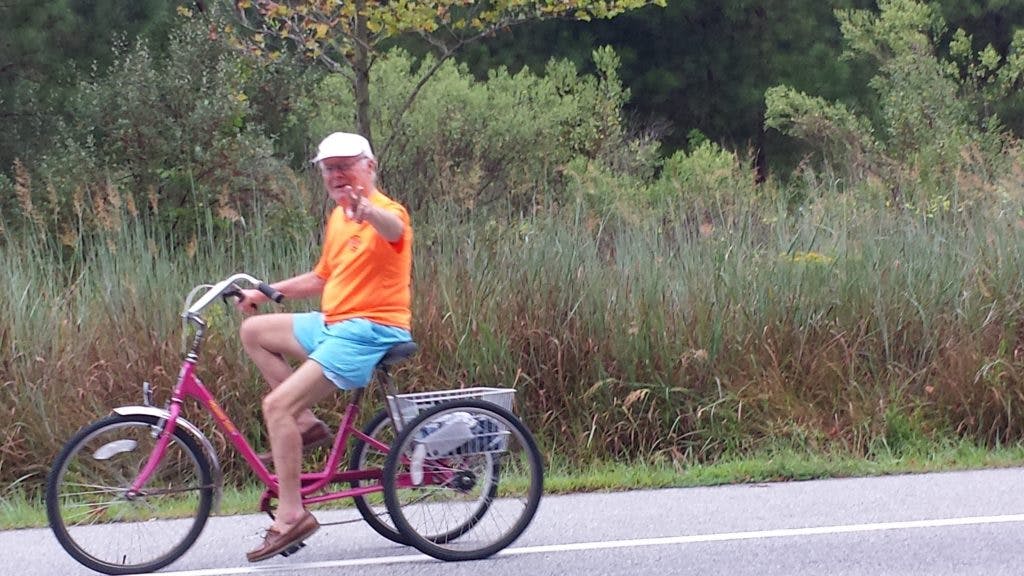 There are easy ways to tweak infrastructure so that opportunities are opened for older adults looking to get around without a car, and add physical activity to their routines. Many older adults just need more room because they move a little slower, don't like to make sharp turns, and are uncomfortable biking with large groups. Wider bike facilities allow for easier passing and the ability to use three-wheelers. Slightly longer street crossings allow for less intimidation when encountering car traffic.
Kachadoorian's work centers around helping people understand what it feels like to be an older adult, or a person with slightly different needs — just being aware. She says that inclusive infrastructure has to do with wider facilities, but also things like landscaping decisions. Rocks or mulch that spill onto a path can cause people to trip or become uneasy on a bike. Landscaping should be contained with barriers to allow all people to feel safe. Above all, Kachadoorian says, "Private property owners shouldn't pay for sidewalk installation and maintenance." This puts low-income communities in a burdensome situation because they can't afford to adequately maintain the areas where people walk. This can cause older adults especially, to feel trapped in their home, or forced to walk on the street in unsafe situations.  
Mobility as a way of life
According to the CDC's Community Strategies, to increase and maintain necessary physical activity, the Community Preventive Services Task Force (CPSTF) recommends "environmental approaches that combine one or more interventions to improve pedestrian or bicycle transportation systems (active-friendly routes) with one or more land use and community design interventions (everyday destinations)." In other words, complete networks that allow people to be active and safely go about their daily lives can improve the health of most Americans. We already have significant data that shows the annual individual medical cost of inactivity ($622) is more than 2 ½ times the annual cost per user of bike and pedestrian trails ($235). There are endless benefits to getting physical activity via transportation. When it comes to new infrastructure, wider spaces and attention to detail allow for more inclusive facilities, and overall, healthier communities.