September 9, 2022
Marley Blonsky Takes On Size Inclusion in Bicycling
By: Kiran Herbert, PeopleForBikes' content manager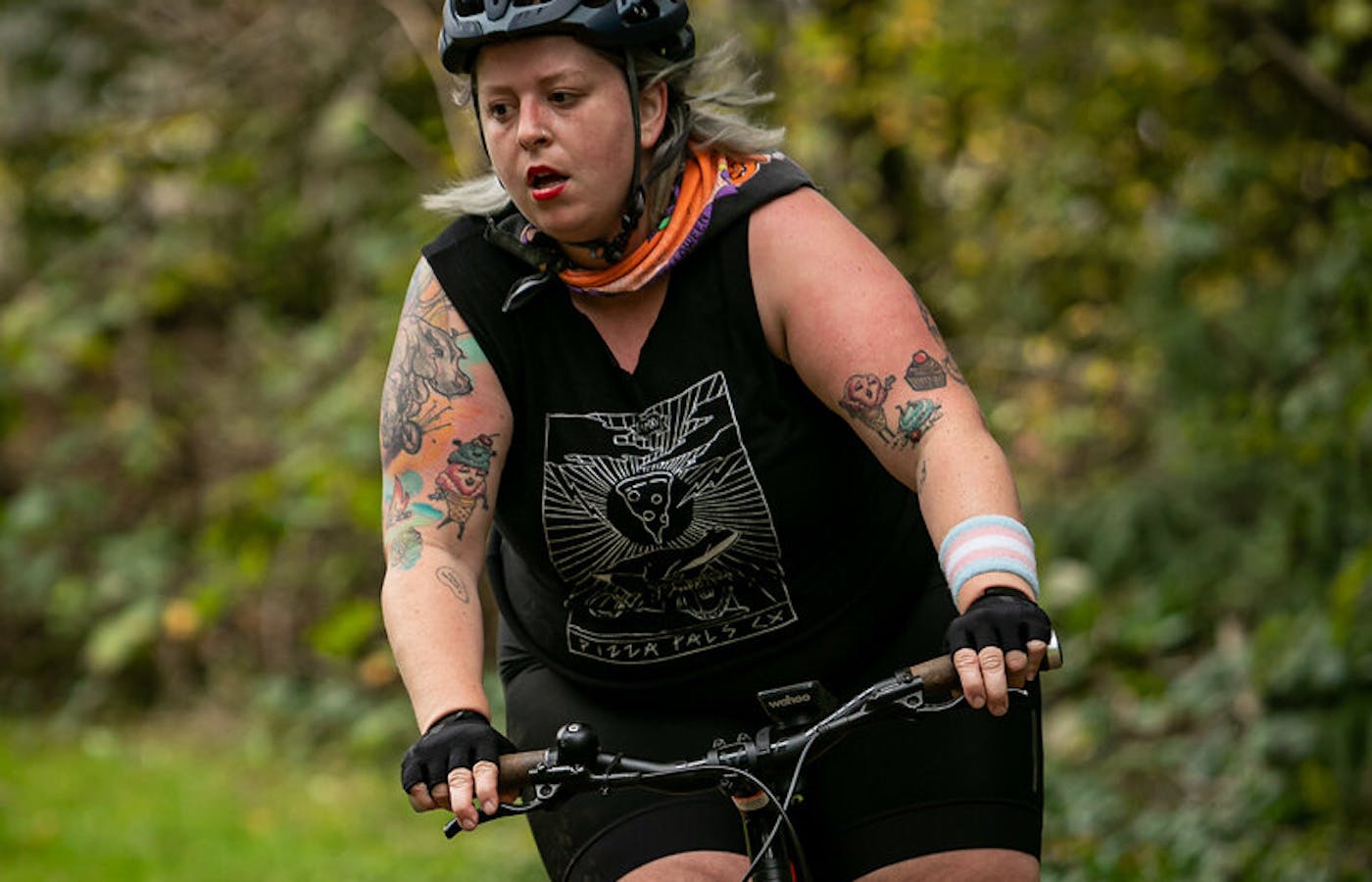 Photo Credit: Evrgrn Photo
A Q&A with the co-founder of All Bodies on Bikes, an advocacy group that empowers folks of all shapes and sizes to ride joyfully.
In the United States alone, 41.9% of adults aged 20 and older are classified as obese, while another 31.7% are considered overweight. Yet those numbers aren't reflected in the advertising and manufactured goods of virtually every outdoor brand — the bike industry is no exception. 
"The majority of the U.S. lives in a larger body," said Marley Blonsky, co-founder of the group All Bodies on Bikes. "As an industry, we are leaving billions of dollars on the table by not having clothes or not having strong enough bikes or just not being aware of the conversation."
For years, Blonsky worked independently and alongside co-founder Kaylee Kornhauser to promote size inclusion in cycling, hosting workshops, offering consulting services and sitting on panels. It wasn't until 2021, however, when Shimano released the short film "All Bodies on Bikes" that the organization formalized, gaining more widespread notoriety in the process. 
In the months since, Blonsky relocated from Seattle to Bentonville, Arkansas, where she's made advocating for bicyclists in bigger bodies her full-time gig. As a movement, All Bodies on Bikes hosts no-drop social bike rides where everyone is welcome. Virtual offerings include classes like "Biking for Big People" and "Bike Camping for Beginners." In July, PeopleForBikes was proud to award the group a $10,000 grant to help grow and, ultimately, get more people riding. 
Blonsky is a featured speaker at PeopleForBikes' upcoming SHIFT'22 Conference — taking place October 18-20, 2022, in Bentonville — the theme of which is "Creating the Bike Industry We Want to See." Learn more about Blonsky and her work in the interview below.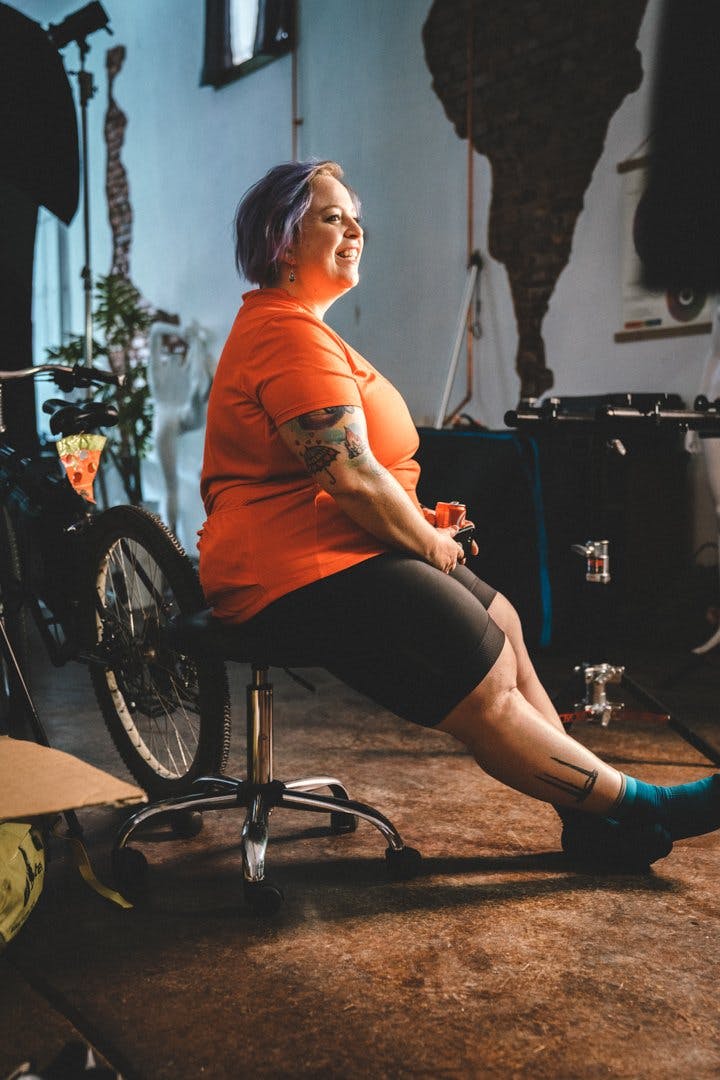 Photo credit PEARL iZUMi
How would you sum up the All Bodies on Bikes mission?
We're a movement to create and foster a size-inclusive bike community. We want to educate and change the industry, and we want to ensure access to safe and comfortable bikes. So all that's to say, we really want to empower folks in larger bodies or non-traditional bodies to ride joyfully.
How did the organization first come about?
Kaylee, my co-founder, and I were both doing size inclusion work long before Shimano made the "All Bodies on Bikes" film but the film was really the genesis of the name "All Bodies on Bikes" and the catalyst to make our consulting and speaking work a bigger thing. The film really legitimized us with the bike industry and so suddenly people were coming to us to ask for expertise or to lead rides — all the things that we're doing now.
I didn't realize that's where the name came from.
I got talked into it and now I'm happy with it, although I still struggle with the name a little bit. I don't think we're doing a very good job serving all bodies. For example, we're not doing a good job serving people with disabilities or folks who use adaptive bikes. Maybe we'll get there or maybe we won't — our focus is really people in larger bodies right now.
How have things grown since the film?
All Bodies on Bikes has become my full-time job. Previously it would just be a podcast here or an interview there, but now it's what I do pretty much all day, every day. 
Now, there's a lot of recognition within the bike industry and we're being taken seriously. At first when I would have these conversations, people would be like, oh, "Okay, you're a cyclist. Do you commute?" I'd say, "Yeah, but I also go on pretty epic adventures and gravel race and all these other things." I think there's a whole lot more recognition and less pushback that people of all sizes are doing these cool things.
What's your focus for the year ahead?
To formalize All Bodies on Bikes as a group. Over the past year and a half, it's mainly just been Kaylee and I running the show and figuring everything out. Now, we're officially formalizing. We're creating a board, incorporating as a nonprofit and really starting to be a lot more strategic about how we do things.
You recently received a grant from PeopleForBikes — what will that funding be used for?
We're pretty protective of All Bodies on Bikes, both the name and the experience. There's a danger when somebody promotes an inclusive, no-drop ride as All Bodies on Bikes and then someone has an awful experience or gets left behind or it just doesn't live up to the expectations that we have built. So we're bringing in chapter leaders and we're going to train them in what it looks like to lead a safe ride and the nuts and bolts of how to advertise All Bodies on Bikes.
The grant will be used to fund that training so we can grow our reach and our impact.
Where are the chapters located?
There are 10 chapters and — I'm going to try and go geographically — they're located in Western Massachusetts; New York; Washington, D.C.; Charlotte; Detroit; Michigan; Kansas City; Austin; Denver and the San Francisco Bay Area. They're pretty widespread.
How'd you land on those places?
Everyone has asked, 'Why not Seattle or Portland?' Well, from what we could tell from the applications, those communities already have a pretty welcoming and inclusive bike riding scene. In a place like Portland in particular, while I think it'd be cool to have an All Bodies on Bikes chapter there, I don't see a pressing need. Compare that to a place like Austin or Denver, where there are so many cycling groups but there's not necessarily an inclusive or one or a no drop one. At least that's what we are hearing in the applications.
Photo credit: Zeppelin Zeerip
SHIFT is really about creating the bike industry we want to see — what is something about the industry that you'd change?
There are so many things I would love to change and I think some of them are starting to happen. I'd like to see less of a focus on going fast, being epic or being the best and more of a focus on transportation, utility and joy.
I really think that bikes are the future of our planet in terms of transportation and carbon emissions, and so I'd like to see more shops focusing on families or commuting — just taking the elitism out of cycling. I also really want to see more cooperation with schools and governments for local bike infrastructure. Because you can sell all the bikes you want for trails but until you've got safe infrastructure to ride, the connection isn't gonna be there. I would love to see us all working towards that.
Who do you think is missing at the bike industry's proverbial table?
Moms, family bikers, kids, people in larger bodies, people of color and — I kind of hate this phrase — invisible cyclists. These are the folks who aren't riding a bike because they want to but because that's what they can afford to do. These are our service industry workers. I think that's who's missing from the table to tell us how they use their bikes and what they actually need.
What are you most excited about for the conference from an attendee's perspective?
Talking to other movers and shakers and influencers — I don't mean Instagram influencers but folks who are influencing the industry. I'm excited for casual happy hours. I'm excited to show off Bentonville, which is my home. I'm just looking forward to being in the same room with all these people who, for the past couple years, I have just been talking to on the internet. 
Tell us more about your SHIFT'22 events.
I'll be leading a workshop all about the power of plus-size folks. We'll be talking size inclusion — why it matters, what the market share opportunity is and how we can make cycling more inclusive. Folks should come because the majority of the U.S. lives in a larger body. 
As an industry, we are leaving billions of dollars on the table by not having clothes or not having strong enough bikes or just not being aware of the conversation. I'm going to talk about it all in a nonjudgmental way and people are going to get to explore their own relationship with our bodies. I think they'll come away more informed, more empathetic and better able to meet the needs of folks in their community. 
Plus, it'll be fun. I'll probably say some inappropriate things.
What gives you hope for the bike industry's future?
I live across the street from an elementary school and the number of kids I see riding their bikes gives me hope. Programs like Denver's e-bike rebate program give me hope. Every time I see a family on a bike together, it gives me hope because that's like one less minivan, one less truck. I'm also hopeful because of the reception that All Bodies on Bikes has had — we're being taken seriously and people are excited about it.
Anything else you'd like to share?
We're looking for progress, not perfection. Sometimes we get asked, 'Why are you working with XYZ brand who doesn't have your size?' My response is that we're getting there. It's not going to be an overnight thing. I just ask that people have grace with us and understand that we're all learning together.