March 4th, 2019
How to Get Kids Involved: Be Flexible, Be Creative
By: PeopleForBikes Staff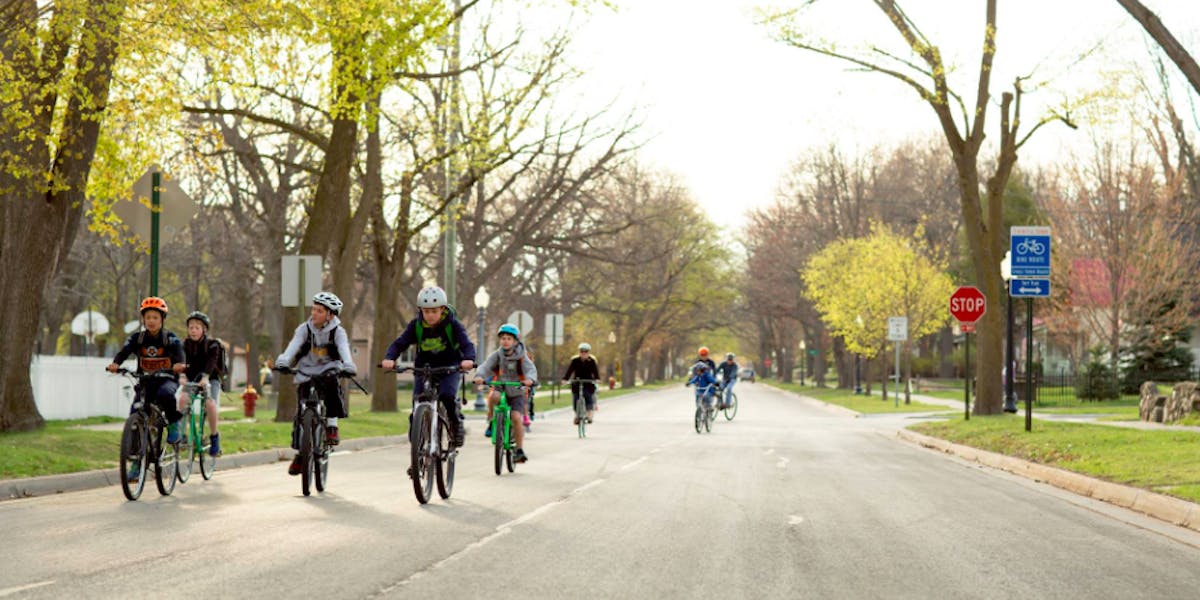 Kids riding down the street, Source: Norte, Beth Price.
Start with an idea, and just let it keep growing. When Ty Schmidt's oldest son started elementary school, Ty was bothered by the ordeal of dropping him off in the morning, and the fact that no one was riding a bike or walking. He decided there was another way. Ty and his wife Johanna started a routine of leading their son and a few neighborhood kids on a bike-train to and from school. Simple enough.
The thing that Ty and Johanna discovered was that other people wanted to bike and walk and be outdoors. One bike-train led to other parents and neighborhoods doing the same. Which led to school principals getting involved, a mountain bike team, a clubhouse, a bicycle library, programming, advocacy and infrastructure. "We've gone from this concept of getting kids to and from school, to helping everyone get everywhere." Ty came to realize that it's not the chicken or the egg that has to come first, it's an idea, and a community that supports and grows that idea. 
A recent report released by the Dutch Cycling Embassy found that Dutch children are among the happiest in the world, mainly because of the freedom that safe cycling allows them. This freedom was exactly what Ty and Johanna were after, and what the entire community found.
The name 'Norte' comes from the Schmidts' love for the Hispanic culture where they met in Tucson, Arizona, and the fact that they moved (north) to northern Michigan together. Now, everything they do is a collaboration of what they love and what they continue to learn from where they live.
But it didn't happen overnight. The evolution not only took time (more than a decade), it also took a lot of help from a lot of different people. And it's still growing.
Wading into the advocacy waters
"It can be messy and challenging work, but our goals keep expanding to make a bigger and bigger impact." The messiness that Ty talks about is in the way of uncertainty: taking on a larger role in terms of influencing the ones who really make decisions. The first generation of Norte kids is now in high school, and many of them are already becoming leaders in bike advocacy. Traverse City is taking on more and more infrastructure projects, and those wouldn't be possible without the energy of the young people.
Ty describes seeing several kids at the table with city leaders, talking about equity and how to give more transportation options to those who need them most. The young people are taking on adult responsibilities because they've grown up seeing the importance of being able to safely walk and bike where they want to go. Living in the "motor state," some of the conversations around the importance of crosswalks and bike lanes aren't as neat and clean as conversations about those simple bike trains to school. It's a learning experience.
"I'm a physical therapist. I've never run a nonprofit or been on the board of a nonprofit. I'm not an engineer or a planner. But I am passionate about bikes," Ty says. "And I am tremendously aware of how many positives come with walking and biking."
As Norte evolved from its simple beginnings to where it is now — offering transportation and safety for everyone — Ty and Johanna learned how to surround themselves with people who could help. "You start Googling things and asking a lot of questions. You meet the people who want to help." Luckily, a lot of people were interested in their vision. "I made friends with a lot of great people who shared the same goals." Ty sees this ongoing project less as something he's leading and more as something he's helping to build. And the tools have come from a variety of places.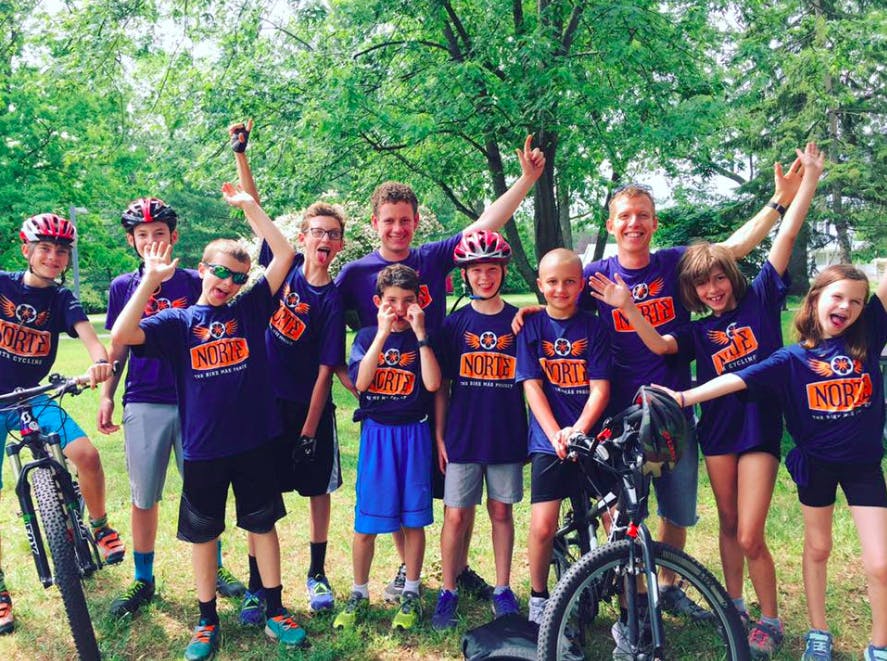 Is this for every place?
When Ty and Johanna started their bike trains, Traverse City was already a fairly connected, bikeable town. There were a lot of low-stress streets, and even some pretty decent infrastructure. Thinking about mimicking their process and what they've created, it's not something that can only be done in a place very similar to Traverse City. "It might look a little different, but the growing trend is that families want to live in walkable neighborhoods — they want to be safe and feel safe, and this kind of thing can be replicated, to some degree, anywhere."
When thinking about getting more kids on bikes, and more people in general feeling safe about where they live, equity is an issue. When Ty and Johanna realized that some kids wanted to join the club but didn't have access to a bike, they decided to start a bike library. "I went to one school in the area that's just really underserved, and I asked myself, 'why isn't anyone riding a bike here?' It turned out they didn't have bikes at all." So Ty partnered with a local bike shop that had developed a trade-up program. The first few years, the Schmidts ran the library out of their garage. Completely on honor system, any kid could check a bike out, and for as long as it fit them, they could keep it.
As anyone with a child knows, nothing fits for long. Kids constantly out-grew their bikes, and brought them back for bigger ones. "I actually couldn't believe how well it worked. We didn't even really have them sign anything. The kids just got it. This is the way it works. You use a bike for a while, then bring it back and get to take another one out."
The library has over 170 bikes in its system now. They also have a community clubhouse — centrally located in a park and near several schools — complete with tons of donated tools, where bikes can be kept, and where kids can learn how to take care of and repair bikes. By creating this community where there's always access to bikes and what's needed to maintain bikes, the sense of safety is high.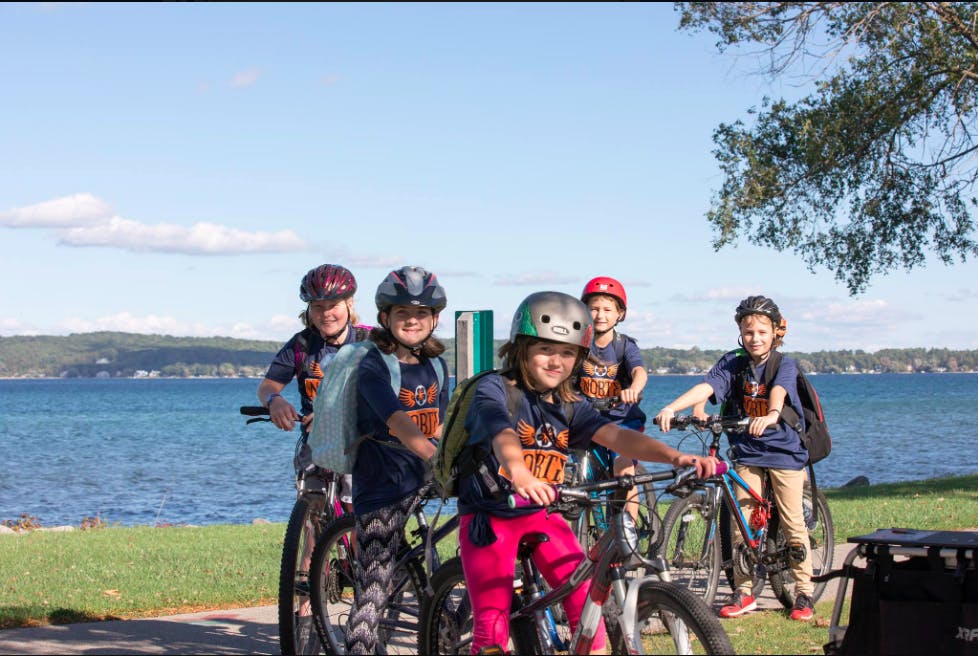 Schools on board
"The whole thing started because I noticed that over 60 percent of the kids at my son's school lived within a mile and their parents were all dropping them off with cars." As the popularity of the bike-trains grew, the thing that the teachers and principals were noticing was that kids who rode bikes were arriving to school ready to learn. "Biking allowed the kids to be silly, get the wiggles out, and start their day happy." Ty says that as more and more kids were riding their bikes to school, the principal started promoting it and encouraging everyone to take part. "She started talking about the bike-trains in emails to parents, and then started talking about it with other principals at other schools."
With the support from the schools, Ty applied for a grant from Safe Routes to School, and received some money. But generally, Ty and Johanna credit people in leadership roles for noticing that something was good and working, and then supporting it. "We didn't ask permission. And maybe that's not the best advice, but we saw a problem and we did something about it."
It's a valid reality that schools worry about safety, and that if an organization or institution is going to take responsibility for children, there needs to be training and accountability. But also, people can work together if there's a similar goal, and they can figure out what's logical and healthy for their place. "We all need to take ownership for solving problems. Parents need to have some accountability, teachers need to have some accountability, and city leaders need to have some accountability." At some point it stops being Ty or Norte solving a problem and it becomes a group effort: it becomes everyone wanting to make themselves collectively better.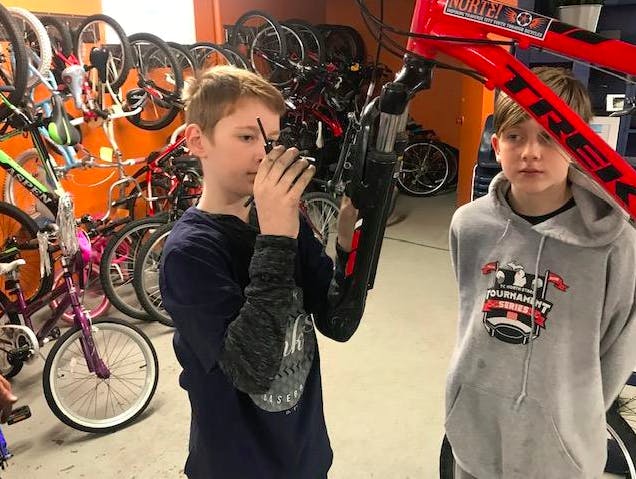 Keep growing
Traverse City just received conditional approval for $2 million worth of walk/bike infrastructure, which will add more than five miles of protected bike lanes that surround 10 schools. When families or people looking to start families choose where to live, safety is often high on their list of needs. A place that's drawing more families and people who want to be in a place where they can safely walk and bike, is a place that's also growing their economy.
Norte has also secured funding to help Elk Rapids and Northport — small towns to the north of Traverse City — so that those communities have a support team and some resources to start growing their own projects.
"When I think about people starting something similar in their place, I like to suggest that they just start. Just give something a try and see where it goes." Not every town or community has perfect bike infrastructure, but many communities have the ability to start a small bike-train to chaperon kids a mile to school. After that, just see what happens: just play a small part in improving your place.
This is part of a monthly series of how-to articles focused on helping city leaders, planners and anyone interested in advocacy to improve biking in their place. Follow along throughout the year as PlacesForBikes investigates different areas of building better biking.